Outdoor Research had a much bigger booth this year at SHOT, with a wide range of the layering system that was mentioned during 2017's show now on display. In order to even attempt to post fine details on every item I'd be here for about 3 weeks just writing this post, so I'm going to give a really simple break down of what all the new names mean because I've had to research the entire line-up myself before writing this. PCU level naming conventions would have come in very handy here, but as you can see, are not included on any of the signage.
Apologies for the picture being below my usual par, this was day 1 and I'd spent that day running around the high-end tac gear part of the show with my head on fire. That and the lighting in the sands is dim, yellow in tone and generally very poor for photography, I'll be trying to use flash more next year that's for certain. Perhaps a professional wouldn't have the same issues as me, but I'm a complete amateur with the most basic, budget line DSLR Canon have ever made.
If you're not familiar with PCU and you didn't read the article all about the system that I linked over from ITS Tactical a few months back, you SERIOUSLY need to go and do that now, then come back to this post. Because if you don't, you'll be lost. But without further ado lets begin the stroll through this little forest of clothing wonders.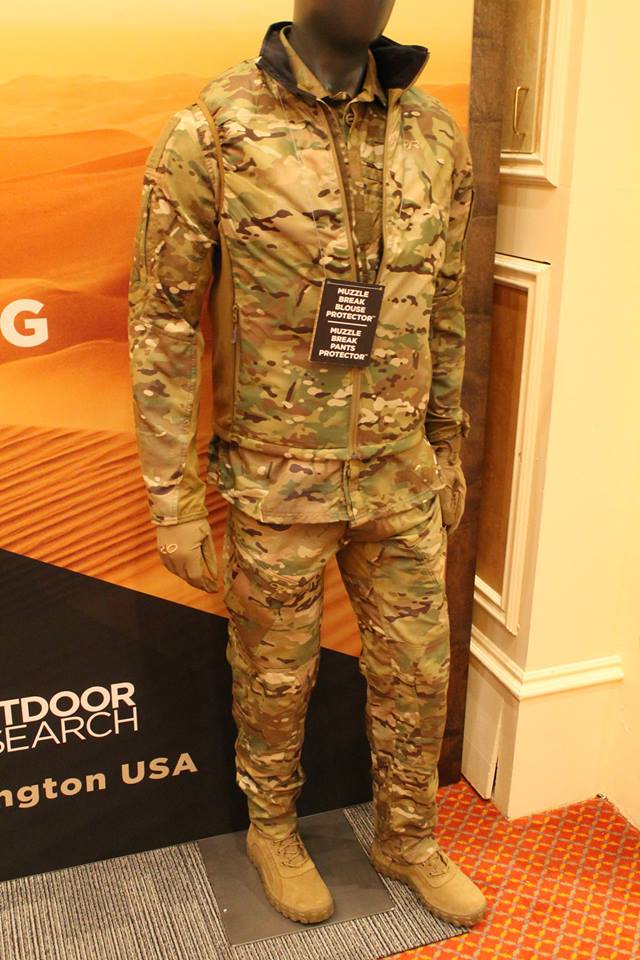 Muzzle Brake – The Muzzle Brake shirt and trousers are OR's Level 9 jungle/humid temperate uniform made from the GORE-TEX® Products Katana fabric that Arc also use in their hot weather clothing items. It's supposed to dry twice as fast as NYCO with the same overall resilience at 20% less weight. The cut is very complex and technical and you'll not have seen much information about these uniforms floating around out there. I've only seen stock of them at Tactical Distributors and one other online store, they cost almost $400 per pair of trousers and most folks don't look outside their ArC'rye bubble to consider brands like OR, Beyond and.. Patagonia *spit*. Not in the commercial market at least.
I'm not sure what the blouse/pant protectors are exactly apart from the upper item being in a vest format. A thin nylon shell along the lines of a wind stopper perhaps, but I won't speculate further. If I get hold of anyone at OR I'll post an update with further details.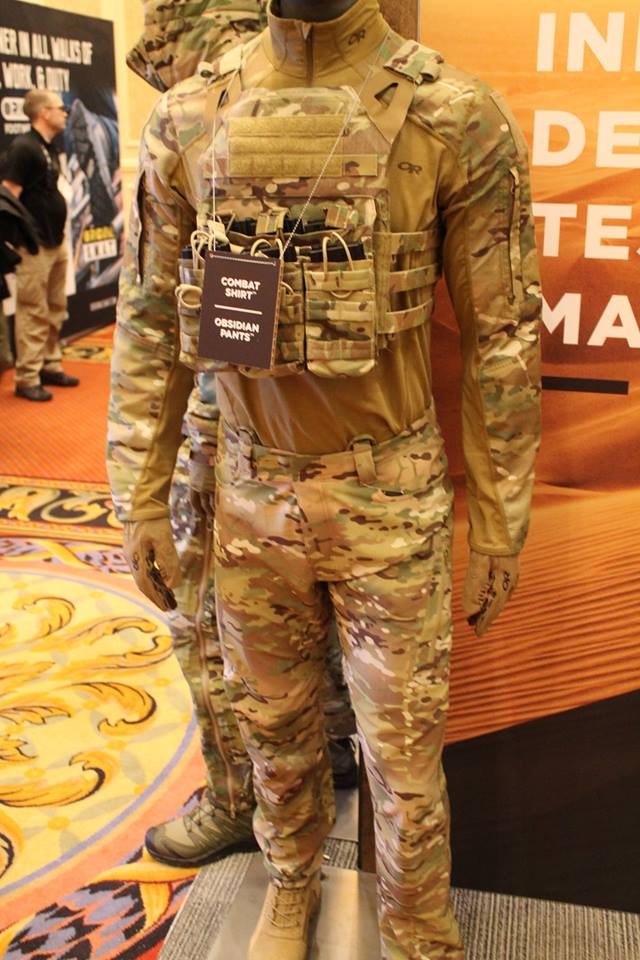 Combat shirt – Not part of the Muzzle brake line in terms of nomenclature, but still part of the line with regards physical construction. Using the same Katana fabric as is visible in the close-up shot. The torso is a Polartecbrand fabric which is good news because Polartec are very popular for combat shirt torsos and for good reason. I couldn't find this combat shirt online anywhere except for, as per usual, over at Soldier Systems Daily who do have a little bit more information for those interested.
Obsidian jacket and trousers – Softshells, PCU Level 5. Using what I gather is the same Tweave fabric that Crye and Arc use for their All-Weather and Combat lines of L5 garments respectively. Nothing revolutionary in terms of the fabric there but thus far nobody has released a better all-around softshell material to my knowledge.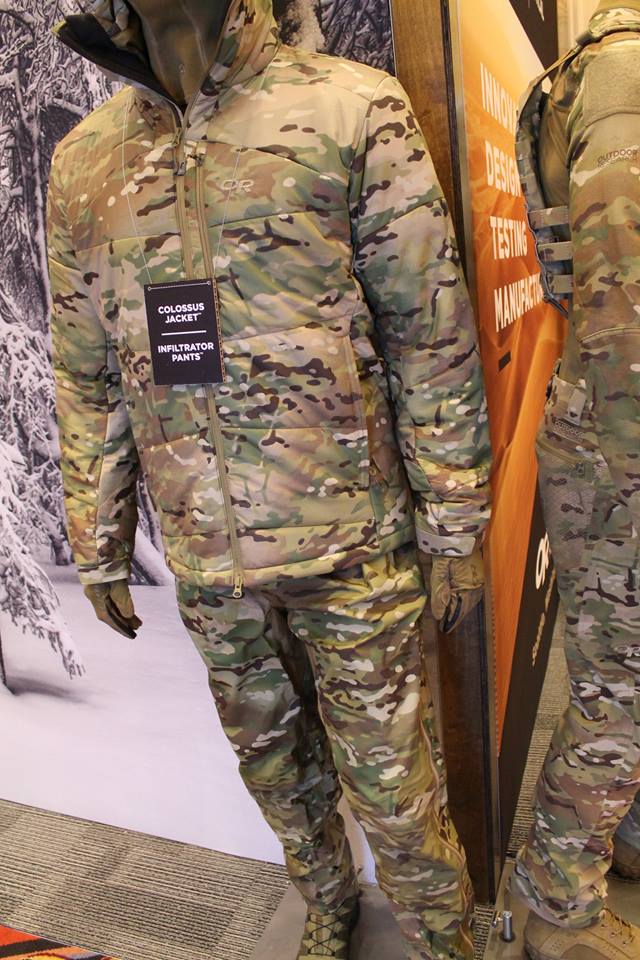 Colossus parka – Finally a name that's clear and fairly obvious as to what it represents. This is your outer insulation layer for staying static/bloody cold weather. PCU Level 7, uses the infamous PrimaLoft Gold which is widely renowned as one of the absolute kings of insulation material and a cut above the other Primaloft fills.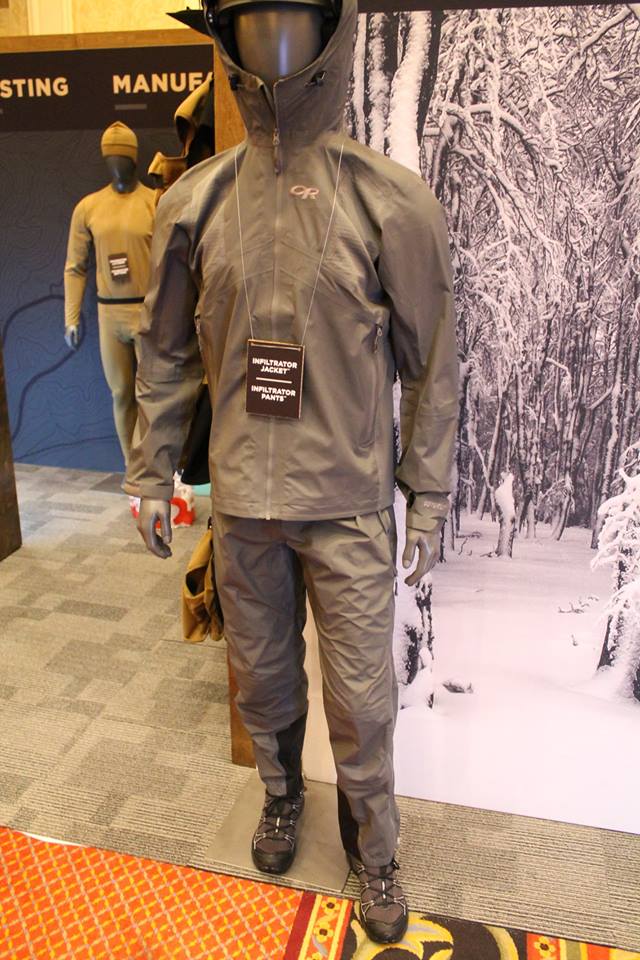 Infiltrator – PCU Level 6 i.e. the waterproof Gore-Tex apparel. I can only presume named 'Infiltrator' as the fabric hopefully doesn't swish against itself the way my old issued DPM GTX does. This set is made of a Gore military fabric with (again) Gore stretch panels that are also fully waterproof. Yes, you read that bit right, it's been around a while now but almost nobody is using the stuff. It's not just very slightly stretchy either, I had a feel for myself and there's a huge amount of elasticity in the stretchable parts of the jacket. So much so I don't think a garment entirely made out of this material would actually be a good idea.
The most exciting part for me is the potential in the lower half, even though GTX trousers are probably one of the least used issued layering items as most folks would prefer wet legs over trying to fight to get those things on; then you just know you'll never get a chance to stop and take them off when you really need to. I've not seen where the stretch panels are actually integrated on the Infiltrator trouser either, hopefully at least in the groin and lower back area as per most of the cut of popular combat pants on the market.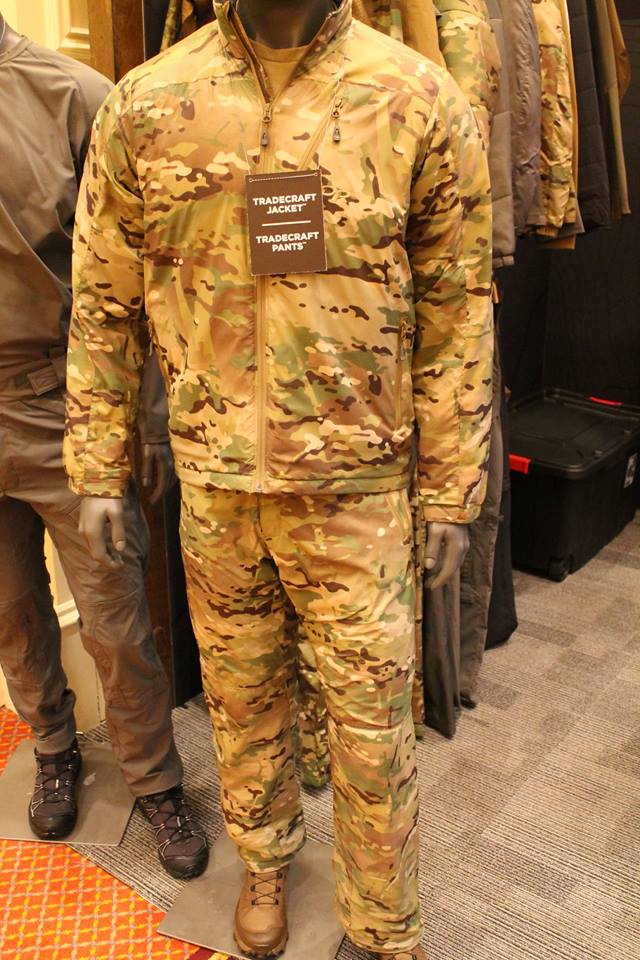 Tradecraft – I'd say the equivalent of the main-stay that has historically been the Arc'teryx Atom line. Uses the same Primaloft Gold as the Colossus parka, but with roughly half the weight/thickness to fit in to PCU Level 3. I'm strongly drawn to the jacket in MAS Grey as an everyday item since it doesn't have the wind-permeable side panels of my Arc Atom LT hoody. Arc do offer their Atom AR of course which lacks the side panels and the Tradecraft is only a couple of dozen grams lighter at a very similar price point, but the Arc logo and branding (in my eye) gets more and more pretentious the more I look at it. I don't mind subdued and colour matching versions but the whited-in skeletons I am not a fan of these days.
The OR Foundation and Barrow layers are also being made to provide options at Levels 1 and 2, then there's the Prevail jacket for level 4. Rounding out pretty much the entire PCU system now available from OR from levels 1 to 9.
I've pictured the glove line as well just because OR produce so many and are particularly well known for the FR hand protection. I've personally only owned the Ironsight models however which were pretty good overall and fairly close to the FDT Alphas, which is no mean feat in itself.