I received an e-mail this afternoon to say the KickStarter for the Raine Inc.Bridger cover that I mentioned the other week has now finished, so fingers crossed those will be in production very soon if not already. Between the shipping process I use and a work trip I'll probably be going on I expect it's going to be a couple of months before I can post my own review, but I'm excited to get my hands on this piece of kit regardless.
Since I originally posted my SHOT coverage from the Raine booth I've been very fortunate to talk a little bit with Mr Alex Gallo, the designer for the Bridger. He's filled me in with a few queries and uncertainties on details I had post-SHOT (and you end up with a lot of those because it's an incredibly busy week of looking at new stuff all the time).
First thing to mention is that Raine have variants of the cover in development to work best with a LOT of other buckles that attempt to provide similar end results to the Tubes. In the past 2 years a lot of companies have come in to the sphere with new shapes of Cobras, plastic side-release buckles, straight Tubes rip-offs and all sorts of other options. Down the line Raine is looking to cater to all of those, which I like because some are pretty good; the ones that don't blatantly steal FirstSpear's design anyway. The news I was most glad of however is that there will also be complete cummerbunds, as shown below, along with a variety of other gear along the same lines. Much like the FS Retro-fit cummerbund I reviewed a couple of years ago (and still believe to be one of the very best items of kit anybody wearing a PC might invest in), the Raine cummerbund will come with genuine FS Tubes, the Bridgers already attached and make for an absolutely perfect upgrade to any carrier that's still using a big velcro flap. As somebody who personally loves split-front chest rigs and laser cut PALS, the new chest rig design also looks great to my eyes.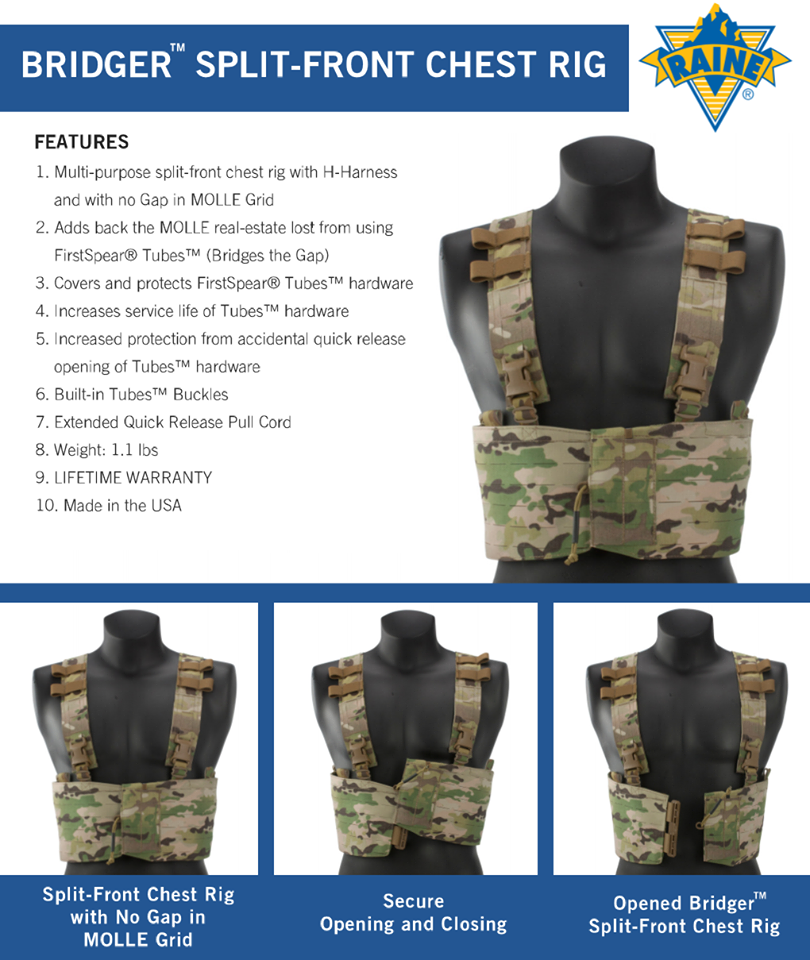 The slight increase in force needed to open the Tube with the Bridger cover mounted that I mentioned during my time in Vegas is of course a natural result of the sheer physics involved in the design. The pull cord is longer with the pivot point being further from the release tab in the female Tube. Raine say that they've had field users come to them with reports of some rare, occasional accidental releases of Tubes when moving quickly inside buildings and the tiny probability actually occurring of the release tab being caught on a hard edge. Of course we all have also seen somebody with some kind of quick-release in their armour being messed with by their buddies. It 'never' gets old.
Apparently durability is also a concern many customers have come to Raine with. It would seem some Tubes have very rarely been broken after repeated impacts against vehicle frames when jumping in and out frequently. Since it completely covers the Tube, the Bridger cover will of course bear the brunt of any everyday-type impact, rather than the plastic of the Tube itself.
Overall I think their gear line-up is shaping up extremely nicely. Any split built in to gear in the past that facilitated quick donning had necessitated zips or buckles of some kind and those push the actual equipment in your pouches further around to your sides and back. As such the equipment may be harder to reach, awkward inside vehicles and aircraft when you're sat close to people or it might snag you up going through narrow doors and passageways. Alleviating those issues through the combination of the Bridger designs and technology like Tubes is a positive step in the absolute right direction.