Took a good opportunity to go to an airsoft game on Sunday and take with me various things that I think present interesting feature sets but haven't yet been able to make any real decisions on based on lack of actual use. For those of you who don't play with BBs but do shoot firearms, the best analogy I can think of is that if you take some gear like a chest rig or helmet to a typical one day airsoft skirmish game you'll get quite a bit better 'shake down' on it than you would in most flat range shooting courses, even multi-day ones; that's my experience at least. You cannot of course try out and familiarise properly with a firearm, optic, laser or anything like that, but you can at least buy a gun that's very similar to a real one and just generally get used to grip and stance in any and all positions and conduct lots of manipulations in positions probably more realistic (certainly more varied) than you'd get in most flat range classes. That is if you treat the airsoft gun like a real one – everyone has different goals.
First off for the English folks who play, Red Alert Paintball & Airsoft isn't a huge site by UK woodland standards but certainly isn't cramped either and most importantly it's owned and run by a solid bunch of blokes who put in a good effort to orchestrating things. A pretty tasty little lunch is included and it's £27.50 all in for the day which is a pretty damn good price for Southern England.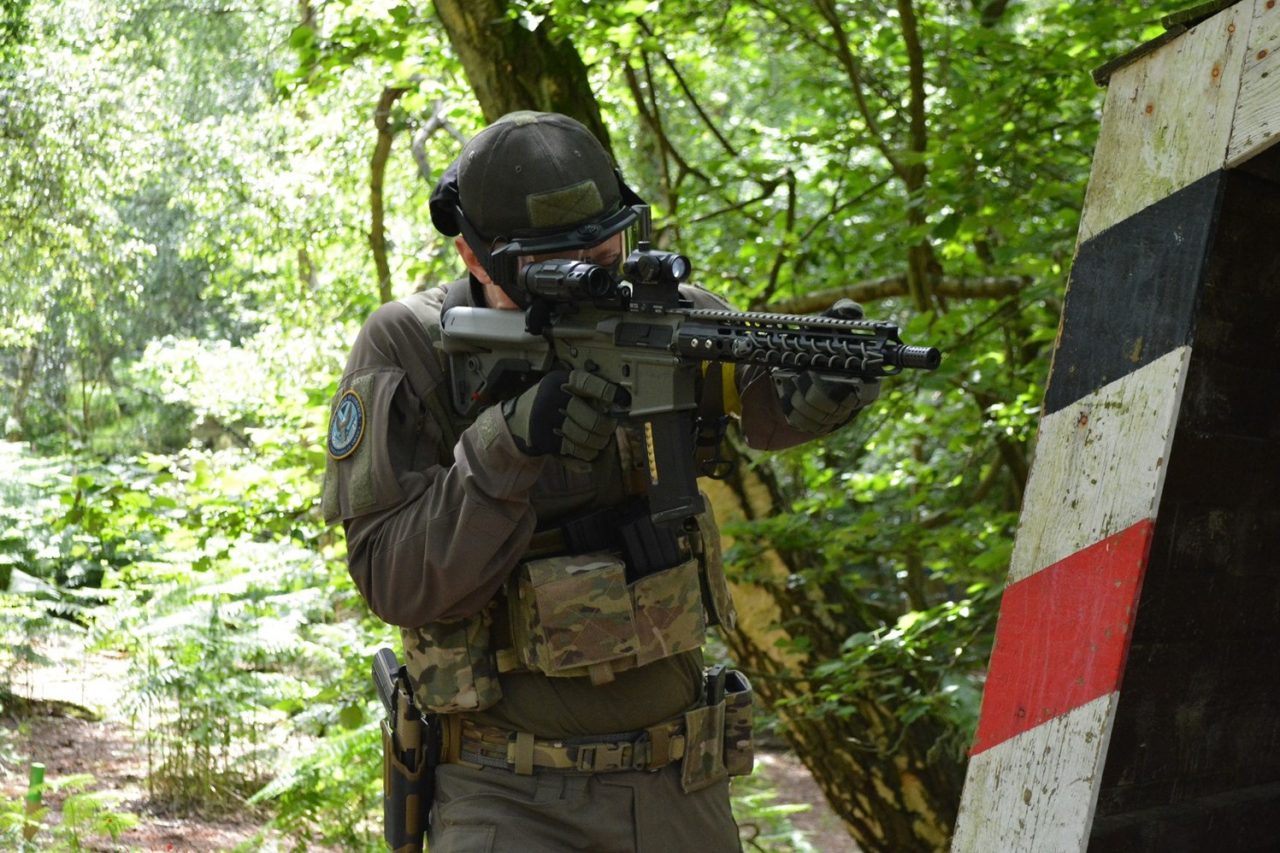 Forecast for the day was over 90% precipitation, so I was fully expecting to be drenched most of the time and packed a complete change of dry clothes for the drive home. Since I'd decided I had to utilise a modern belt rig for the day a jacket was out but I wanted softshell so went with the Crye G3 All-Weather Combat Shirt and matching trousers. Definitely not the perfect uniform for light use on a normal summers' day however as I say I was expecting rain and wanted something that would resist some water, dry fast when the rain broke and wouldn't absorb gallons of water in the first place then make me cold like cotton would.
What actually happened of course was it rained like mad for the drive to the site, then there was no more rain all day and the current mild-but-moist summer we're currently having continued. It was around 21-23C for the day with only a very, very occasional light breeze and a range of 71% humidity at the lowest, rising up to 92% and I would wager potentially even more in the woodland. I could definitely feel the slight greenhouse inside the uniform, especially in the sleeves and when I took the team-ID plastic tape off my left arm at the end of the day the tweave fabric underneath was quite literally saturated with sweat and dripping, but overall the experience was not unbearable by any stretch and the rest of the ensemble transported any perspiration at a good rate.
Again I could feel some evaporated sweat sitting between the shell and my skin, but it hit a certain level of being noticeable and didn't get any worse, certainly never felt as bad as it can do when you do anything physical in a waterproof Gore-Tex jacket. The All-Weather torso is a lot thicker than the standard G3 but it didn't cook me or drown me in sweat and the strangely placed vent zips that are right next to the bicep pockets on the shirt really showed their value. I thought them to be really very weird when I got the shirt, but as soon as I opened them up the instant cooling feeling was significant and they're located fairly well so as to allow venting of sweat from under the arms as the water vapor rises.
Circling back to the belt; ever since I received the AXL Eclipse belt I must admit I had held a real concern regarding how comfortable it would actually be to wear. The fact that the Tegris material is exposed along the bottom third of the belt with a hard edge to it had me picturing a really raw and chafed waistline/upper thigh area after a few hours, but my presumption could not have been more wrong. I deliberately carried a metal GBB 1911 rather than my usual plastic TM pistols in order to try and get somewhere close to the weight of a common real handgun like a Glock 19 with a loaded magazine. As always the holster was directly mounted to the belt as in airsoft I'm perfectly able to keep my torso sides clear enough that even a single strap drop-leg simply isn't necessary, which means the belt bears all of the weight and none is transferred to the thigh. The combination of Syzygy inner and Eclipse outer belt stayed rock solid, no curling or rolling, no slipping, no irritation to the skin. As I've said a few times before the best kit is the kit that you just don't notice while you are wearing it and the AXL setup absolutely meets that criteria.
For 80% of the day I wore my Comtac XPs even though there was no need just because I knew the humidity would make it a great time to see how the Noisefighters Heatsyncs would work out. The Noisefighters Sightlines gel pads accumulate a LOT of sweat and don't have any channels or permeable materials to get rid of it while you have your ear pro on, but the Heatsync covers both stayed cool and I never felt that nasty, cold, wet feeling you get when re-donning something you've sweated in for a while then removed for a 10-15 minute break. My gloves and cap had those issues, but not my ear pro. I will have to take these things on a real range to see what affect they have if any to the headsets ability to deaden gun shots, but they didn't seem to cause any issues when I was setting off various small thunderflash pyros during games.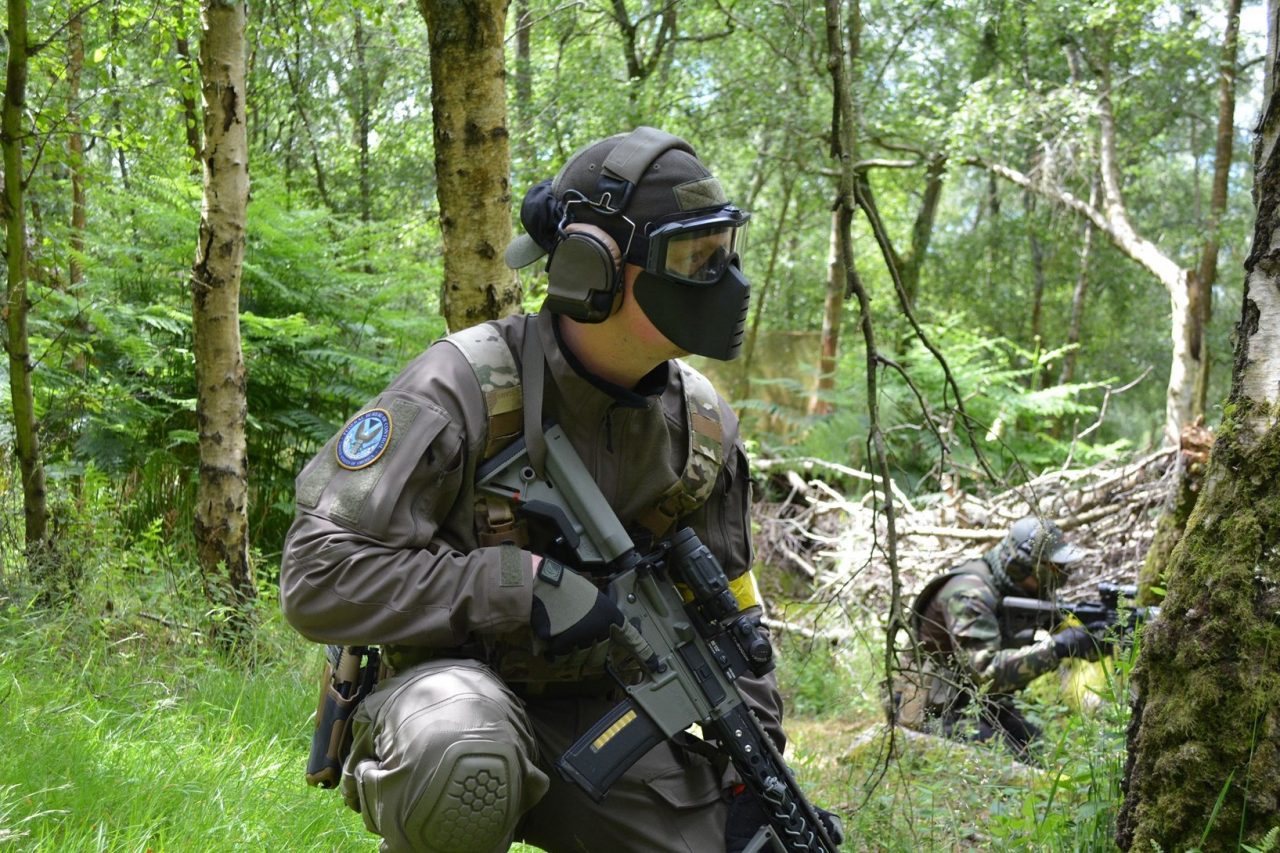 As far as I can remember, this game was my first time using a Blackhawk Tactical product for about a decade. The Omnivore holsters are the solution I've gone with to replace the stack of different super niche kydex I used to own that never actually ended up fitting in with any kit I ever wanted to run in the way I wanted to run it. With goggles on it takes a proper look to get re-holstered since the bit that's attached to your gun is very small and it's going in to a very small slot – it's like comparing reloading a .22 derringer to reloading an M82. I also forgot to put an extension on the release button and drawing was never very smooth, though granted I have very few practice draws with these things, however said extensions which are included in the box do make a ton of sense. I don't regret the purchase at all though, no issue with retention and there's actual coverage for the sidearm unlike the alternatives from SureFire or S&S.
Despite owning the Krytac LVOA-S for many years now this was its' first outing for various reasons. Though as is always the case with my airsoft guns the stock, grip, forend and muzzle device have all been changed from factory. For a mid-price range AEG though and not even a recent one the trigger response is more than adequate on a 7.4 and accuracy and range are nothing stellar but equally I was never falling short or failing to hit a human at the max range of the shots with a short burst. The common Norgon style drop-in ambi mag catch I installed to replicate the real LVOA in an earlier incarnation of this gun did release mags when bumped against my chest rig early in the day before I learnt to work around that, but I never use that ambi function so it will be swapped back to AR stock style.
Used some ancient repro optics from the very first days of T-1s being cloned and the magnifier both didn't line up and was further hindered by the T-1 having basically purple glass; won't make that mistake again. The PTS EPM I threw out a window on to concrete then ran over years ago gets used every game and frankly I might stop using it purely because there are absolutely zero signs of it ever giving up.
Oh and I have to mention the Crye G4 pads quickly, because this was also my first time trying those and when I first took a knee I thought I had knelt in soft mud and took a quick look down to check, but I hadn't. The G3 pads were decent but didn't actual 'pad' much, whereas the addition of the extra new type of foam in the G4s is extremely noticeable indeed from a comfort perspective.