My experience of this site in terms of an airsoft venue is here on the AFUK forums:
https://airsoft-forums.uk/topic/50028-the-how-did-your-airsoft-day-go-thread/?do=findComment&comment=488708
Gear wise, I'll work my way from head to boots.
I've been going with roughly the same head gear setup for many years now and can't really see any way I'd want to change it.  A backwards cap covers the scalp and holds up the goggle straps so they don't slip down; the type of cap itself varies by season/weather, in this case the Mil-Spec Monkey CG-Hat Mesh which I've owned for a very long time and simply works extremely well for hot or humid weather, as was the case for this game.  As a good deal of this site comprises interior spaces which are both cramped and built of concrete and other uncovered hard surfaces, I wore my Peltors which proved to be the right idea as a great many blank-fire grenades were thrown around and players around me were complaining of ringing ears.
Eyes and lower face are protected by fan goggles with a mesh+cordura half mask zip tied to said goggles.  You lose some peripheral vision in all directions with this mask setup as is the case with a standard paintball mask and this is fairly noticeable when trying to manage magazines stored on the lower chest, but this PPE combo is far lighter, more comfortable and provides for much better airflow than any classic type of paintball mask while still providing a very high level of protection in terms of playing airsoft.
My Brushstroke combat shirt is a pure LARP mash up of mid grade materials from multiple sources, it's been taken apart and put back together multiple times by Roman Kurmaz and features both the Rhodesian and Zimbabwean versions of the pattern, but it was perfectly comfortable on this particularly saturated humid day (which is not a common occurrence in the UK).  The G3 combat trousers from Crye continue to naturally be an excellent option for short games such as these that only run for around the length of a working day and the G4 knee pads remain a must-buy when put up against the G3 equivalents.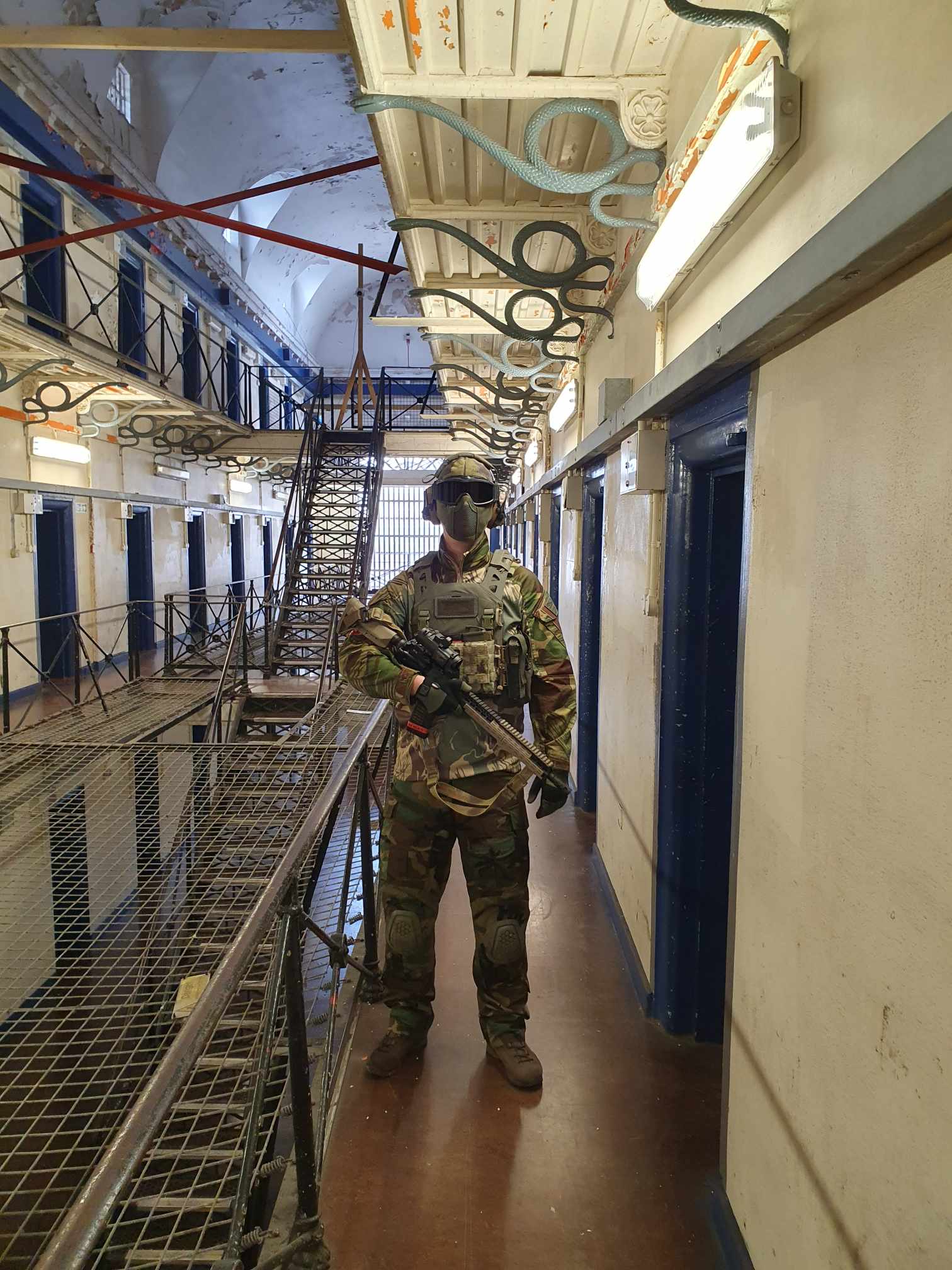 C2R Fasts' Chameleon with the additional skins is one of those items that you don't even notice you're wearing.  My F9 Gear Ammo Hub mates up with it perfectly but that's taken as read.  Spiritus' simple, standard triple 556 elastic insert is now the gold standard by which other inserts are to be judged as far as I'm concerned and I had maybe 1 small hang up with inserting a magazine all day.
Any design of glove in the SKD PIG line is always going to be a good choice and this pair I've owned for many many years is finally starting to wear near the fingertips where the leather sees the most abrasion but they still have a few uses left in them.  Since UCAP runs a 'no boots, no play' policy I just grabbed my issued AKUs which paired with the Varusteleka Merino Boot Socks were surprisingly comfortable – surprising in the sense that I've not generally found the issued AKUs all that comfy to wear for a normal day in work, where I don't undertake anything particularly strenuous most of the time.
My replica weapon for the day is my old BCM marked 'Avalon' aka VFC AR-15, which has some real BCM external parts added and extensive reworking inside by Negative Airsoft.  Having a fast trigger response at a site such as this one which only allows semi auto fire exclusively is very handy indeed and personally having a magnified optic is a must at pretty much all games to ensure 100% positive ID on team colour of other players before firing.  Despite being a prison, the compound within which the cell blocks are contained is where most of the game took place i.e. outdoors and mostly at the maximum range of most airsoft guns, not indoors.
Obviously the plate carrier, camouflage and longer barrel (i.e. more than about an 11.5″) weren't necessary for this game, but that's just airsoft.  This whole setup worked great overall.