Everyone knows Crye is the most popular and prolific of the high-end, US-made/focused tactical uniforms, but what about the competitors?  Patagonia is now widely issued to US military SOF in place of Crye, Beyond is always hovering around the periphery and every now and then you see someone rocking the bird.  Do they have the right idea by doing so though?
Arc'teryx LEAF has been trying hard to put out a good set of tactical apparel made of NYCO for a decade or more.  For some reason however they just don't seem to be able to nail it.  The dead bird brand has always done very well in the layering realm with products like the Atom jackets and indeed basically all of their insulating layers, not forgetting the various waterproof items.  But when it comes to a cotton-blend uniform for warm and temperate environments they've never seen the same success as they have with the inclement weather layers.  I'm not certain myself but I'd imagine Canadian SF perhaps use them, however they never seem to show up in any other military use and their commercial success seems quite limited despite being similarly priced when compared to Crye G3s and G4s.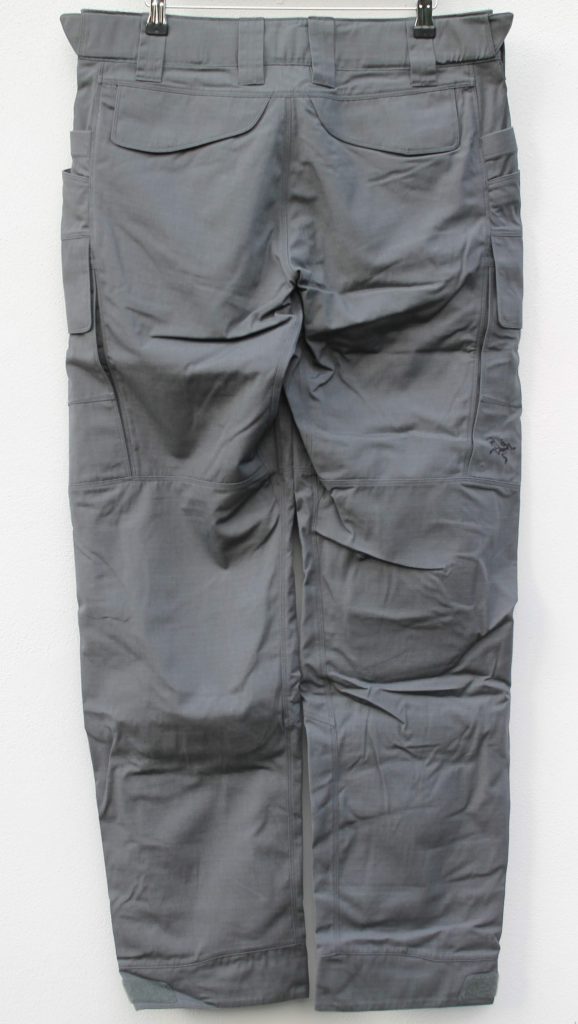 As you can see, the 30-thousand foot overview is that there isn't a whole ton of stuff going on with these Assault AR trousers, which compared to the UF Pro Striker series is actually a very good thing in terms of bulk, weight and simplicity.  Yet despite being lighter there is little loss in terms of durability.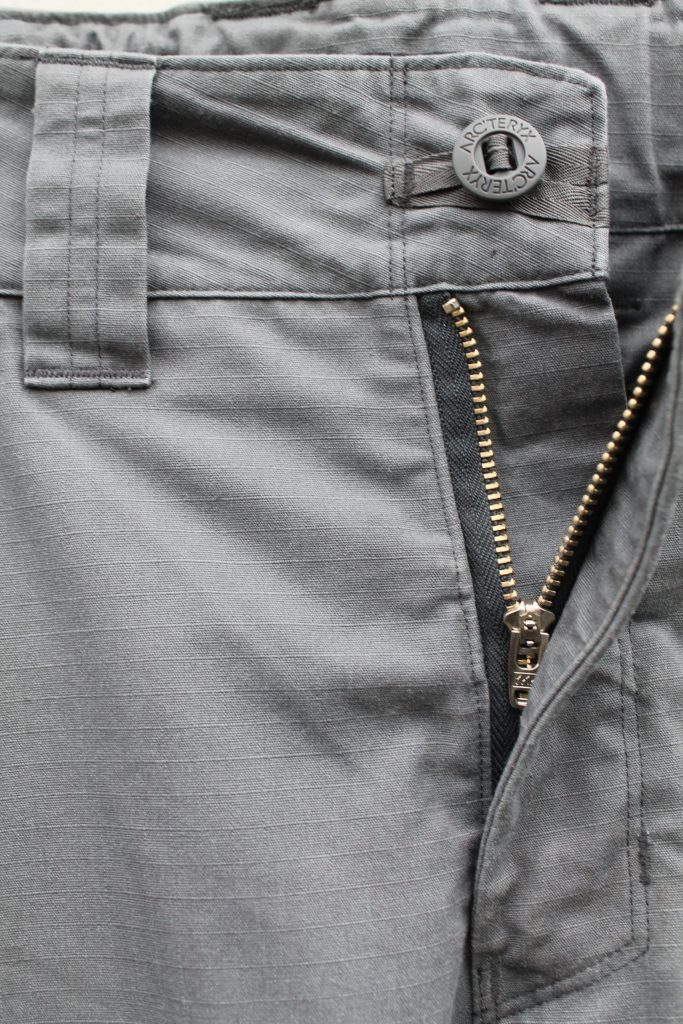 At the fly it's a very standard affair, nothing innovative but it certainly works.  A nice metal YKK zip with a slotted button.  There's good reason that this is the global standard.  Not quite as low profile as using velcro up top but certainly a long lasting and durable mechanism which is relatively easily repaired and in line with the rest of the construction of the pant, as I will outline later.
All 8 of the belt loops are 2.5″ tall and 1″ wide with full bar-tacking alone the top and bottom edges of each for maximum staying power.  The fact alone that there is 8 of them is exactly the sort of level of construction you expect with LEAF and can add some stability to a belt rig compared to the more common 6 loop setup.  You could lose a little velcro adhesion with a 2-piece modern belt and if you directly thread your belt accessories you might lose some space, but it's swings and roundabouts as with anything.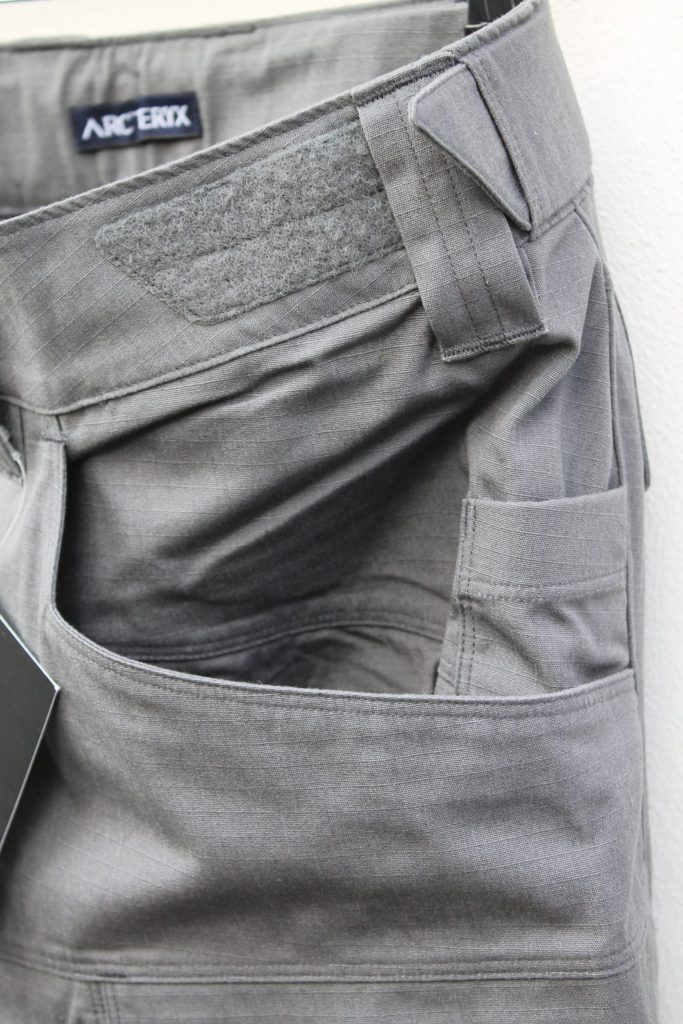 Adjustment at the waist pulls from the 3 and 9 o/clock going directly forward, which may not be the norm but technically does make more sense it has to be said.  It's just a tiny bit easier to adjust the garment properly while wearing it with this setup compared to every other waistband adjustment I've ever seen that starts at the sides and is tightened towards the wearer's back.
The standard upper front trouser pockets are of course present in their usual places and feature nice, wide openings.  Internally they're comprised half of mesh which means there is a little potential for extra air circulation, though the mesh is on the side away from the body and realistically the openings of pockets like these are mostly kept shut once the garment is actually worn.  The bar-tack you can see here in the upper left corner of the pocket opening (slightly out of focus) is a good example of the extremely high standards of sewing work found throughout the garment.
Inside each pocket is a knife/multitool/light type miniature sub pocket of the size you would expect to find in any trouser of this type.  Good for organisation and quick access to all of the aforementioned types of generally handy items.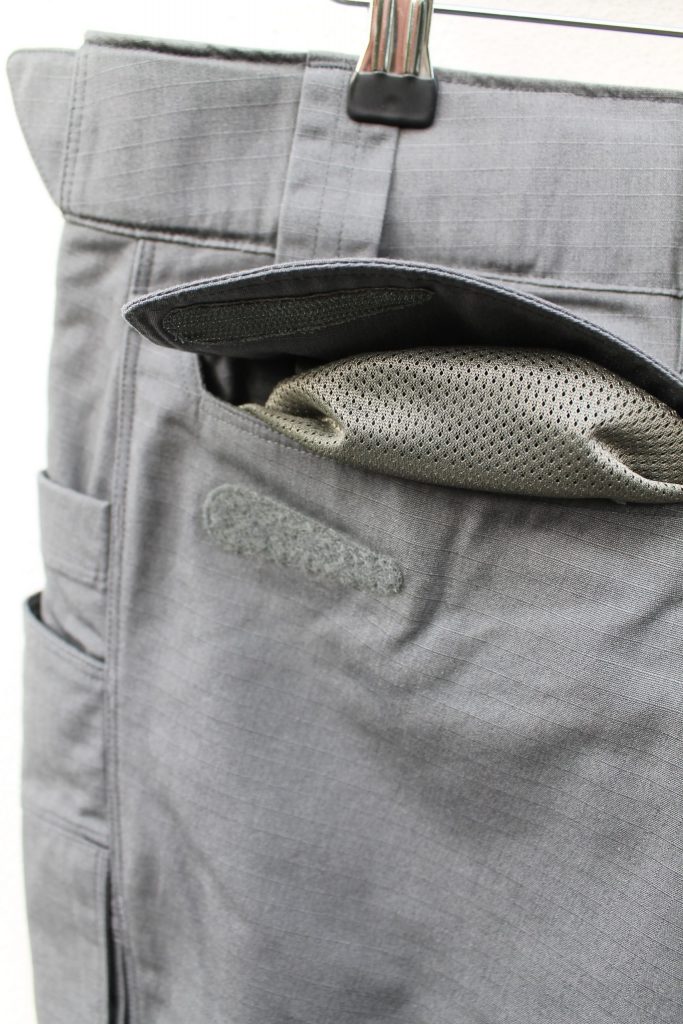 A relatively standard pair of pockets in the upper rear, nothing you've not seen before but then they don't need to be.  As above with the regular waist pockets, these are half mesh and half NYCO with the mesh side away from the body.  Closure is via standard flaps with one small piece of velcro.  Personally I do like the zip of the G3s for some small pockets like these as you just get that extra peace of mind when stowing very small items, but they would have to be very small and you'd have to be doing some crazy stuff for items to actually escape the closure flaps.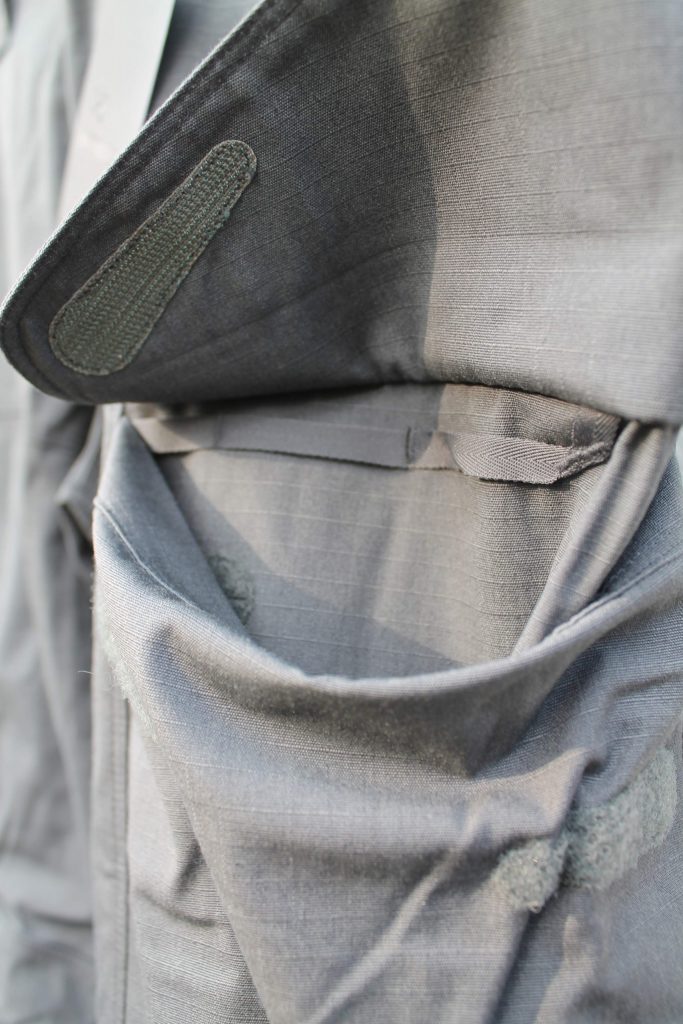 One of the less impressive features is the design of the 2 main cargo pockets.  There is an expansion billow along the rear vertical edge of each and with the front edge sewn under the main body fabric the whole thing is extremely sleek and shouldn't ever snag.  However, the top edge of each side at the opening is permanently stitched down, meaning the opening cannot expand outwards in the way BDU and Crye pockets can, leading to a bit of a bottleneck effect when stowing and accessing any items.  This picture is actually a bit mis-leading as it seems to show a wide opening to the pocket, but that is really not the case.
Though there are some daisy chain lanyard loops inside, the tiny velcro fields that secure the flap really are not big enough for peace of mind and the teardrop shape of the velcro is rather pointless aesthetic fluff.  While I wouldn't be at all surprised if some materials engineers/designers/scientists at LEAF figured out that this shape is 4.3% more efficient in some respect or other, it really does not matter all things considered.  The pocket as a whole also sits quite low and is very deep, so while the capacity is substantial you really have to lean down to reach anything in the bottom and you will struggle to stuff anything large enough to fill all of the capacity through that narrow top opening with those stitched down sides.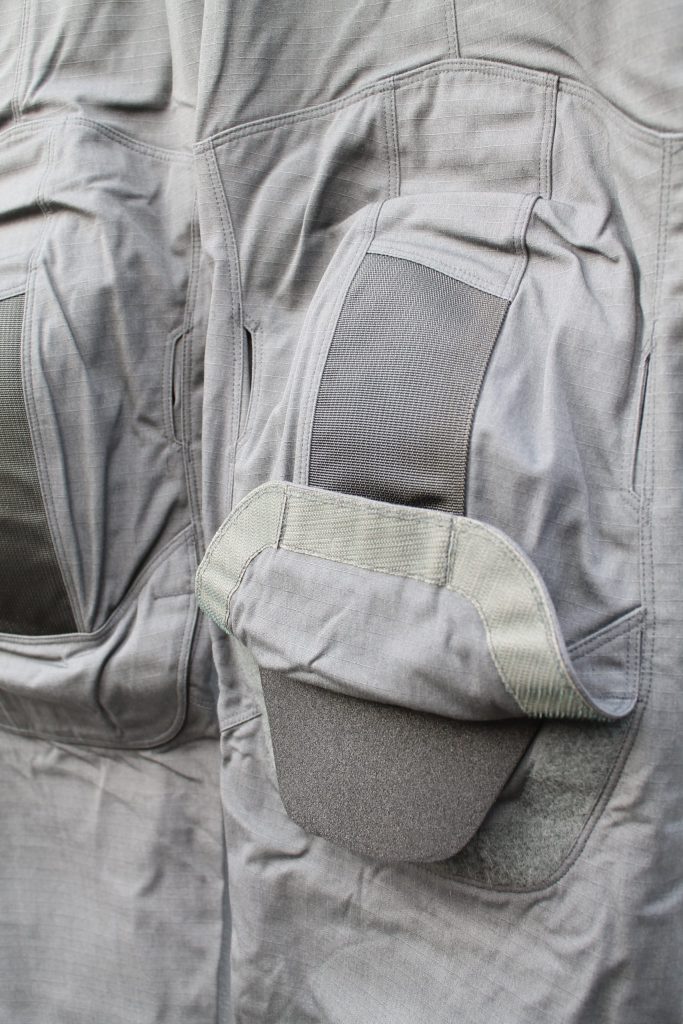 Personally I am a fan of the knee pad pocket arrangements.  Crye design their apparel for SF personnel who want their kit lightweight but who can also get lots of free replacements.  While the CP uniforms are certainly still durable they're not designed to be the kind of thing you use heavily for many, many years in service then end up keeping post retirement because they're still perfectly good.  I have long felt the knees on the Crye pants were a weak point over the long term since there's just no reinforcement on top of the NYCO in the high wear areas.  With the Assault ARs you get a substantial area of much harder wearing webbing stitched on top of the NYCO, just over 2.6″ wide, that covers the point on the knee that is actually going to be in contact with the ground.  There are also 4 ports for the straps on the classic Arc Knee Caps, though I can't see any reason to use those over the included foam knee pad inserts.  I'd wager they would in fact be a noticeable downgrade in comfort, but the option is there for that personal preference.
I haven't featured a close-up shot of the velcro ankle cuff adjustment here, but it is not dissimilar to the adjustment in the waistband, in so far as it pulls from the back to the front whereas most other designs are the reverse.  As you can see in the header image for this post, the ankle closures are also mounted at the front of the trousers which is again unusual as every other brand mounts them on the side and they end up around the back of the ankle once tightened.  This looks rather strange at first, but quite simply it is easier to reach down and make adjustments in a timely manner given that the wearer can both see the tab they are grabbing and exactly where  they are cinching that tab down on to.  Quite a clever design element for the professional end user.  Fortunately, the inner ankle areas do away with the quasi 'gaiters' mounted inside the bottoms of the earlier Talos offerings from Arc'etryx LEAF.
---
These trousers weigh in at 729g (1.6lbs) for a pair of Mediums as I have here, which is slightly more than the Crye G3 combats but a lot less than the UF-Pro Striker XTs.  I would say that is a pretty good compromise and you might gain a noticeable level of durability compared to the Cryes (in some areas) and perhaps even be nipping at the heels of the UF-Pro, maybe even out-last them potentially if compared to the items from UF-Pro specifically made out of Poly/Cotton material rather than the Nylon/Cotton.
The Ny/Co fabric Arc'teryx LEAF have used here weighs 6.4oz (presumably per square yard) but I don't have comparable stats from Crye for their solid colours.  My subjective impression is that the Arc fabric is probably both heavier and thicker which means somewhat of an increase in tear and abrasion resistance and better wing blocking but slower dry times, more heat retention and greater capacity for water absorption in the even of heavy rain, wading or full submersion.  Pick your gear appropriately for the weather and environments you expect to encounter.
You do not get any stretch panels in the Assault ARs as you do with the competition from Crye, UF-Pro and Patagonia, though there is a substantial gusset in the groin to prevent that area ripping too easily when quickly taking a knee.  Out of the 3 stretch panels that are common in high end modern combat pants (knees, lower back and groin) having the extra fabric in that area between the legs is definitely on the top of the priority list to prevent seams giving way.
---
Please keep in mind this is, as is usual here, for the most part a feature-overview designed to assist in purchasing decisions by allowing folks to get more info than a retailers' website would facilitate.  In the limited amount of time I have spent wearing the Assault ARs I personally found them comfortable and unrestrictive, indeed they impressed me quite a bit more than I expected them to in both areas.