I am left somewhat conflicted as to what I want to say with regards to the Arc'teryx LEAF Assault AR combat shirt. The long and the short of it is that the quality of the construction is astronomically high, yet I find myself entirely unimpressed by some of the choices in features and materials and frankly bemused by the dimensions and fitment.
I have been hugely impressed by all of the outer layers I have owned from Arc'teryx, be they LEAF or otherwise. Softshells and insulating jackets have performed incredibly well and outlasted all expectations, yet somehow the traditional uniform items made from cotton blend fabrics consistently miss the mark through the inclusion of just a couple of baffling design decisions. Decisions that take an otherwise outstanding product that does a surprisingly job of justifying its' price tag and relegates said product in to the realms of mediocrity.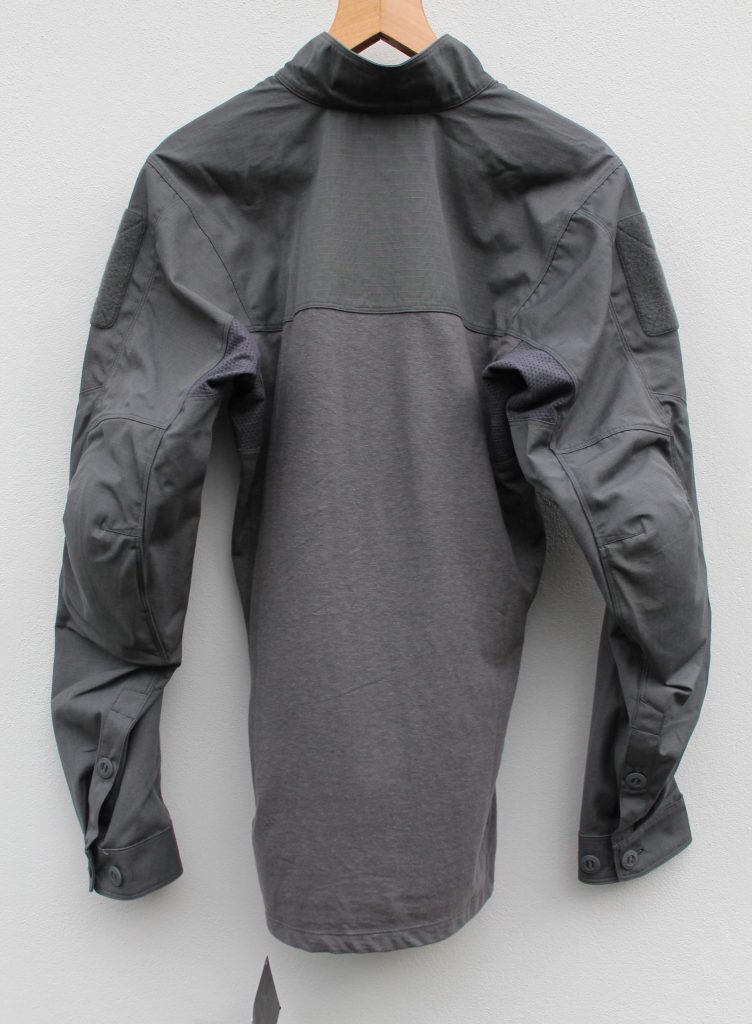 Starting with a positive, a great deal of effort has gone in to the assembly of the Assault AR. I try to make any kit that I post hang as neatly as possible for photographs and the comparable offerings from Crye will tend to be compliant in that, not so with the AR however as the overall cut of the shoulders, sleeves and torso is substantially more anatomical. For those who have previously seen the L9 combat shirts you will be familiar with Patagonia doing a similar thing whereby the sleeves will naturally hang in the shape of a slightly bent human arm, where the Crye sleeves are much simpler; essentially straight tubes of fabric. This sounds like an advantage on paper, but in my own limited experience I can't say I have noticed any difference at all with comfort or freedom of movement. On the other hand the problem this creates is that manufacturers have to use a lot more individual pieces of fabric in constructing each shirt which drives up sewing time and the cost of that is passed on to the consumer, yet the benefit in the end really doesn't warrant the added cost in my opinion and particularly so in the Multicam variant of the shirt. This is of course symptomatic of a company that is at one extreme end of the cost:benefit ratio curve and that is the place in which Arc'teryx has always positioned themselves.
The materials are unsurprisingly extremely high quality throughout, in fact it wouldn't be unreasonable to say they are as good as you can get in a shirt of this specific type. The No-Melt/Drip Ripstop Nylon/Cotton on the sleeves, yoke and collar comes from a world class manufacturer and weighs 6.4 oz sq/yd. Unfortunately I do not have numbers for the weight-per-area on the NY/CO Crye uses as they do not publish that information on their spec sheets, but the general feel on the Assault AR is of a fabric a step above the competition, with the disclaimer that said judgement by feel is entirely subjective. I am simply going off my experience handling and wearing a lot of different uniform items over the years.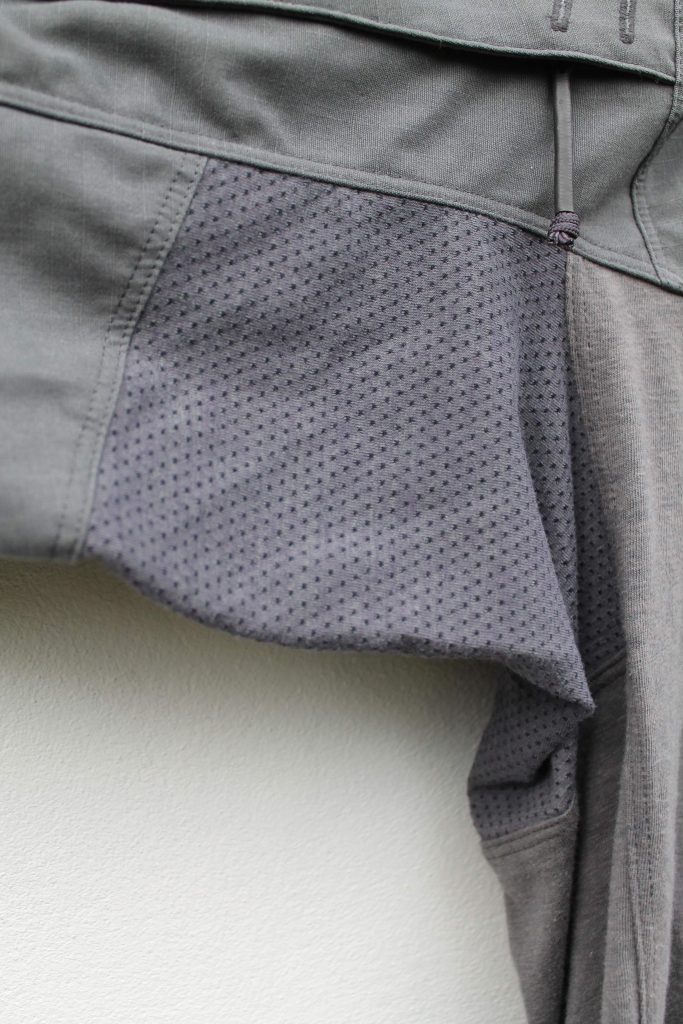 The mesh under the arms (a good feature in and of itself) is from Tencate and is a Flame Resistant type from the Defender-M family, with Defender-M mostly famously used in the USMC issue FROG ensembles. The torso is from Cyberknit and is again No-Melt/Drip NY/CO blend but in a jersey knit, though it doesn't evaporate sweat at a particularly impressive rate sadly.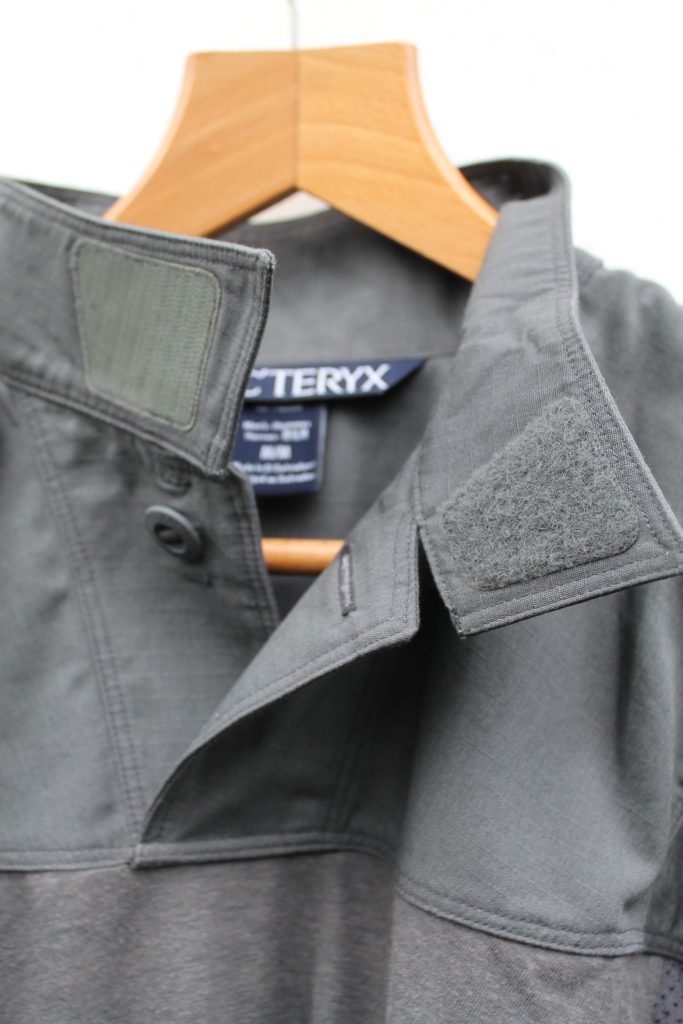 All the buttons are slotted which is certainly a good thing and something Patagonia and Beyond also do, but Crye do not, which is a mark against Crye in my book. Unusually for a combat shirt we find a lack of zip in the collar area with the LEAF offering, which can potentially eliminate a pressure point when wearing plates, but then again everyone else uses a zip and it never seems to be an issue. It also means the collar is essentially limited to being either fully opened or fully closed up with nothing much inbetween and the button is a little more awkward to manipulate given the tight button hole and the fact the wearer cannot physically see it. The Assault Shirt LT released very shortly after the AR went right back to a zip, which could be an indicator of a realised mistake.
The hook and loop is all Velcro brand of course and there's a sensible amount of patch space on the arms as well as integrated plastic loops that act as tie-down points for items like the S&S VLite. Internally mounted arm pockets are accessed via vertical zip, which most major manufacturers seem to have concluded is the best option and settled on at this point. The pulls on the zips are a nice length of nylon cordage with heat-shrink wrap and there are daisy chained tie-down points inside each pocket for additional lanyard attachment of any small stowed items.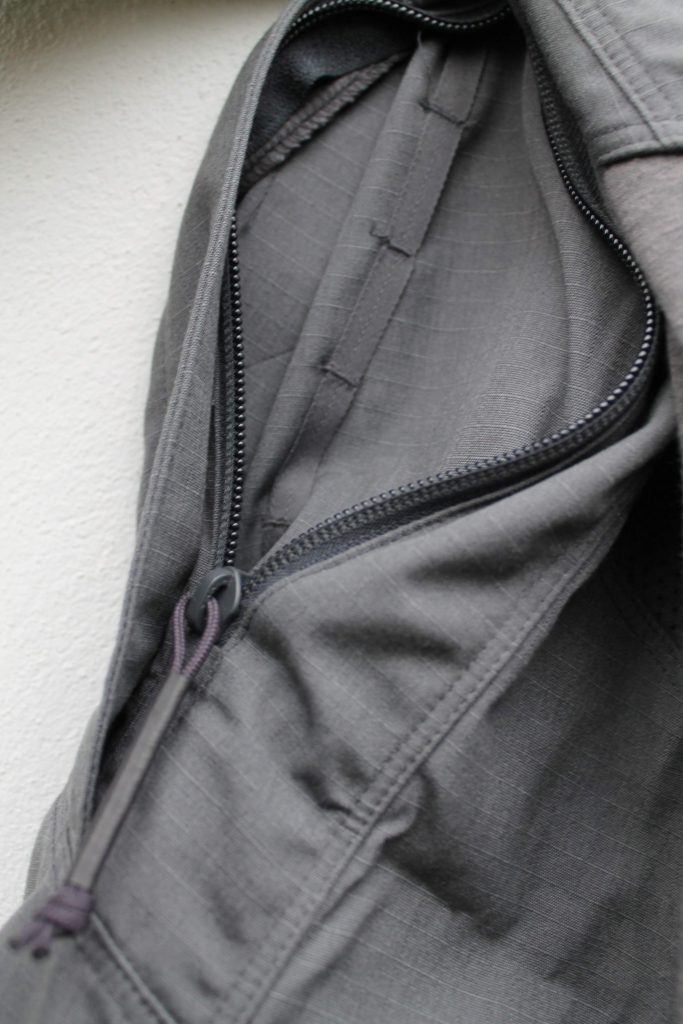 Included (which is rare) elbow pads are made of a 10mm thick closed cell foam and are interchangeable with the knee pads that come with the Assault Pant AR. You might expect this to mean they are excessively large for an elbow pad but I can't say I find that to be the case. They are very light yet noticeably dense so that they do not easily squash down to nothing the way a cheap foam will, so they ought to provide a good level of protection for the given bulk.
The lower arm is split just below the elbow pad pockets and there are buttons for the cuff and said split. According to Arc'teryx this allows for "sleeves up ventilation", except that in reality the only thing which really does that is rolling your sleeves up, something which is made impressively awkward and messy thanks to that anatomical cut. With the cuffs being adjusted for size via buttons (there are only 2) the wearer also has extremely slim odds of this shirt providing a cuff circumference that actually suits their hand and wrist size. The simple shape of Crye's sleeves combined with infinitely adjustable velcro cuffs are an all around greatly superior solution in this regard that also happens to be much quicker and simpler to manufacture. Again, the newer LEAF Assault Shirt LT features velcro on the cuff closures and while buttons have some extremely niche advantages for submersed operations I don't think anybody is going to be hugely put at risk by their cuff coming loose underwater. It sometimes makes sense to use buttons with pocket flaps where equipment could be at risk of loss, but not here around the wrists.
The last big positive point I want to mention before moving on to the chronic conditions this design suffers from is the stitch work, because the entire AR line from LEAF has a construction feature I have never personally seen anywhere else and it is impressive it has to be said. Often tactical gear will have bar-tacks or double/triple stitching reinforcing the high stress areas, such as around the knee pads, on pocket corners etc. However when we talk about double or triple stitching in that context it will mostly mean that the thread is bunched together in a small area or in a compact strip, adding strength to one extremely specific point on the item. As you will see if you look closely at the included images, with the AR line you are getting two lines of stitching on basically every single seam where fabric pieces are joined and along most of the edges too. I can only presume Arc'teryx have machine setups with double needles set just a few millimetres apart because all of the spacing between the lines of thread is absolutely perfect. You will find this same type of sewing work on a few specific areas of the Crye uniforms, but mostly the stitch lines are singular where fabric pieces meet. I have also seen double rows on Arktis items but with with one or both lines wondering all over the place, resulting in something that looks like it has been produced by an amateur street performer who is new to the art of creating balloon animals.
The biggest problem I have found with the Assault AR, as you can gather from reading the above, is nothing to do with materials or construction and most of the features are good apart from in the cuff area. The sizing and fitment however is some of the weirdest and outright worst I have ever encountered, it is as if they used Popeye for a form/mannequin to conduct the initial tailoring. I have met and spent time around all shapes and sizes of people across literally the entire spectrum of employment categories in the military during my time in the service and I don't believe I have seen a single one who would comfortably fit in to the proportions of the Assault AR shirts I have owned. The space inside the sleeves is cavernous, pushing towards what appears to be double the internal volume of relevant competing items, meanwhile the torso is disproportionately narrow. The only men I have met who seriously hammer the gym enough to have arms arms close to the size that would fill up these sleeves also have torsos that wouldn't have a chance of squeezing inside, particularly in the shoulder area. On the other end of the spectrum, anyone of a small or even average strength and build will have sail-sized volumes of excess fabric floating loosely around their arms and for me personally the sleeves are also much too long (never a problem I have had with any other brand). This is of very significant annoyance when the button cuffs do not facilitate the adjustment setting I would want and need around the wrist. To make things worse, pushing the cuffs up the arm to address this excess length causes the forearm fabric to billow out even more and folding is an awkward mess as mentioned.
A couple of years ago I felt that the Crye had fallen behind the times in terms of feature set with their G3 combat shirt seeming to get long in the tooth, comparatively speaking. I picked up two Assault ARs in both Grey and Ranger Green, but in the end sold on the RG to be replaced by the same colour G3 and only kept the Grey because there is not another high quality equivalent on the market which comes in the same colour and fits my criteria for a personal purchase. Given that the earlier LEAF Talos LT shirt was a V-neck that lacked a collar entirely (ridiculous) and the original Talos had really uncomfortable and unnecessary zips under the arms (amongst other issues) I sometimes wonder when LEAF will finally stop getting in their own way by trying to fix what isn't broken and actually design a combat shirt that makes sense.
---
Blog exclusive post-script:
I have no idea how, but my Assault AR in grey came out of the packet absolutely covered in loose threads in a myriad of colours.  I don't mean the usual extra bits of thread that you find hanging from the stitching that actually comprises a garment, in fact the stitch work here was flawless in that regard.  I'm talking about a random assortment of what amounts to scrap/garbage loosely sprinkled in various locations all over the shirt, front and back, sat right in the middle of areas of NYCO nowhere near any seam lines.  I found a good 20 or more green, coyote and MC coloured pieces of thread in varying lengths from 0.5″ up to 3-4″ long.  When I pay this much for an item I obviously expect it to be very high quality in general but what I definitely do not expect is some production floor detritus to be included in the packaging.
I am not saying this is the end of the world by any margin, but I do find it perplexing.