I don't like having to write largely-negative leaning pieces on kit, doubly so from a quality brand that I would generally recommend. It simply isn't fun for me to do, saying negative things always brings about a negative sort of mood and feel and general atmosphere. That said the blog would be entirely pointless if I praised anything and everything; most pieces of equipment have both positives and negatives of course, but I've been very picky with my purchases for many years now which usually means I'll only have to mention a couple of small niggles and mostly have the pleasure of just talking about positives. If there's one talent I would lay claim to it's having a good eye and the patience needed to not buy anything that's going to disappoint me. The majority of the time at least.
As some of you may be aware, I bloody LOVE a jacket. I'm sure I'm not the only bloke out there who enjoys tac gear and also invests in non-tactical styled jackets from his favourite military brands, then spends all summer being annoyed and eagerly awaiting the return of the cold. My collection includes winter layering options from Kuhl, Massif, Arc'teryx, Era3, Magpul and, as in this case, Beyond Clothing.
This is the Helios Alpha Jacket, which utilises a 40D nylon shell fabric with 80g Polartec Alpha inside; more than decent selections there no doubt. Within the PCU layering system, other Beyond offerings at Level 3 use the exact same materials with the same weight of insulation, which I'd say makes this jacket also an L3 item. Beyond themselves market Level 3 as active insulation i.e. fairly light on actual heat retention, but enough when the individual is outputting some exertion in cooler climates.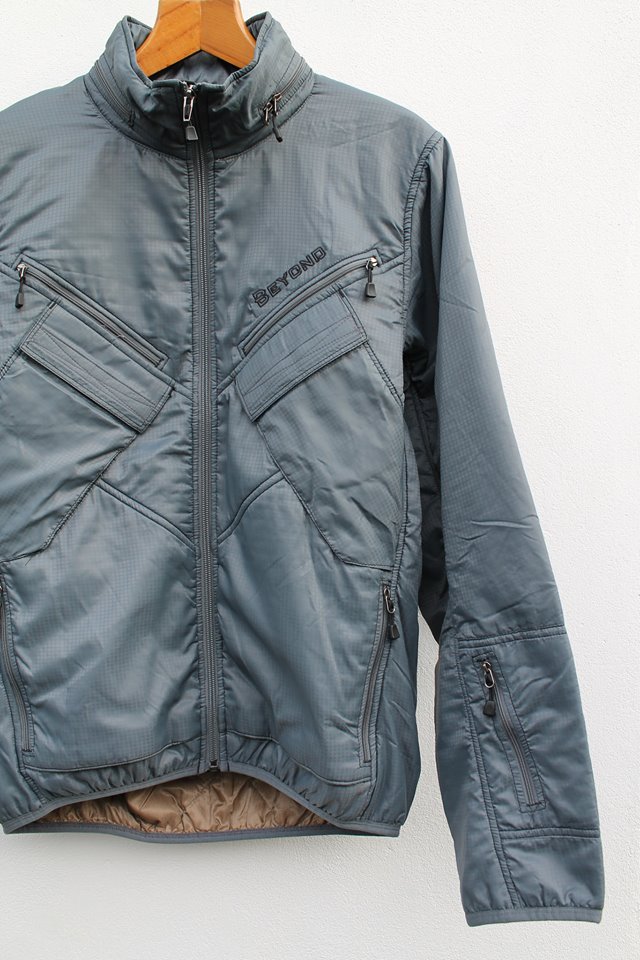 Now this is where a bit of opinion and interpretation comes in. This particular jacket variant was offered in Black, Grey and Navy. No camo patterns, CB, PCU Alpha Green or any other options you'd expect in a true military garment. Police or urban use then perhaps? But the myriad of pockets, rattling zips and general styling are frankly excessive for any tactical usage. Certainly when we're looking at a primarily mid layer and if you cross examine the A3 (Level 3) Sweater also from Beyond with its' slick exterior, you will find these notions reinforced.
That, to my mind, leaves this as either a jacket for civilian sporting applications or as a purely everyday/fashion item, perhaps with a dash of added practicality for those of us who prefer to not get frozen when going in to town socially during December. But again, given the excess of styling and features built in, I don't see or find this jacket to be practical for almost any sporting activity that would be classed as truly active and involving of a lot of rapid movement.
So if we conclude this is an everyday jacket, which I myself do, how then does it perform? Herein lies the problem. If you very lightly insulate a garment as per appropriate spec for active usage, but then style it for casual wear, you've got a real misalignment of intended use versus actual use. After quite a few dozen hours worth of combined wear time in the Helios Alpha outdoors in winter, I've found it fairly average in blocking wind and to not provide very much in the way of insulation and that's an issue when you're walking about the shops not generating much excess body heat. I'll not bother talking about precipitation because if you expect a jacket with a translucent, wafer-thin shell fabric like this to save you in anything more than the lightest of intermittent drizzle you're living a fantasy.
Unfortunately this crisis of personality is far from the only problem encountered in this one example I have here. The chest sizing is correct for me, yet the cut is very short and the waist has fixed elastic, meaning it's never quite the right tightness that you want it to be; same story with the cuffs. If you pull the waistline down over your belt it'll hook itself on there and stay in place for a short time, but then as soon as you twist or bend even slightly it jumps back up over the belt and settles above the waist line, letting all that unpleasant winter wind in to your torso area because that fixed elastic now has slack and leaves gaps. If I happened to have G3 combat pants on this wouldn't be an issue as they're very high waisted by design, but I don't wear my everyday jeans like someone from the 50s, so there's a problem.
I've also found some really lacklustre stitch work in a few areas. A few stitching points have started working themselves apart under absolutely no real stress or strain and worst of all is the main zip, there's also lots of threads just hanging out and I don't mean the types you get in all new clothing that are free floating and just pull right out. After a short time (again under non-stressful use) the main zip has developed a habit of splitting apart at the base, right where the two halves first join when zipping up the jacket. Not only is this annoying, ridiculous looking and bad for insulation it's an absolute nightmare to fix as the coil fights remediation of the non-standard separation. It just isn't designed to come open from the wrong direction and getting things back in order is an irritatingly lengthy process.
I did buy this jacket deeply marked down in a sale, but it was categorically not marked as a 2nd or blem item, the original (expectedly high) price was lined through right beside the lower price I paid, so the implication is that it was worth that $200 or more. Even at the lower price I wouldn't expect problems like the zip coming open for no reason. I genuinely really like the aesthetic of this jacket, the cut and colour are smart and fit my tastes very well indeed from a looks perspective. But from a company who charges even more than Crye for equivalent gear and sets themselves up as an Arc'teryx competitor or equivalent, only the best possible quality in design, materials and assembly should be expected and as far as I am concerned it is simply not delivered here in many respects in this Helios Alpha.