I was torn between writing this piece on either the actual features of the Beyond Clothing PCU Level 5 lower or just generally extolling the virtues of softshell layers. I decided that when I eventually gather all my thoughts on L5/Softshells I'll get a few appropriate items together from different manufacturers to do a full video/write a blog post. For now, know this – good softshells are absolutely THE way to go in any sort of inclement weather when you're outdoors. I can't recommend the investment highly enough.
As a *brief* introduction to the bigger picture, these trousers aren't a commercial offering from Beyond. The PCU system, for those unfamiliar, is in practice a 7 layer issuing of uniform for US SOF. Conventional 50/50 NYCO blend uniforms are sometimes referred to as Level 9, but those are (and this is the part people struggle with) not to be employed with levels 1-7 when you're talking about cold, rain, wind and snow. Anything with cotton in it sucks donkey balls in those conditions; you want all out synthetics.
The other idea most people have in their heads is that softshell jackets are a 'cold weather jacket', when in reality that's not the way to look at it.  Breaking this concept is the tricky part and it was something I struggled with when I began educating myself on gear options for clothing in less-than-stunning weather conditions. Doubly so with regards choosing a fleece lined vs 'raw' shell (pretty much always go unlined with a separate thin fleece item). Sufficed to say, the little bit of time I've spent wearing these kneeling in mud, getting rained on, romping through sodden woodland and long grass soaked with morning dew have all made me very glad I had them on in place of NYCO trousers.
Now, these PCU trousers have an interesting layout in that they're cut an awful lot like an L6/Hardshell/Goretex outer garment that's intended to be put on when you're already fully dressed, even when wearing bulky boots. The ankles are split with a zip opening and the waist is split at each side with zips and velcro closure at the tops; doubling as adjustment tabs. Commercial offerings like the Beyond A5 Element pant, Arc' LEAF Combat pant and Crye G3 All-Weather pants are cut just like your normal tactical trousers in the way you're accustomed to.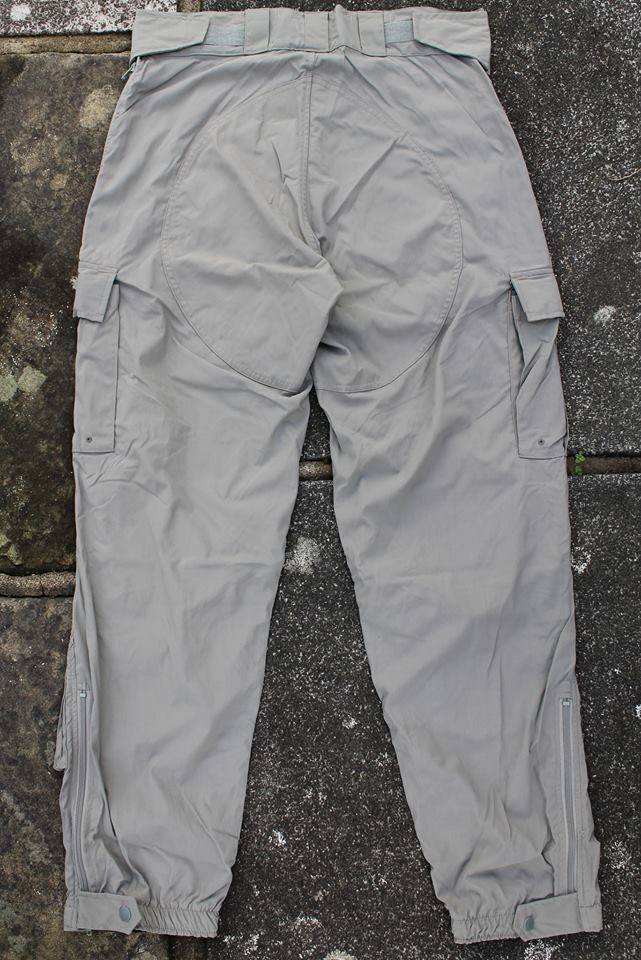 Fortunately unlike your conventional cold/wet weather over-garment, the pockets in these trousers aren't just a zip that let you through to the pockets in your uniform underneath. The standard pockets are zipped and closed in the down position which messes with your head, but they're easily accessible given the looser cut of the trouser overall and you know you've got security for whatever you stash in there. The map pockets are roomy with both button and velcro closure options, drainage grommets (stitched, not metal) and double billow/pleats for expansion when needed. Standard ankle pockets as you're accustomed to with combat pants, best not used unless you've filled up the other pockets to my mind given the comparatively slow and awkward access, especially in vehicles.
The ankles are elasticated with what is essentially rubber thread stitched in around the insides, much like the straps on a SERPA drop-leg. They don't look tacticool because of that, but they grab tightly around your boots and keep wind, snow and splashing water out of the tops of said boots.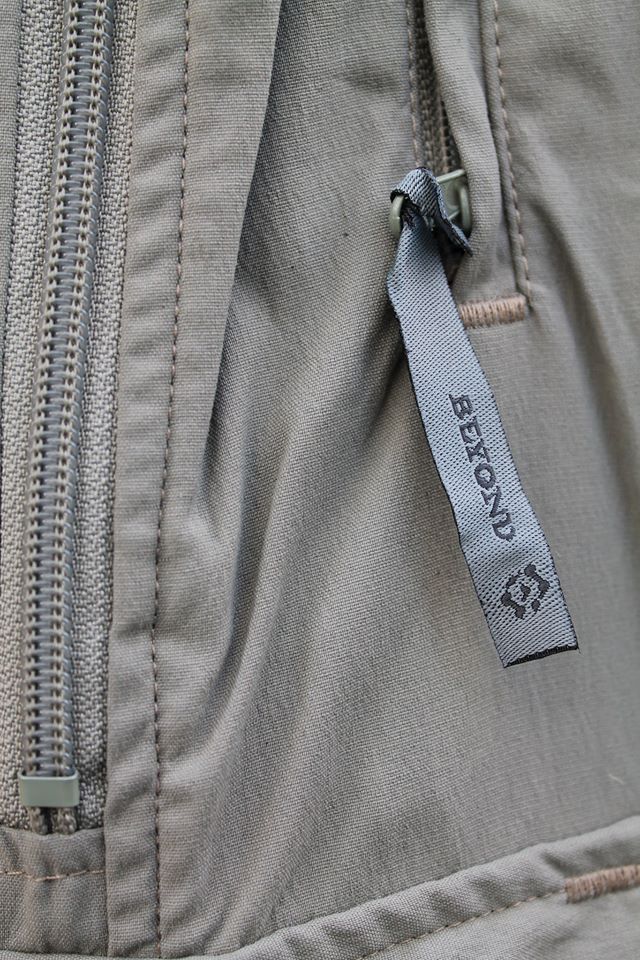 The knees are double layered and articulated, sadly even though there is a slot that could hold a foam kneepad there's no access to insert one. The seat is also double layered and the fabric itself is tougher than you'll ever believe. A good set like this will cost you the cash monies on ebay, but they're worth it. In a moment of really bad goggle fog I quite genuinely walked myself right in to a huge, rusty old reel of barbed wire wearing this very pair of trousers. They were scratched-at all over and punctured in multiple places, yet after a wash they look utterly brand new again, I cannot even find the holes. Can G3 Combats do that? No they can't. Fact.
I got the chance to speak to a nice gentlemen from Beyond (who turned out to be the President when he gave me his card after I bored him by geeking out too much about how I love these things) at FirstSpear's range day pre-SHOT this year. He referred to their PCU line as being made of "the original softshell material". He explained to me a bit about how the nylon fabric, which is already an expensive material, has silicone physically baked in to it at incredibly high heat and pressure in a gigantic industrial type of press. This process enables the fabric to not only be unbelievably abrasion resistant but also close itself up when punctured. Both properties I've witnessed for myself.