I'll be honest right off with this one, when C2R first hit the lime light a few years back I thought the kit looked decent, but it didn't blow my mind with innovation in the early stages. A lot of people were blogging "omg they're based in hereford" and that sentence itself has a tendency to switch me off because that sort of sentiment is often a precursor to something totally uninteresting and lacking in real 'meat'. Hence why I've not purchased anything from them so far and why they've been somewhat off my radar the past couple of years.
I'm certainly glad to have come across their stand in the ExCel however and have had the opportunity to spend a good while chatting with their Director.
Far as I can gather, they've gone through 3 primary iterations on their Plate Carriers. Starting with very standard 500d and 1″ webbing PALS, then on to cordura/hypalon laminate laser cut. The multicam rig you see however is the latest iteration of their Ultralite and only came in to existence in the past couple of months, based on an entirely different material that apparently nobody else uses. It's similar to the black stuff on the back of the most recent HSGI TACO LT models but I don't think it's the same. Since hypalon is a sort of silicone rubber it doesn't melt, whereas cordura does, so they can and will eventually delaminate from each other. This new fabric (the black stuff) laser cuts and melts super cleanly and really bonds with the camo fabric on the exterior. Then if the combination does happen to come apart, you do the same you do (or should do) with any other tac gear when you start to get frays and you take a lighter to it.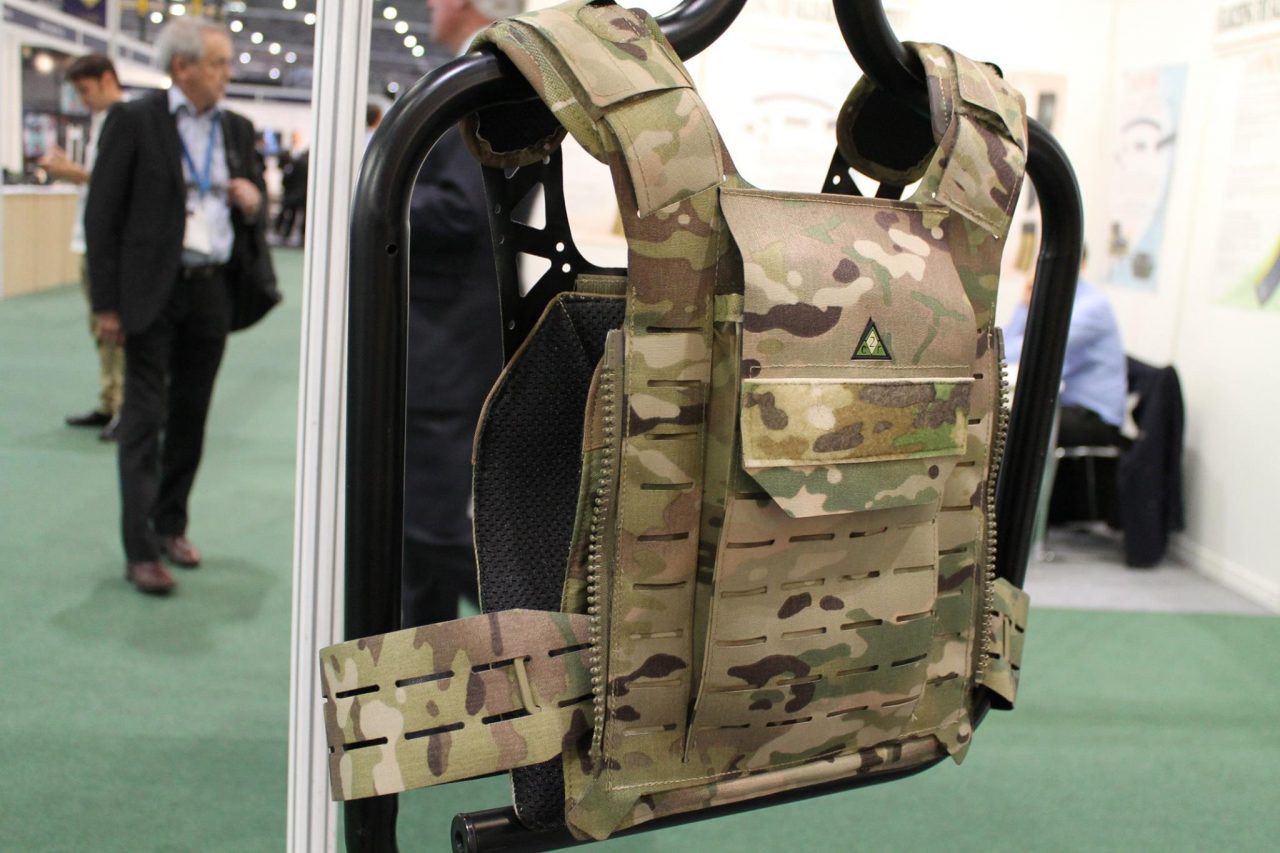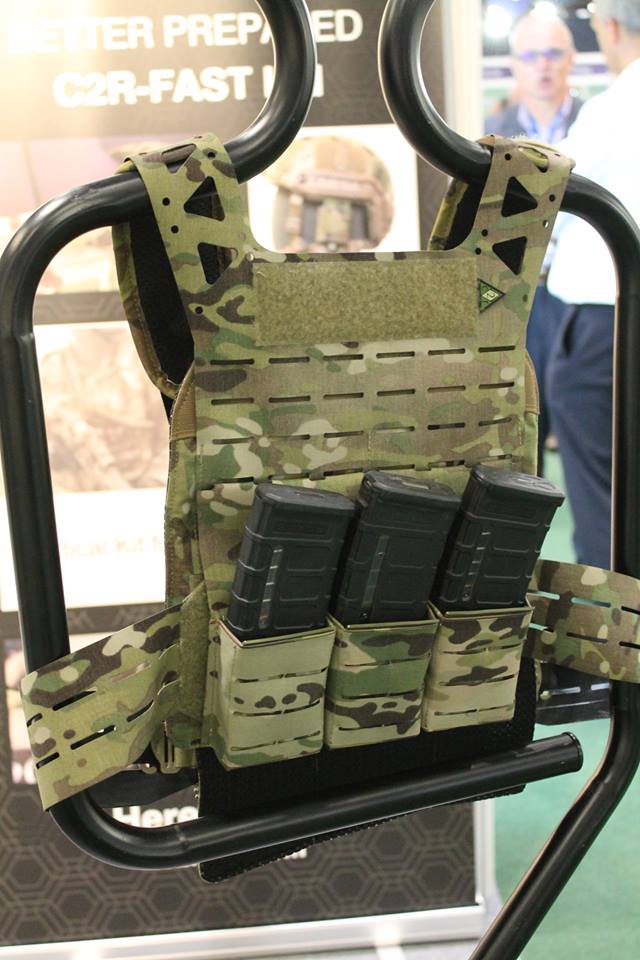 It's meant to be half the weight of an equivalent hypalon with the same strength. It's a seriously slim rig, the top entry for plates removes some bulk and the way they clamp in from the top should prevent them ever flying up in a blast event. Something I'm conditioned to worry about any time I see something going downwards from the top in an armour rig. The built-in hydro pouch holds 1.5L, which I feel is just about perfect and there's zip-on back panel compatibility. Spacer mesh inside of course and from what I saw in my initial overview excellent stand of sewing throughout.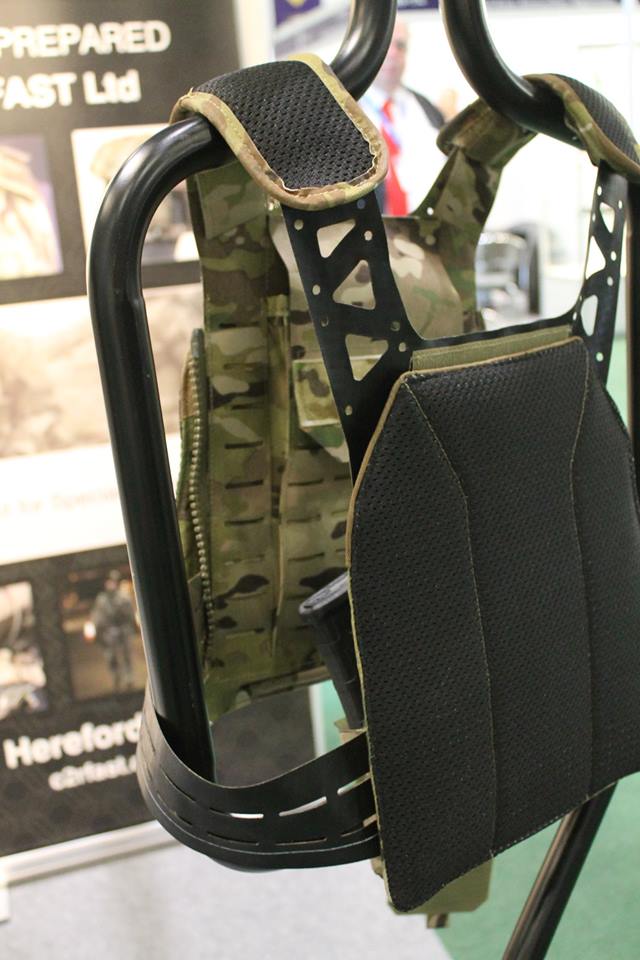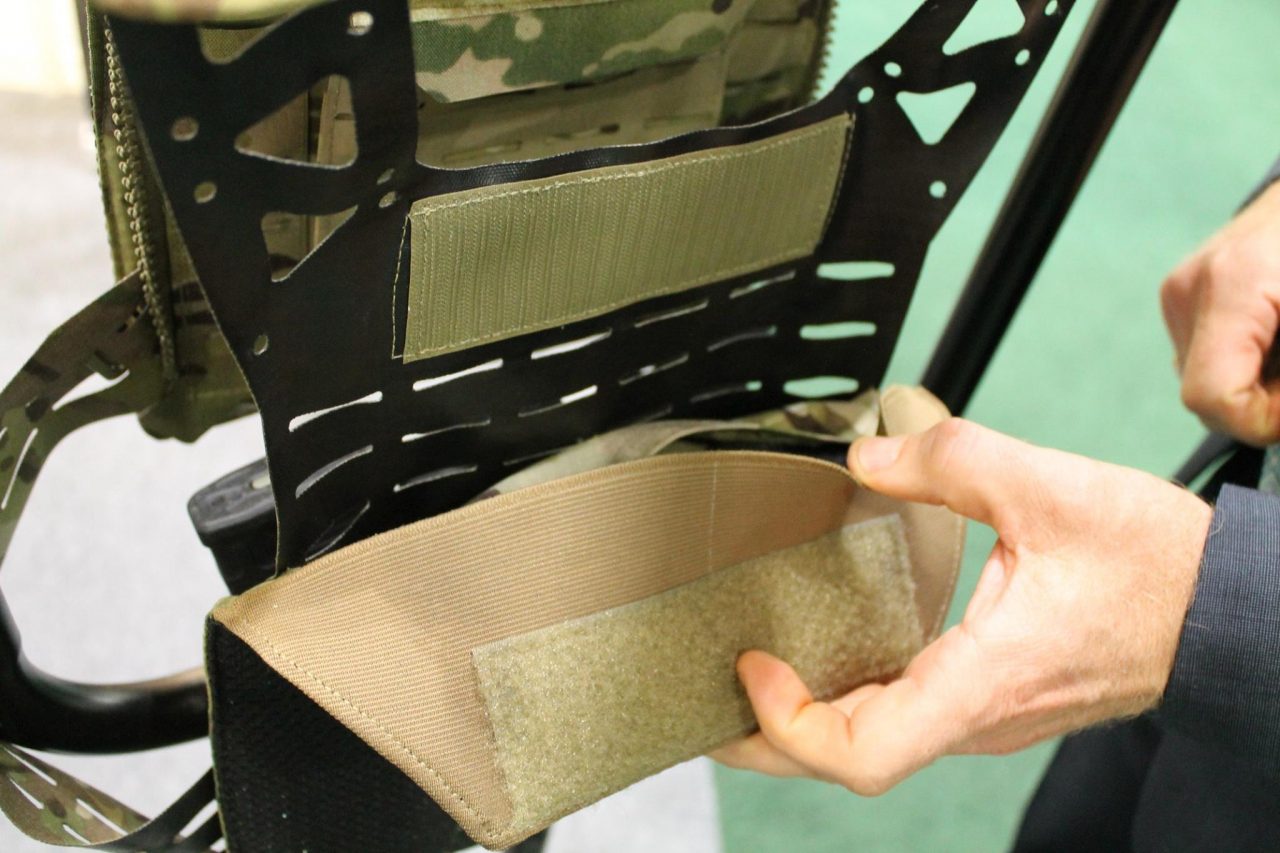 They have a surprisingly wide range of pouch options, I checked out a few for standard 556 mags. You have the choice between either no lids, standard lids or shingle style bungee cord retention either of which simply mount via the PALS attachment straps that are already there. Crye SPS pouches are similar in modularity but the C2R system is at least just as light, slimmer and should more resilient since it's not just based on velcro holding the retention. There are long and short models as well as kydex inserts, which are of course all the rage and I highly recommend a polymer insert for mag pouches if you want reliable grip with very fast access – minimal compromise on either unlike most legacy designs.
You can see some progression of C2R designs in the wide shot, including their original design in the bottom left and something nice in grey for those nice policemen who show up in London when the brown stuff hits the spinning thing. The other MC rig actually beat out FirstSpear for a Royal Marine issued rig to be used in VBSO. Plenty of stuff I still like about FS but you should never limit your options or create boundaries.
The C2Rmor website itself seems fairly out of date so check out AM Tactical – AMTAC. to see what's available right now on the commercial (though again those offerings are slightly lagging behind the latest iterations from C2R).