Something I very quickly learned the value of during basic training was a head mounted light. I've tried to do stuff at night while biting down on a torch because I couldn't locate my head lamp in the dark (yeah…) and that is not fun.
I've had cheap 'camping' head torches before which can often be had with low-power lights (sometimes even red lights), but when I wanted something higher quality for work use and when attending longer airsoft games, I opted for the Princeton Tec Remix Pro. I know this was a good choice because Mr Black at ITS Tactical has recommended this light on an episode of #GearTasting. Which is about as strong a recommendation as you'll ever get.
This is a gear item I'll always store in a very easy to reach place where I know for damn sure I'm not going to lose track of it. When you're trying to prepare food or pitch a tent or clean a rifle at night – you need to be able to find your head torch.
The plastic of the body does seem rather cheap looking in the pictures, but as you'd expect from Princeton it is of course in reality, a well built little unit. Little is the right word as well, it's just big enough to contain a CR123 within and that's about it, they were certainly very efficient with the LEDs and control unit. It's also ridiculously light; one of those items you pick up and will be genuinely surprised by. Exactly what you need when packing a bag for any sort of long walk.
The main body pivots on the mounting piece and stays exactly where you put it, and the head band feels extremely high quality (comes in colours other than multicam, but the colour matching on the elastic is pretty nice). The small red and green and large white LEDs put out a really good amount of light considering the size of the unit, if anything almost too much for those times you're trying to navigate safely without being seen. The Pro model here includes an IR bulb as well, which doesn't light up anything much past more than about 2-3m when viewed through NV, so if you've got a unit with built in IR illuminator you're probably better off just using that. But then again if you do for some reason need a subtle IR light, you'll be covered.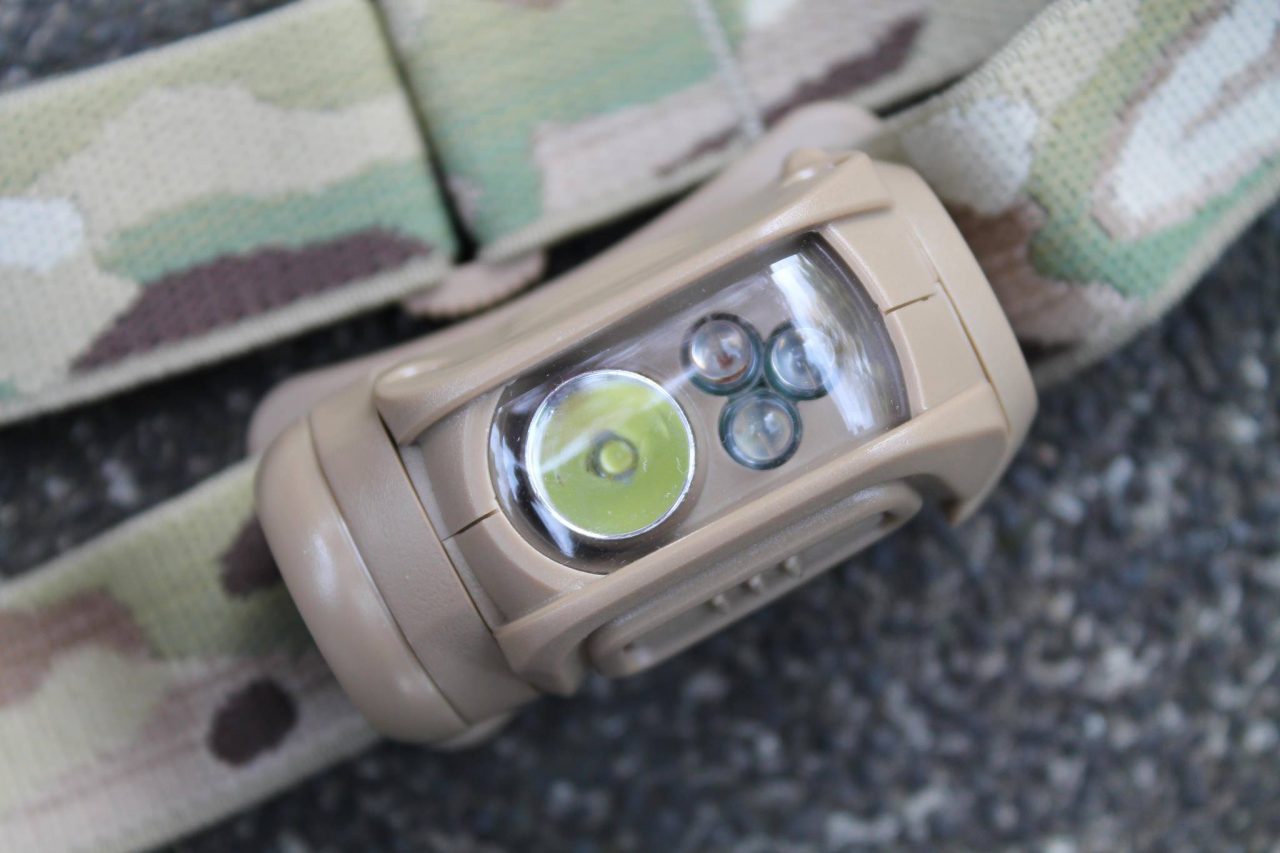 Given the space available on the outside of the unit I'd have liked to see more than 1 button, because you need to remember 3 different pressing sequences to access all the different modes (and there might be even more than I'm just forgetting) and there's nothing on the unit to tell you how to access each function; something very early Inforce WMLs also suffered from that was rightly changed in later models. If you do forget, or like me, pick up the light after not using it for a while, this is a bit of an issue. I'm also not sure how well it performs in terms of battery efficiency, but it certainly doesn't drain in under an hour of being constant on with the larger, bright white light.
Overall, certainly pleased with this purchase. When it comes to picking a frequent use item like this, well worth the investment over the more common cheaper options you tend to see in standard outdoor stores.