It's extremely rare that I see any items of the All Weather line from Crye Precision being either depicted or discussed and I think there are a few different factors involved in that, but it is something I would like to make a bit of effort towards changing on here in the coming months.
One of those factors at play is most certainly the price on any of the softshell items offered by Crye, especially in the combat apparel line. I myself had taken a brief look at the All Weathers at various retailers and fairly quickly dismissed them as potential purchases, given that the prices are quite a bit higher than even the regular NYCO uniforms and those are already well known as expensive bits of kit. That said when I was able to secure this All Weather Combat Shirt for a good price it seemed like an ideal chance to try out an item that is, as mentioned, not often talked about online despite coming from an infamous manufacturer.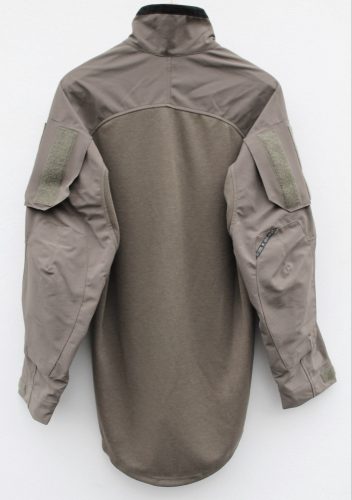 As one would expect the general layout here is fairly similar to the regular G3 combat shirt, though there are a few notable differences. For starters the sleeve and shoulder areas are made from a variant of Durastretch from Tweave, consisting of 93% nylon with the rest being spandex for stretch, topped off with a Durable Water Repellent surface treatment Most quality softshells out there are comprised of very similar fabric blends to give them desirable properties relating to cutting wind and resisting rain while remaining highly breathable as well as being flexible, light and resilient to tears and abrasion. The softshell is fully lined with a very thin and textured polyester that adds a small amount of insulation and should aid in moisture transport.
The torso material is 85% modacrylic (the rest viscose) which is actually very similar to the NYCO shirt, though it is quite a bit thicker and with a larger pattern to the weave giving it slightly different properties. Unfortunately this torso fabric is where this shirt falls down overall, but more on that later.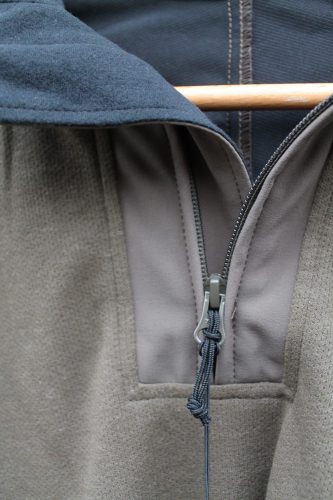 Further differences to the original G3 include the coil zip having a larger pull tab by comparison, with added narrow gauge synthetic cord for easier grasping by cold, wet or gloved hands. The mounting of the zip is on to an additional area of softshell fabric rather than directly to the thinner torso fabric. The collar is lined with soft face fleece material, though this is more for padding against equipment than insulation.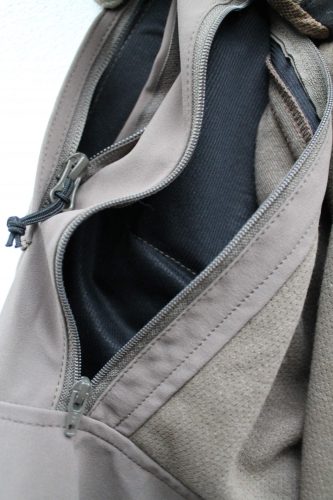 Upper arm pockets and loop fields are in the usual location but pocket openings are napoleon style and with zips that are mounted away from the body. Running parallel to and directly alongside the pocket openings are another pair of zips (all of these being coil type) that are purely slits for ventilation with no mesh backing, perhaps designed to be an alternative to arm pit zips. The wicking torso material already runs under the arms and my experiences of the old Arc'teryx TALOS combat shirt that had pit zips right against the wearer's skin was not a comfortable one, so this decision makes sense. Luckily the pull tabs on the pocket zips are larger and have cord added unlike the ventilation opening tabs, which would definitely come in handy when trying to quickly access stowed items in the pockets at night as both zip slides are in the upper position when closed and sit within a couple of inches of each other.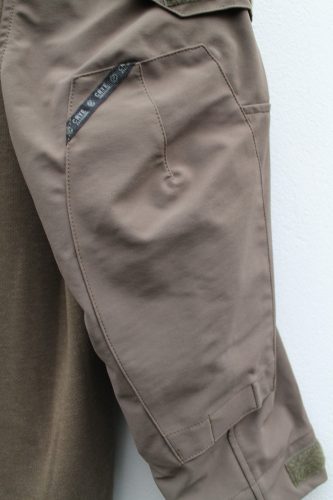 Lastly, elbow pad pockets are standard G3 and there is an expansion baffle that runs half way up the forearm to allow for cuff adjustment, with hook velcro glued to a hypalon-like tab acting as the facilitator for that adjustment.
---
Now in theory the G3 All Weather Combat Shirt could be a really good candidate for a combat shirt to wear under body armour when you find yourself in cooler conditions where precipitation is more likely. While the softshell fabric is very good and performs as you would expect, the torso fabric has not proven to be conducive to inclement weather conditions. During some brief usage I have found that the torso has absolutely no ability to block the wind and any area of your body not covered by cordura will lose heat quite rapidly when a cold wind does come through. The chill is very much felt on the wearer's skin, quite an uncomfortable experience overall and one that will be exacerbated the more compact your PPE.
If anybody out there has been looking for a garment for use in colder weather to wear under some sort of modern carrier or vest I would recommend looking at the current offerings from Wild Things or Beyond Clothing, or even the old mythical hybrid beast line from Arc'teryx if you can find any. Those designs tend to use a thinner softshell on the torso with a thicker shell and insulation on the sleeves, making the entire ensemble windproof rather than just the sleeves.