This is a plate carrier configuration that's really the culmination of my experience with a lot of different kit and though these pictures are from well over a year ago the configuration really hasn't changed much, which for me personally is a testament to how much I like a piece of kit.
I'm a huge fan of the FirstSpear Strandhogg as a few of you will be well aware, but the design is lacking in a couple of areas that other popular PCs have been running with in recent years. Being entirely covered in PALS compatible slots you can't clip placards on to the front or zip panels on to the back in the factory configuration, but fortunately 100% PALS PC designs have been so popular for so long that there are plenty of companies making adapter kits. Right now there's not a single production carrier on the market that ticks all the boxes for what I personally want in a rig, but adapting a Strandhogg does the job nicely and does get me what I want.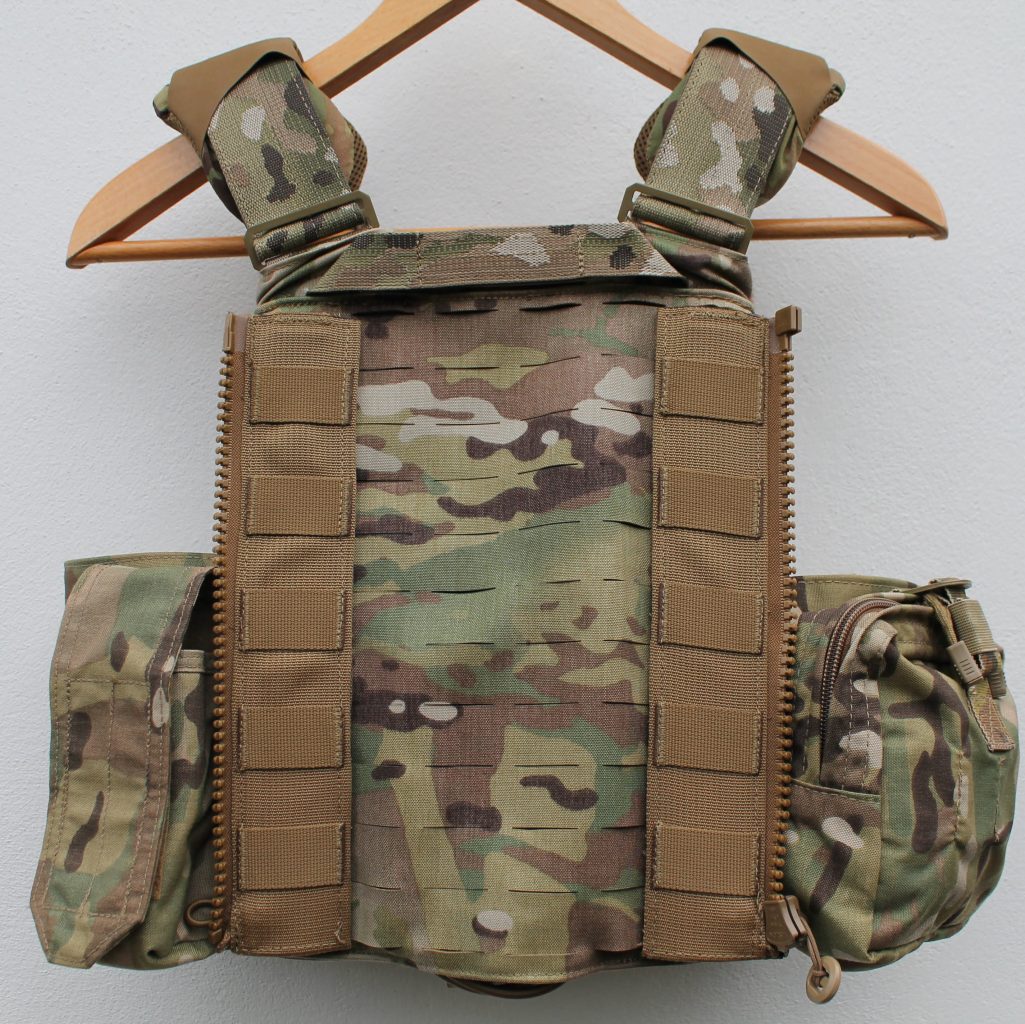 My previous SAPI cut 'hogg didn't have quite enough rows and columns of 6/12 slots in a few places in order to mount the adapters front and rear, but I did some careful counting and purchased this MBAV cut variant later down the line. Pictured is the following:
-FS Mini Admin pocket
-1″ ITW QASMs with 6/12 specific mounting loops made by J-Tac Custom Limited
-Loop field sewn to a Whiskey Two-Four WTFix Backer
–Dead Coyote Tactical Nylon custom placard with Haley Strategic Partners MP2s
–Blue Force Gear, Inc. Smoke 'nade pouch
-FS GP Pocket, Medium
–TYR Tactical, LLC 50oz DA Zip on platform w/zip adapters
–Source Tactical Gear 2L Bladder
-And some super old PTS Gen1 PMAGs
Since these photos were taken I have moved over to using the Spiritus Systems Micro Fight as the placard, swapped the somewhat mongrel (but entirely functional) adapter system up front to a very nice bit of Axl Adv kit and I have the Raptor Tactical zips on the way for the back panel. That stuff is more just optimisation and evolution versus drastic change though.