A hot minute ago I mentioned a patch display option from Mil-Spec Monkey that leans towards the highly economical end of the scale, but today we're making a big jump to something from ITS Tactical that is somewhat differing in nature.
The good thing about the MSM Halco Luxmed loop is it's a raw material and if you've got some time and the inclination to be a bit crafty you can apply it to any sort of backing material you like to make a display. If you want to skip that effort however the ITS Modular Morale System is probably the highest quality, most luxurious 5* hotel for patches that a person might ever wish to find.
The backing is a rigid plastic, on to that is layered a pretty generous sheet of a dense foam and then of course there's the loop sewn tightly over the top to create a mill-pond smooth surface. I usually try to avoid superlative and subjective observations like the one that is about to follow when I'm talking about any products, but honestly the feel of these panels is just superb. If they made a sofa that felt the same way you'd probably never get off of the thing. It's the tactile equivalent of that first sip of your number 1 favourite ale. Does that matter for patches? No obviously not, but I can't express enough how much these things to ooze quality in a way that is at best tricky to convey in a written format.
On top of being fully capable of mounting both hook-backed patches and pin badges (via the foam), the MMS panels come with adhesive 3M hook tape that will stick to absolutely any bloody surface for attachment of the panels. I'd strongly advise not sticking it to anything that's painted or might delaminate in any way in fact, unless you don't plan on every removing the hook because it will take any paint/wallpaper etc with it when peeled away. It's certainly not going to just slip and fall down on you though.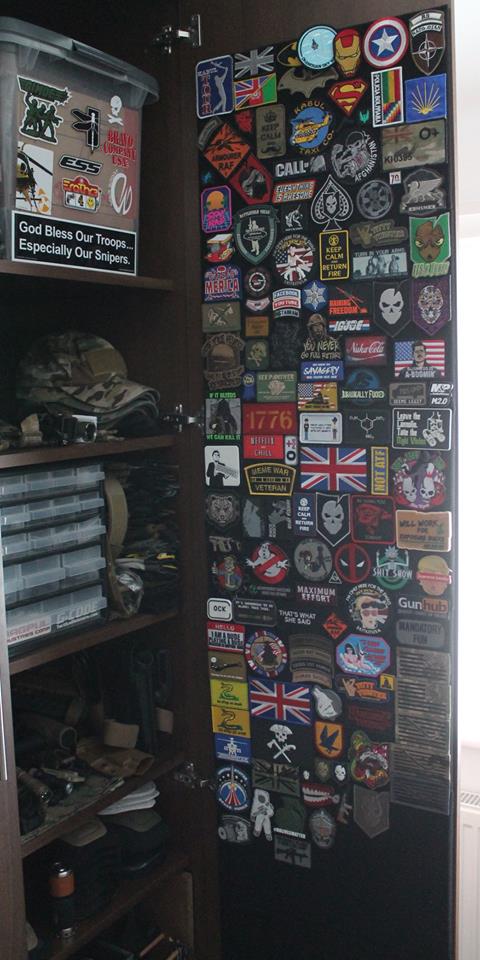 Each panel measure 12×18″ and there's no edging or border. This proportioning of course means that the long edges of 2 panels can be jointed by the short ends of 3 panels to create different shapes and still have a clean rectangular boundary. As you'll see from my personal display setup you can also neatly bridge panels with patches on account of the fact the loop wraps right around the edges of the HDPE plastic backings.
Lots of upsides, so what's the downside? Well the cost per square inch ratio is not the most economical, there is no denying it. At $22.99 per panel the unit of currency per surface area you're getting is at the less economical end of the scale, but as I mentioned at the start if you want something 100% ready to go out of the packaging with the only effort required being slapping some hook tape on a wall, something with an immaculately classy and professional look, then to my mind it's worth the investment. That's why I've purchased 6 of them myself so far. I fully appreciate that if you have a large patch collection however it may well not be for you.
Personally, I'd say I'm quite picky about the patches I will actually buy and display on these panels. Some people might not get that impression seeing a big wall of the things, but bear in mind I've been acquiring them for about a decade now and only my favourites make it to the MMS wall. Anything that's just a company logo/branding (i.e. loop mounted advertising) gets attached to the products that are cheaper per surface area. The really good ones I've bought or been lucky enough to have gifted to me get added to the MMS.
If you'd like to see the ITS store page for the system here's that link:
https://store.itstactical.com/pro…/its-modular-morale-system
Made in America to very high standards using top class materials and clearly with a lot of design thought behind what on the surface is such a simple item. I fully appreciate some people who aren't interested in patches may well be left scratching their heads at this product, but then again if you're reading this I'd bet you've either owned or wanted to own Crye or Arc'teryx gear even if there's a 99% chance you've zero need for anything that high end (myself included), so each to their own I always say.