Due to the sheer dreadfulness of my issued Bates boots and a rapidly looming training course, I needed a comfortable set of footwear in 'looks like issued' brown and I needed it fast.  Boots are one of the few gear items I avoid importing from the US due to the sizing conversion charts seeming to vary and the potential costs and problems that returning/exchanging them would incur.  Finding a (hopefully) high quality pair of boots in the right colour that would be suitable for hot climates and available here in the UK for immediate dispatch proved a no-go, so I looked a little further afield to Europe and placed my first ever order through LEAF Gear.
There's no mincing words here, their prices are pretty steep.  But, when you're stocking Crye, Arc'teryx, Ops-Core, Carinthia, S&S etc in the EU (the Netherlands in this case) your prices are going to be pretty steep, that is the nature of the beast.  I felt the international shipping cost was maybe a tad questionable, but I can only presume it was a flat rate and as I'll explain shortly, it certainly did not disappoint.
If you're in the service they do offer military discount and I had no dramas getting that set-up quickly, so that's something to bear in mind.  What you're paying for with LEAF Gear however is the product availability/proximity (if you're somewhere in Europe of course) and customer service.  I spoke to a couple of their guys on the phone and I can certainly say their English was literally infinitely better than my Dutch.  They were extremely polite and professional beyond any necessity.  I've chatted to a bunch of absolutely superb folks at companies like FirstSpear, Beyond and BCM over the phone before, but the staff at LEAF might have just about had them all pipped.  No negative reflection on any of those others though, far from it.
Having placed my order on Wednesday afternoon, my purchase had made it's way from Amsterdam, via a sorting office in Barking, to Oxfordshire, arrived at the camp post room, been picked up by the duty lad and plonked on to my table in the weapon servicing bay come 11 a.m. Friday morning; which was exactly when I needed them to arrive by.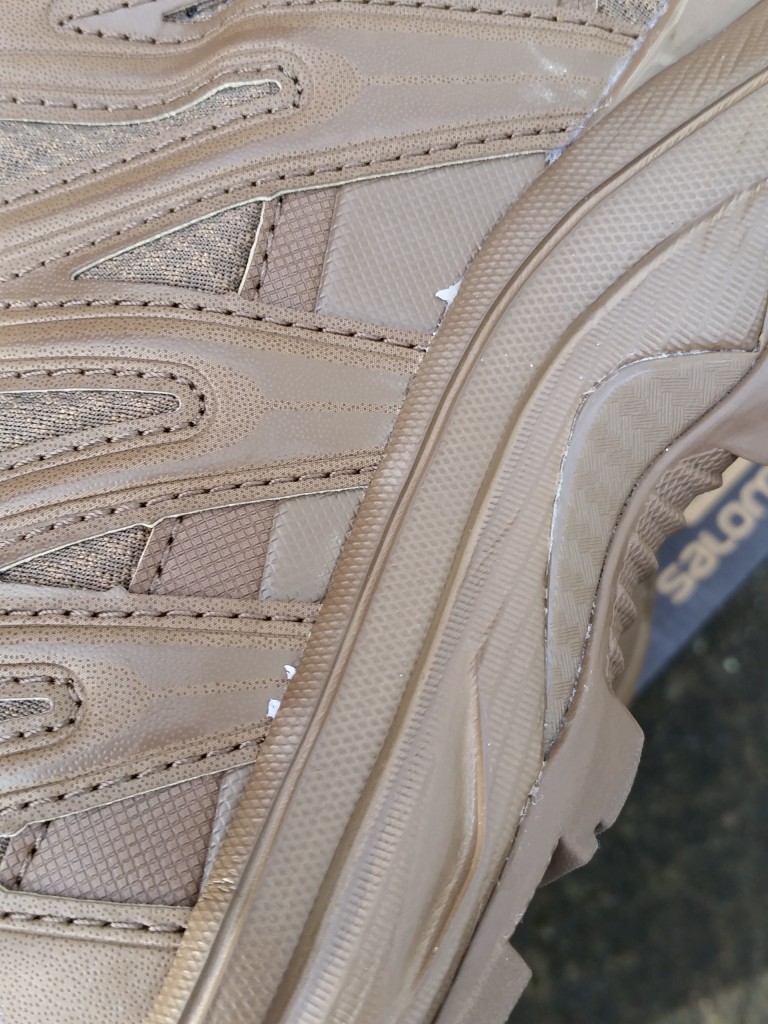 The boots are supremely light and the lacing system is so much quicker than any issued 8″ boot with a normal lacing system (which always includes locks/cleats) it's astounding.  However the finishing at the joints is frankly shoddy for a boot of this price.  I'd doubt you'd catch LOWA letting a boot in this state go out to retail and I really wish said company produced a brown, hot weather (non gore-tex) boot with quick lacing that I could've gotten hold of, because they're one of the few military shoeing brands I have confidence in at this point.  I've posted before about 2 pairs of Salomons I've had fail in frankly comical fashion, so this is last chance saloon for these guys as far as I'm concerned.  3 strikes and you're out.
The lacing system certainly is fast which is what I was looking for given the intended use, but I've already found the rubber-like plastic piece that encompasses the join where the ends of the lace meet isn't anchored in place in any fashion and the lacing tends to not tighten symmetrically, meaning said cover piece slips off the lace join easily.  I'm hoping with a little practice and technique I can overcome this, but we'll just have to see how they get on after a longer period of consistent usage.