I'm not a huge ATACS fan overall and I think the lack of adoption and general popularity of the family pays in to that.  However iX is the exception in my experience when it comes to effectiveness in UK woodlands through the cooler parts of the year.  This pattern put on to the very solid and excellent value Commando Field Blouse from LK is a winning combination.
This is a simple field shirt that seems have its' roots in Bundeswehr issued uniforms, probably because LK make a lot of apparel for the German armed forces.  The epaulettes are unnecessary really and the collar doesn't take to folding up super well, but other than that I love this design and it represents a truly rare great value and mid-priced piece of camo gear.  The sort of thing I'd recommend to basically anyone.
Just two chest pockets and two arm pockets all with velcro closure.  Main front closure is also velcro so not the best if you'll always be soaked, but also the slimmest and least lumpy option which works the best under chest rigs and PCs.  Basic, rugged construction, well sewn and with much better materials than some other camo items that cost even more money.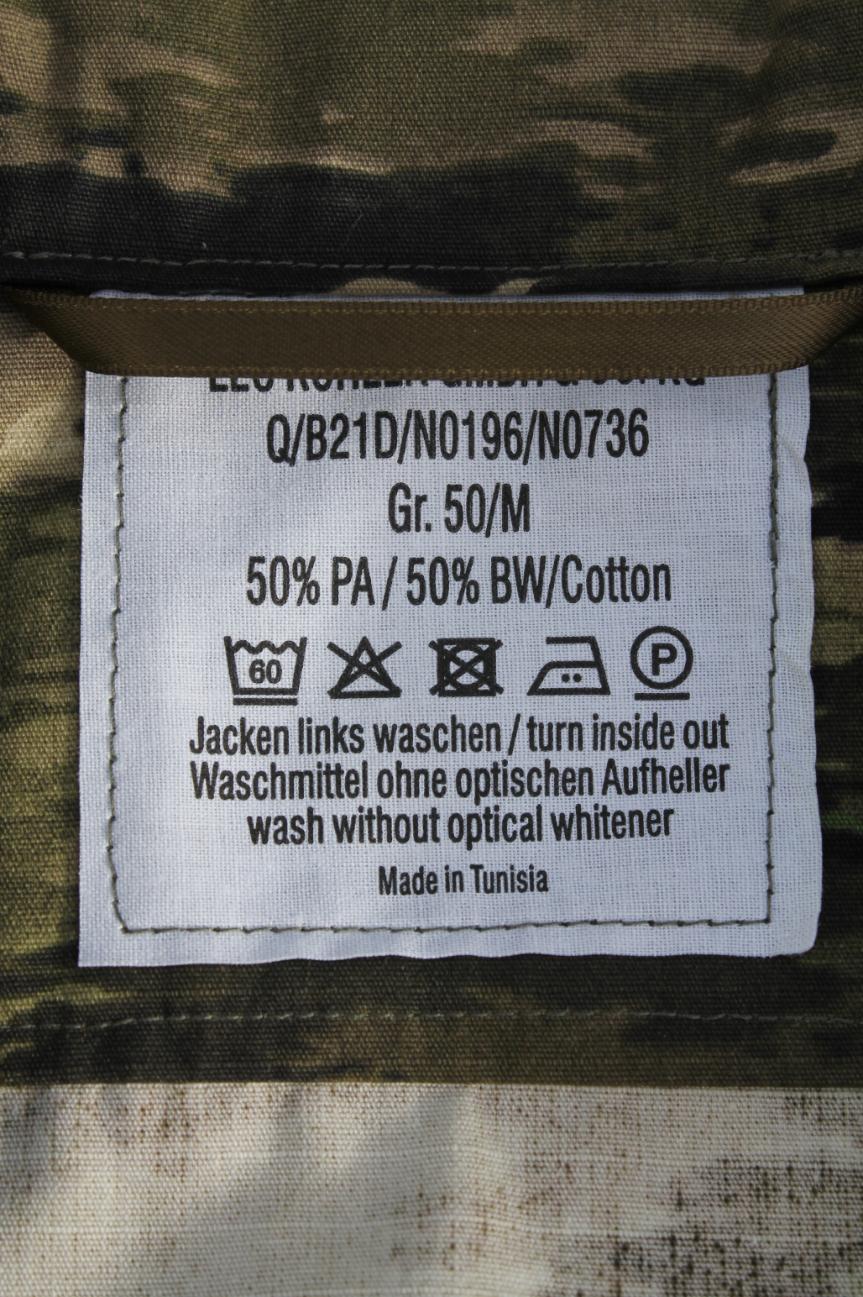 You simply won't ever find a high quality garment, made by a military-focused manufacturer, that uses the best fabrics, that's available for a good mid-range price and ia also sewn in a country like the US, UK, France, Germany or anywhere in Scandinavia, it just doesn't happen.  So yes this is a very well constructed shirt with great rip-stop NYCO fabric, but it's made in Tunisia despite Leo Kohler being German.  That's just reality.
Also visible here is the coat hook hanger.  Unusual in a lot of military apparel and more useful for barrack dress than in the field, but every now and then you do run across the stump of a tree branch that's not big enough to support the collar but where the hanging loop will work.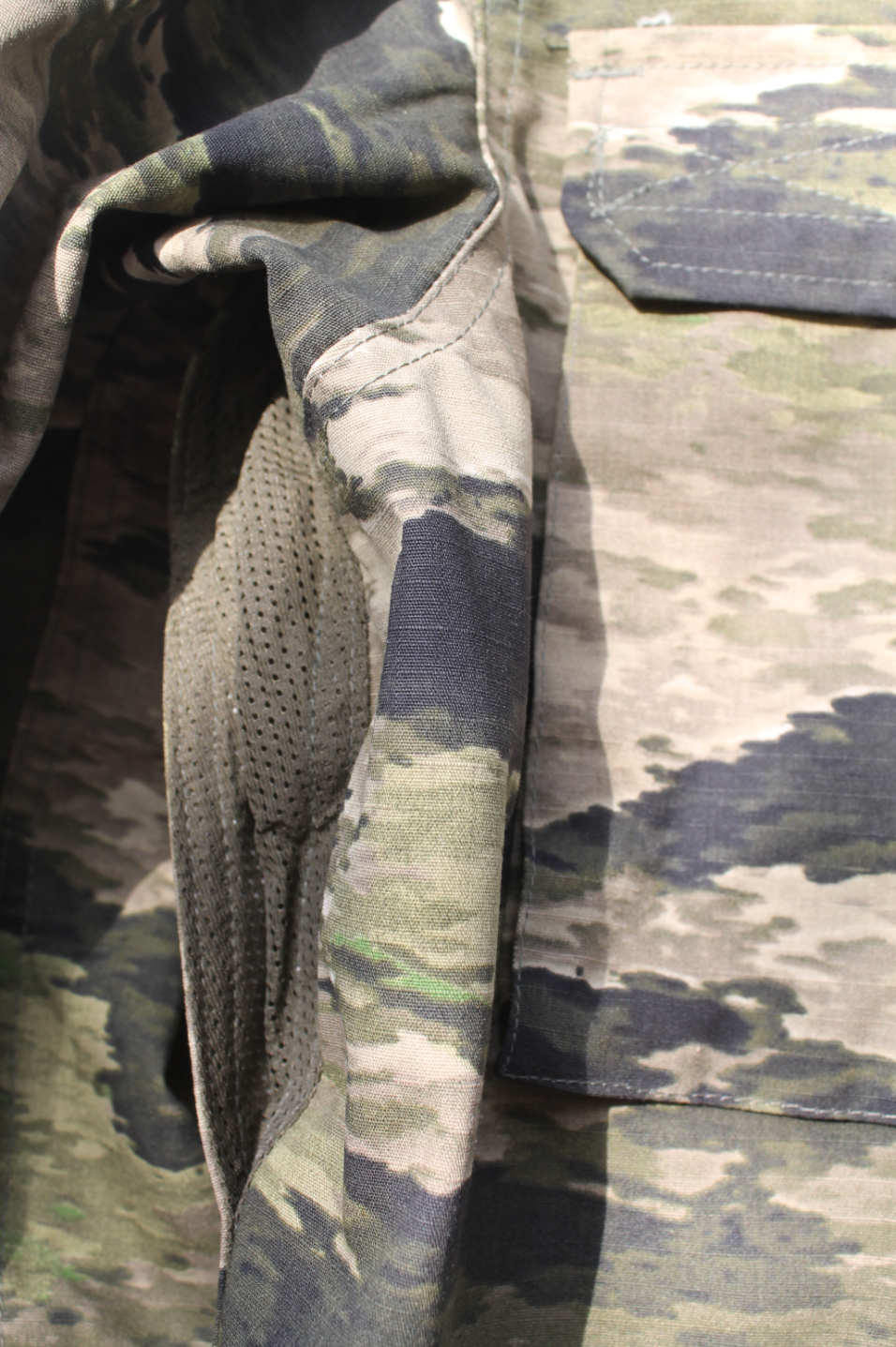 One really excellent feature that's rare in general with camo garments, let alone reasonably priced ones, is built in mesh ventilation under the arms.  This adds a good bit of  time and complexity to the manufacturing process and having it included at this price point is a huge bonus,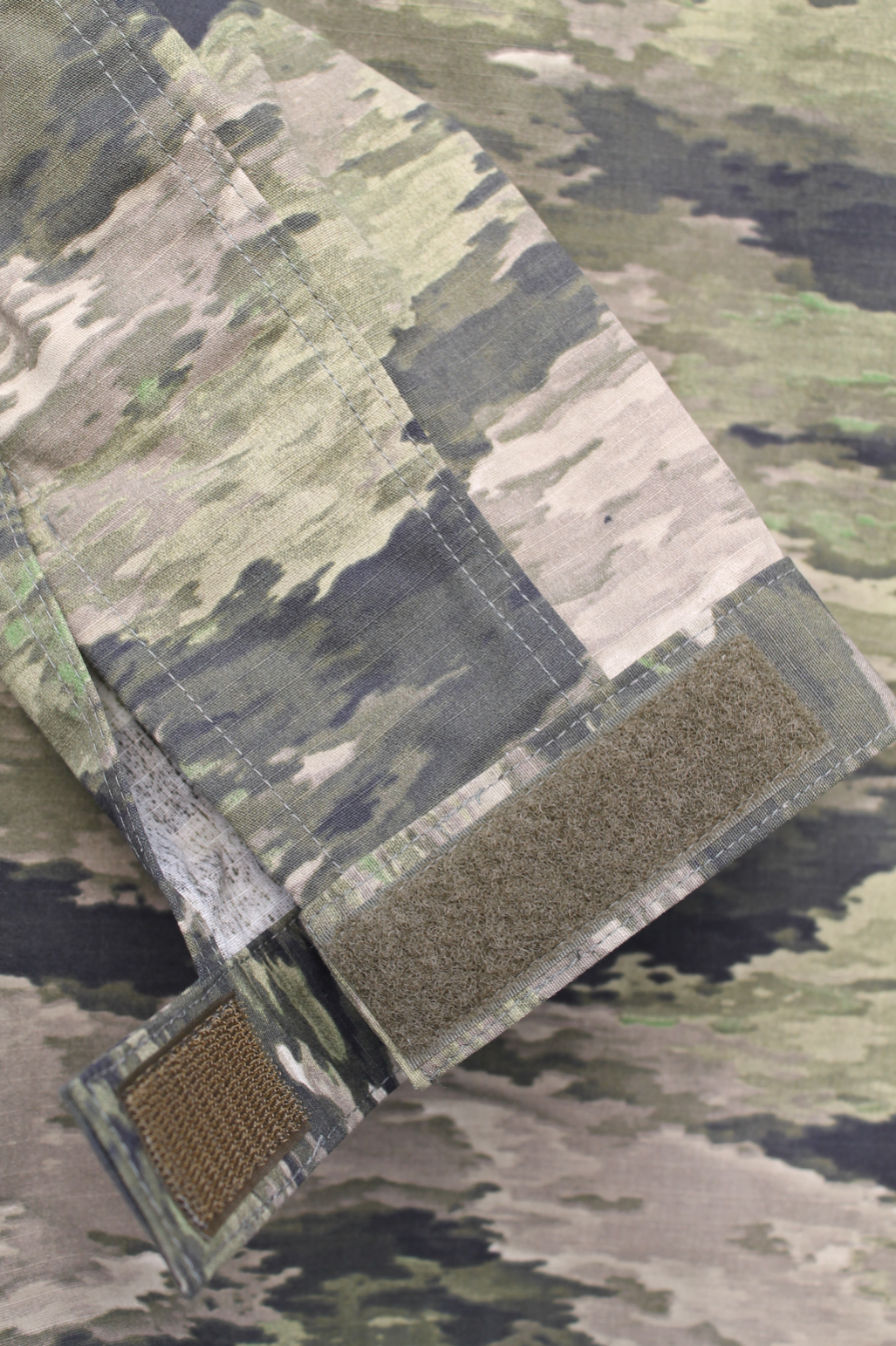 At the cuffs there's a nice conventional velcro adjustment as well as a split for better results when rolling and an easier time when doing so.  Also notable is the double stitched seam running down the sleeve, both because it's tough and because this sleeve isn't simply a tube of fabric as commonly used in garment that aren't in the upper price echelons.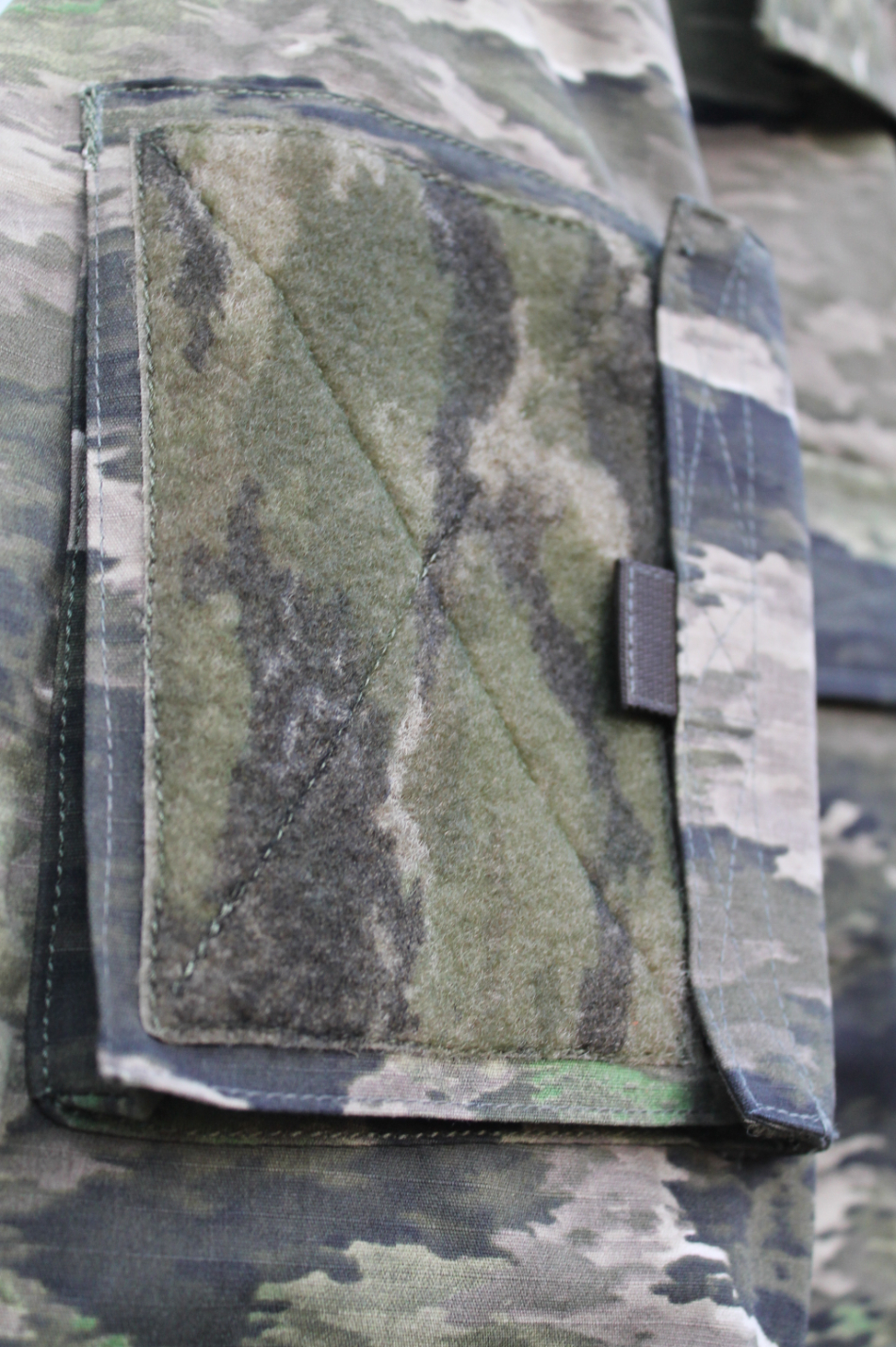 Some examples of these shirts seem to now come with blanking plates in order to cover the solid colour loop fields with camo material, which is certainly welcome since there is a large loop field on each sleeve.  Being the fancy-pants I am I opted to track down some 4″ iX loop fabric (thanks to Ryan at WTF on that) and have it sewn on to the pockets in place of the brown-green loop.
The upper arm pockets aren't fancy in any way, just some expandable externally mounted storage spaces with strong velcro closure.  Being horizontally accessed is great and preferable for ease of that access, but there's also no lip or edge at the bottom of the opening so keep these spaces for storing items that won't be easily lost.
You just can't go wrong with the LK shirt for the price which is around £60-80 at the time of writing, with most common military camos being at the bottom end of the scale and only the latest fancy commercial patterns being 80 or sometimes 90 for Phantomleaf.   Being available in a much wider array of camo patterns than the vast majority of brands offer and at a good middling price isn't common either.  A real gem and deserving of far more popularity than it currently enjoys.