Here's the trousers that prompted me to pick up the corresponding Leo Köhler GmbH & Co. KG shirt (also from ASMC GmbH).
These are pretty interesting. With the exception of the incredibly weird PALS webbing inside the groin area, they are pretty close replicas of the Gen 2 Crye combat lowers that were worn by certain German SOF. Pictures I've seen of the CP originals also featured the large CS95 style taped buttons on the cargo pockets, something I've only ever seen Crye put on to the Gen2 Flecktarns (presumably a special request). Much as I'd love a set of the real things, I've literally never seen a pair that was in my size up for sale and if I ever did they'd cost so much more than these copies I'd have to think long and hard.
The primary fabric is 88% cotton – 12% polyamide (which is apparently different to polyester) and seems different to the issued Bundeswehr gear I've owned in the past, as well as the Gen 2 Crye combat shirt I have in the same pattern, so I'm not sure what's going on with that exactly. However it is most definitely rip-stop and though a little lightweight feeling I don't have any massive concerns about it. The brown stretch panels on the other hand seem to be the exact same fabrics as Crye G3s, if you go by the manufacturer specs on both there's 1% difference in the fabric mixture and the nomenclatures are slightly different, but to the touch and eye they seem the exact same when put right next to each other.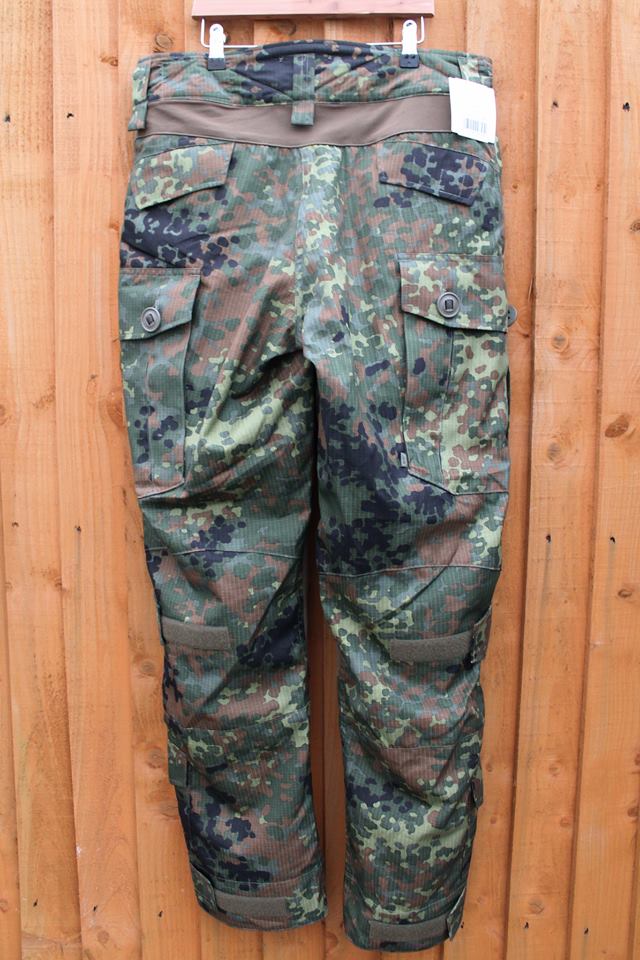 The stitching I can attest to be at least on par with CP. I spent hours unpicking all the bar-tacks that had been used to stitch on that absurd PALS on the legs and they used legit 1″ webbing for the job to boot. The other odd feature were a set of 3/4″ buttons running around the inside of the waist band, presumably to attach a yoke of some kind. No idea if the originals had these but I removed them.
I see a lot of people online talk about their TMC/Emerson etc Crye combat uniform knock-offs being quote-unqoute "basically just as good as the real thing" which unfortunately is an opinion born of ignorance of the quantifiable facts. I've taken close looks at various really cheap clones and they do not hold up to real scrutiny at all. If that's what people wish to buy and run for airsoft that's genuinely 100% cool with me, but if you think the materials used or the stitching and construction is on par that only goes to demonstrate you've got more to learn about the details of military gear. That aside and as you might guess from their pricing, these copies when laid down next to some Cryes are very very close indeed and I don't say that as a throwaway statement; absolutely up to the level you'd want and expect for duty usage. Material selection, stitch alignment, stitches per inch, location of bar tacks and other reinforcements as well as the overall cutting and patterning of the fabric pieces are all very good.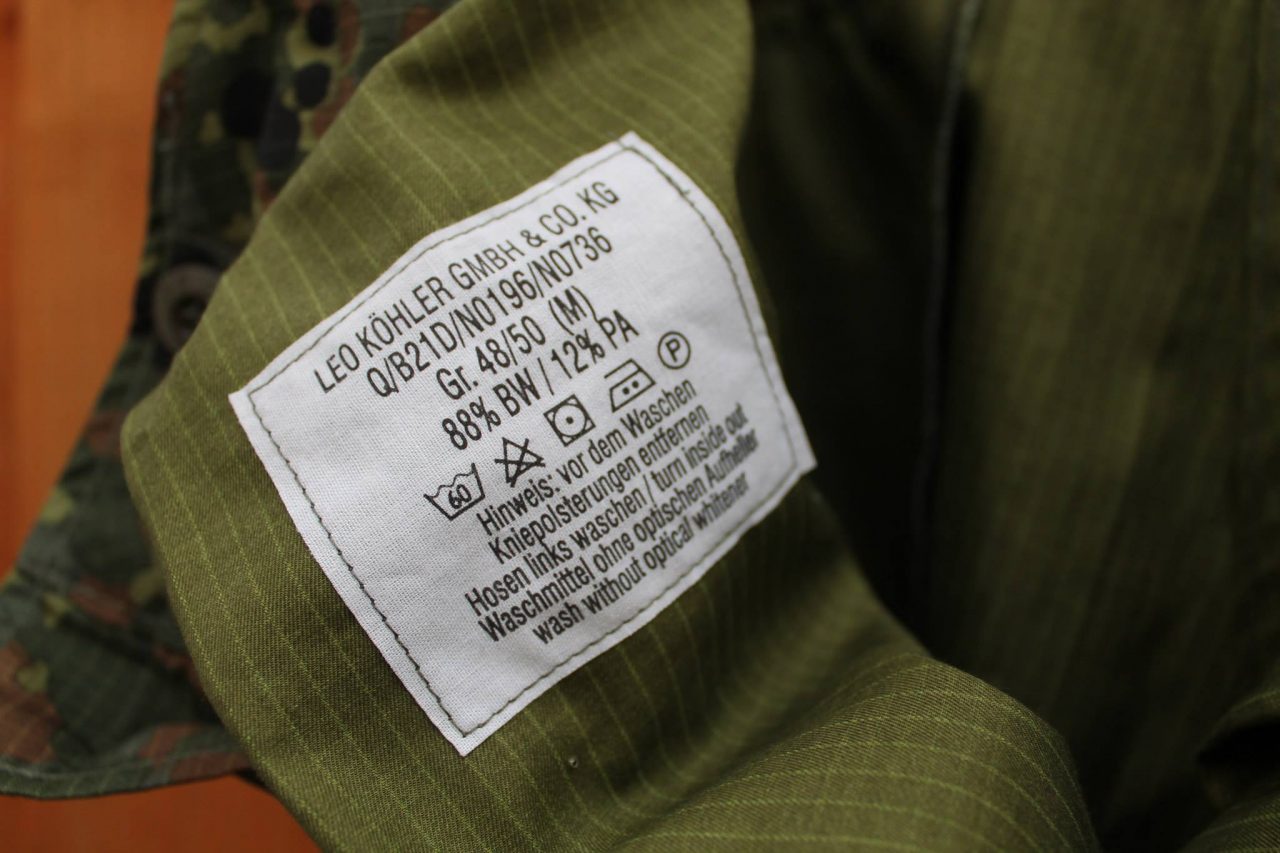 One label inside the waist I've not pictured says 'NfD Tactical', a company I've tried to dig in to and found very little about. From their designs it's pretty evident they're related to Leo Kohler in some form or another and there's a fair few reviews out there, but they're all in German and mostly written quite a few years ago with now-broken URL links. They have a facebook page with one post from 2011 and no website. My guess would be a sort of shadow company within a company who can infringe on things without getting the larger brand in hot water. That's a fairly common practice. If anyone has any more relevant information though please share, always keen to learn.
To conclude – they're certainly not cheap, but these are an awful lot cheaper and easier to come by vs the CP originals. A pair of these will also look far better and last FAR longer than anything you'll find on a dubious chinese airsoft store. So if a combat cut trouser in this pattern is what you specifically want I'd give them a look because they hit a pretty sensible middle ground when you take in to account the options on the market for this exact type of item.