!Warning!
The sizing of your PC is crucial when considering a back panel purchase and can totally prevent an otherwise compatible back panel from being attached.  If you own a Large or XL PC the zips might not meet depending on the brands and panels involved.  If you own a Small PC the panels may be loose.  Sufficient personal due diligence must be carried out when venturing outside the realm of Medium PCs.
Gear manufacturers change their offerings all the time and this chart cannot be perfectly up-to-date 24/7, it is a rough guide and should only be treated as such.
---
This is intended to be a community project as I only own a few of these items myself and obviously it is just not physically possible for the average person to buy every PC and every panel and test them all.  The information I have so far in this guide has been sourced from various places and will require lots of input to complete and expand.  You can comment below with your verified examples or DM me on any social media to contribute, but if the combination seems unlikely then proof will be required before the chart is updated.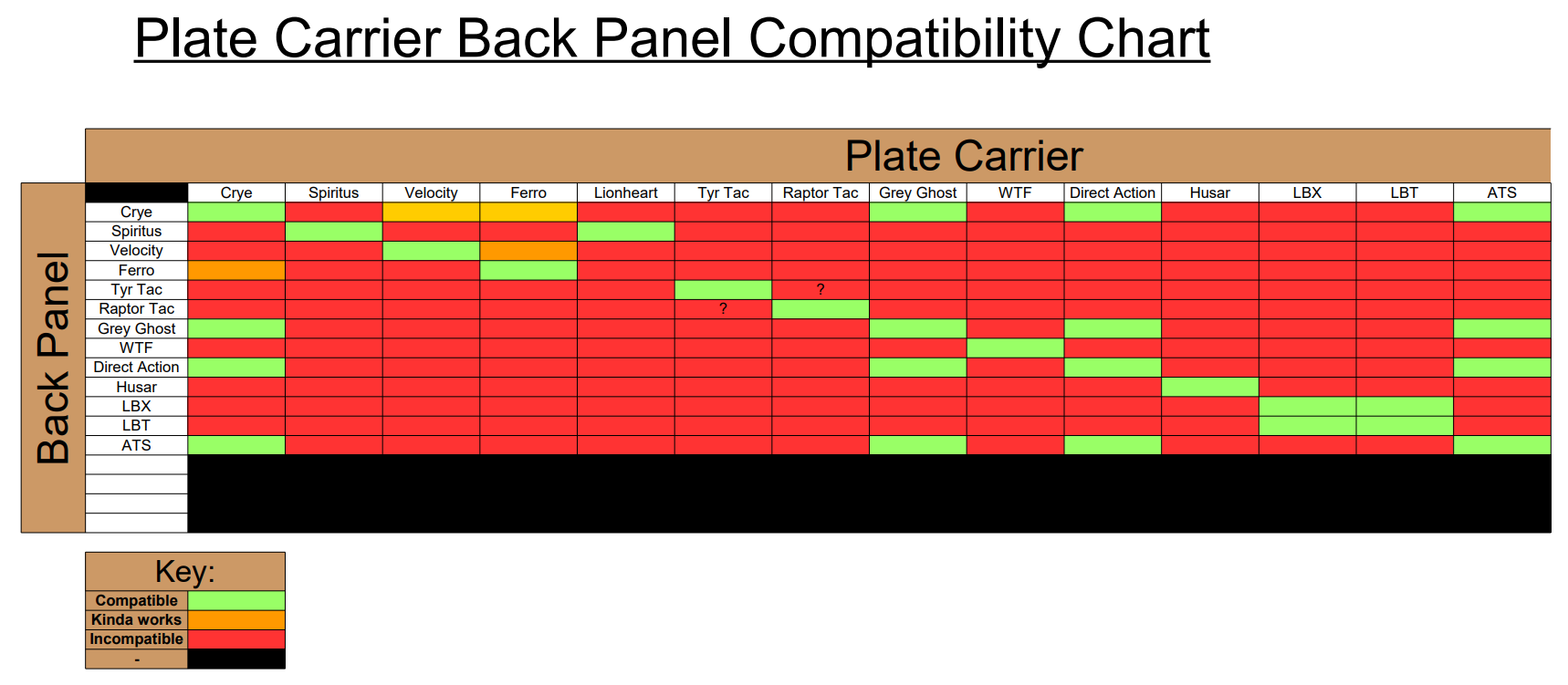 ---
Whiskey Two Four (WTF) as referred to in the chart since is only with regards their own PC 24 line offerings, they make many other panels all using various attachment methods and made for multiple other brands of plate carrier; probably the widest variety out there.  Browse their site here:  https://wtfidea.com/
---
Adapters
There are various companies that offer zip adapters which mount via PALS to any PC that has PALS slots/webbing on the rear plate bag.  N.B.  Be sure to count or measure the PALS rows/height of any such adapter and compare them to the PALS field on the rear of your PC before making a purchase.
MOLLE Monkey Tac for Crye and Spiritus:
https://mollemonkeytactical.bigcartel.com/products
Ferro Concepts:
Crye Precision:
https://www.cryeprecision.com/Zip-On-Panel-Adapter
Grey Ghost for Crye:
https://greyghostgear.com/smc-tall-zipper-adapter/
British Tactical for Crye:
www.britishtactical.com/hl-plate-carrier-zip-adapters-crye/
UK Issue VIRTUS:
www.britishtactical.com/hl-plate-carrier-zip-adapters-virtus/
Eagle Industries:
https://eagleindustries.com/molle-zipper-adapters/
LBX Tactical: