Modified some Magpul Industries Corp. MOE-SL Mid length handguards the other day.
Needed a new forend for one on my Tokyo Marui 'SOCOM' M4s (NGRS with the front wiring) and simple plastic handguards definitely fit the bill.  Plenty of space inside and easy to open up for access. The metal heat shield needed removing from these however in order to create enough space for a battery, which turned out to be no easy task. The rivets used to hold in the shield were both extremely tight and made of seriously tough stuff; yet at the same time loose enough that when I tried to drill them out, they simply span.  Holding the tails on the back face while drilling was a difficult job even for 2 people.  I tried a Dremel bit with embedded diamond dust, however the rivet metal just ground off the diamond and cut in to the metal of the dremel bit in a matter of seconds.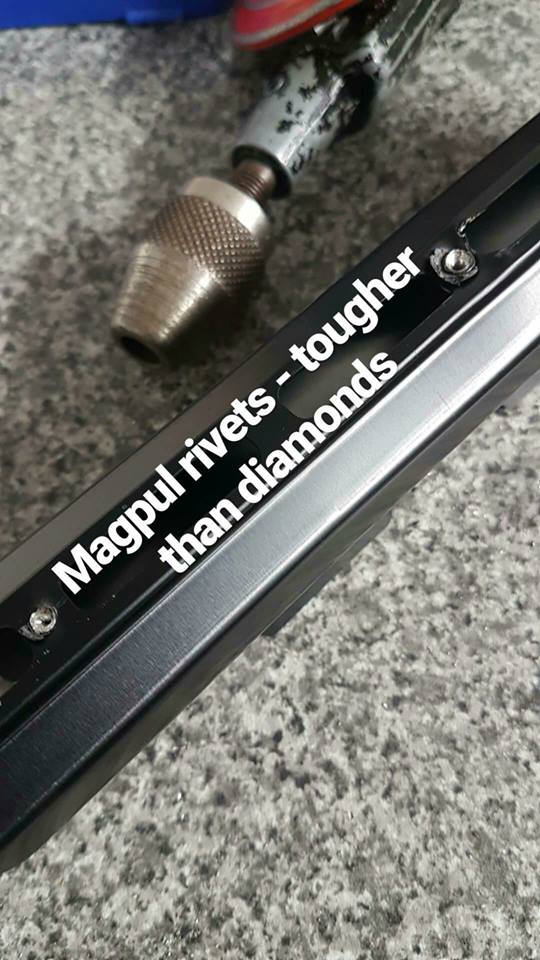 Got there eventually with a combination of drilling followed by a hefty hammer and punch. Cleaned up the holes by drilling out the scuffed up portions with a larger diameter drill bit and scraping out any flash left over.  With a fake mid-length gas system on a 12.5″ Dytac barrel using a standard delta ring and standard circular handguard cap behind a low-pro gas block, the fit is absolutely solid. Not nearly as gucci looking as a freefloat rail system, but this setup is light and enables a solid direct connection between the LiPo and the workings of the gun, as well as permitting usage of basically any stock.