I had to split the coverage in to at least two parts as a single post would have been ridiculously long but equally I really couldn't practically put out full size posts for each individual thing I saw at the show.  Apart from anything when you only get a few minutes to look at something and discuss it, sometimes with people who aren't specialists on the item, you just don't come away from these trade shows and conferences with a good enough knowledge and understanding of most products other than the head line features.
---
Something air warfare specific, the armour carrier component of the @eagleindustries Air Force Kit (not the best acronym but ok). Looks like a laser cut PALS update to a rig I've seen rotary and transport aircrew wearing for a good few years, previously with webbing for pouch attachment.
Must admit in some respects I prefer plates being 'external' on such vests all things considered. Seems to cut down on overall bulk vs some other older designs like the CIRAS and Osprey that try and go around the entire tetris stack of soft armour and plates.
The new @blackhawk Foundation series was at DSEI so while it isn't exactly within my firing arc my inner gear nerd still had to take a look, specifically at the Kangaroo MOLLE Placard that comes with their AR15 insert. It's hook and loop lined so Ferro, Shaw and WTF inserts will work but not Spiritus and Haley without an adapter. Surprisingly the insert is made of webbing rather than elastic so the shingle style bungees are entirely necessary for retention.
The plastic buckles are not a brand I'm familiar with, not the likes of ITW you're probably looking for. Wasn't spotting a ton of bar tacks on the loops for the various 1″ hardware, so whether this fits your personal requirements will very much be a personal thing you'd need to decide. It only costs $40 which is about half a Spiritus Mk4 without an insert, but sufficed to say the products are very different. Similar story essentially for the rest of the line.
This area of kit is one I'm very personally interested in for a few reasons. More to come on that subject.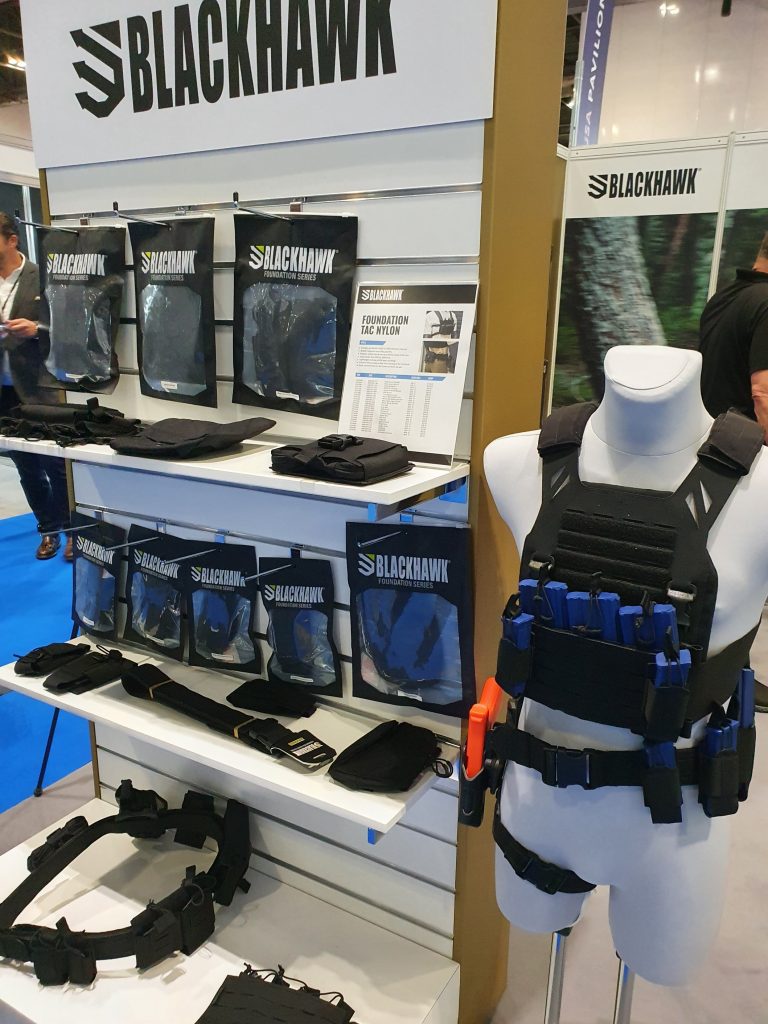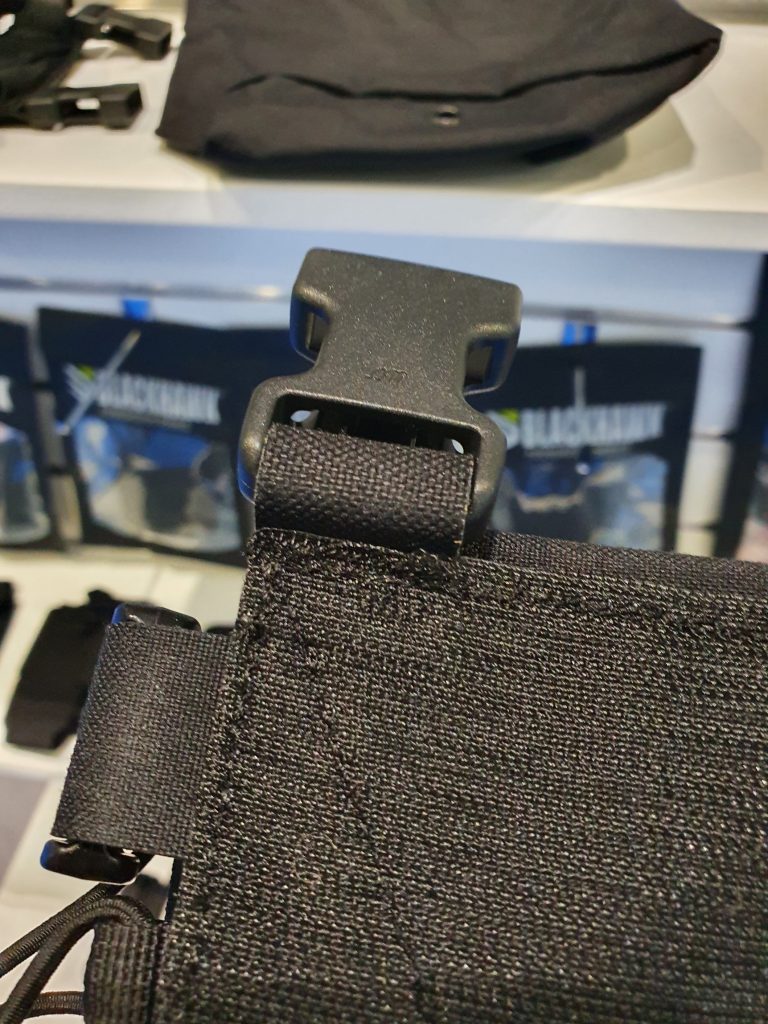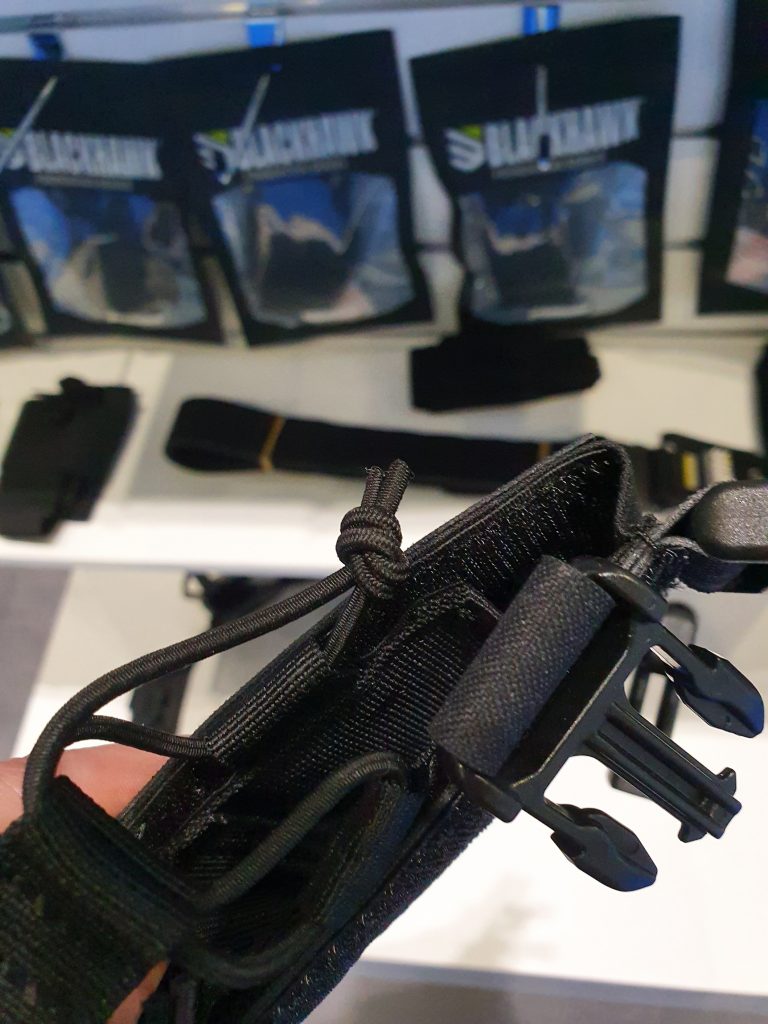 More air force gear info – the universally acclaimed AMP headsets from @gentexcorporation / @_opscore (in black) are set for imminent issue to RAF ground and aircrews. Specifically the NFI enabled variants for 40+ dB of noise reduction which I can confidently say will be very welcome around jet aircraft in particular.
No modifications or neutering compared to what's been issued to the likes of USSOCOM so far, the full featured headsets.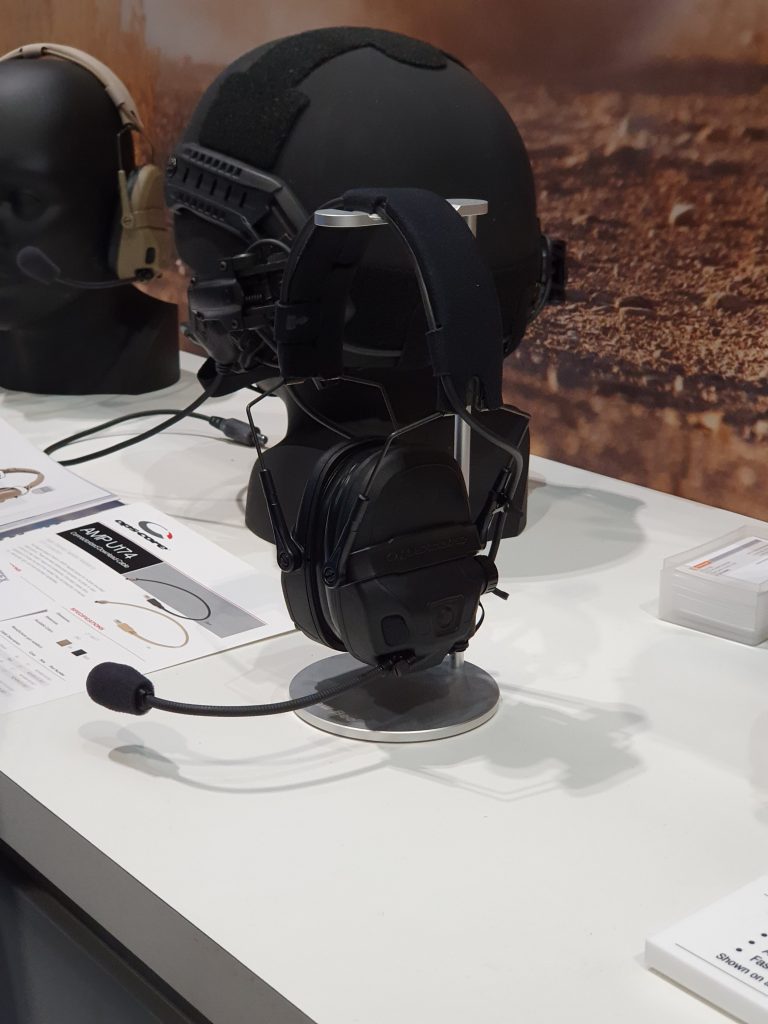 New 'Swiss Spirit' coming soon from @victorinox
For the most part it's a plier-centric stainless multi-tool, BUT the two main blades now have little protrusions so you can just flick them out as easily as on any dedicated folding knife rather than having to find the tiny little groove for your thumb nail every time.
They also had an example of the very first SAK model production, legit antique brought over from their factory museum.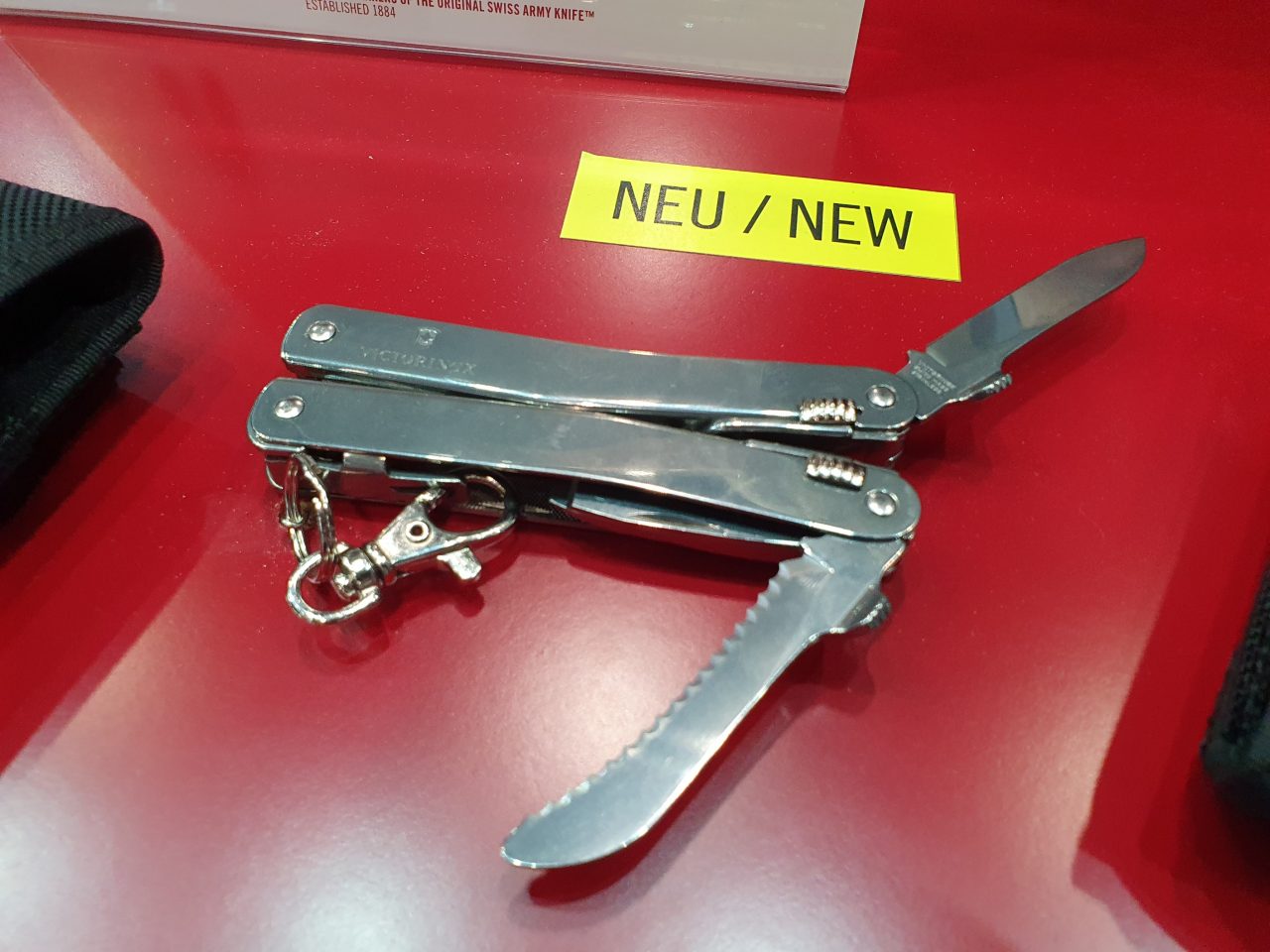 I was very fortunate to get a good talk through the apparel suite from top end Swedish manufacturers @taiga.se yesterday. Sufficed to say you'd need to write a degree thesis to begin to scratch the surface on the entire PCU style system they make and I can't do that in an IG post so I cherry picked their temperate combat trousers for a photo. They've had this line for a while but recently began making the entire set in their T-MTP.
The folded up dark poncho you see there on the shelf is also in a reduced sized and darkened DPM but more importantly the fabric has amazing insulation properties that almost totally block the wearer from view by thermal optics (which i saw some video of), amazingly impressive stuff all round. Though civilian sales are sadly limited due to Swedish laws on their IR treatments.
I also REALLY want the set in their M90 camo now that I know it exists.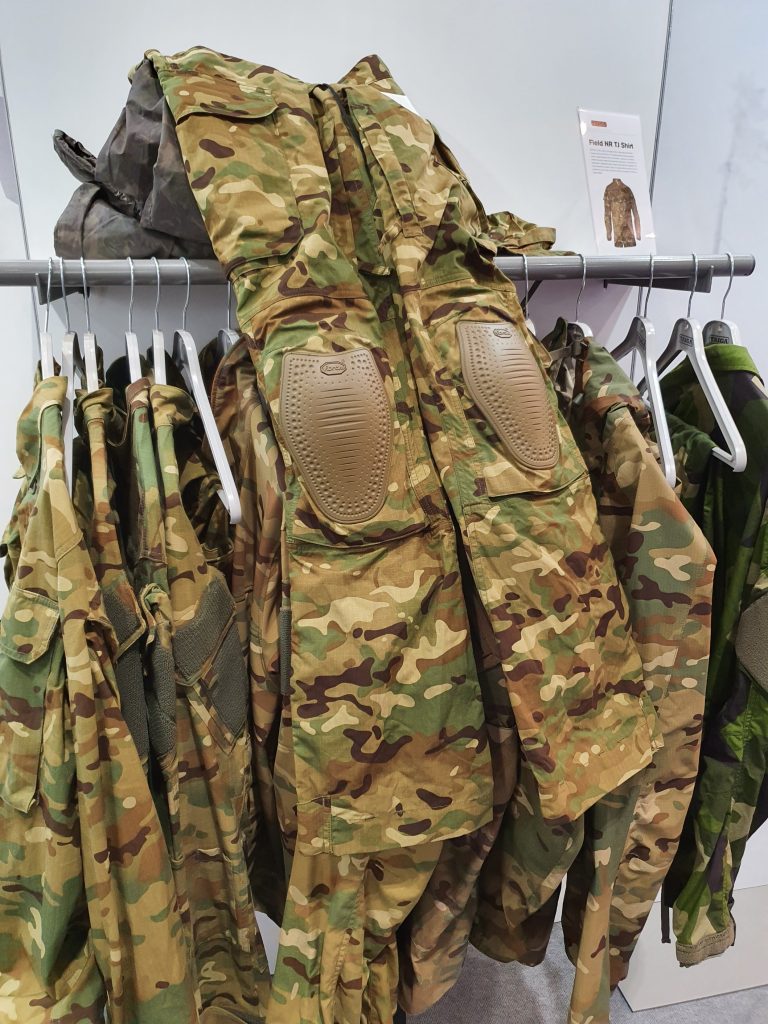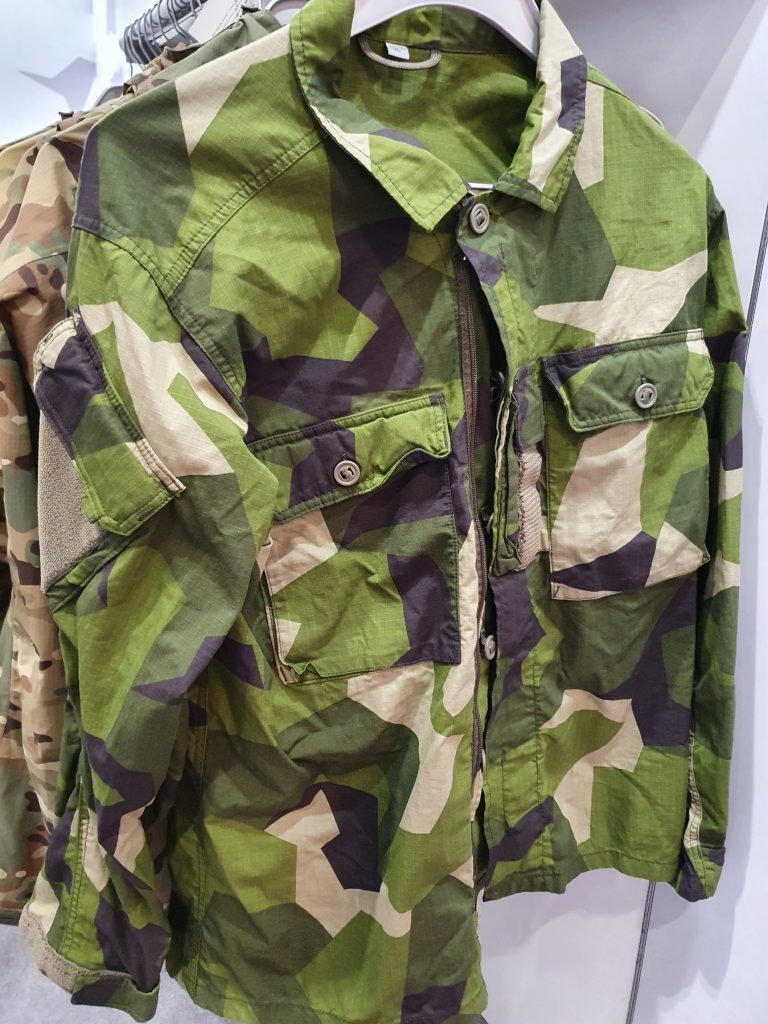 Thanks to @ssprecision – they're always great to talk to about kit which can be a rare thing a world that cares more about credentials than anything else (business is business and that's fine, just my perspective).
Since I know loads of you are rocking out with IZLIDs and M320s here are their latest iterations of holders for both. The blooper holster is more like a PALS retainer now for any barrel.length vs the old fixed kydex offering and you can put your lightsaber lazor on a sprung retractor lanyard like you did with your keys in 1997. Supremely well made kit of course.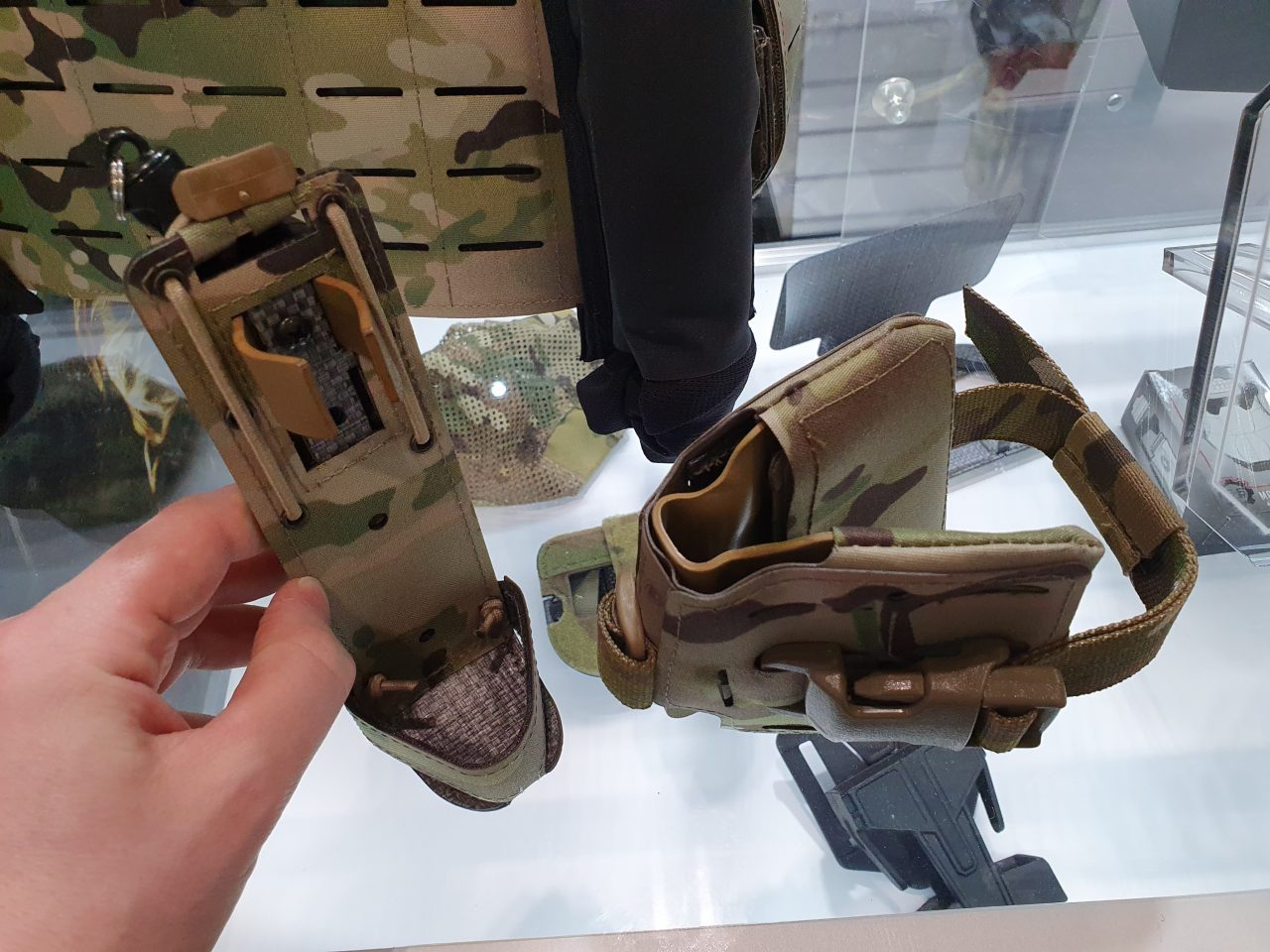 While DSEI has a lot less nylon than SHOT, it does have some great brands from outside the US that don't want to pay the bribes necessary to get good booth space in the Sands expo. Thanks to @platatac_ceo for letting me take a look at some of the new hotness from down under, specifically the new placards (as I say, this is my beaten zone as far as interest goes).
On the surface, laser cut cordura, wide and narrow versions.. all fine and normal, but as you can see there's a bit more going on at the sides. Rather than having the hardware sewn in it attaches just like a pouch. You pick your panels and top attachment buckles then thread on either Fidlock, Tubes (hopefully maybe), Zips or 1″ SRBs. Build a small PC placard, small or medium chest rig, medium or large split-front chest rig, drop-leg… the list goes on. All using the same core components.
In the MCT there's more of a traditional layout on show but definitely another quality split front rig (and those are my jam).
Like the idiot I am I forgot to take a picture of the new softshell type combat cut uniform they have coming but never fear, for @ssd.collection of course has great coverage of that on soldiersystems.net and you definitely need to see that post because the pieces look fantastic.
Hopefully I'll get more info to share in future in terms of costs and the full suites of product lines.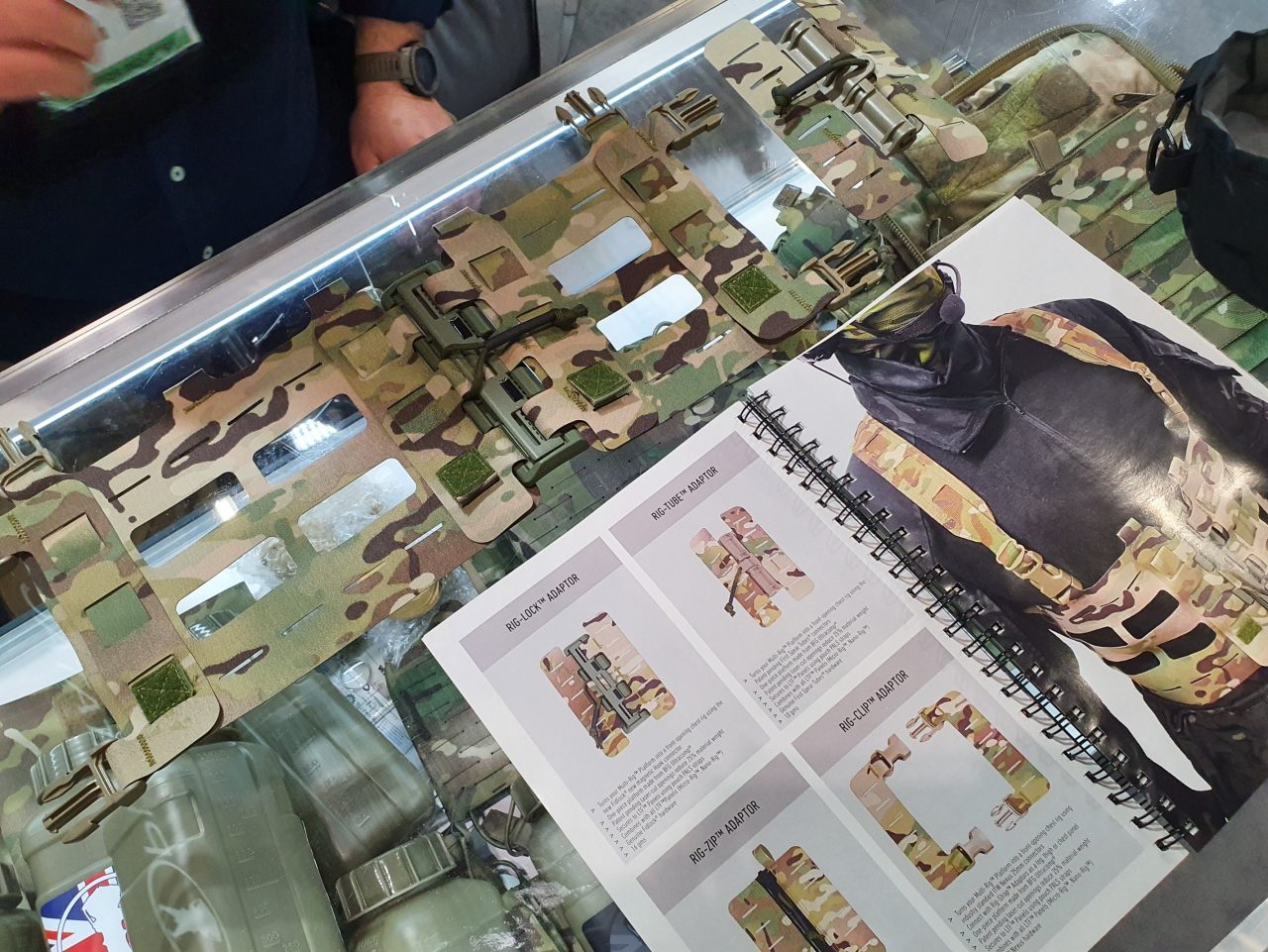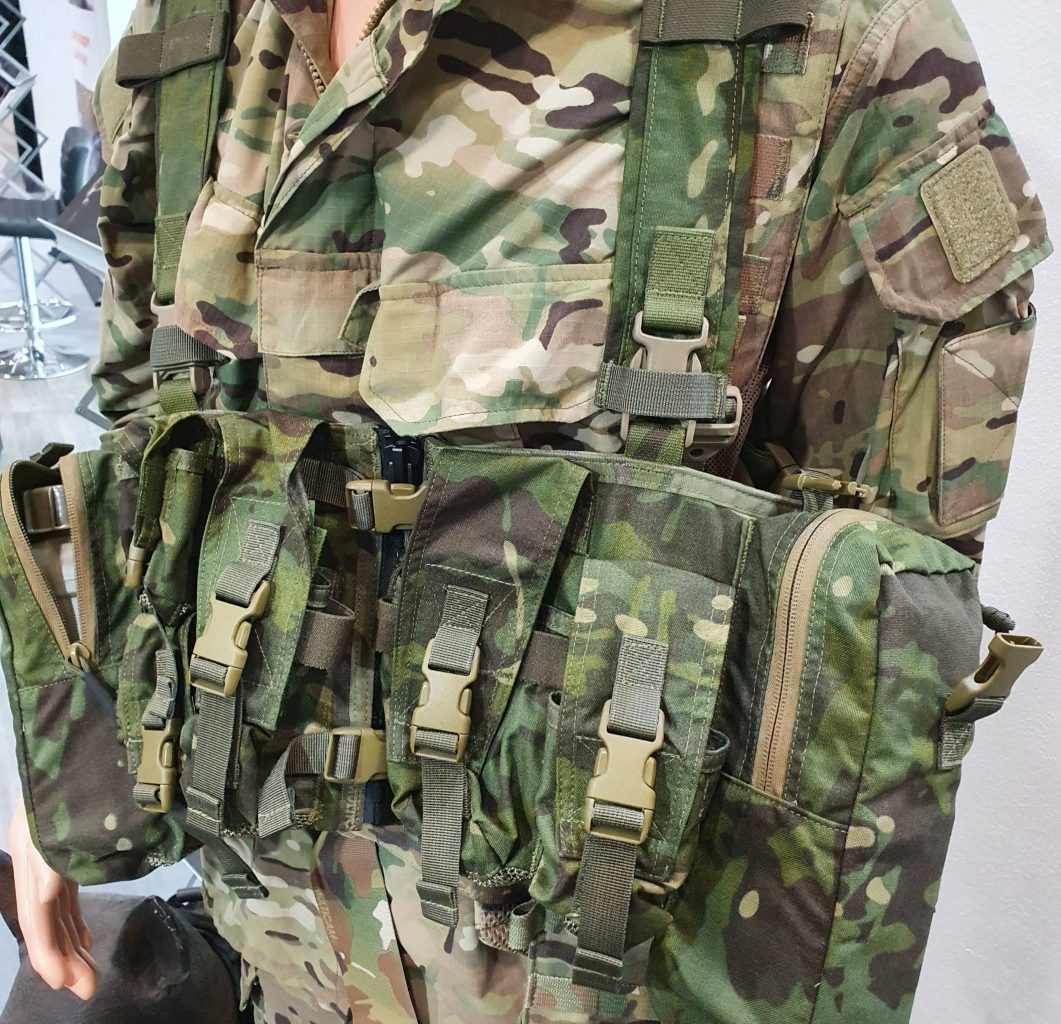 The Fortuna jacket is a new offering from @c2rfast that's coming very soon and does sound like a serious top tier contender in the realm of L3 insulating upper garments that tacticool bros like you and me absolutely adore.
Couldn't get hold of the exact names for the synthetic fill or nylon shell either unfortunately but my general impression was that they're not materials already used in common competitive offerings. The fill is thick enough to still work when heavily compressed and regains 80% of it's properties within seconds of you pulling out of the bottom of the backpack where you've stuffed it under 15kg of other kit when in a hurry. They also spent a huge amount of time testing hundreds of potential shell fabrics for one that won't get pilled by hook velcro which is the sort of thing I love to see.
2 mesh stash pockets inside, 3 coil zipped pockets outside all built in to the pre-existing seam lines. Helmet-sized hood with various adjustments and a baffle around the back of the neck that'll help direct anything that gets in to the hood back out again rather than down your back. Chunky vislon in the front, loop on both arms, elastic cuffs, hangs low at the back and zips high over the chin.
All of this is going to cost you £270 when it launches, which is very soon. Not sure on colour options yet but my suspicion is there will be a good few.
Personally, given the.. 'direction' I feel like the bird may possibly be flying, this is something I will be taking a heavy gaze at to say the least. That's just my take.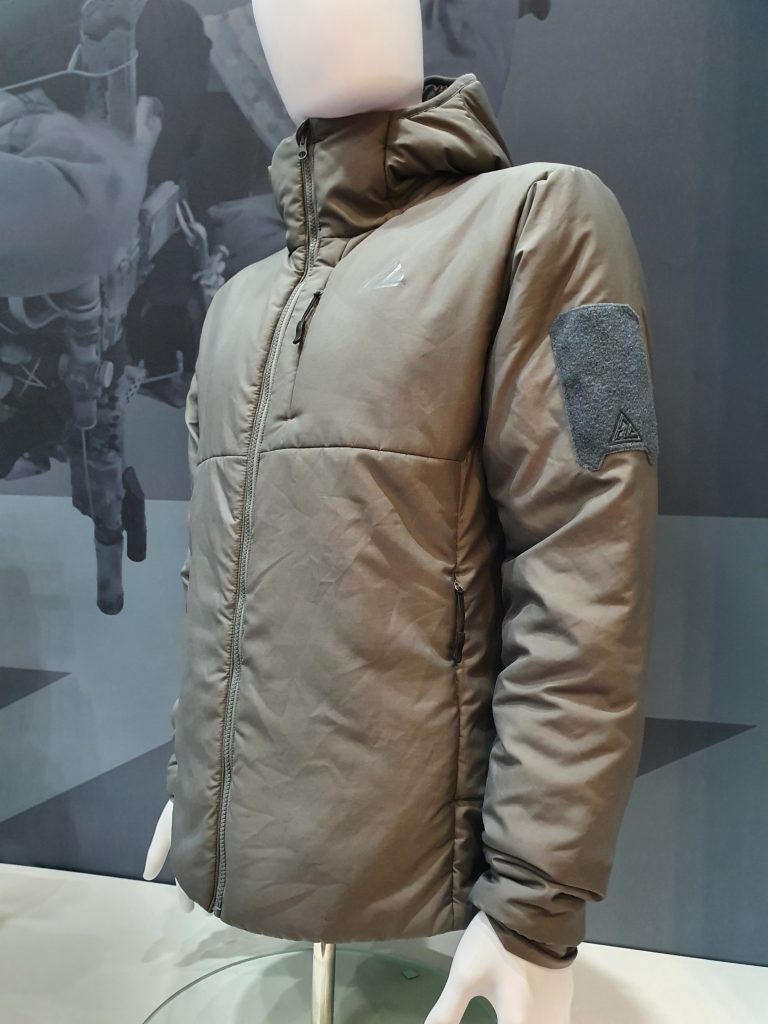 The @c2rfast load/plate carriage system currently issued to the Royal Marines, and by the looks of the Army booth at DSEI also to the new Ranger units very soon if not already.
I won't go in to nylon details right now as I only took a very quick look and would need significant personal time with the rig to say anything, but as far as I know this is the first example of a proper modern type of PC being issued on any real scale in the British military outside of SF. Combining that with the fact it's a scalable system that can switch down to remove the actual armour carriage entirely is a pretty big deal and very much took me by surprise when I saw the announcement that they'd be issuing Crye G4 uniforms.
What I do like is the fact that you only need to stow a few very small and light bits of nylon in your black bag under your bed to have the ability on hand to swap between the PC and chest rig type setups. Gun companies often talk about upper/barrel/calibre conversions and the like but no military ever actually employs that stuff outside of SF for a litany of logistical and functional reasons. In this case with kit though the whole idea just makes a lot more sense.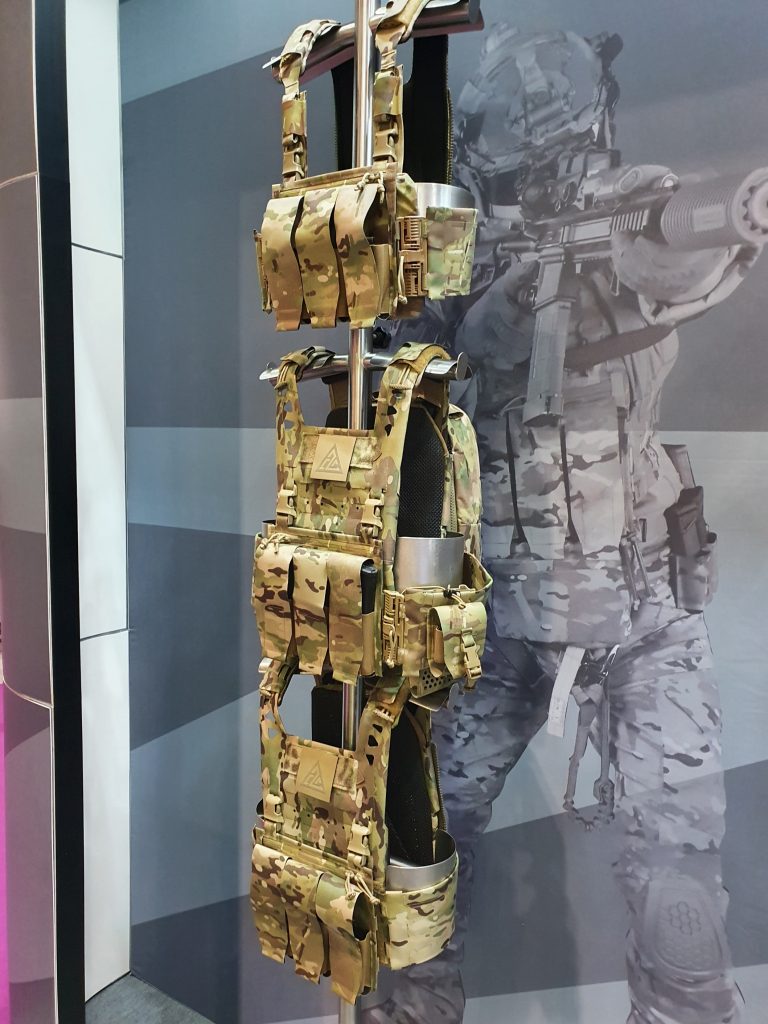 Last thing to post from DSEI and if you're here I think you'll probably find it the most exciting; a lot of other people out there certainly are. On Tuesday I was able to take a decent little look at the new Chameleon PC from @c2rfast before they unveiled it online on Wednesday. Why is it called that? Because it changes colours quickly.
I don't have a ton of details on the materials to hand right now unfortunately and after spending a lot of time with one of the top guys at the company discussing the new jacket I ran out of time to ask more about the carrier. The main thing I'm happy about is that a genuinely high quality and innovative design of PC is coming to both military and commercial customers from a British company. I am yet to own anything from them thus far, which is partially on account of them selling only a tiny fraction of their output commercially, but I am interested in this carrier. Surprisingly, even to me, that interest comes from the aforementioned reasons rather than the camo changing ability.
The Chameleon is ridiculously modular. You only need the cummerbund and front and rear plate bags (caddies?) to strap plates to yourself and they're pictured here in CB, but then you can add the 'Skins' in a camo of your choice in just a couple of minutes. The skins integrate a very high quality spacer mesh made here in the UK that I haven't seen on any other brand of kit and I love it frankly.
Skins I'm told will be available:
-RG, CB, Wolf, Black
-US Woodland
-All flavours of Multicam
-Omega MC mesh
-All the Krypteks
-All the ATACS
And there's definitely more I can't remember and MAYBE they'll have a system where you send in just 2 yards of any suitable fabric and they make a set of Skins for you. The core plate caddies will be in the standard solids.
To retain the skins securely the caddies have built in rigid sections of.. one of the popular fancy extruded polymers that looks like carbon fibre. Holes with elasticated edges grab around the plastic.
Quick release in the shoulders is JPC2 style velcro peel. Front is of course compatible with buckled or G-hook placards. Not sure on the rear zips, pass through for cummerbunds.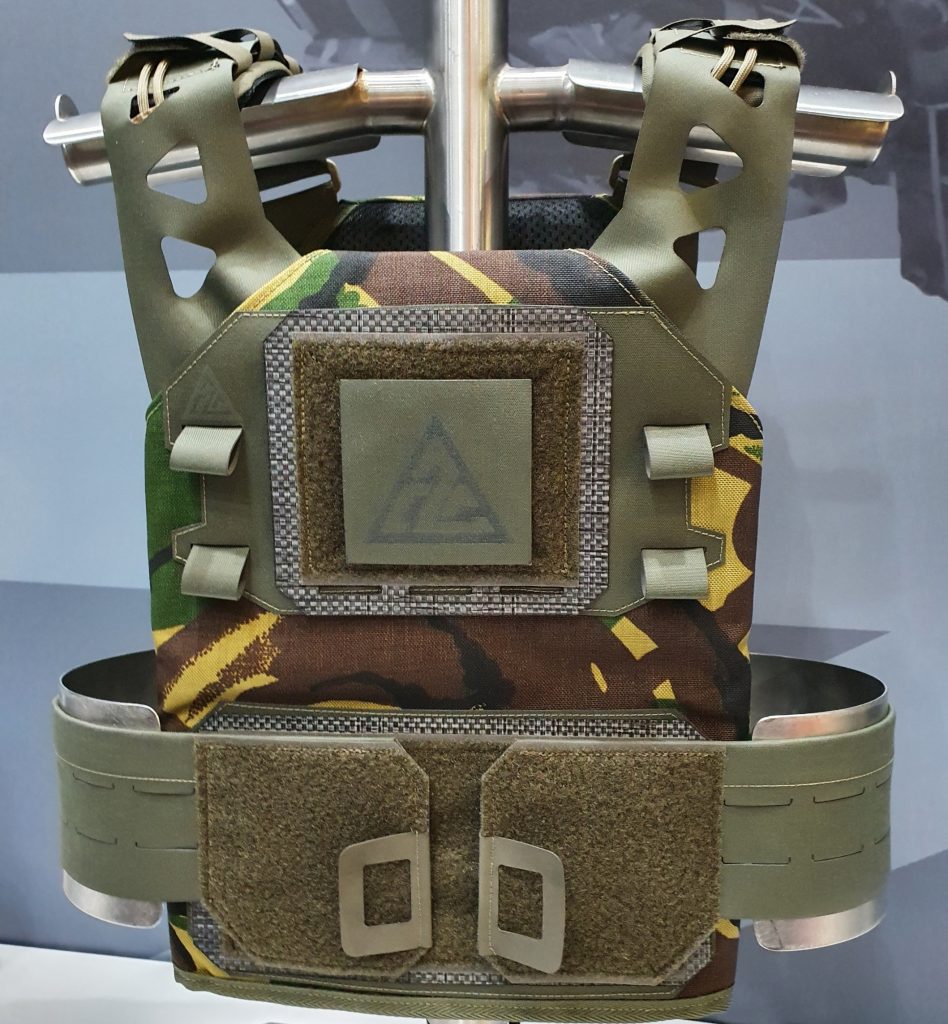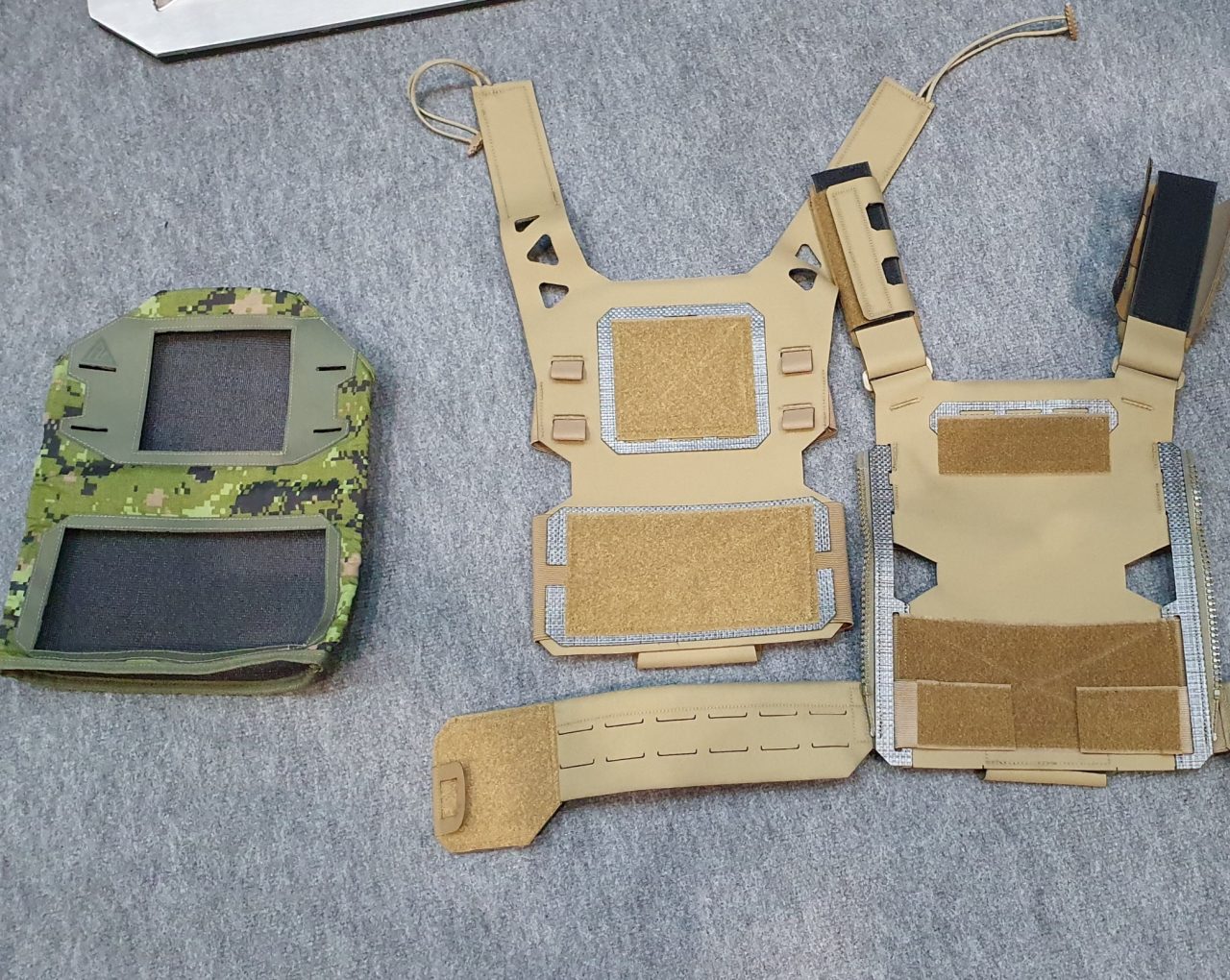 ---
As I've mentioned I only had 1 day in the conference this year which is a shame as I felt there was actually more on display this time in terms of small arms and individual tactical kit and there were a couple of booths I just wasn't able to check out.   Specifically Brigantes with Luminae stuff is one that stands out and there was more in the Edgar Brothers area I'd have liked to look at.   That said I'm also fairly satisfied with that I did manage to capture overall.
Due to DSEI 2020 and then SHOT 2021 being cancelled, this DSEI has actually fallen at a time when there hasn't been a SHOT for over 18 months and hence has actually managed to sort of one-up it's more tacticool American cousin in certain small ways related to the types of stuff I discuss on this site.  Prime examples being weapons like the Evolys, Colt M5, Colt Canada 11.5″ and news from EoTech and Aimpoint.  I was very disappointed HK didn't turn up as I am a fan to a certain extent and they are basically the go-to for the MoD when it comes to weapons, parts and upgrades these days, but hey fingers crossed for the HK416A9 in Vegas!