I have already covered the Mil-Spec Monkey 'Choose Your Own Adventure' over on the YouTube channel and you can click here to watch that video for my full run down with all the details, however because I like this thing so much and get so much use out of it I wanted to also add a very brief pictorial/write up here to the site for those who prefer this format.
Starting from the front exterior there's a large area of loop for patches, a 7 x 6 PALS field with some more loop and a bungee lattice that's good for quickly stashing and accessing some sort of light/rain jacket or other layer.  Also visible in this shot is the many rows of PALS that are mirrored on each side and allow for a certain amount of transformation of the bag, but more on that later.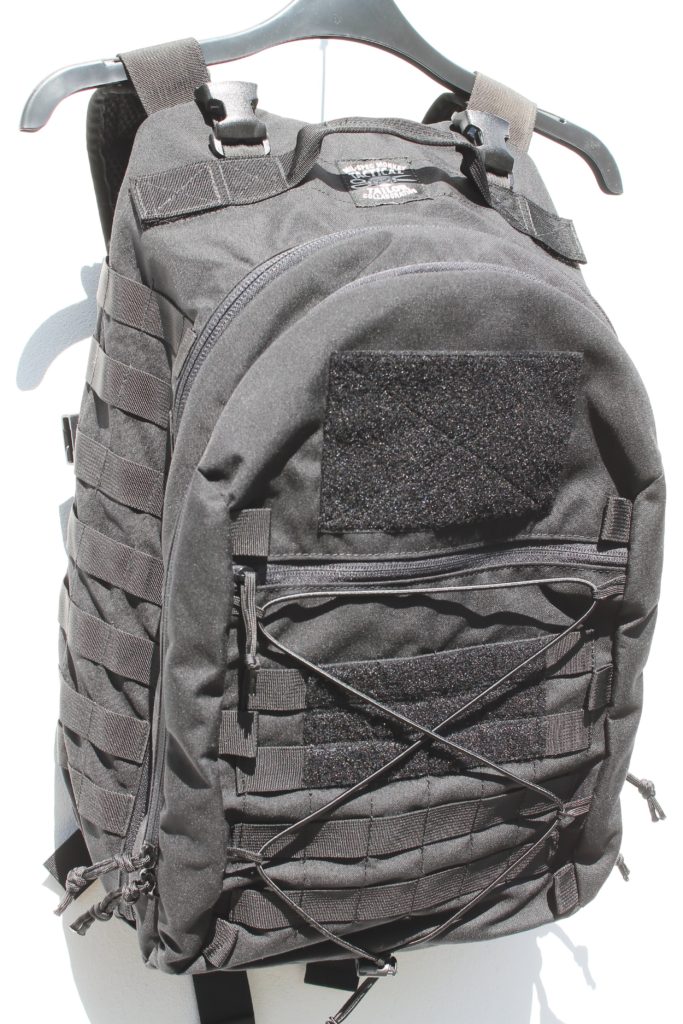 Up top there's the folded webbing carry handle (well implemented and comfortable to use), 2 ports for wires with velcro cover tabs either side of the carry handle, 2 x 1″ buckle connections for integration with the pack of a PC and/or a much larger pack that also has PALS (both unlikely, but available) and the access to the slim compartment that sits closest to the body which has a handy hangar for hydration bladders.  Also visible is the half inch or so of padding between said compartment and the wearers' back.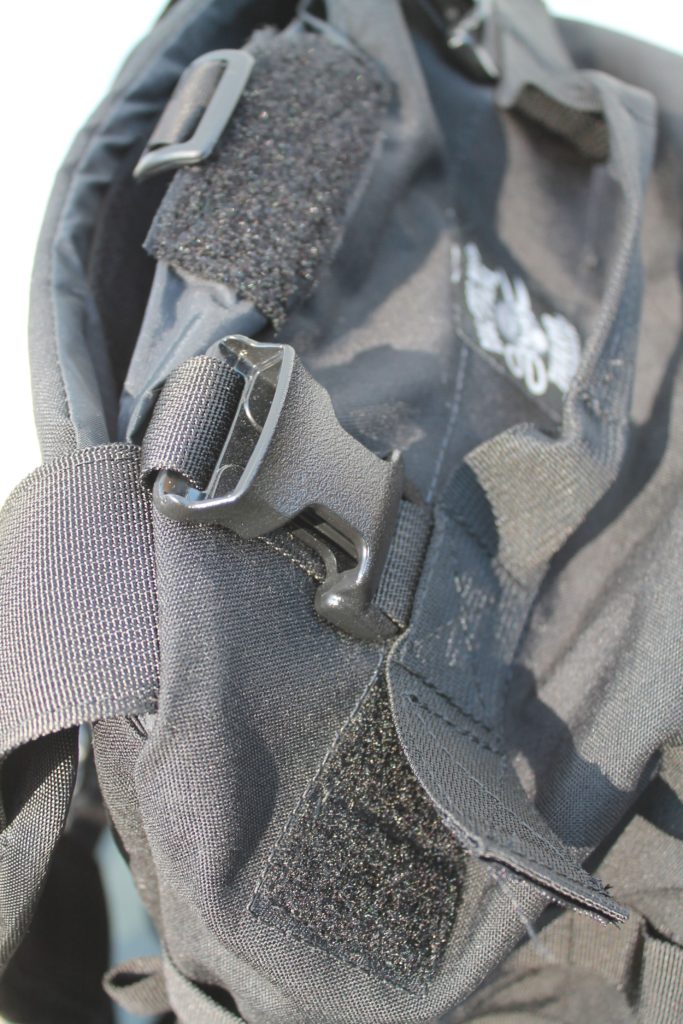 The first pocket on the outer front face is the really handy space with a quick opening zip and 2 small internal pockets where you're going to end up keeping those small things you just need to grab now and then.  Frankly it is spot on for phones, power bricks, sunglasses, multi tools, gloves, sun screen.. the list goes on.  It isn't perfect for a large number of tiny things like cable adaptors or really small tools given that it doesn't have 100 different uber compact dividing organisers for the true EDC OCD types, but for the stuff you and I normal humans will have on us it's great and, frankly, I hate packs that have slots for 13 different pens permanently stitched in.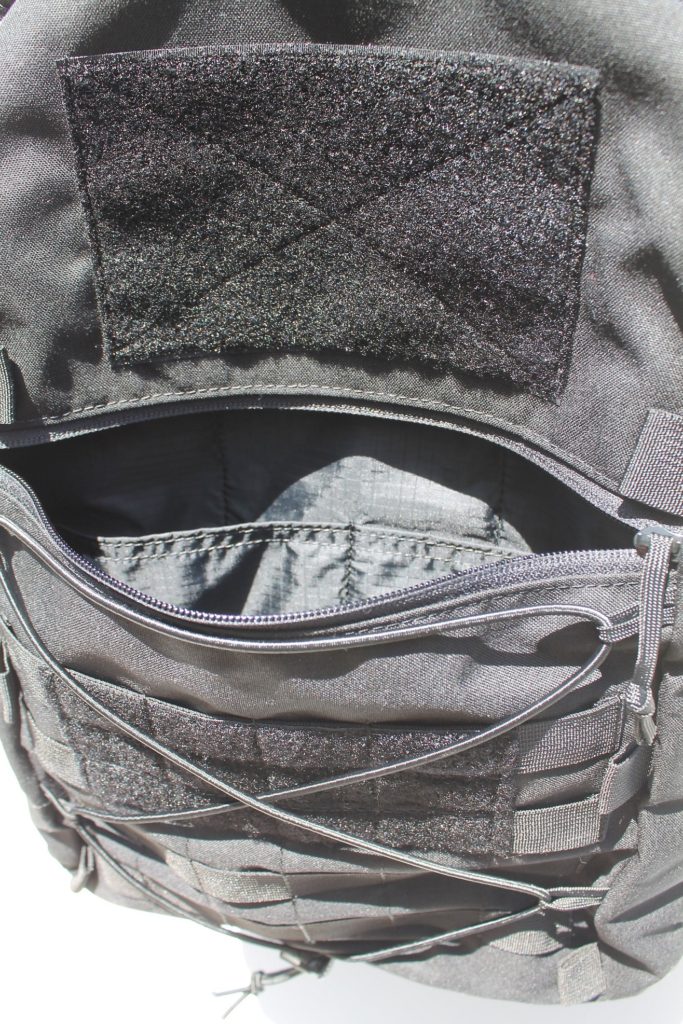 The first of the modular storage spaces is just a couple of inches deep and if you have a normal sized laptop or large tablet it'll work great for that.  It's a clamshell that folds fully open as you can see and the deep pile loop velcro covering both main surfaces not only allows for a myriad of extra organisational pouches to be mounted (if desired) but also provides some small element of scratch and impact protection if you are using the space for carriage of electronics.
Side note – if you attach compression straps around to the very front face of the pack then this area will be squashed down, but if you only use the side PALS then it will always remain at the same volume.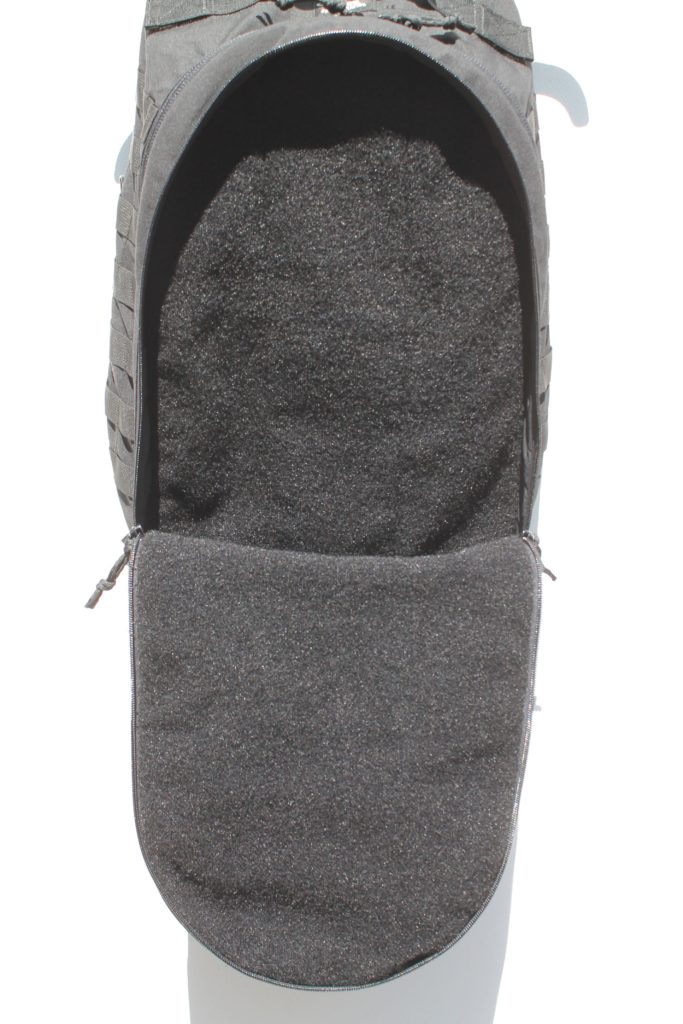 On to the main compartment, which is basically the same as the one above but roughly double the depth.  Again, more loop than you will ever need for organisation and if you're a weirdo like me to lugs a 17″ laptop all around the world it will facilitate your freakish needs.  While I know most people don't do that I have to stress at this point that at its' full size this pack just squeaks in to the allowable dimensions for a carry-on bag on most airlines, so you're getting the most possible free luggage capacity within it without fear of having to put your more fragile valuables in the hold.
On the bottom you'll find PALS spec webbing so you could mount pouches there if you really wanted to, but realistically most are going to lash on a roll mat/sleeping bag or some kind of bulky inclement weather gear they want quick access to.  Might even be a good spot for a tri-pod if you have one that collapses down short enough to not stick out too far when stowed horizontally.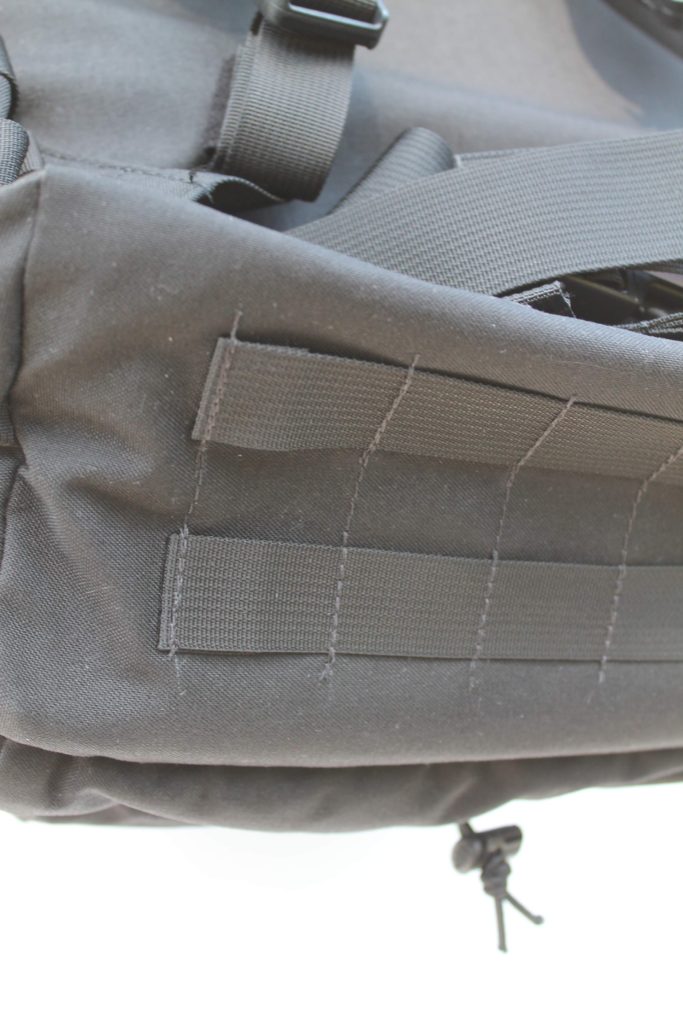 As with many of the Tac Tailor OEM packs and all the MSM offerings there's a lot going on with the shoulder straps.  They are ergonomically shaped with a respectable amount of padding and a very handy sternum strap, of which the height can be adjusted in a fairly wide range to suit just about every body type.
On top of that the shoulder straps can also be unbuckled and either both stowed away completely or you can just cross one over at the 45 and create a sling pack.  The included waist belt is basic raw webbing but I feel it's appropriate for a pack of this volume and is entirely removable if not required or desired.  The attachment points for the waist strap even have stowage ports that go all the way through so if you only want the strap sometimes it can live inside said tunnel.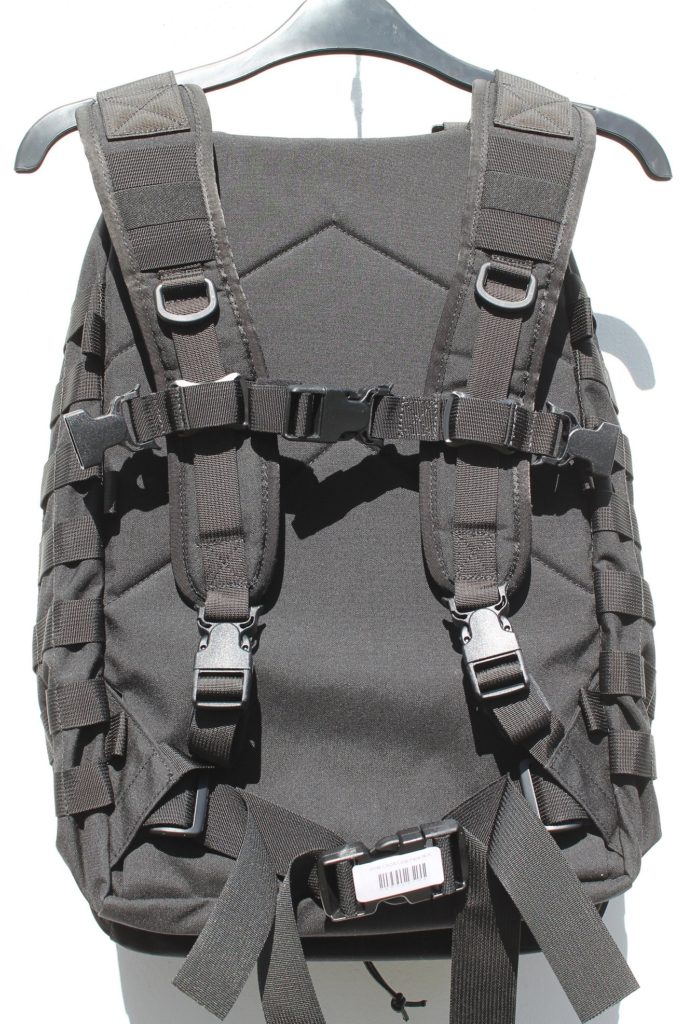 One of the best aspects to the CYOA and yet another string to the bow of its' modularity is the stout package of raw materials you get with it (all compatible with 1″ webbing):
4 x Field Repair Side-Release Buckles
6 x G-Hooks
6 x Slik Clips
4 x Field Repair Ladder-Locs
6 lengths of 1″ webbing ~12″ long each
Originally I used the ladder-locs, G-hooks and webbing to create fairly traditional style compression straps, but because I only occasionally switch from expanded to compressed states with the CYOA I ended up swapping over to simply using the slik-clips on the side PALS.  They weigh almost nothing and are entirely unobtrusive yet are 100% reliable.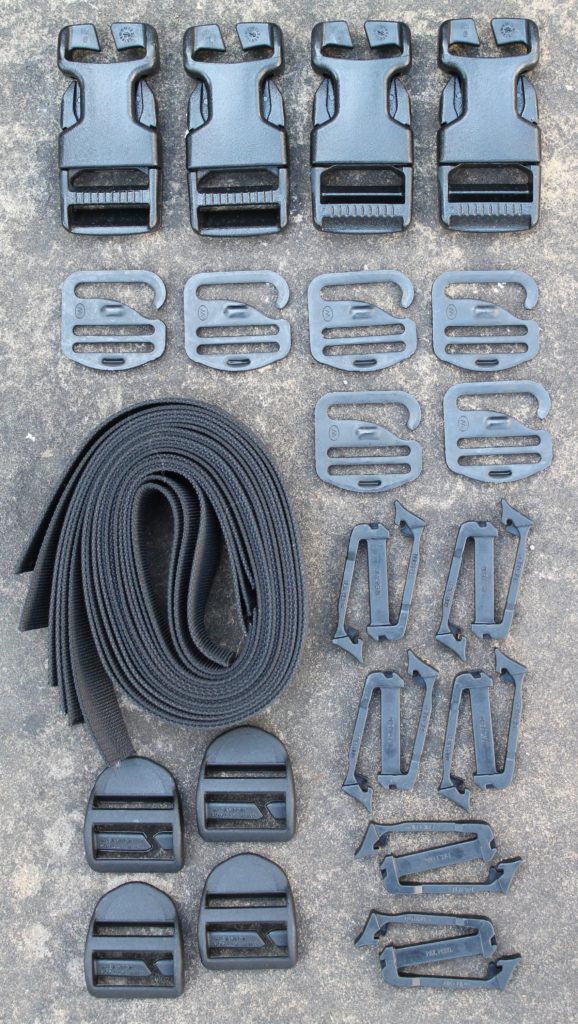 Of course the absolute best run down you can get of all of the features is by the man himself who designed the bag in the monkey's own video, which you can watch here and I definitely encourage you to do so if you're considering a purchase or otherwise want to know more.
Roughly speaking the bag measures 13″ x 19″ x 10″ if it were a perfect rectangle, so the overall volume is just slightly less than the 40 litres you come to if you crunch those numbers.  That said, that 35-40 range (when expanded) is exactly what I like for a normal, everyday, do-most-things type pack whereby most people are very rarely going to find they need something bigger when out and about but it's no hindrance at all when going around town like a full on hiking bag of 60L+ would be.  It does weigh 2.75lbs/1.25Kg when empty due to all the features and construction quality you're getting, which is on the heavier side for a bag of this size and that is one small ding to the design, but it is at least 500D rather than 1000 so it could be a lot worse in that department and the flexibility built in really makes the little bit of weight worthwhile.
If you'd like to pick one up they are available for $165 at the time of writing via the MSM web store in the expected 4 main colourways:
https://milspecmonkey.com/store/packs-bags/895-msm-cyoa-loop-pack.html