I honestly can't remember exactly which year Crye released their 3rd Generation of combat clothing and I should do because I asked for some 2nd Generation combat trousers one Christmas back when those were still very much being commercially sold, but either way it was around 6-7 years ago that the change was made and the earliest review I've found in a quick google is from militarymorons.com back in 2011.  That makes the '11 time frame is about right since MM has a long history of jumping right on the best new gear immediately and putting out info.
I'm sticking with my prediction that the G4 uniform is going to be shown at SHOT in a couple of weeks time, but honestly, if it isn't I will be almost relieved in a way as that's one less thing on my ironic list of 'needs'. If it is there however, rest assured I will be all over that. The crowds at the booth will no doubt be deep, but I will keep going back there multiple times a day until I get the shots and the info.
As far as the now infamous G3 Combat shirt goes, there's nothing I can do in terms of describing the construction and materials that hasn't been long done already, so I'll link this very detailed piece from my buddy Rich over at The Reptile House
https://thereptilehouseblog.com/2014/03/19/crye-g3-combat-shirt/
In the realms of the NYCO combat shirt however, the G3, despite it's reputation, is long in the tooth design wise. It's also a jack of all trades and master of none. Tyr Tac and Arc'teryx now have combat shirts for example using fabrics specifically designed to be lighter, more breathable and faster drying than your average NYCO – suited to extremely hot weather and jungle usage. At the other end Arc'teryx, Drifire, Platatac and others have shirts in a fully flame retardant construction. While the Crye is fairly good in hot weather and has an FR torso (but not sleeves), it doesn't excel in either area. It's a good option for the sort of people that Crye design clothing for, but it's certainly not the best for any given usage that somebody might have for a shirt that is cut specifically to go under body armour. It's neither ideal for the civilian user, or the military man/woman who needs the best protection against explosions and any other flash fire hazards.
Rich also sums up a lot of thoughts I share in the start of this piece covering the Arc'teryx Assault Shirt AR, which for me is the next, more modern step in terms of a NYCO combat shirt that fits my criteria for using in hobbies and games like airsoft:
https://thereptilehouseblog.com/2016/07/15/review-arcteryx-leaf-assault-shirt-crocodile/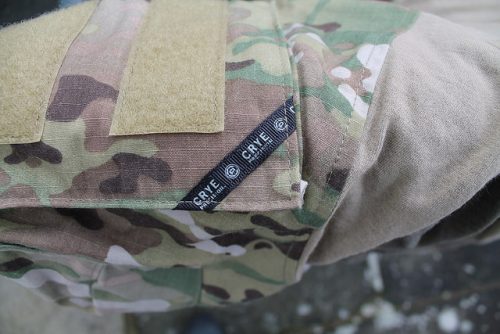 I'm also going to perhaps illicit some firm reactions when I say that comparatively (and please add huge emphasis to that word) the Crye G3 is one of the cheaper shirts sold commercially that the end user may consider for serious duty use. All of the shirts offering equivalent NYCO fabrics from Beyond, Tyr Tac, Arc'teryx, Patagonia (if you can get one) et al charge even higher prices. In some cases a lot higher. Hell even 5.11 make a couple of combat shirts that cost more than Crye and anyone who buys those and admits it to me will receive a strongly worded letter let me assure you.
Fortunately of course there's still plenty of solid mil surplus kit and mid range options that offer either NYCO or full FR construction, but amongst the high end manufacturers who contract to SF but also sell commercially, Crye is still one of the cheaper brands. Far as I know their commercial pricings have never actually changed in the entire time the G3s have been sold to the public, which makes them actually quite a lot better value in 2018 when you take inflation and increases in manufacturing costs in to account.
That all said, despite Multicam being by far the most common Crye colour way found on the second hand market, there are also many brands at both higher and lower price points who beat the G3 shirt in various ways and also offer original Multicam. So personally I would tend to only recommend the G3 shirt if you want the best combat shirt available in MC Tropic, MC Arid or MC Black. If you want the best in Ranger Green, plain Black, Tan/Khaki or regular Multicam then other companies mentioned do make a better shirt if you wish to spend more.
There's a lot of considerations to weigh up in a combat shirt. Despite its' popularity, I really despise the G3 for having the split velcro and plan on having someone who's good with a sewing machine make something that will fix that for me. The G3 is a good option in various ways and of course the quality is there, but then again it's really not the best option in a lot of other ways. As I very often say, the end user must learn what they need to learn in order to make the best decision about the materials, features and patterns that will best suit their uses, then narrow down manufacturers based on that information and shop around from there. If gucci looks are the aim then sure, stick with what's popular online and gets likes on social media, but never be drawn in to thinking popularity guarantees the best results for you personal usage situation.