Something of an irony – to best compliment what is probably the most complex and expensive piece of equipment you might have on your person, you are likely going to want to add something that is comparatively very cheap and could have largely been manufactured thousands of years ago.
Being quite obsessive with lightweight gear and having been in that mindset for a number of years it was a bit of a wrench to force myself to purchase the Gentex Corporation/OPS CORE Counterweight from ODIN Tactical. However having tried out my PVS-14 both with and without any counterbalance it is very clear that having the counterweight is the superior option. It certainly felt very counterproductive to do something deliberately that is known to be the inferior way of doing said thing, but in the long run it does give you a reassurance with regard to the superior method. It can also help to somewhat ease the sting in the wallet region when you have to outlay on a piece of gear.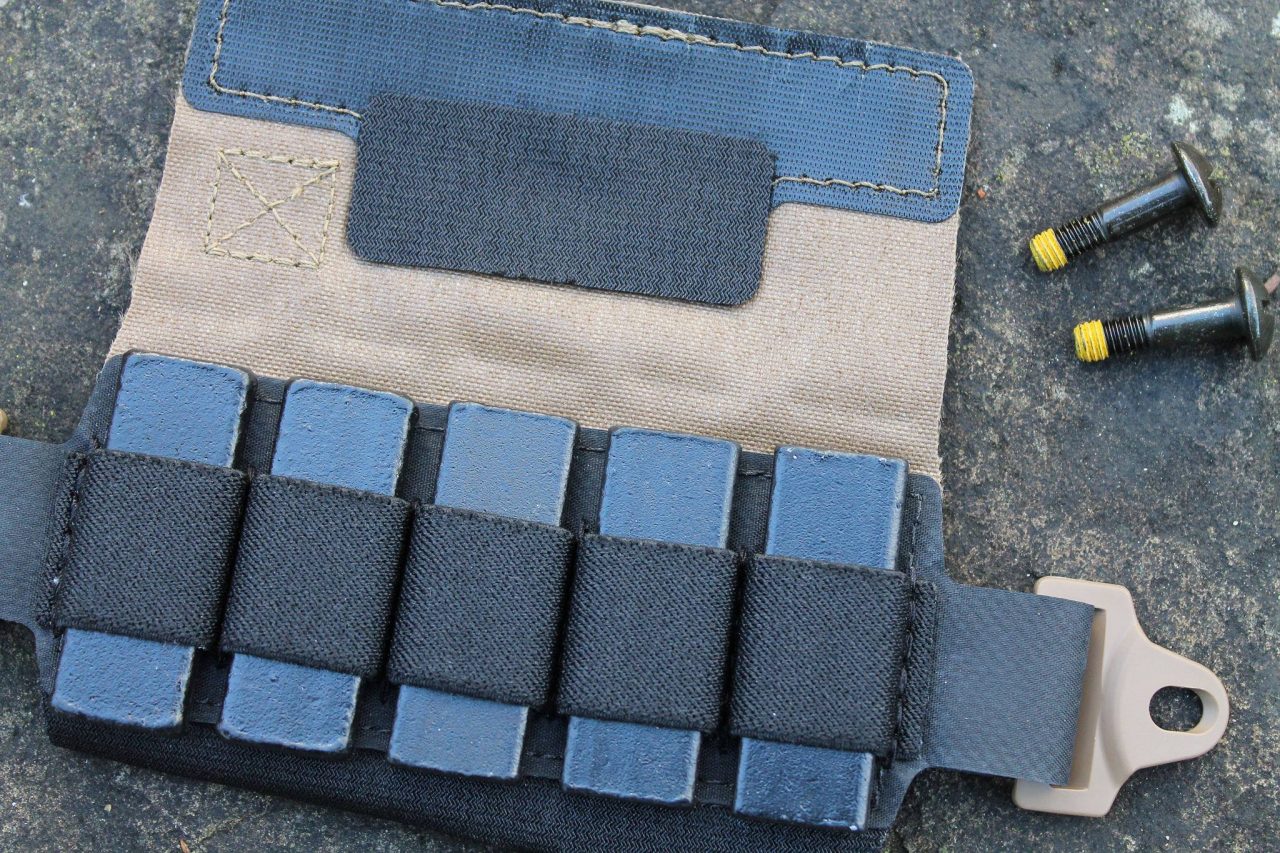 The OC Counterweight is a mixture of primarily cordura and hypalon with internal elastic loops (burly elastic at that) and an awful lot of Velcro brand hook and loop. The supplied weight blocks are 70g each with a thick coating and are presumably made of lead given their size to mass ratio. Each block can of course be replaced with more useful items like batteries so that you're actually getting some potential benefit out of having all that mass added to your head gear. Though the key aspect really is that without having any of that weight at the back of a helmet you'll have to really crank on your headband adjustment in order to keep the whole helmet stable with NV mounted and that is just not comfortable by comparison to the alternative.
The pouch itself has a window cut on the front for a miniature cyalume to shine through if required (think of a ghetto alternative to an S&S Manta) as well as loop on the outside for a small square of glint tape. Whatever you choose to store inside the pouch is secured with a heavy dose of one-wrap style hook and loop.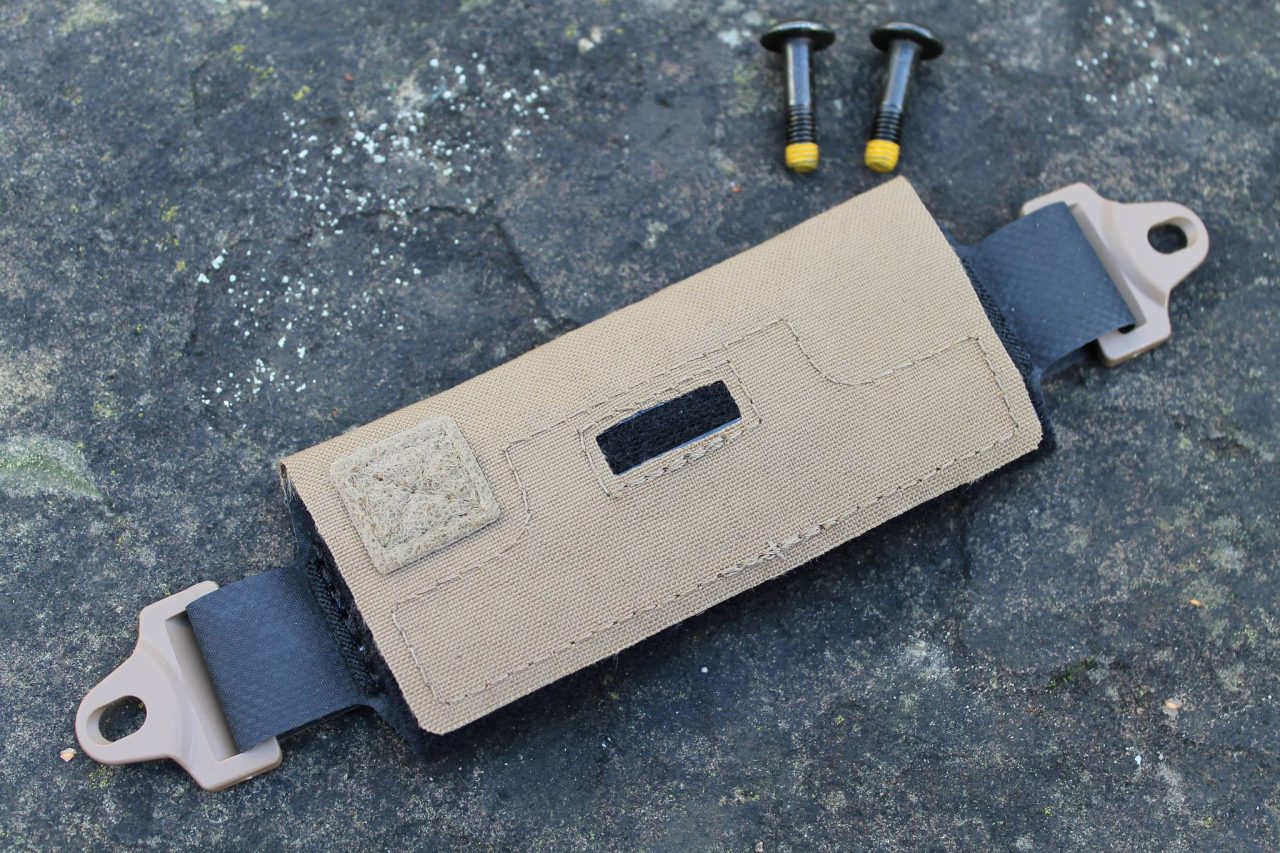 There are 2 methods for mounting the counterweight. First the hook on the rear of the pouch and then the extended replacement screws as depicted which go through the helmet shell. If your helmet/cover is of quality and features good, thick-pile loop fields the velcro interface alone will actually serve very reliably and enables much faster changing of colourways by changing helmet covers. I opt to remove the plastic hardware that facilitates the screw mounting and just tuck the hypalon straps away and for most of my purposes the velcro mounting alone is more than secure enough. For military folks deploying/jumping or indeed civilians who need a counterweight on a sky diving helmet, adding in the certainty of the screw mounting will of course be the way to go.
It's temping to just not admit this part, but I'll say it anyway since it's a rare example – I did actually try a nasty, cheap Chinese made knock-off of this pouch before purchasing the OPS CORE original, however the weighted blocks were made of raw steel and arrived absolutely covered in rust and the pouch itself was badly sewn with poor quality 'velcro'. It might well have done service for hobby usage if attached using the screw system, but I wasn't happy with it overall, especially since I wanted the ability to quickly tear off the counterweight yet still have it securely retained by the velcro alone. Years ago I'd sometimes succumb to the allure of cheap clones when it came to very simple gear items like this which fulfil an incredibly basic function, but personally it's burnt me too many times to ever forget my lessons learned.
A more featured, modern alternative option to consider would be something like the TNVC, Inc Mohawk OEM'd by Spiritus Systems. The Mk3 Mohawk is optimal for NVGs running a battery box and for a PVS setup like mine the Mk1 would be a great choice (if your helmet/cover has the right loop fields to match up of course).