Gear I was trying out for the first time yesterday at Ambush Adventures The Billet site:
-Custom Blue Force Gear, Inc./Magpul Industries Corp. 1-to-2 point sling:
I've been using setups like this that I've made myself for years, but yesterday was the first time using it with QDs instead of Paraclips. The rotation-limited QD sockets that the MS4 adaptor and ALG rail have built in are good once you get things set the way you like, but you can't realistically see where the segments and dividers are within the socket (without taking undue time clipping in) and sometimes you end up having to go back and mess with the attachment. Regular QD sling swivels are also a pain to manipulate compared to clips or hooks, which is why Magpul and BFG make their own versions with better control mechanisms.
-Crye G3 All-Weather Combat Shirt:
Thicker in the torso than the regular G3 shirt, giving just that little bit more insulation and still a decent drying time. Unfortunately the wind will still go right through the torso and it definitely was doing that yesterday in a biting fashion, but the unlined softshell on the sleeves and yoke cuts out any wind and still breathes very well indeed.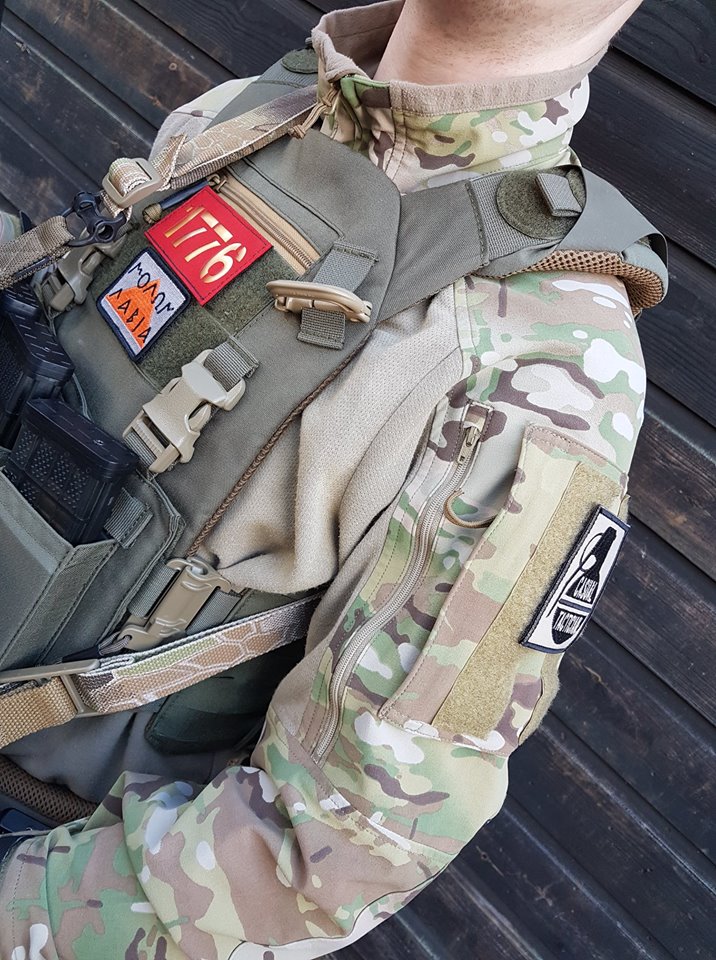 –SKD Tactical/Patrol Incident Gear [PIG GEAR] FDT Deltas:
I'll be replacing at least a couple of pairs of my Alphas with these, if not most of them. All the same brilliant fitment and dexterity without the bloody annoying velcro tab to get them on and off every time where the hook part of the 2nd glove you put on always ends up eating some small part of the 1st glove. The Pig silicone letters peel off very easily but that's always been the way with small grip additions like that on glove palms and fingers; be better if they knocked a few $ off the price and just never put those adornments on in the first place.
– ALG Defense EMR V2 M-LOK Handguard:
A true pleasure to get to grips with. There's not a massive different between this tube and the V1 I changed over from, but the small piece of pic rail at 12 o/clock up front is exactly what I want personally with no other wastage. It's slim, extremely light and with just enough texturing in the geometry and anodising to not make things too smooth and slippery. You can't beat 95%+ Geissele Automatics, LLC quality at a fraction of the price. I may add some covers/panels of some type just to decrease heat transfer slightly in winter, or possibly a cordura wrap as metallic rails act like a perfect heat sink, but that sort of thing entirely depends on your glove choice and circulation in the hands.
–Grey Ghost Accomodator rifle mag pouch:
With an AEG mag, the function is perfect. Just enough grip to hold the ammo source, but no resistance to drawing it. I'll need to try it again with a GBB rifle mag (they weight the same as a real one loaded) to see how it really retains something that has the necessary mass to carry momentum under movement however.
–Patagonia PCU Level 9 Combat pants:
Big fat meh on these. They look cool and different to the G3s yes, but they're not better in any way from what I'm seeing so far; certainly not when compared to NCs with the buttons. The normal front pockets are too shallow, the front thigh pockets seem too small in general as well. The main thigh cargo pockets are too far around the back of the leg and by far the worst feature is the fly. The button arrangement overall makes taking a piss a nightmare mission that would genuinely need SEAL training to complete. It's hardly impossible to do a button fly that works either, other trousers have them, but the Pata arrangement is a fail. The L9s are just a step down from the NC or G3 in most ways. Not the worst trouser ever by any means and they're not a million miles behind the Cryes, they're just straight up not as good, so there's no reason to recommend them for the vast majority of folks. Doubly so when Crye combats are far easier to find.
What folks want to know most I'm sure is what failed. Frankly these days I'm a bit disappointed if nothing goes wrong at all because then there's nothing I can change and improve. I'll say this beforehand however – I neither baby my kit nor do I deliberately trash it. I own enough now that if something falls apart I'm not going to be stuck and without kit to use, but on the other hand I'm not about stepping in to any recreational activity purely to ruin stuff I've purchased.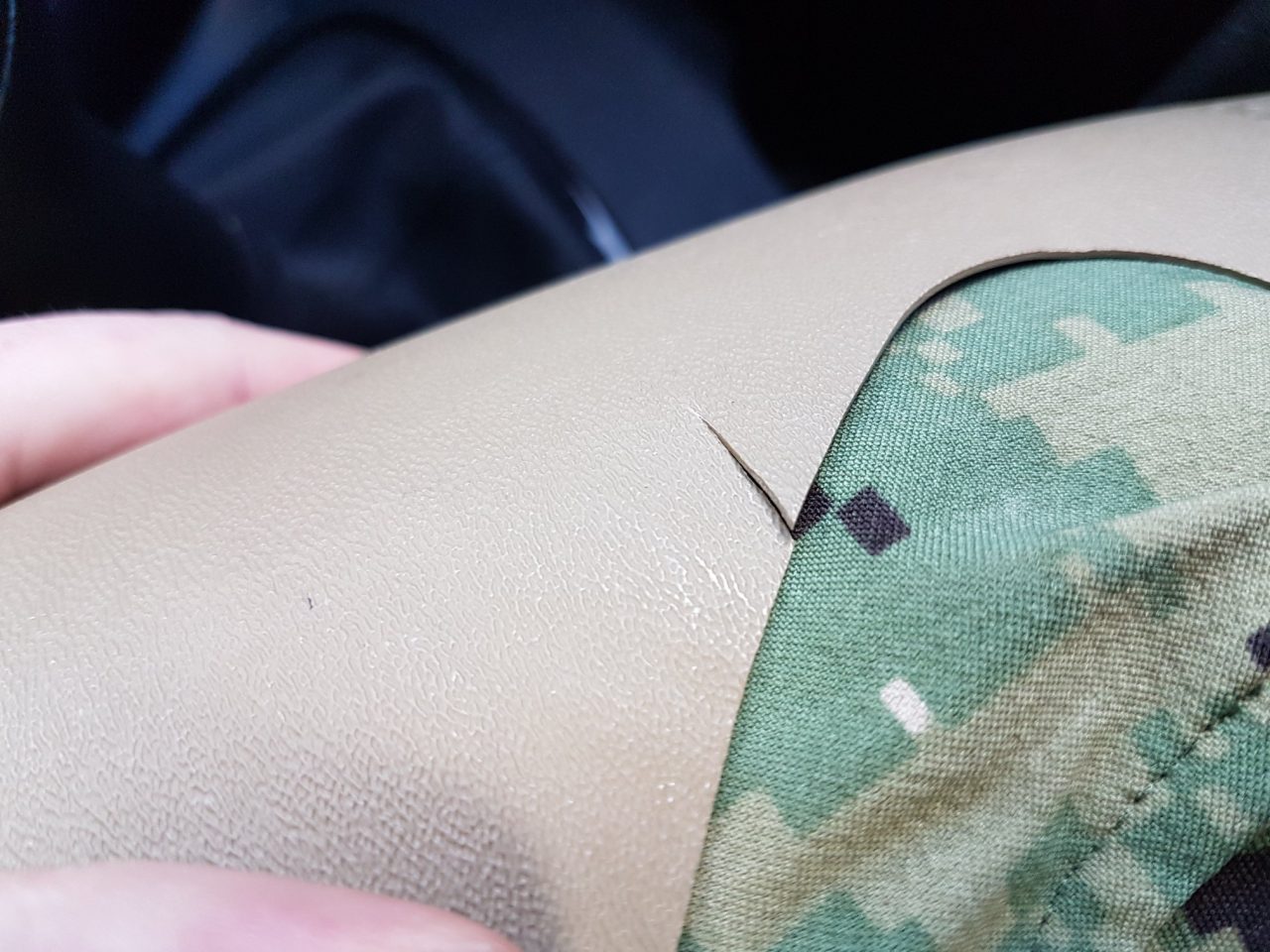 The Patagonia knee pads were frankly unsurprising in their fragility and lacklustre performance. As with anything this is just a sample size of 1, however given the thin and brittle type of plastic that's been used for the external caps I was pretty much expecting something to go wrong from the start. Bearing in mind I didn't crash my knees in to any sharp edges to cause the split, this was the first outing for these pads and I only took a knee maybe 7 or 8 times during the day. A day of casual airsoft – not war fighting. As mentioned the plastic is just brittle, it doesn't flex and cracks were simply bound to propagate. I liked the padding of the internal components of the pads, they're a bit small compared to Crye but do a decent job. The other issue of course is the press/pop studs, which I knew weren't nearly tough enough as soon as I took them out of the packaging. Move to a kneeling position too fast and guess what happens? At least 1 will disengage. Easy enough to take the time to remedy that in an airsoft game, not when you're taking actual fire and have bigger concerns than protecting the stretch panels on your trousers from abrasion. The newer iterations I have on the way (which I'd presume are current issue) do have a positive locking system instead of the press studs.
What really disappointed me was the G-Code Holsters RTI rotating belt mount, which as you can see decided to shed 2 screws and would've shed 3 if the body of the holster hadn't actually retained the 3rd. Those 3 sets of chicago screws worked themselves incredibly loose somehow, the other 2 were also loose but not to the point of the outer screws falling out (yet). I only drew and re-holstered maybe a dozen times and I'd rather expect draws and holstering actions to be the movements this gear should be designed to hold up to the best. Is this a parts or materials issue? Nope, it's assembly. I've got lots of G-Code products here and this is the only one to have an issue anything like this. Clearly that bloke on the assembly shop floor was having a bad day; either that or the torque specs he was working to were far too low. Or the torque tool got a hard knock and was producing vastly different numbers to its' setting. Either way those 2 screws of the 5 are gone forever now, I was lucky to catch the third right as I was packing up to leave.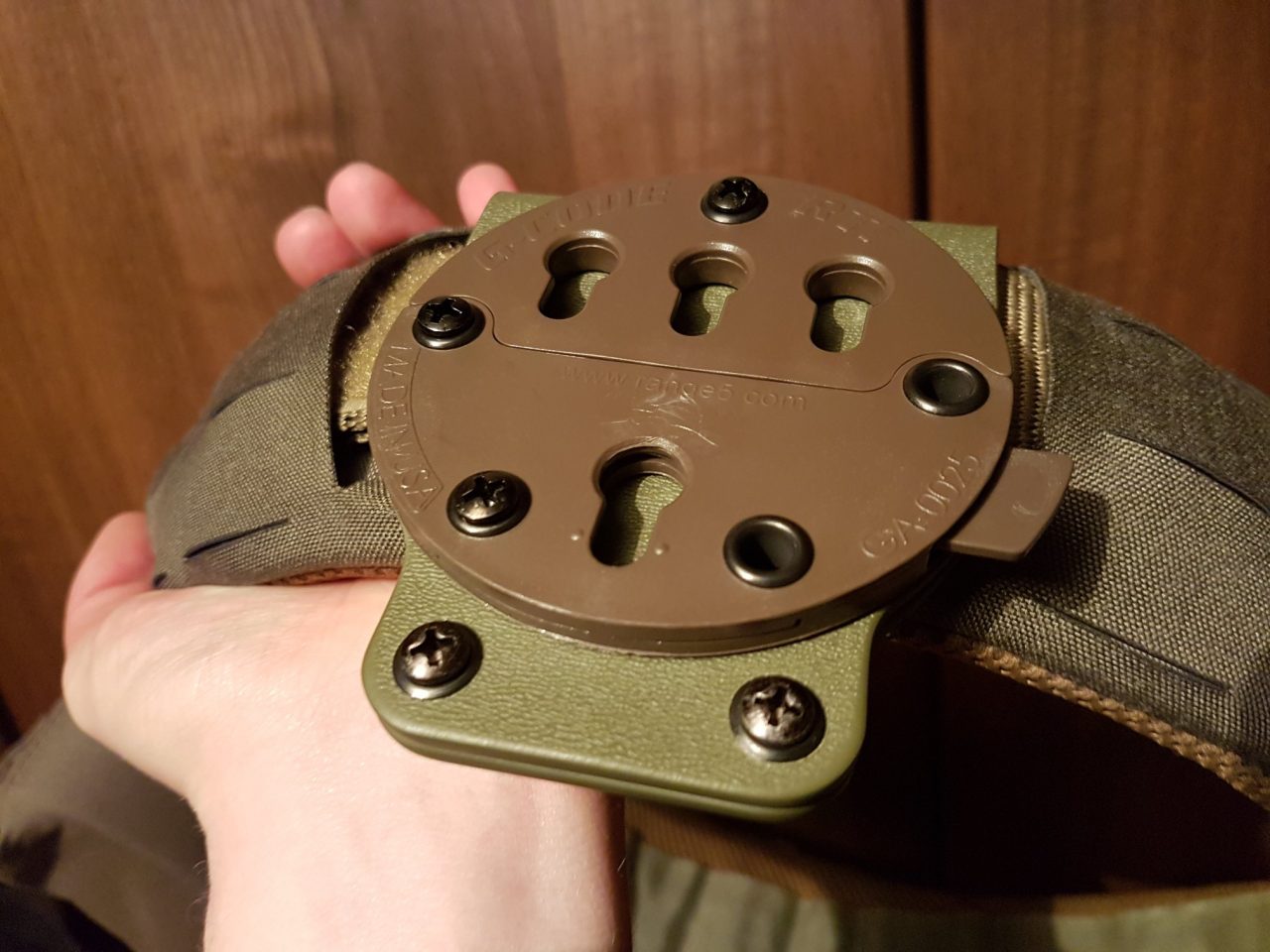 Highly fortunately I've got a bunch of spare G-Code nuts and bolts in a small organiser unit here that's designed for DIY use and is full of similar 'just in case' bits and pieces. Wouldn't want to be the guy on deployment or between shifts who was relying on this thing to mount his holster, especially if he's only armed with a pistol in the first place. If they don't respond to this post G-Code will be informed directly of this issue so they can double check their assembly processes. They've responded quickly in the past when I brought up a very minor issue with a slightly corroded piece of non-essential hardware. I'll update here with my findings, but having talked about this item recently and sung its' praises based on the other one I have (that has performed very well), I'm hardly thrilled by this turn of events. The toolbox and loctite will be used shortly to return the mount to full working order with the addition of spare screws, I'm just glad my holster and pistol didn't even up clattering on to concrete.