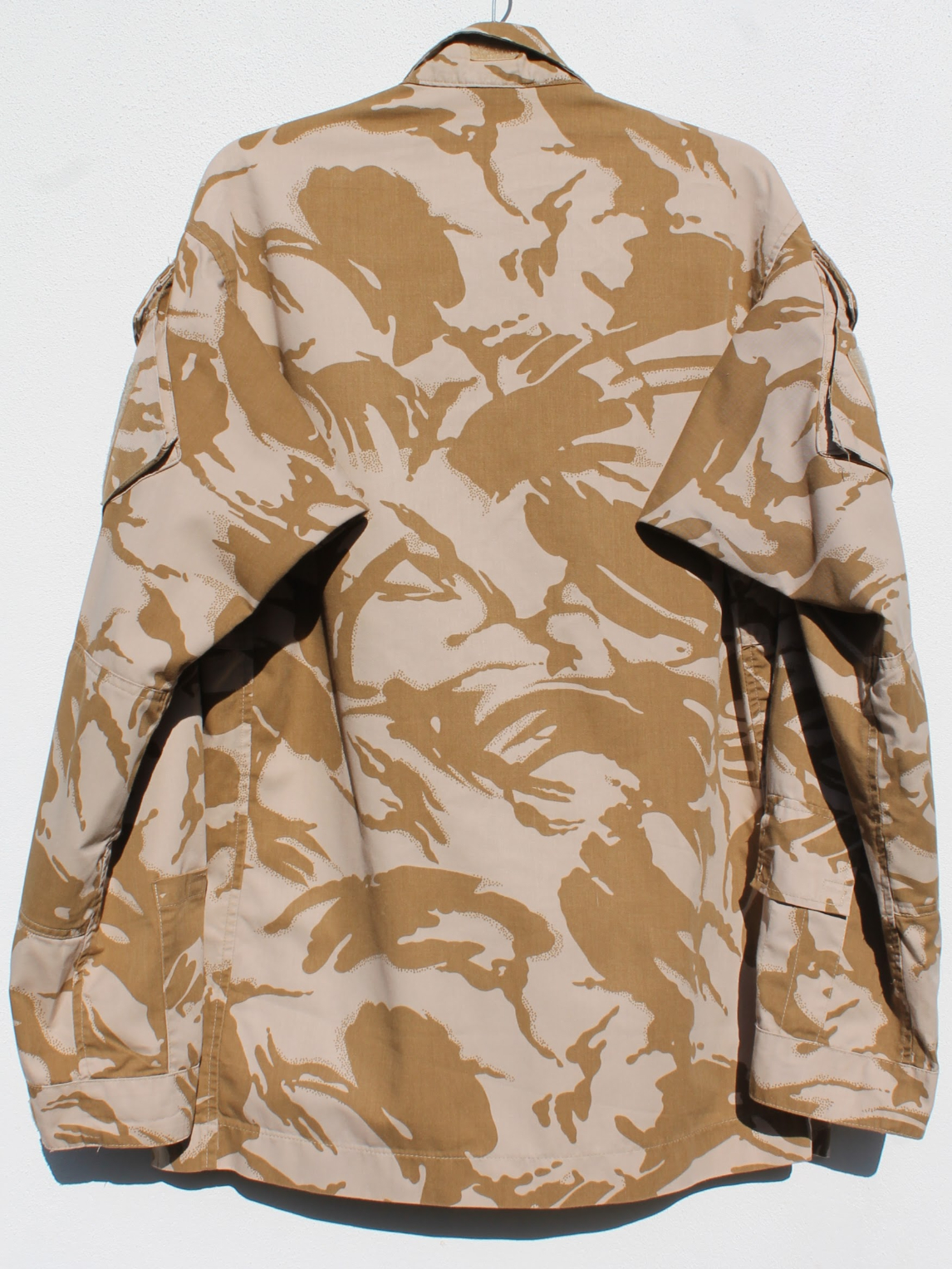 Some time around 2008 the Ministry of Defence held the PECOC trials which were aiming to replace many elements of UK armed forces issued personal equipment, including armour/helmets, uniforms, load carriage gear and many other related items.  Much of the kit that was manufactured for these trials was lost, destroyed entirely or at the least slashed through significantly, but fortunately a few items did survive and I am fairly confident that this shirt I purchased a few years ago is one such example.
It bridges a gap of sorts in that the cut is very, very close to currently issued PCS shirts, essentially representing a prototype of PCS, but the camo pattern is of course the infamous 2-colour UK DDPM, which was essentially only ever applied to CS95 cut uniforms in terms of standard issue.  PCS cut in this camo is rather unusual by comparison.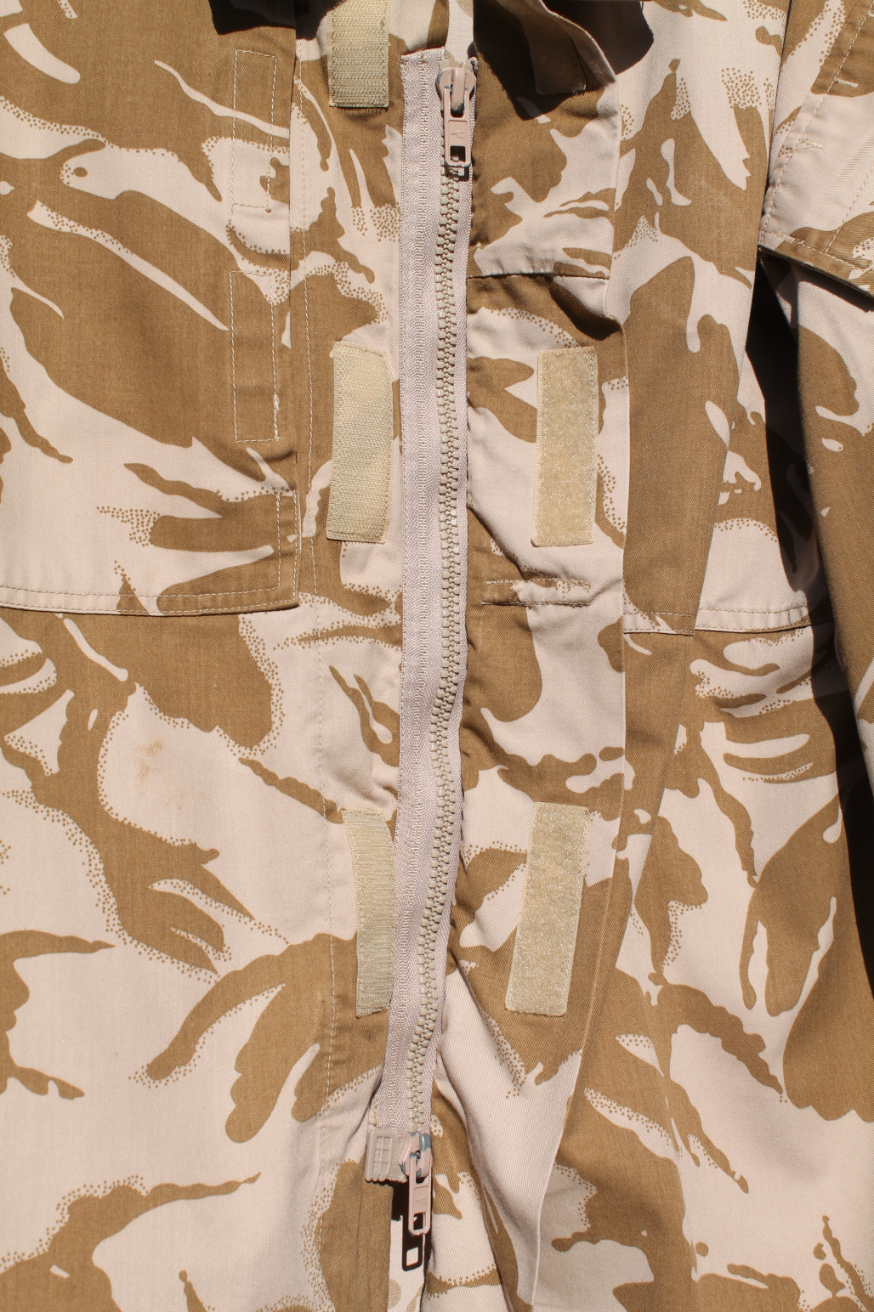 Main front closure is with a zip and rectangles of hook and loop as per the standard issued PCS shirts that followed, though on this example we have a massively over-built vislon zip with huge teeth and slider that would be more at home on a bergan side pouch or LBV than on a uniform shirt.
Two Napoleon type chest pockets are mounted internally for a smaller capacity (vs CS95 external) but much lower profile and frankly more appropriate style for a modern shirt.  They close with velcro, though fortunately via 2 fields rather than a single piece which makes access much easier.
Inside the left chest pocket (as worn) there is a diagonal, rectangular organiser pocket which would be good for a compass and features the classic additional button hole without any button, which has been frequently been for many years on British uniforms in order to attach a compass lanyard.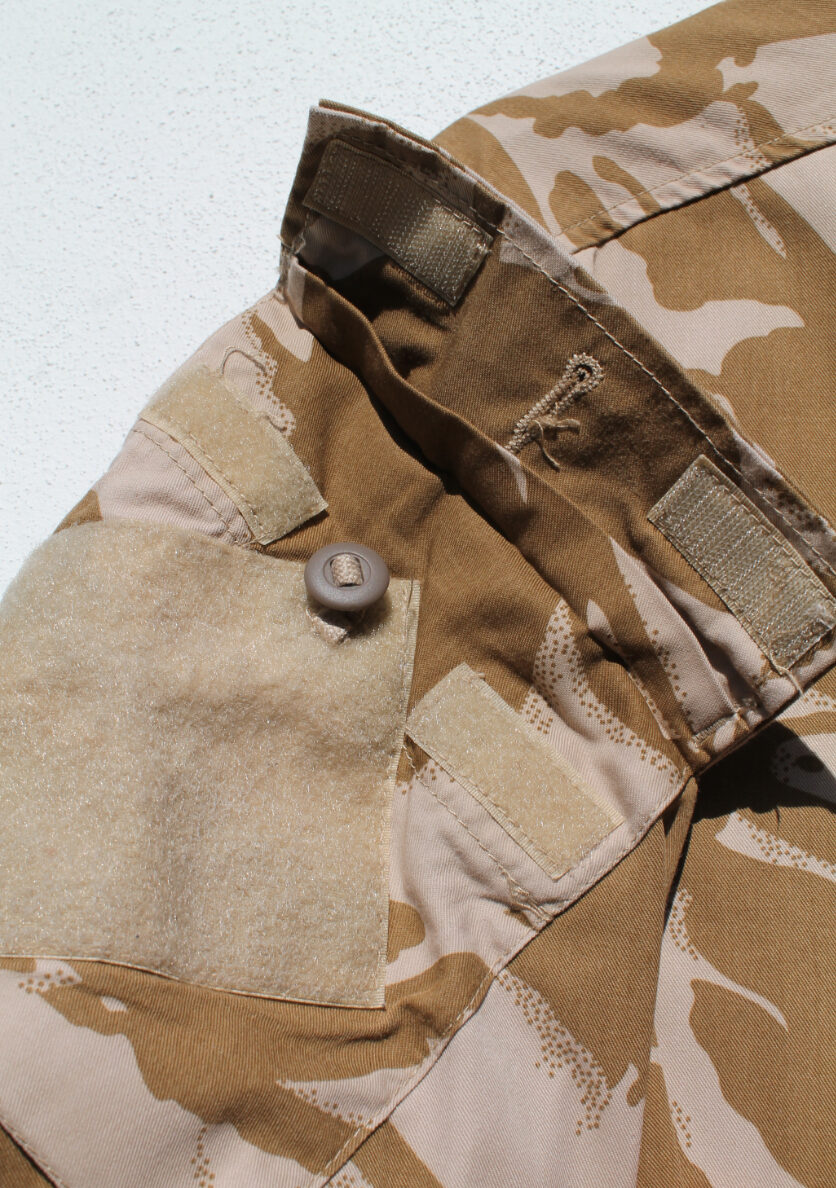 Arm pocket closure is somewhere between CS95 combat shirts and PCS.  Both velcro and a taped button are present but the button is covered.  The opening is the classic British uniform overlap style for better security of the contents.
It would appear that the person issued this shirt originally has probably ironed it and having been accustomed to previous uniforms that don't feature any velcro they ran the iron over the loop fields.  This has melted some of the actual loops and the patch retention is quite significantly diminished.  The exact loop fabric used on current PCS is very resistant to heat from an iron and tends to retain it's ability to meld with hook fairly well, even if ironed multiple times, indicating a lesson may have been learned quickly during these trials.
Not a feature that a civilian would care about or one that matters in the field, but for a mass issue military shirt these 'barracks problems' will raise their heads.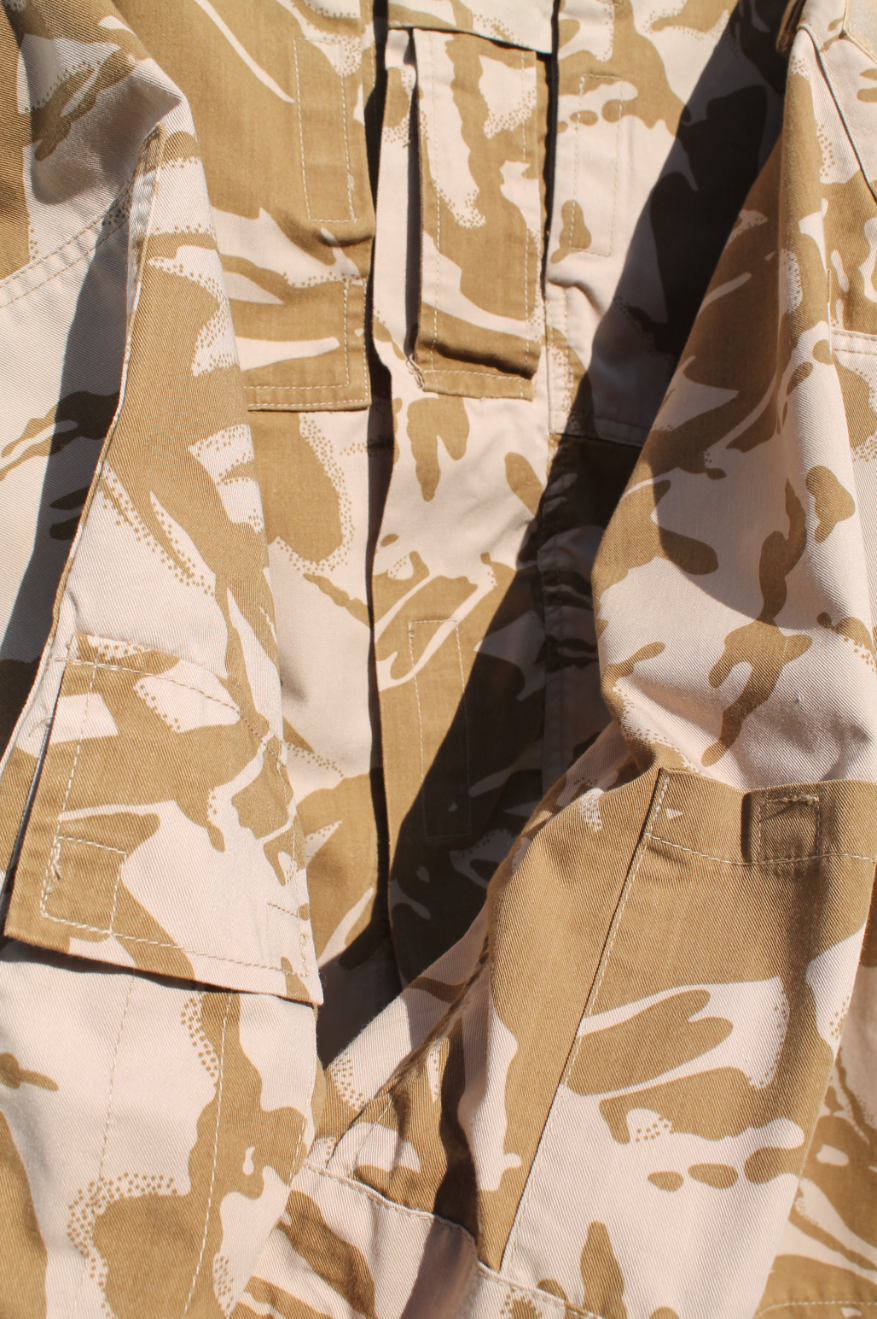 There is an epaulette right in the centre of the front of the shirt that is secured with velcro at the top, underneath a flap.  On the forearms of each sleeve we see more pockets that were omitted on the eventual standard PCS shirt.  On the right sleeve there are slots for 3 pens while the pocket on the left sleeve is more generic, perhaps intended for a small note pad, map or field dressing.
Cuffs are adjusted via hook and loop here, whereas the eventual standard PCS shirt and UBACS designs both use taped buttons in the same manner as CS95 pattern shirts did.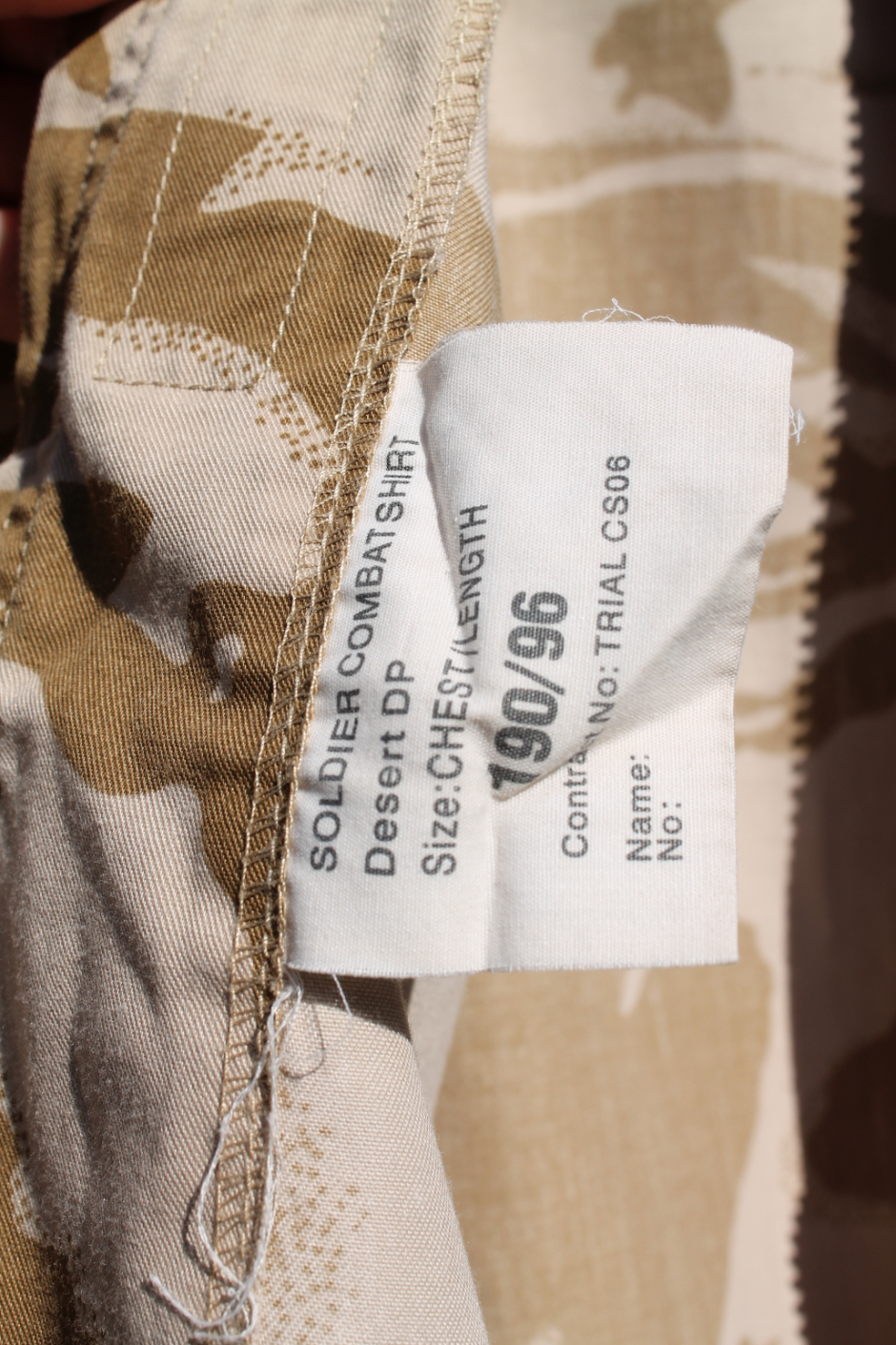 As you might expect the label is almost entirely typical of a British issued uniform item in both content and layout, but on this example we have a line for contract number which tells us this is indeed a trials item.
---
Personally I unfortunately missed the boat on desert DPM in my own career, I didn't manage to get myself on a deployment where it would have been issued until after the switch to MTP and PCS.  However all of the more seasoned NCOs who guided me through the early years of my career had boxes and boxes full of DDPM stored in their homes and I saw more than a little bit floating around every workplace I ever visited.
As far as camouflage for British forces during most of their time in Afghanistan and Iraq post 2001, DDPM is 'the' pattern.  It was applied to hundreds of different issued items from gloves and notepad covers to pouches and tarps.  It was also produced in huge quantities, probably hundreds of thousands, of shirts and trousers made in various styles through the 90s and 00s.  Having this camo was important for me in terms of my collection and thinking of all my personal friends and fellow servicemen who took part in an effort that has defined a generation, though with the pattern applied to a specific garment that isn't the norm it just fits my personal wants and preferences extremely nicely.