Patrol Incident Gear (a sub-division of the gear retailer SKD Tactical) has long been a very innovative manufacturer within the market place, I really love pretty much every design they've come out with.  So when I was looking for a small pack just to carry the basics when I'm driving from base to home/short trips out around town, I figured I'd give the RUNT a go.
It did surprise me at how small it actually was upon arrival, I was expecting something more along the lines of the TT/Grey Ghost/MSM packs, but it actually worked out rather well in the end.  You'll have to pack stuff in tight if you want to carry outer layers along with other bits, but it'll certainly do the job it was designed for.
I have a Google tablet that's a few years old and didn't see much use for a couple of those years, but my recent delve in to Fallout: Shelter has seen me take it wherever I go lately and the loop lined pocket within the base of the main section of this bag carries said tablet perfectly.  The standardised double water bottle pockets work well being made entirely of elastic, but they're not stitched closed at their bases, so don't store anything small in them or you might leave it behind you when it slips out the very bottom of the bag.
There's some non-PALS spec webbing on the outside for carabiners and the like, organisation loops in the 2 small outer pockets, a good space in the medium outer pocket and the mesh zippered stashes on the front face of the main pocket.  Nice folded webbing carry handle on top for grabbing it up off the floor or carrying short distances.  The hi-vis lining is absolutely amazing and I cannot understand why every single pack in the world doesn't use it; this should be a mandatory feature.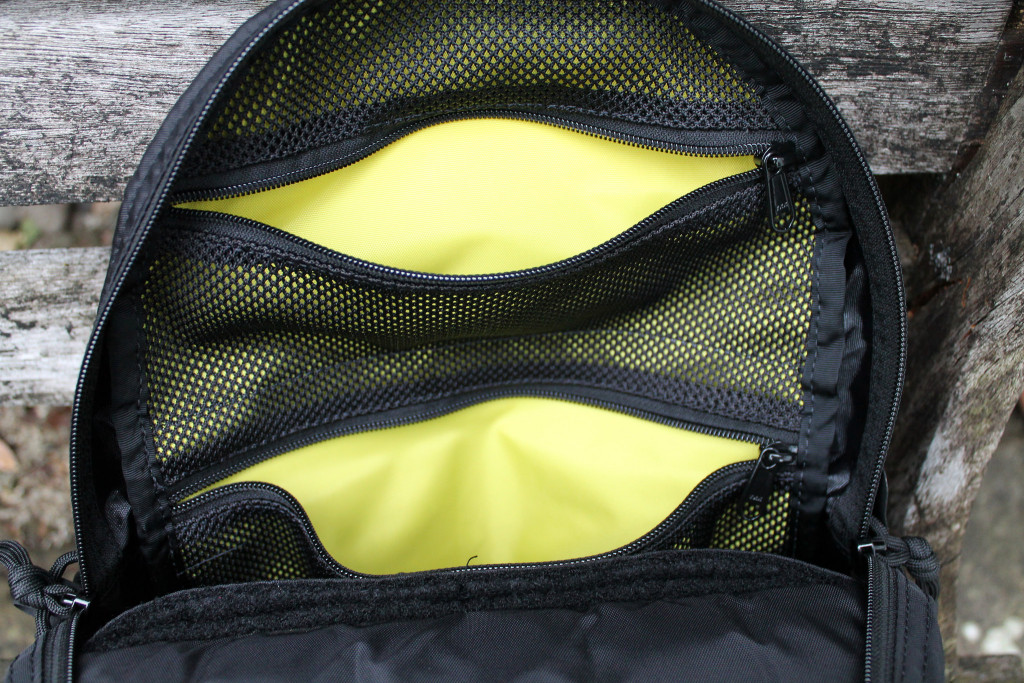 I've taken this out on a few runs when I've needed my phone on me and the padded mesh pontoons on the back are extremely comfortable – literally zero rubbing.  Same story with the shoulder straps.  Also glad they've got rid of the metal zip pulls on the outside and swapped in paracord, saved me the job.  Be nice if they'd done it on the inside to stop rattling, but then this isn't a tactical bag.
Comes in all black but I opted for the grey accent as even pure black can end up looking tactical.  If you're able to 'get away with it' where you are, the bag can be purchased having the centre column in US Woodland, Multicam, MC Tropic, MC Arid or MC Black.  I feel the grey version does a great job of not giving away its' origins given that there's no PALS and no velcro; which is exactly what I needed in a pack, but of course didn't want to compromise at all on build quality.
Really good straps, simple and effective layout that sorts your shit out nicely, made in the USA.  Good times.