Back around 2013 the US Army carried out a selection program called the Camouflage Improvement Effort (CIE) to find a replacement for the dreadful mis-step that was UCP, the infamous grey looking pixelated pattern. The CIE ended up choosing essentially a pattern they could have gone with back around the turn of the millenium in the form of 'Scorpion W2' OCP, which itself is pretty much a knock-off of Multicam and based on a very early version of Multicam which they could use without paying Crye very much money. That's how I'd sum it up anyway, but you can read lots about it yourself over at Soldier Systems Daily and I encourage you very much to do so, just use the search function.
The other finalist pattern families considered in the CIE (outside of Multicam) were from Kryptek, Brookwood and Hyperstealth. While the Army basically picked Multicam then just found a way to get something like it on the cheap, a fair amount of material was manufactured by the other competitors and personally I took a lot of interest in them all. The Hyperstealth family of patterns were named US4CES and while they didn't go in to service with US forces they did gain traction elsewhere, one significant example of that being with the Naval Infantry of the Mexican armed forces who adopted it in on a large scale.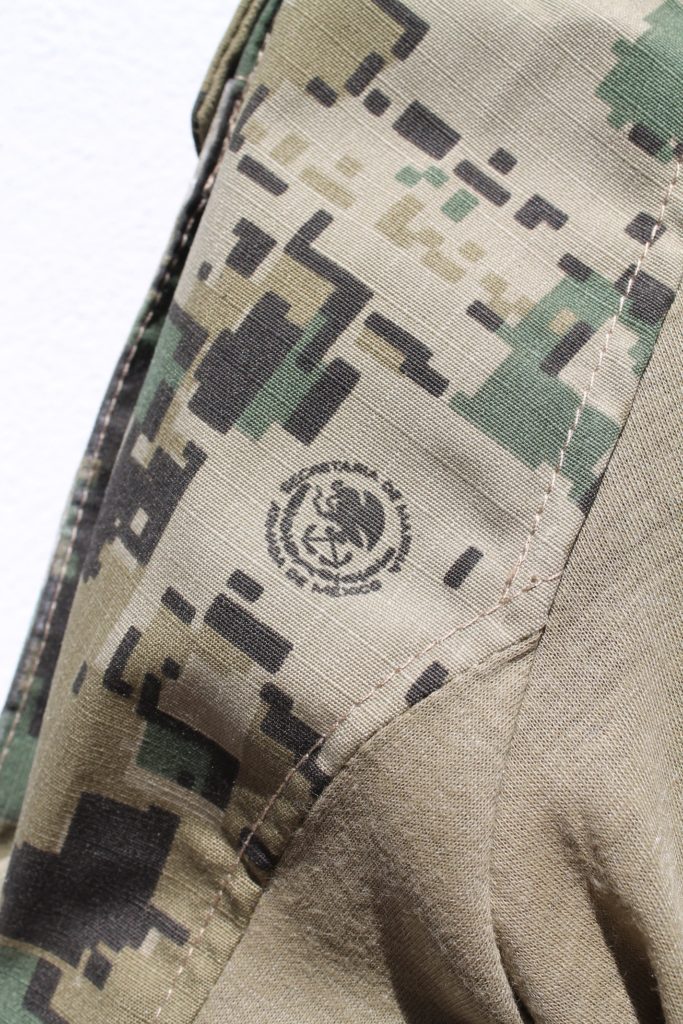 The Mexican Marines renamed US4CES Transitional to Marina Trans Jungle and added the insignia shown above to the pattern, though that is the only change I'm aware of. While it has been widely adopted it is, as best I can tell, very tightly controlled indeed within Mexico. As far as my research goes it doesn't seem to be illegal to wear camo in Mexico, but I tried looking for Mexican military surplus online and it certainly wasn't coming up quickly and easily in huge quantities the way surplus uniforms do from the US or UK. Having asked around, the common line of thought seems to be that any excess uniforms are destroyed and you can't just walk in to a surplus store in Mexico and buy uniforms the way you can pick up ACUs, CS95/PCS or French CCE.
All that aside, somehow or other Roman managed to get some of this rip-stop Trans Jungle fabric and this is a G3 cut combat shirt made from such. Originally ordered back around the winter of 2017, arrived a couple of months later. I went for full fields of loop and had the pen carrier and sunglasses slot omitted as usual, but other than that it's a med/reg combat shirt in the Crye cut.