I'd be fairly confident in saying the SHAW RAID is the first dangler type pouch ever to be made commercially available that mounts via a FirstSpear Tube, definitely a big, innovative feature right out of the gate.  If you need a few items up front and centre for quick access and the ability to extremely quickly detach a set of items from your person, then the RAID is a great option.  It especially seems like a pretty ideal little caddy for a first aid kit.
SHAW stopped selling the V1 a good number of years ago now and replaced it with their much improved RAID V2 long ago, so this post is more an archive of the information than anything else.  But if you do own one of these or if you find one cheaply used, then it is by no means an obsolete piece of gear.
Though I can't be 100% certain, I believe these may have purely been manufactured by FirstSpear through their OEM program.  FS actually did sell them for a short while direct through their own site even after SHAW had long discontinued the V1.  Possibly this OEM'ing was an option SHAW used in their very early days when they lacked cut and sew capacity/material stock and had to do more outsourcing, though to my knowledge they do much less (if any) outsourcing as of writing this in late 2023 as they have grown rapidly in the past few years.  Which is impressive even through COVID and in what I would say is a general slowing of the nylon gear industry post-Afghanistan.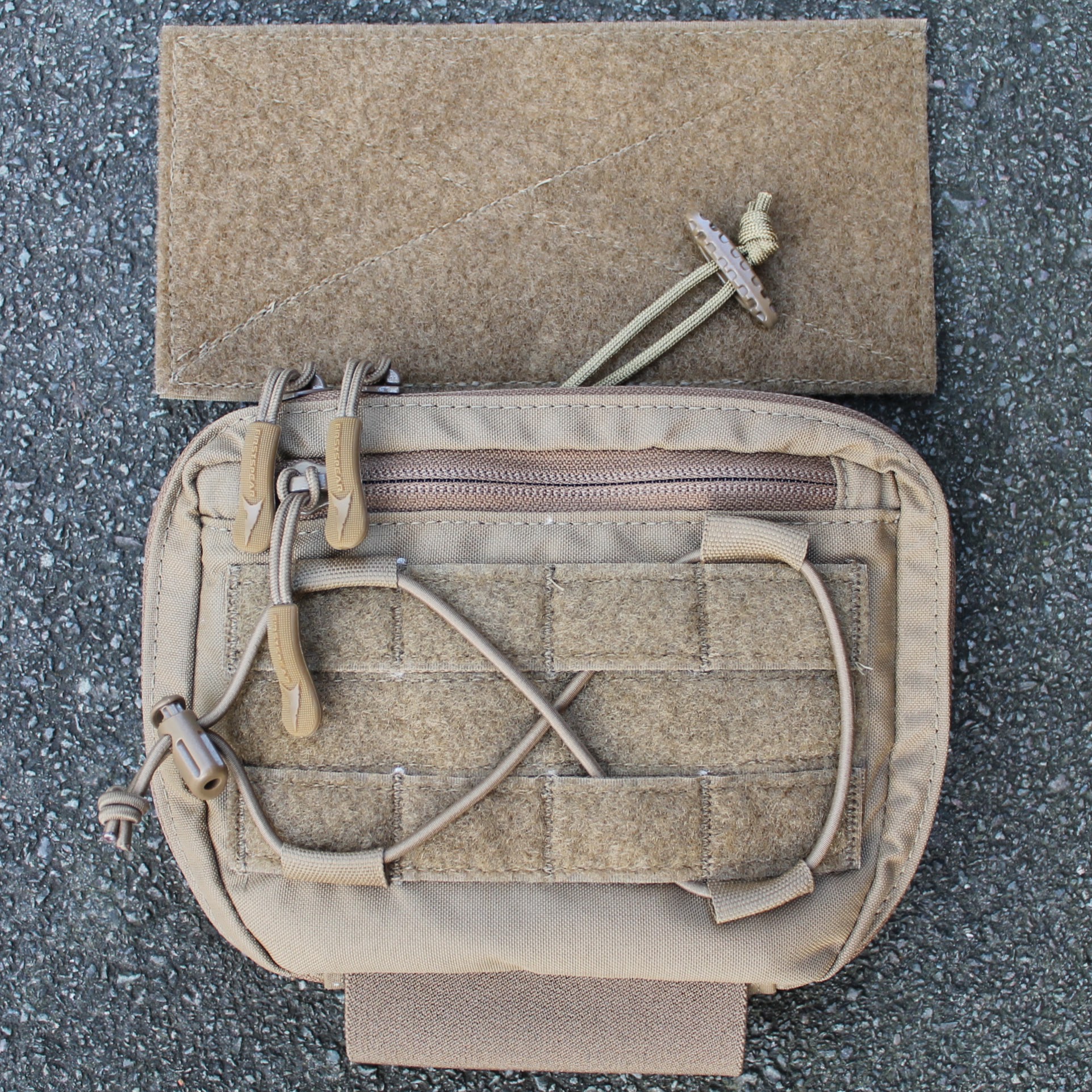 On the front of the V1 there are an awful lot of mounting options available.  With 2 rows of 1″ webbing stitched to PALS spec spacing top and bottom, a loop field inbetween and then more loop on top of that webbing.  Then on top of that loop covered PALS grid you get a bungee cord lattice.  There's pretty much nothing of relevant size/weight you can't attach to the front of this thing.
My example here is a later production I believe which features the FS branded zip pulls, whereas earlier V1s had simple paracord loops with overhand knots in the  (what is now) more classic style attached to all 3 zip sliders.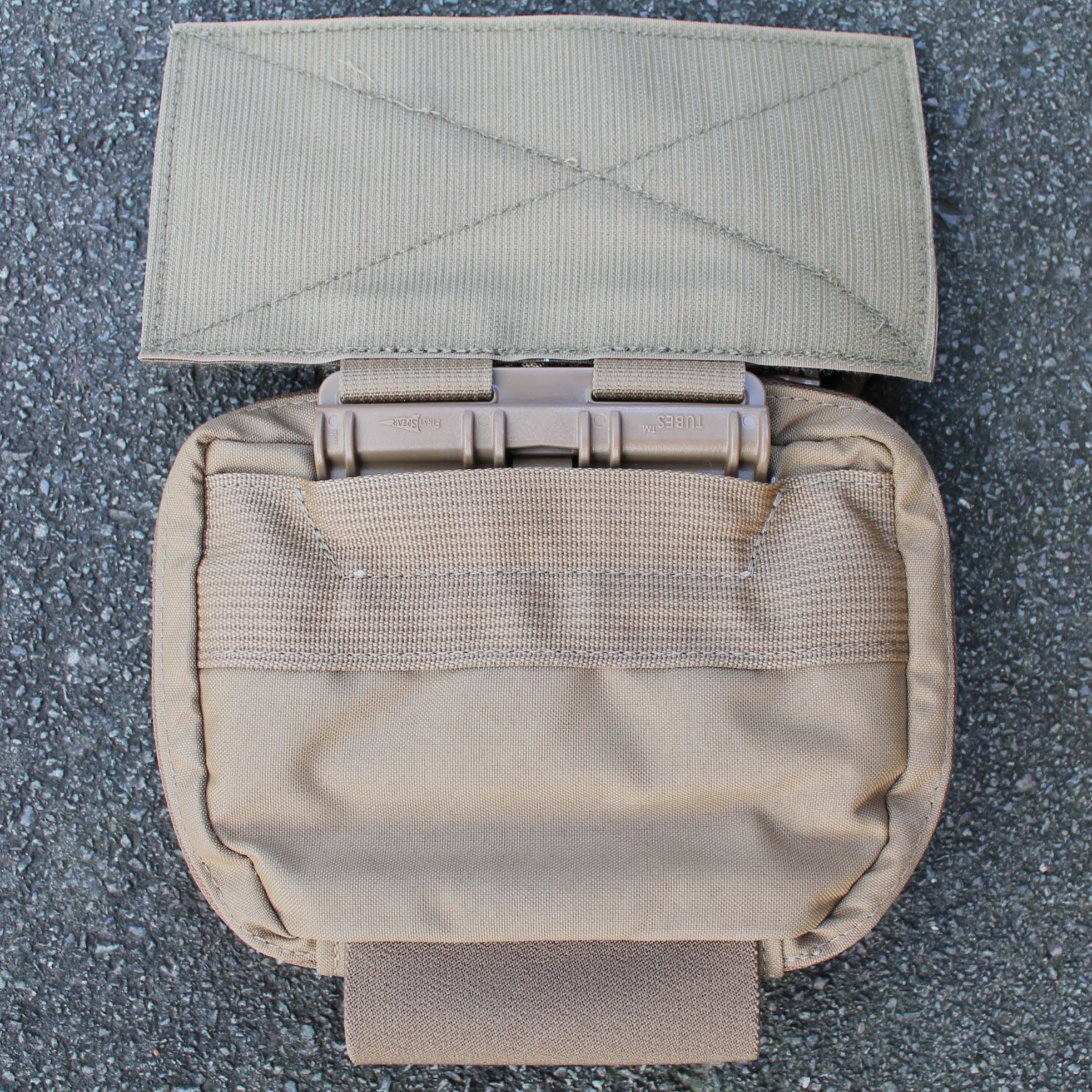 Plain rear for obvious reasons, with quite a significant reinforcement using webbing to cover over the attachment point for the 4″ Tube.  Most of the construction throughout the whole pouch is 500D cordura, as you would expect.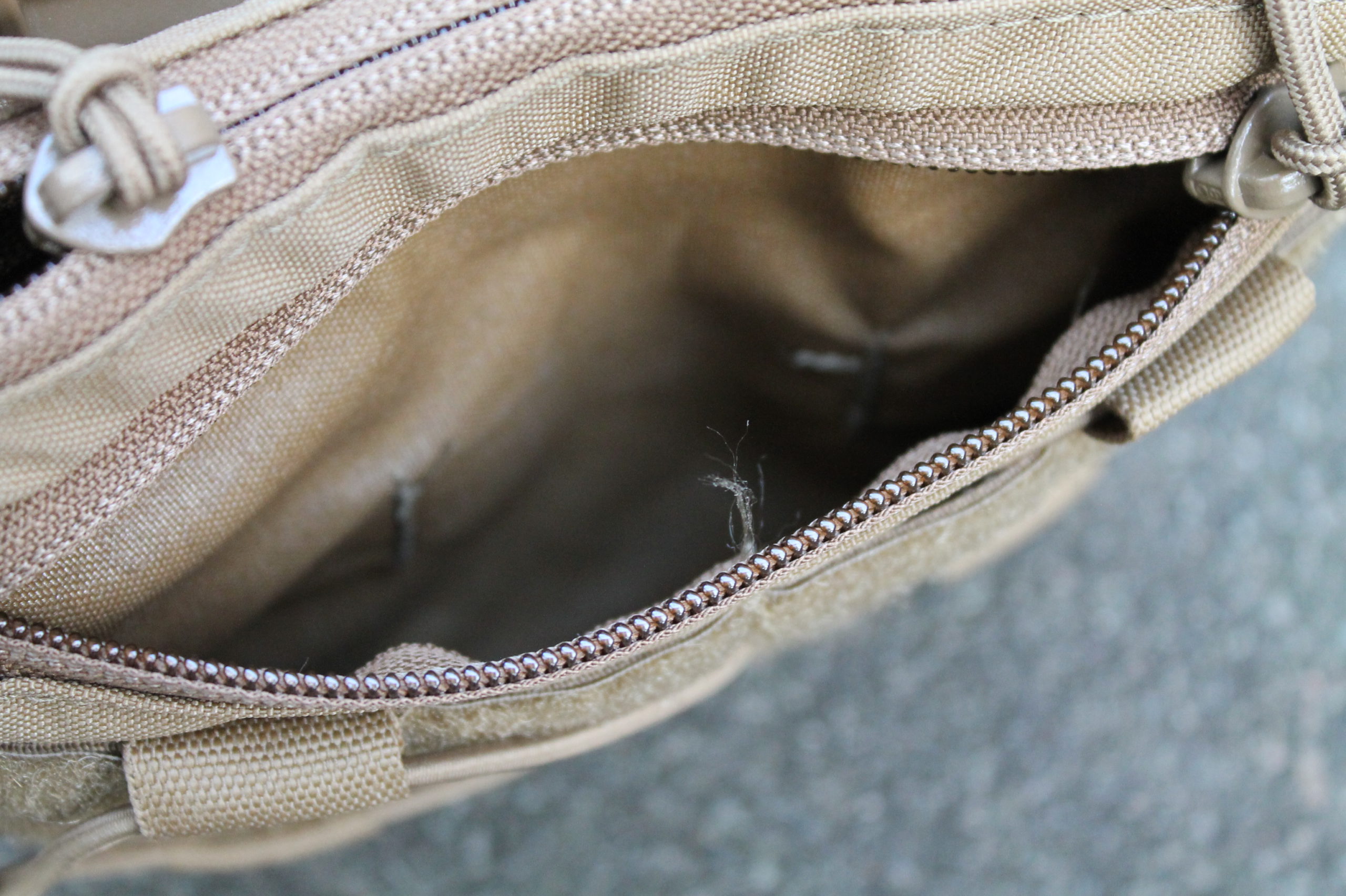 The front GP pocket is plain and simple, no loop fields or elastic retention.  A good seperate organiser space for smaller items that might be hard to locate within the main pouch, or anything could easily fall out and get lost if the main pouch were to be fully opened.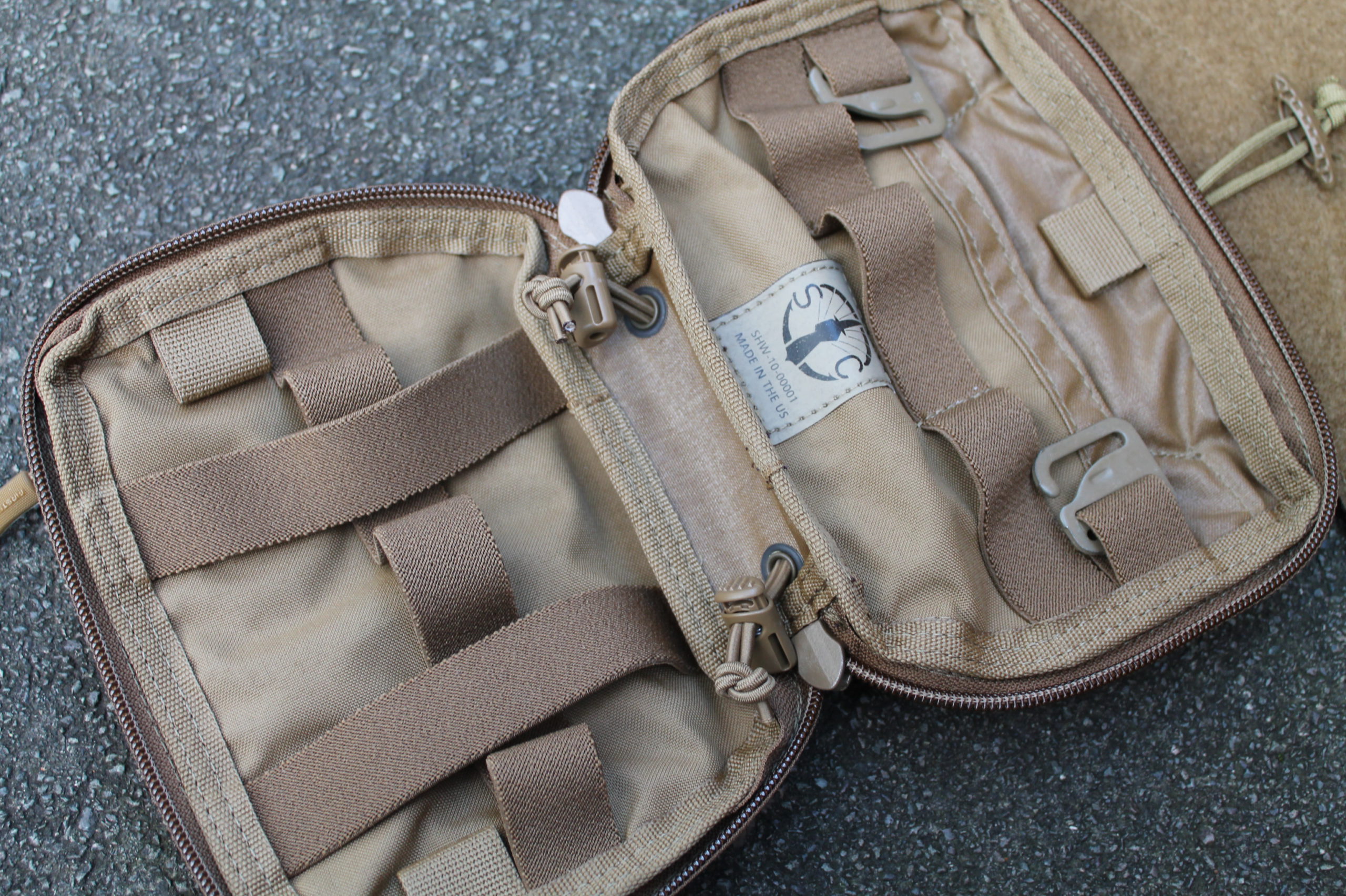 The whole main pouch folds fully open clamshell style and inside of said main pouch there is plenty of built in organisation.  The rear face features a 1″ webbing hanger at the top centre, another internal divider/stash pocket space which can accomodate appropriately sized armour as well as 3 large elastic loops for vertically orienting stored items.  On the outer/front face there are another 3 loops for vertical storage of items, plus the 2 full height elastics for a large item to be stored horizontally, probably a good spot for a compression dressing or gloves (just as examples).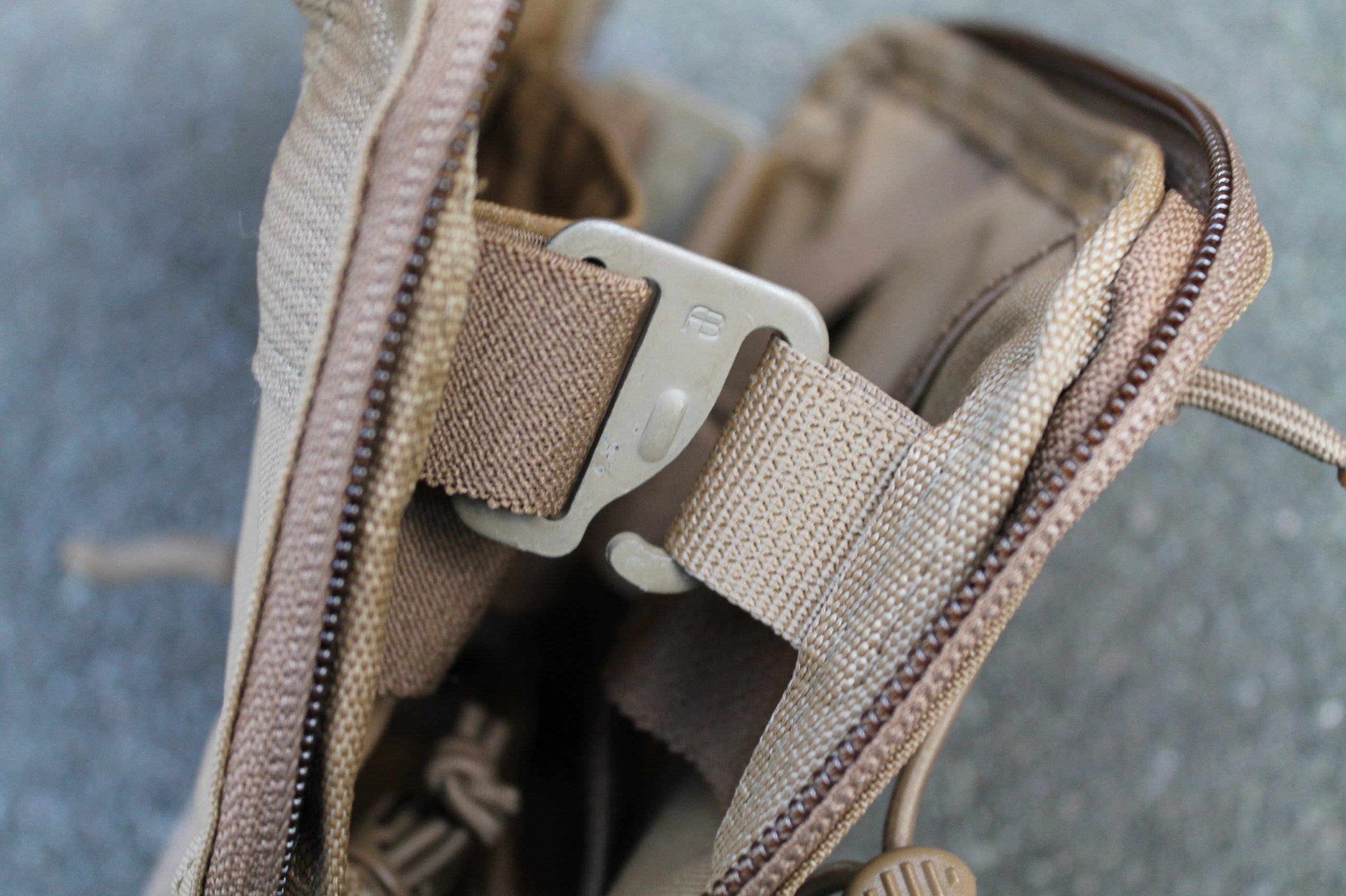 If you don't want the pouch to swing right open no matter how far you open the zips, there's a handy pair of G-Hooks inside near the top of the pouch.  These hook in to webbing but are permanently affixed to elastic, so (if necessary) you can yank the pouch farther open than it would naturally hang with the hooks engaged and it will snap back again when released.  A very nice feature and of course the webbing loops can also be used as lanyard points if desired.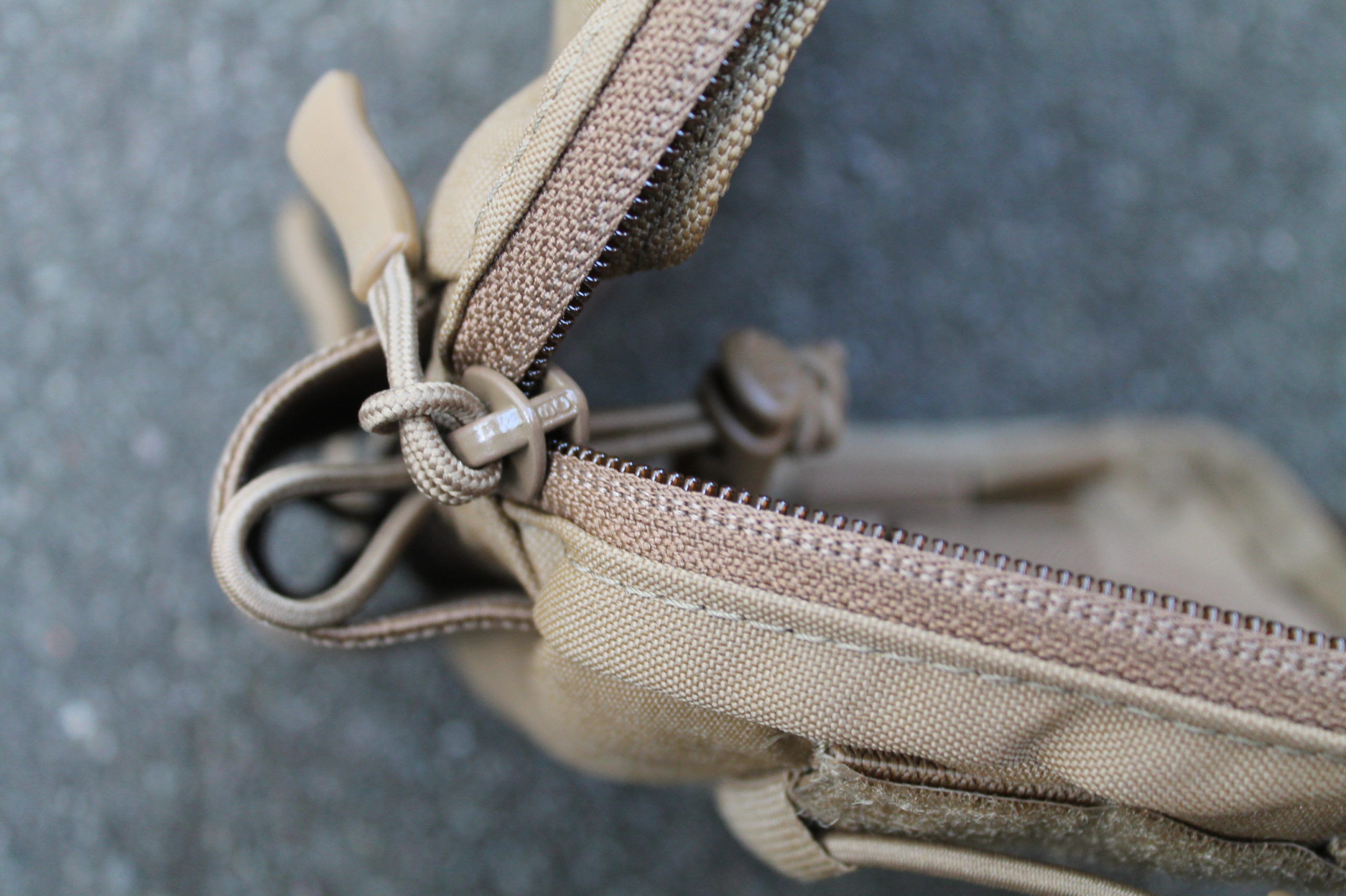 At the base there is both an elastic tunnel and a pair of grommets at either side with included bungee cord and cord locks, generally intended for a tourniquet.  This is somewhat unusual and generally a pouch like this would have either the tunnel or the cords, but not both.  However you certainly have plenty of options with regards to what you might wish to attach in this area.
---
If you have looked at any of the competing dangler pouches out there you will have probably thought that there are an awful lot of features to the RAID V1.  Given that many equivalent products are simply a single compartment pouch with no internal organisation or special attachment method, I would certainly say that is the case.
This many features does come at a cost of some bulk and weight. Even when totally empty this pouch has a fair bit of thickness to it and is pretty heavy comparatively speaking.  Being one of SHAW's earlier products I think perhaps they went a little rich on the feature set at the time, wanting to cover all bases for a very wide range of end uses, which at the end of the day is not a bad goal to have by any means.
SHAW's RAID V2 cuts out a few of the less vital features seen here on the V1 while also adding the option of a waist strap via the inclusion of a couple of very, very small 1″ loops on the upper exterior.  I don't have examples of both to hand to weight and compare but I would bet a tidy sum on the V2 being not insignificantly lighter and slimmer to boot.  It is a better overall shape and shows clear improvements in overall design work that are presumably a result of both the company's general evolution and their integration of experience (both their own and others) when using the V1 in order to improve.
Both ther V1 and 2 are expensive dangler pouches when looking at the market as a whole, but they also certainly offer a proportionate increase in features when compared to competitors.  If you need a greater level of organisation within your hanging front pouch, or especially if you need the quick detach/reattach capability, then the RAID is the way to go.