As the old saying goes; "you can't have fun in Vegas without Koch". True story.
Have to give some props first to Heckler & Koch and Geissele Automatics, LLC for their work on the M110 CSASS, because even being a 417 derivative and even with a suppressor, harris bi-pod and that rather chunky piece of glass mounted on top it remains rally surprisingly light and handy.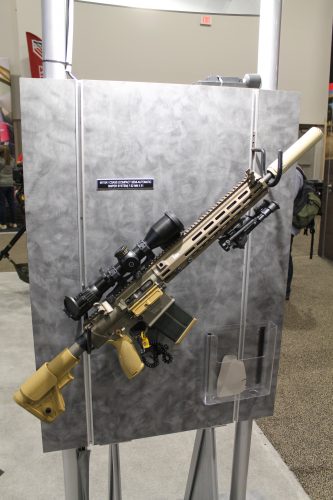 The rate HK have been going I quite honestly expected to find the 416A9 on display, but as it turns out there were no new military firearms for the show. They had a VP9 long slide, VP9 button mag release and some .22LR 416 style rifles and pistols (NFA definition of 'pistol') but nothing new for this show on the military side. To be honest it was kind of a nice break from the unrelenting wave of constant new guns and variants that have been pouring out over the past 3-4 years or so.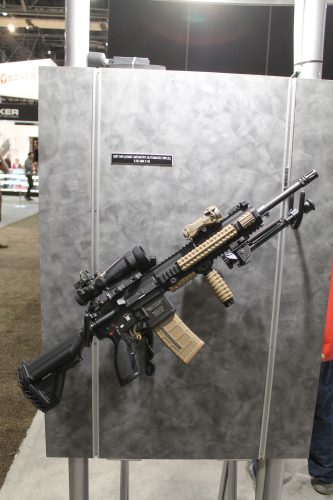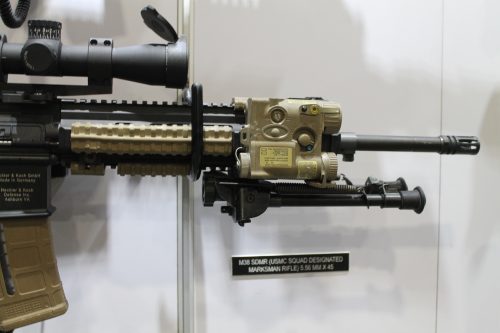 I took the opportunity to get my first hands on with the M27 IAR and the M38 SDMR and I do think they desperately need M-LOK up front, but otherwise very nice rifles as one would expect. Some stuff that was new was the aiming electronics, shown here on the 417A2, but those are only part from HK and partly from Brolis Photonics Solutions out of Lithuania. Extremely compact PEQ type devices with integrated front BUIS, plenty of switching options all within easy reach and multiple options for remote battery storage to include a white light and an angled foregrip with remote switches.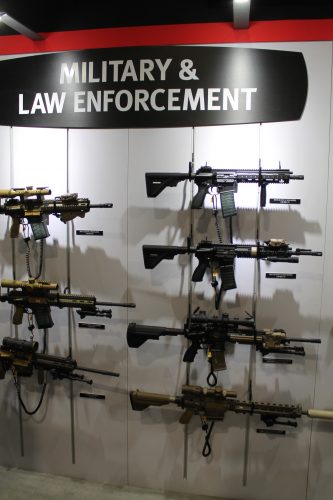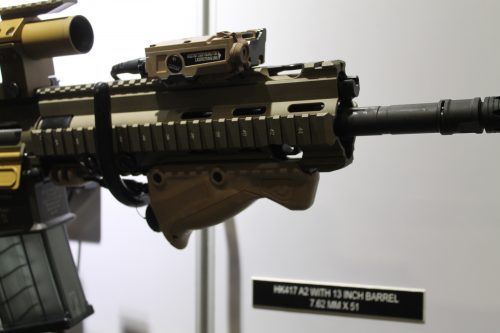 I also asked one of the staff about the continuation of the roller-delayed line and it turns out only 2 guns are still in production, those being the Mid Life Improvement MP5A3 and an accurised version of the G3 (which I believe goes by MSG90 though the G3 and PSG-1 do have differences so I'd have to clarify). The MP5 is getting LE agency orders around the world to this day, hence why you see the upper optics rail, HKey forend and RAL8000 colouring. Truly a superb sub-gun that makes shooting 9mm in rapid succession feel like you're barely shooting .22.