Given my fairly long history of talking about FirstSpear gear, from the point they were initially revealed as a company back around 2001/11 (put out my first video on the Strandhogg in 2012) right up to now. So the first item I'll be specifically highlighting from SHOT was at the Raine Inc./ITS Tactical booth.
First off, who are Raine? Largely they OEM manufacture for other folks. Cutting the fabrics, doing all the sewing and the myriad other processes that go in to actually making an item of tactical soft goods. Prime example is that they make most of the nylon gear that is sold through the ITS online store like the infamous trauma kit pouches. Nothing ITS sell is anything short of top spec so clearly Raine do a very good job.
http://www.raineinc.com/catalog/index.php
So what exactly is this new widget related to FirstSpear gear? I saw it first, as per usual, when Soldier Systems Daily posted to share Raine's Kickstarter for what I believe they are currently calling their (Tubes) Bridger, though that name may well be changing. It's been in development for quite some time and in a way I'm surprised this is the first attempt at bringing such a device or component to the market.
https://www.kickstarter.com/…/molle-cover-for-tubestm-cumme…
The FS Tubes are fantastic in myriad ways and certainly for the manner in which I setup my gear for recreational use I've never had any complaints with them at all. On split-front chest rigs I've also never seen any critique of them, as the Tube will take up the same space that a zip would, or even less space than 1″ QR buckles mounted horizontally across the front of the torso. However, some people out there using plate/armour carriers have requirements or desires to mount pouches in the areas where the Tubes delete roughly 2 PALS columns on the cummerbund. The original version of the FS cummerbund did leave a gap in soft armour coverage with no way to attach any equipment either inside or outside of the Tube, but the latest overlap variant addresses both the armour gap and mounting surface internally; external mounting however remains impossible. This is the niche Raine are aiming to fill.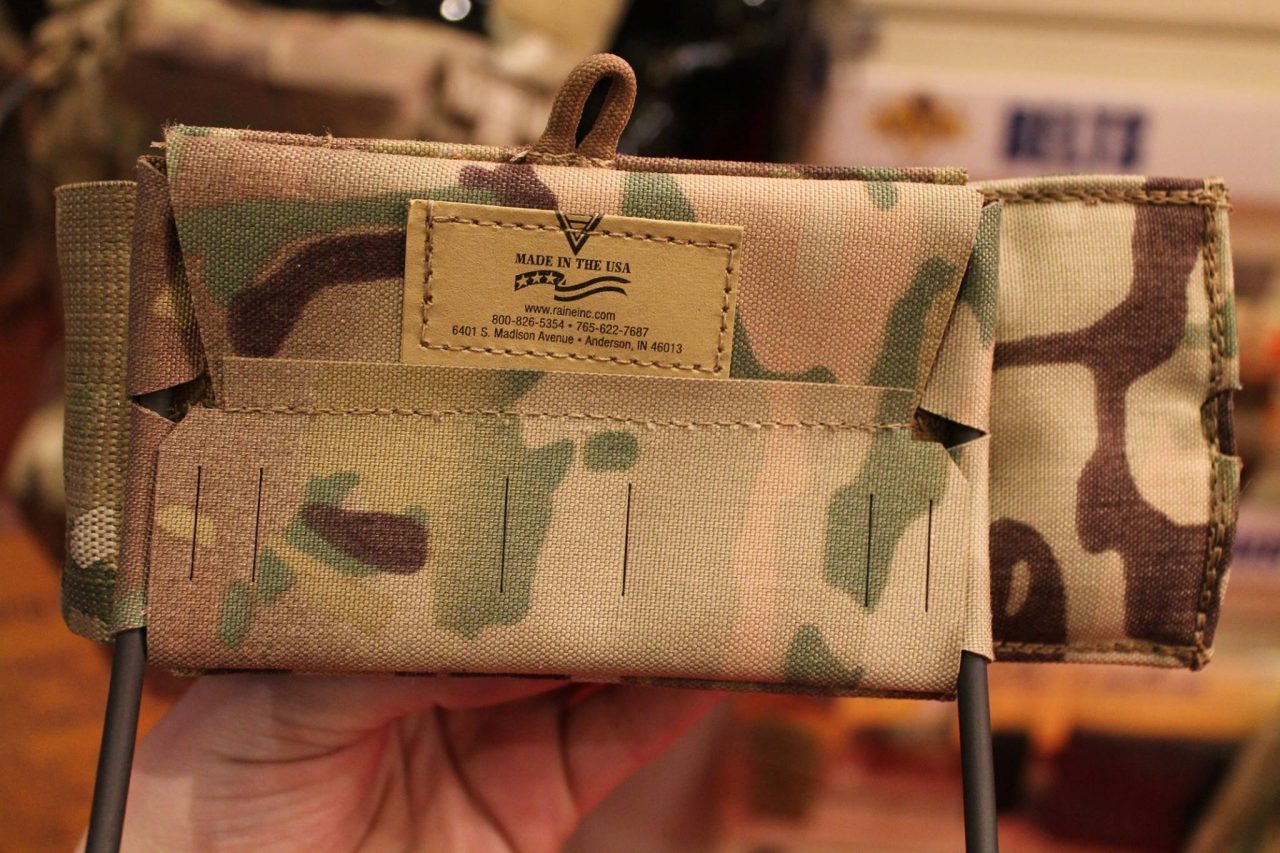 There's a 3 sided aluminium thick-wire frame which is the foundation of the Bridger, the 2 sides which lay horizontally are curved to stay in keeping with the curvature of the cummerbund going around the body. The frame allows the cordura wrapping to essentially float the PALS compatible surface over the top of the Tube. I think there may then be another separate nylon piece made of grosgrain which is then finally secured and cinched in to place using a pair of thick zip ties, though despite spending a long time examining the setup Bridgers at the booth I'm still not 100% crystal on every detail. That said I have pledged via the Kickstarter, so I'll have my own shortly after the first batch goes out, at which point I'll get all the details fully nailed down and a blog post or video published to explain everything.
If anyone's thinking 'Zip ties?? That's ghetto' please rest assured that good quality, thickly moulded zip ties are more than adequate in strength for use on PPE. Anyone who's used them will know just how tough they are and how well they'll cut in to your hand when under tension. Basically every military aircraft in service right now makes extensive use of hundreds of cable ties to secure essential wiring looms and various other things that frankly, aren't worth thinking about. This is also version 1.0, one of the questions I made sure to ask was regards future revisions and upgrades and this is quite literally a perfect example case of the potential for design improvements down the line, when commonly available OTS items like the cable ties can be replaced with bespoke polymer parts by manufacturers like ITW as production numbers ramp up.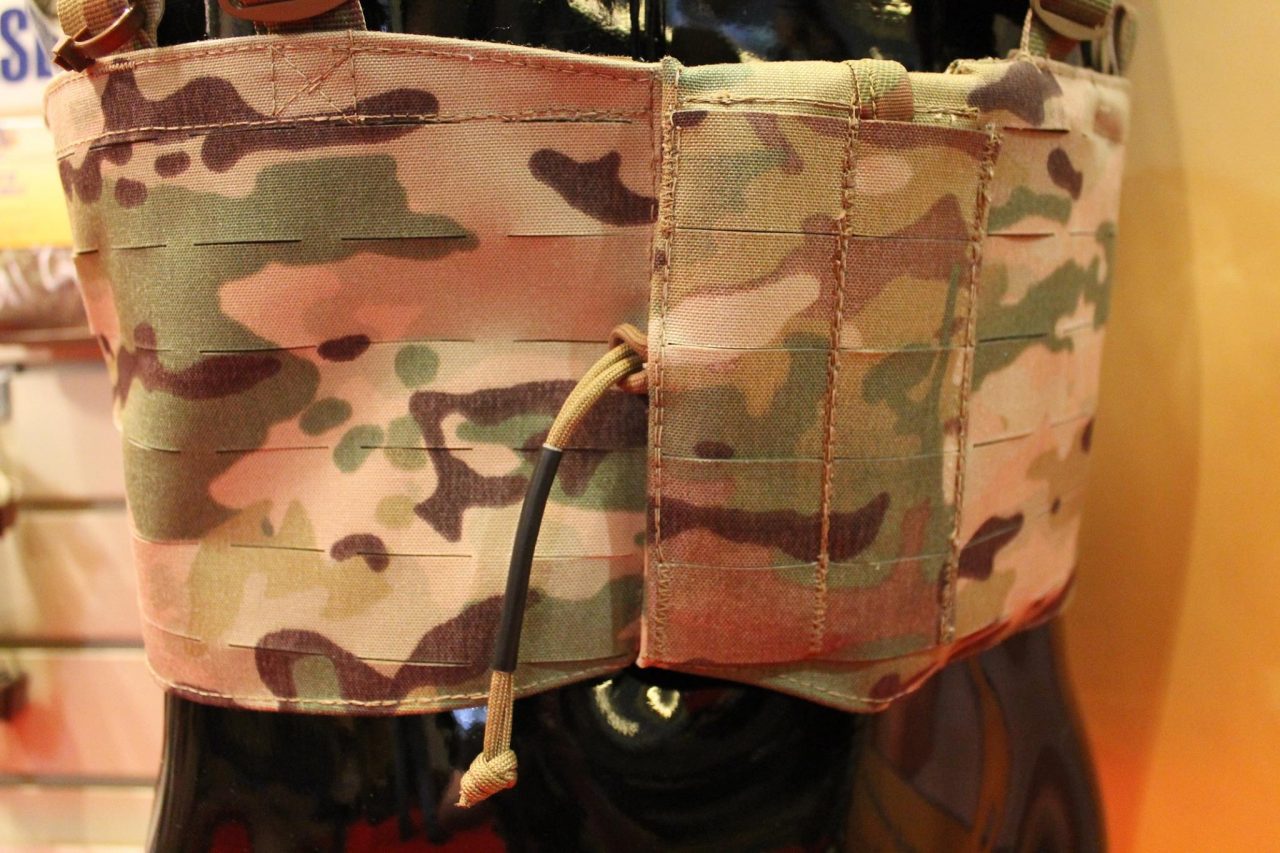 I've included pictures of the Bridgers mounted both on FS PCs and on a new chest rig Raine Tac are also planning to release. Whether this system will work on FirstSpear's own chest rigs that use Tube closure I don't yet know, but I'll be checking using my own gear to that find out.
I'm presuming that appropriate cordage and heat shrink is included with each Bridger in order for the end user to extend the release tab on their Tubes such that they remain usable. When trying the gear out at Raine's booth I found the force required to open the Tube is very slightly increased, but not by much and I have no concerns as to function under stress or in an emergency. I think there may be very small potential for getting hold of the cord to be slightly more difficult, but realistically only if it were tucked between pouches of sufficient bulk.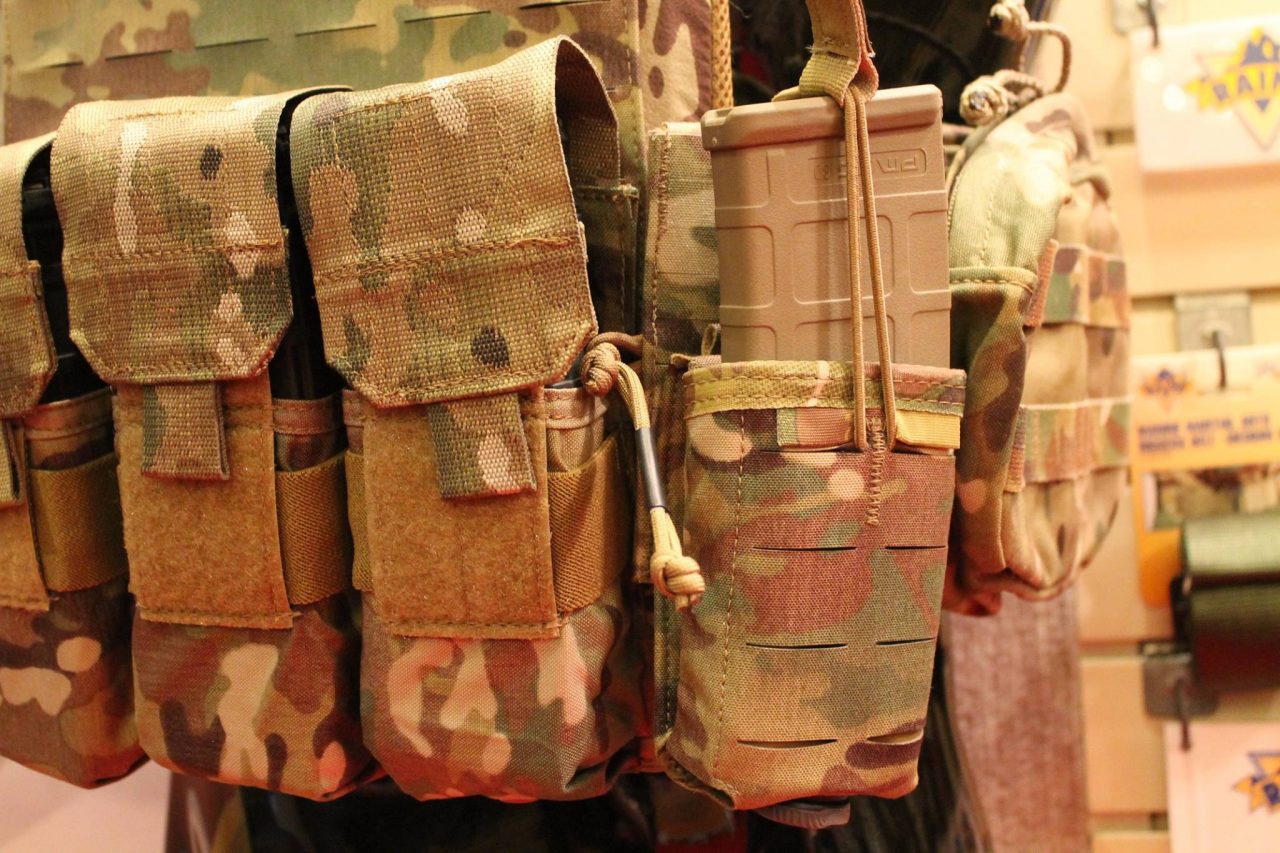 The laser cut slots are apparently loop backed to maintain compatibility with 6/12 pockets, though the cordura is wrapped and stitched so tightly around the aluminium frame I was unable to ascertain that for myself during the show. How easy mounting 6/12 pockets will be given that the cordura wrap is permanently stitched in place I'm not sure, since the user will not have access to the rear face of the cordura as they would with the vast majority of FirstSpear platforms. I'm confident the tabs can be routed through then simply pressed down from the other side through the cordura, given how thin the Bridger is, but again that's something else to test and check for myself. I'll also be double checking that pouches can be mounted to the slots on the cummerbund through which the metal frame is inserted.
Overall I'm just very pleased to see this product coming to market despite it not necessarily fitting my personal needs as I'm greatly looking forward to trying it out regardless. I think a lot of other folks out there be they Military, Police or otherwise will also be happy by this design and the added mounting space in a crucial area that is afforded by using it. There's no denying it adds a little bulk and weight to the carrier and there are potential design improvements, but these are still incredibly early days.