My experience of Ironsight as an airsoft venue on this particular day is summed up here:
https://airsoft-forums.uk/topic/50028-the-how-did-your-airsoft-day-go-thread/?do=findComment&comment=473672
If you are a player, whether UK based or otherwise, I'd strongly encourage signing up for the AFUK forums.  They're the only English speaking airsoft forum I know of that's still quite active which is very unfortunate as facebook groups and discord are an extremely poor substitute.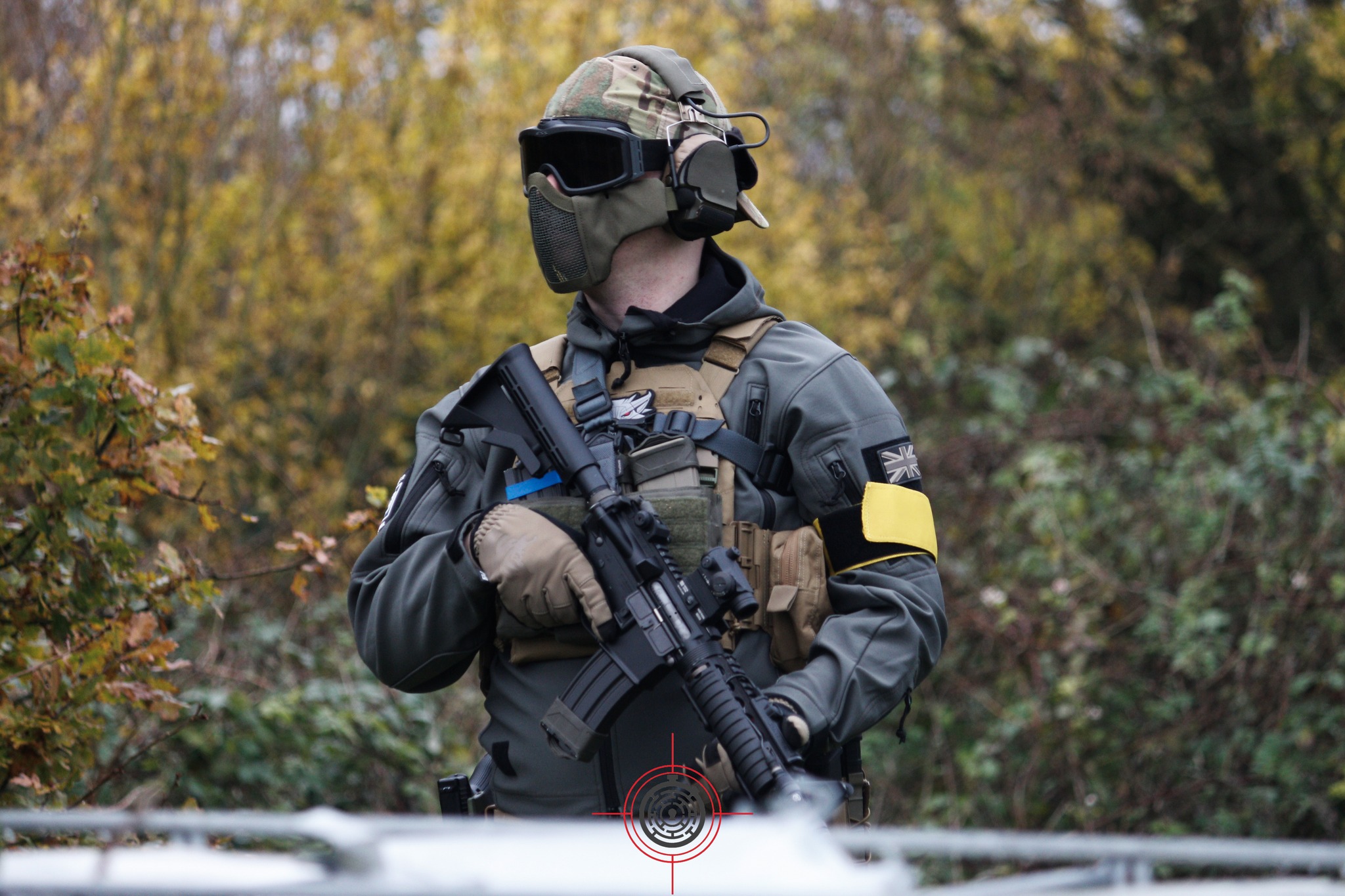 A solidly overcast day hovering just above freezing throughout, unfortunately no rain to further experience the performance of certain items, but cold at least.  I used quite a few bits of kit for the first time so below are my impressions.  Usual caveat that this is only airsoft and I was only out and running around for maybe 6 hours total, but airsoft is essentially the only way to safely/legally wear this stuff in the UK and at the same time partake in any sort of activity that is even slightly useful as a 'test' environment – heavy emphasis on the apostrophes.
TAD Stealth Hoodie – Very old US made variant from the late 00s with a relatively thick fleece lining that puts it squarely in to the insulated category of softshell jackets.  Great when stood still, not dangerously over-insulated with a few shorts sprints (taking the PC in to account) but would be far too warm for continuous significant exertion unless it was below freezing.  Seemed to do a good job of moisture management.
Raine Tac RTG Plate Carrier – Only had foam plates inside, can't fully and properly comment on comfort and I suspect the narrow shoulder straps might not be great if worn with heavy plates and a significant load of magazines/comms/med kit.  But that's the only real downside, otherwise it's a light, slim, very modern PC with perhaps the best modularity and adaptability on the market in terms of fitting all different placards.  Also has native Tubes cummerbund ability and a very nice admin pocket on the upper chest.  I'm not a fan of the current Raine Tubes cummerbund, but I think their Bridger 'bund will be superb and you can buy the (very nice) plate bags and use a myriad of other cummerbunds including other options from Raine.
F9Gear Ammo Hub – Naturally.  Not for the first time of course but it works, it simply works, you add your insert, slap it in place and it sticks perfectly.  The best gear is gear you just don't notice at all since it does its' job perfectly and that's what I get with the Hub.
SKD PIG FDT Cold Weather gloves – I have absolutely abysmal blood circulation in my hands, they get colder at a much faster rate than everyone else around me.  Not a problem with these gloves, in fact my hands were too warm when active.  There's no free lunch with gloves of course you never get perfect dexterity with lots of insulation at the same time, but the FDT CWs hit exactly the right balance point for moderate temperate winters.  Manipulating the controls on an AR is unhindered, same with pulling zips, pressing most buttons on electronic kit etc.
Crye G4 Temperate Shell Combat pants – The G4 items that are the next evolution of the G3 All Weathers are built from a much lighter material by comparison.  It's naturally slightly thinner too and probably about as thin as a softshell garment will go before losing any hope of being resilient and blocking out wind.  Though you do gain lesser capacity for water retention when the fabric has less volume on the upside.  Unless I was static in very cold weather I'd never wear extra insulation on my lower torso so the cold was felt slightly more but they seem to block wind decently and are noticeably lighter than the G3 AWs which are/were OK but not amongst Crye's best offerings.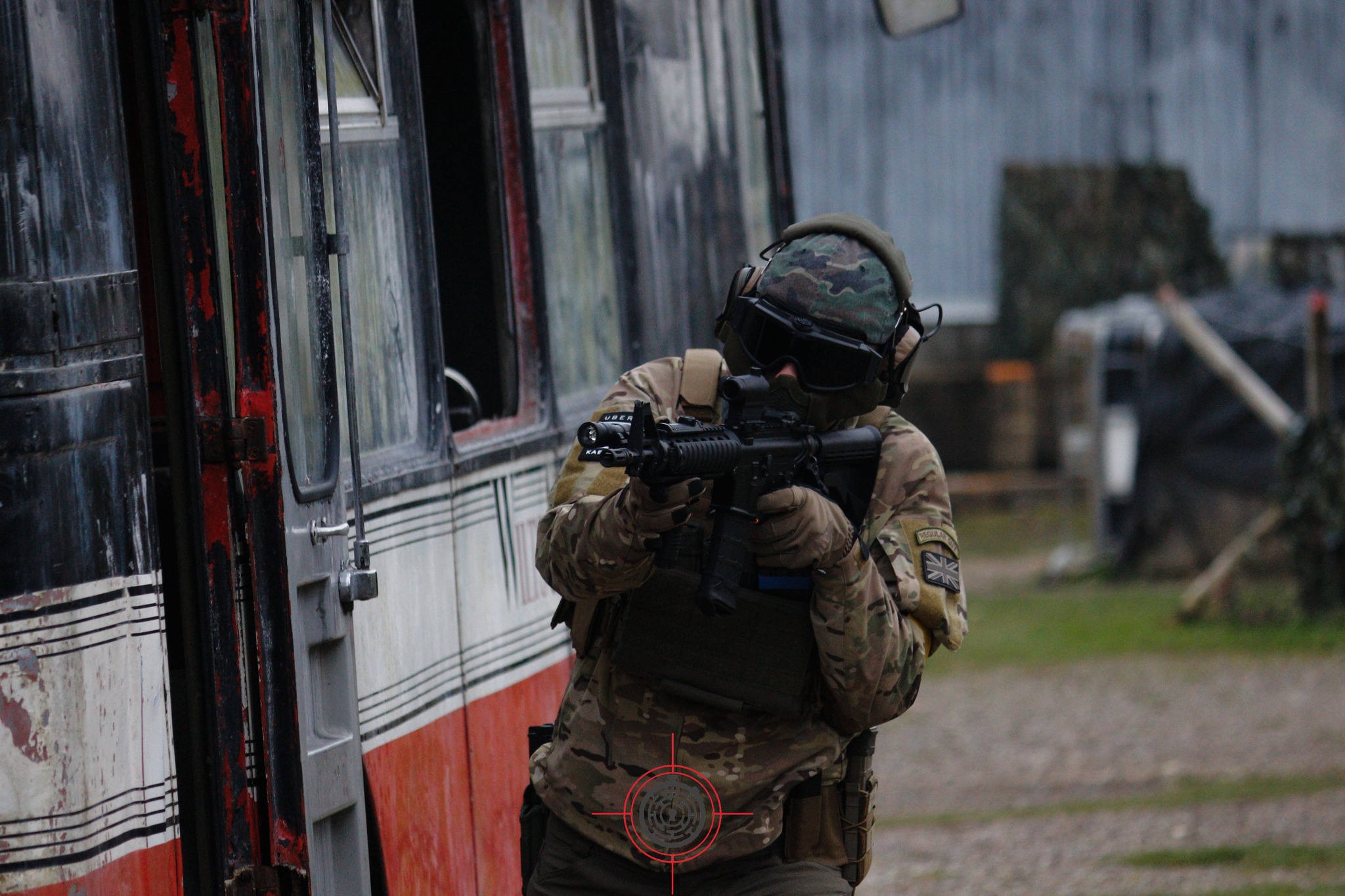 Crye Fieldshell (original/v1) – The Fieldshell 2 is only a minor upgrade with a few features slightly moved around and I picked up this v1 for a very low price having barely been used; just an example of the deals out there.  For wear under a PC (which traps a lot of heat itself) in temps around freezing with short sprints punctuated by some walking and standing around and a light breeze it worked extremely well – much better choice than the TAD insulated jacket.  I only had an MoD issue t-shirt underneath and it could still have stood up to some more wind and a few degrees less on the mercury even with the same activity level.  Un-lined softshells like this are simply an amazing all around upper torso garment with an incredible range of utility even with a standard base layer.  Plus, their usefulness gets even greater with some extra PCU L2-L4 layers available to go underneath.
Tyr Gunfighter Belt – Despite having owned this for almost 6 years I believe this is the first time I have actually put it to use as I've not worn a CB PC for so long.  2 piece micro-PALS belts have come a long way since this design, yet it worked flawlessly, no movement.  It has some inexplicably un-covered inner surface area with no velcro and a really unusually short inner belt equivalent (mesh pad with loop), which combined with the fact I've gained a few inches since 2016 made it a little awkward to put on properly as the inner part just barely came past my 3 and 9 o/clock.  None of that however stopped the Gunfighter staying in place when sprinting at full pace, drawing my pistol and magazines etc.  I planned on replacing it with the BFG Grid, but I think the price on those is pretty ridiculous so while this will be getting swapped out just because of my size issue I was very impressed with it none the less.  Again, a piece of kit that I didn't even notice was there which is exactly what you want.
---
The RIF pictured started life a totally standard 14.5″ TM SOCOM NGRS M4 with plastic handguards but has since had a 10.5″ barrel fitted with milling work either side to fit the battery inside the tight KAC RAS.  Internally it's basically stock aside from a MOSFET which aids the trigger response immensely even with a stock motor and very cold 7.4v batteries.  Work done by LCs Engineering Outpost (though he doesn't do internal stuff anymore just externals/machining).