2022 Update – Rather than rewriting the whole post I'll add this note here to say these are not in fact Chinese fakes as they originally seemed.  There was much debate about these for a long time, but their source was eventually pinned down to Sportsman's Guide, a retailer who also liquidated a large stock of another item that was hotly debated in terms of it's status as to whether it was real Crye or Asian clone – the FR 'AC' Combat Shirts (they're not unsanctioned clones either).
---
Probably the largest volume of questions I get are related to what a given Crye item actually is and/or whether it's a fake. There is a fairly large quantity of these 'All Weather' G3 field trousers floating around out there in various patterns and colours and I am yet to see one sales ad listing them as replicas even though they most likely aren't the real thing.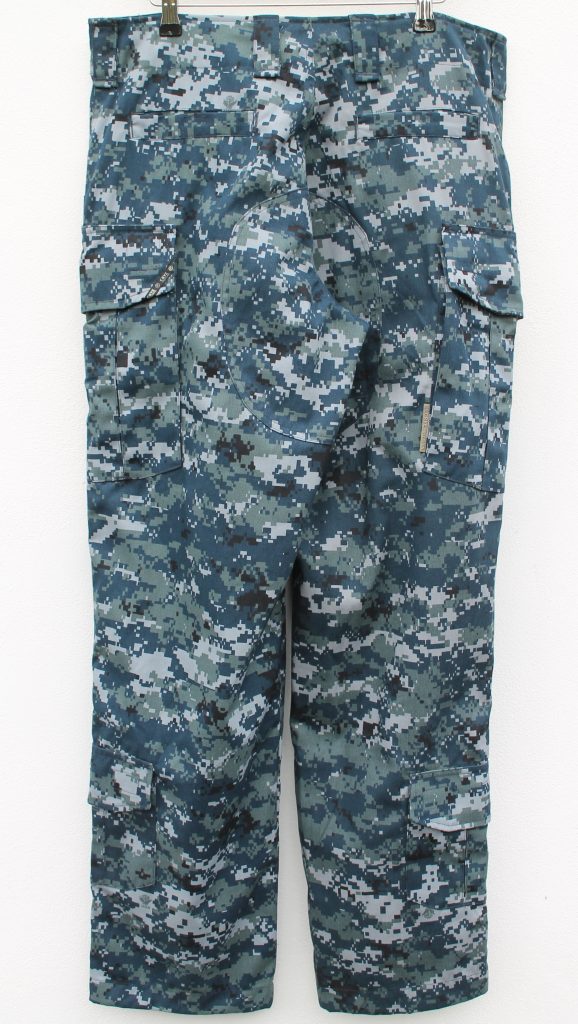 I picked up this pair for not too much money knowing full well there was a >90% chance they weren't what they claimed to be just going off the listing images, however these have really tried hard to pass as the real deal and would appear as such to most folks. At the time I bought these Roman wasn't making the G3 field cut lowers and while I could get a pair from him now the quality would be in a similar to ballpark to these and since these fakes have been mass produced in China they actually work out a bit cheaper for that overall quality level. I should point out now that in terms of materials and sewing work these are not in line with your typical TMC/Emerson etc, the stitching pattern mimics the original Cryes and comes pretty close to matching in terms of the way the design should actually been executed at the sewing machine.
Let's break down the reasons that I'm convinced these aren't real, given the fact some folks out there are convinced otherwise.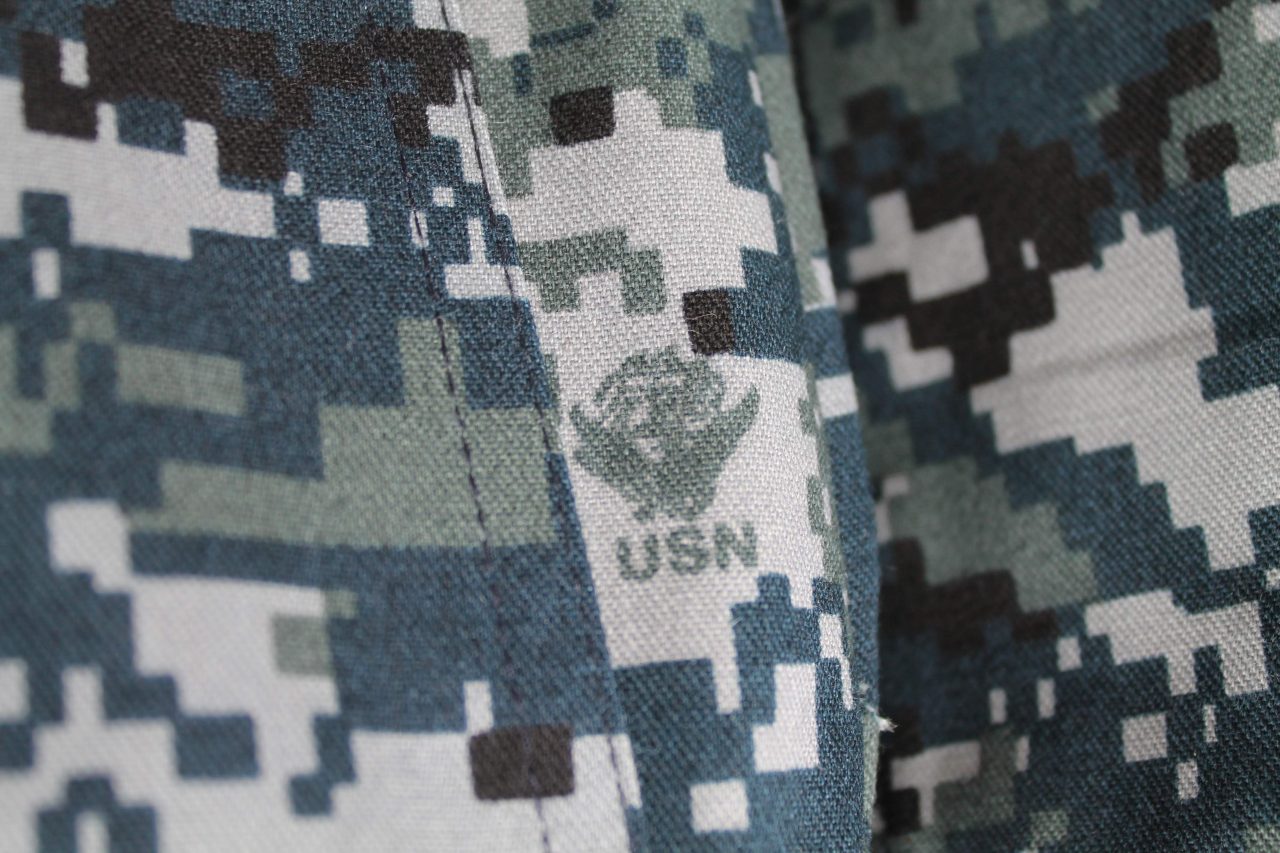 -For starters… NWU1? I own a set of this camo because I like weird and bad U.S. issued patterns (of which there are quite a lot), but Crye focuses production of non-commercial goods towards supplying SOF who aren't using this stuff and they don't sell it commercially. There's also the fact that it's clear to see most pairs of these sold in supposed 'AOR' 1 and 2 are actually NWUII and III fabric, but of course the AOR patterns are SF issue and command a higher market value. The perfect storm of factors when it comes to somebody going to the trouble to produce convincing fakes.
I do think they have used genuine twill NWU fabrics as these pants are clearly made from the same stuff as other NWUI items I own and have otherwise examined. The NWU fabrics have also been sold in large quantities and used by brands like UR-Tactical.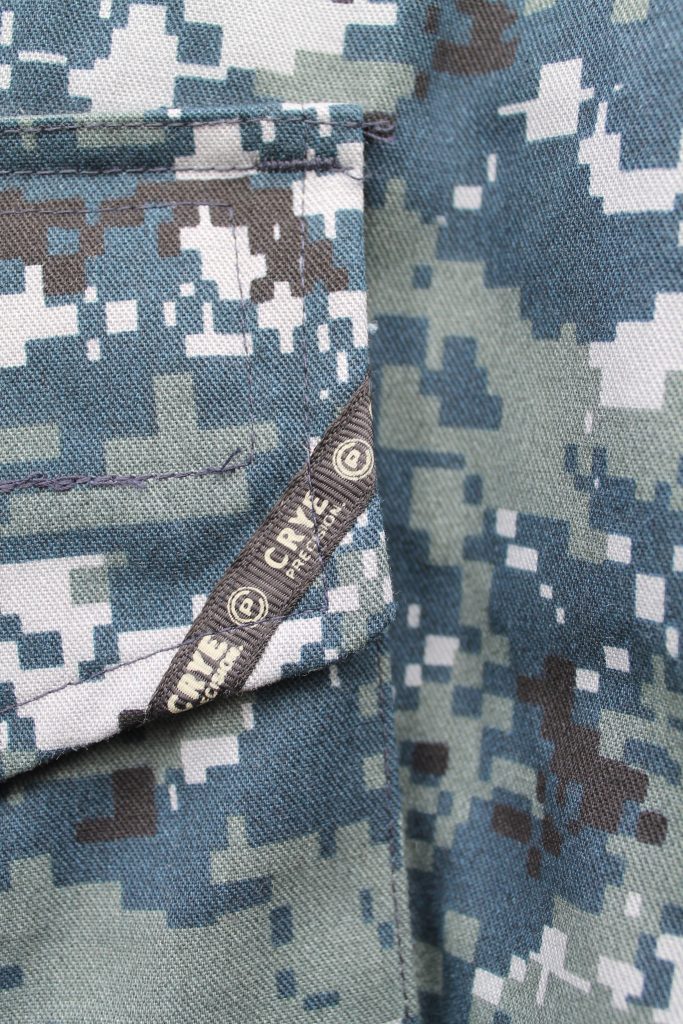 -The biggest giveaway is the badly printed angled black edging tape. I own dozens of real Crye G3 items that feature this branded ribbon and I've seen/handled enough to put the total in the the hundreds (without even including images seen online) and not once have I seen the logo and wording on here so poorly defined with too much ink used in a badly made printing system resulting in these highly inconsistent characters with total lack of definition to the shapes and lines in the CP circular logo and in the wrong colour to boot. Where I have seen this blurry edging tape is in reels of fake stuff coming out of China and there are a few images out there of actual raw rolls of the fake ribbon waiting to be sewn on to replica uniforms just like this.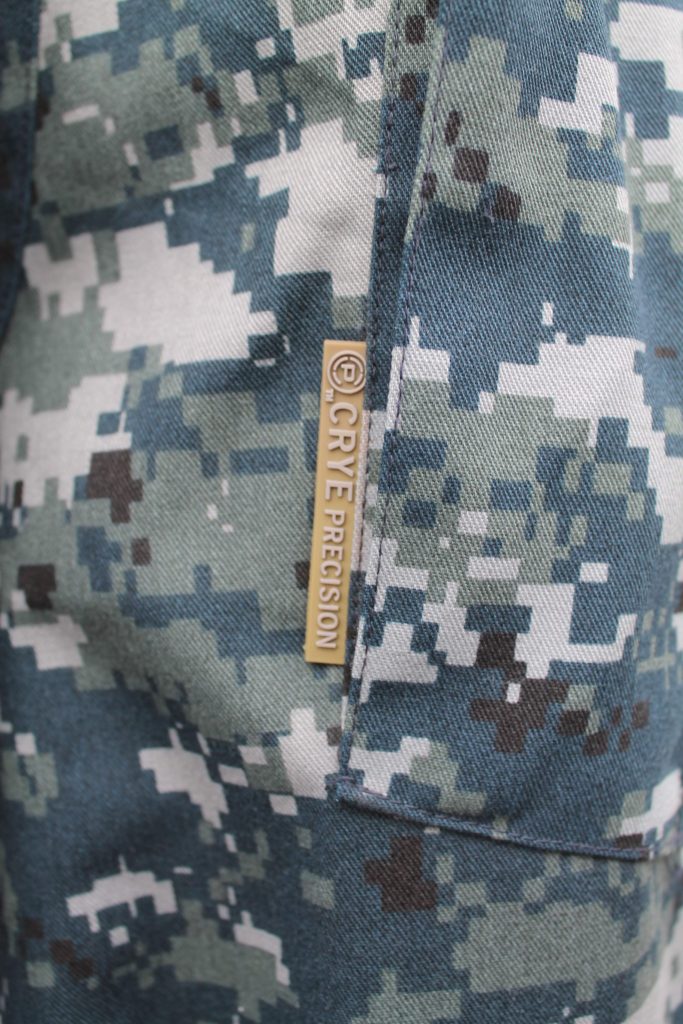 -A Gen 2/AC style silicone type green tag being present at the same time as the G3 angled black edging tape is far from kosher to say the least. The tag is pretty convincingly done admittedly, but comparing to multiple genuine items produced at various times the CP logo is visibly too large, the 'TM' is much too big and the text comes up too close to the edges of the green silicone/rubber.
-Fabric composition is straight up wrong for an All Weather pant, which is the most glaring error in the internal label. As I have featured here recently the AW line is softshell and made from mostly nylon, but all of these fake NWU pants are claiming to be All Weathers despite being comprising standard 50/50 NYCO that's got nothing to do with a softshell material.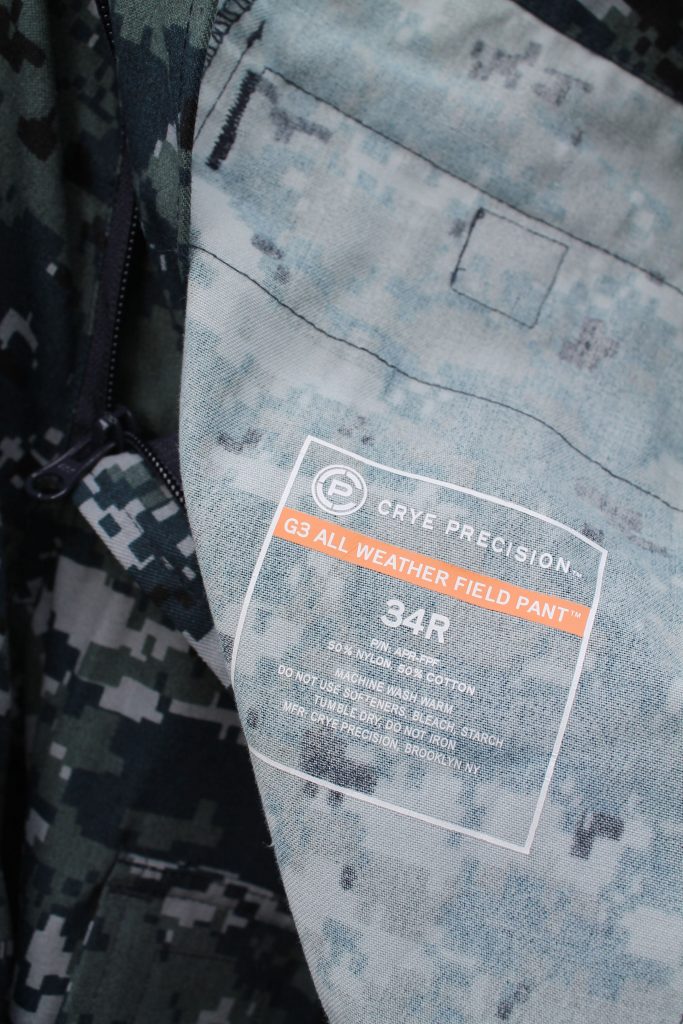 -The orange and white label does again appear pretty convincing at first glance and most of the text is right with no spelling errors as seen in the fake Woodland NYCO G3 combats, however the errors are still there. The font isn't quite right, the orange is far too bright and most importantly the 'Made in the U.S.A.' and the patent information have been straight up missed from the bottom of the text block, leaving a noticeably over-sized gap in the lower area of the boxed section.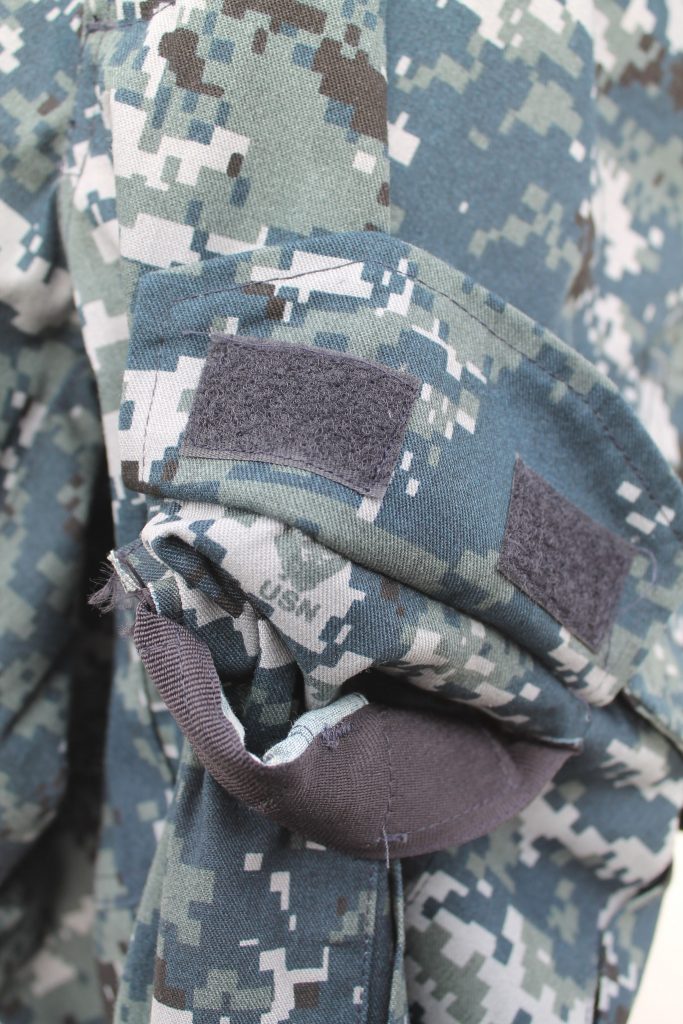 -Last point to make is the usage of all colour-matched secondary and tertiary materials in the production process. This isn't necessarily a decisive factor, however the blue LAC uniforms offered by Crye directly through their site do not feature blue velcro, zips and edging tape reinforcements inside the pocket edges, these areas are all black on the legitimate items. The G3 uniforms in general in fact are not known for going to great lengths (hell any lengths really) when it comes to colour matching.
These are, by a good margin, the best attempts at faking a Crye item I have ever seen or handled and it would not take many tweaks to make it extremely difficult for even the hardest-core of nerds like myself to differentiate these from the real McCoy. A good few people out there already actually think they are real given how well the faking has been done here and it is unheard of to get any official press release from Crye Precision on these topics, but for the reasons outlined above I'm fairly confident of my own assessment.