Everything gets cool again once it's old and long out of production. You may think "eww, UCP" right now but give it long enough and it'll be cool on social media again. Apart from anything else, despite the U in UCP being entirely wrong, the pattern consists of a variety of greys in a proven pixel arrangement. So in any environment where the flavour-of-the-month Wolf/Manatee/Frost grey might work, UCP would also be just fine, possibly better in some respects. Just don't wear it in the lush green woodlands or bright sandy desert.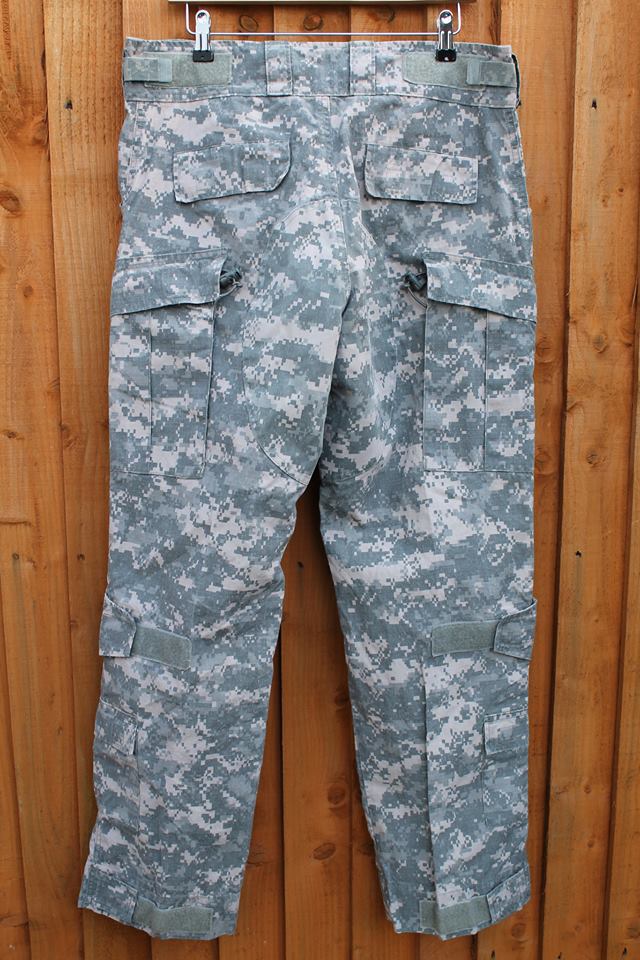 I'm not a historian in terms of which military unit or organisation wore which items and during what time period, that's not my kind of bag at all. What I have gathered is that these initial versions of the US Army Combat Pant in UCP were made by Crye (or perhaps a sub contractor) around 2009-10 then worn and tested by members of an airborne infantry unit who deployed with them to Afghanistan around 2010 or 11. The one article I could find online is here at Soldier Systems Daily:
http://soldiersystems.net/…/08/11/commercial-army-combat-p…/
I don't have comparative pictures right now of these trousers next to the multicam version that was later adopted in larger numbers when MC became the camo for US Army/Air Force deploying to Afghan (while still wearing UCP at home), but suffice to say the multicam version is very close in terms of cut and features. They did away with the front thigh pockets and went from velcro closures to tons of buttons of the inferior 4-hole type that US uniform always feature, along with other small changes that moved the pant further from the G3 design, but fortunately the integrated Airflex knee pads stayed, which is perhaps the key feature:
https://i.pinimg.com/…/53/aa335315bd8061f183beae28ba8d6552.…
Crye themselves did make some proper AC/Gen 2 combat sets in UCP for certain SF guys, but they're so rare they go for anything from $500-700+ on the used market for just the lower halves. While I do have some uncommon Crye items that were expensive to obtain, I don't like UCP nearly enough to spend that money and these trousers in slightly worn condition cost a a bit under $50. I also find them a bit more interesting since I already own a couple of pairs of AC trousers in the more common colourways and it's nice to have some kit that's of the more widely issued variety, also that marks an important step in development of a garment that went on to produced in large quantities.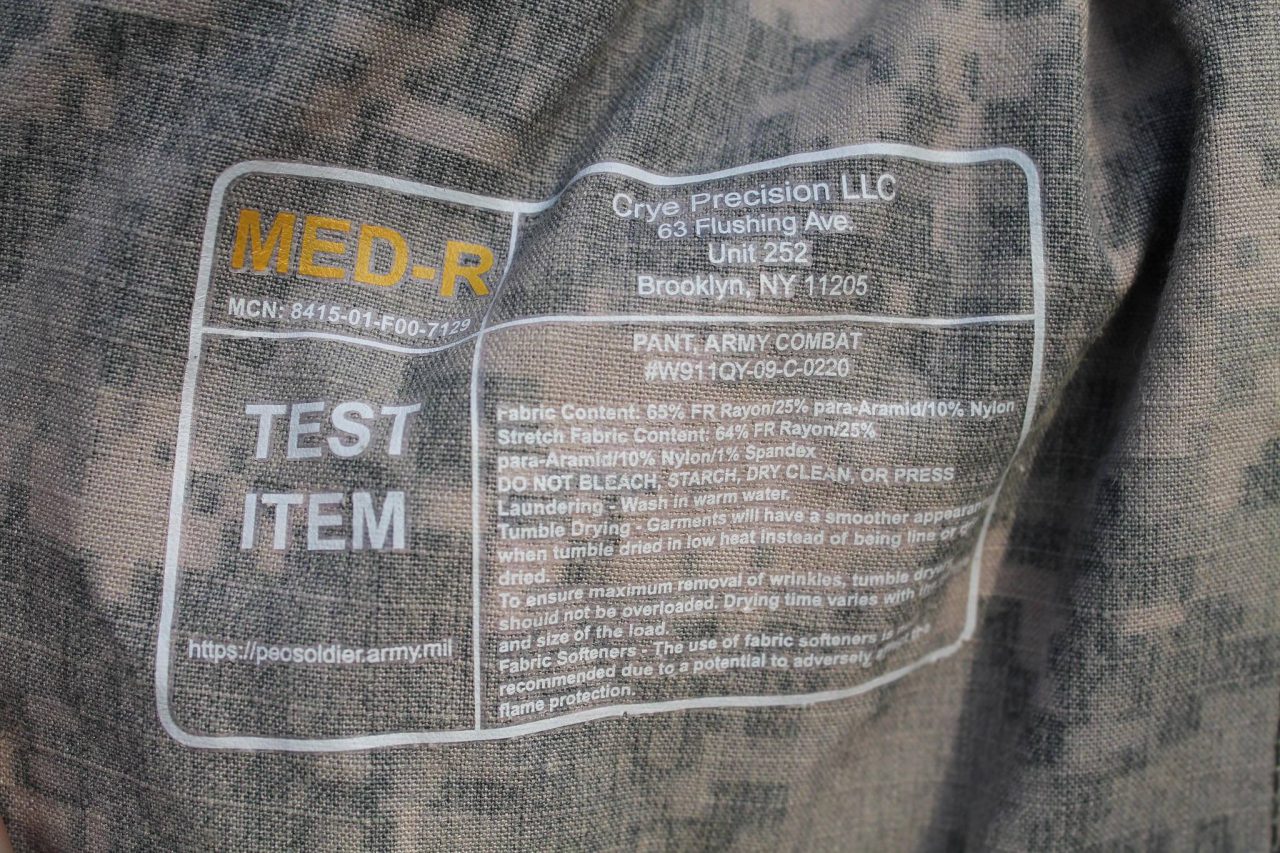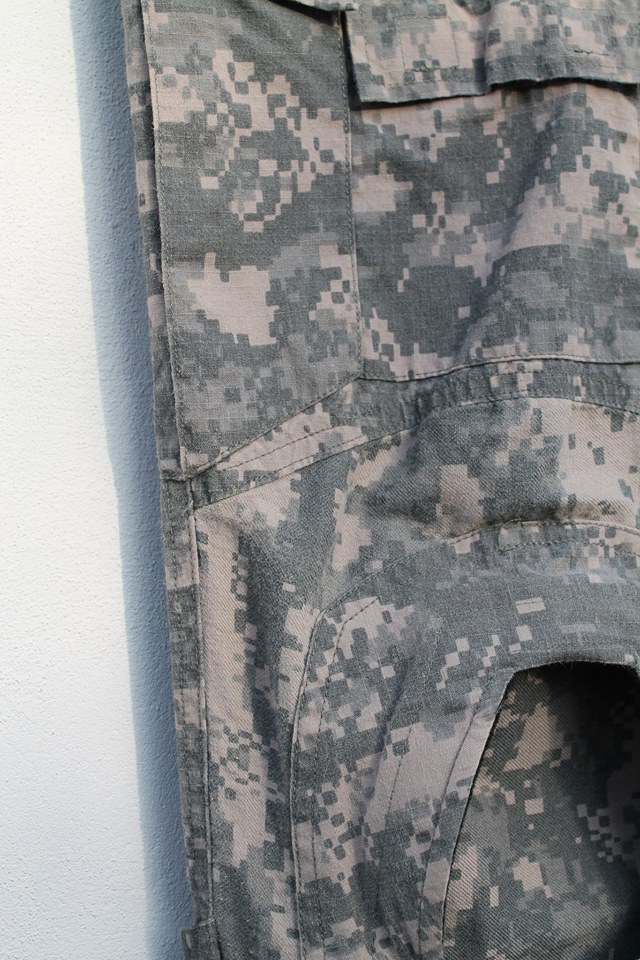 As you'll see by the label the trouser is flame resistant, though the weirdest thing about these is the fabric used behind the knee pads and in the groin gusset. It's different from the rest of the piece, doesn't exhibit any rip-stop grid pattern and should be stretchy just like Crye combat trousers; but it isn't, it's static.
Why they even bothered to put in these separate panels I'm not sure, but it smacks of military decision makers making decisions about things they don't understand even the slightest little bit. Could just be someone ordered the wrong material of course, either way it's pretty damn pointless.
All the pockets that a G3 trouser would have are present, though constructed slightly differently. Also present are the waist adjustment tabs, bungee cord for knee pad height adjustment in the front pockets as you would expect and velcro knee/ankle cuff adjustments. Though the waist line is not padded and the fly exhibits buttons instead of a zip and velcro.
I've been remiss in not posting a shot of the G3/Airflex knee pads that were exclusively issued with these combat pants, as while they were made exactly like any other Airflex pad shape wise, they were moulded in a Foliage Green colouration that's never been sold commercially. To my knowledge these FG pads are the 2nd least common type of Gen 3 combat knee pad after those made in Wolf. They'll be pictured here at a later date however.