Forewarning:  I use the words trousers and pants interchangeably, just letting you know now.  Also, this is not a review, I have not worn these pants all that much, this is just a features overview for potential buyers, nothing more.
---
I have briefly alluded to these pants a few times on various social media comments/stories and the time has finally come to actually run down everything that is built in to them and what's really going on with them.  I have been both looking forward to and mildly dreading writing this piece at the same time, in that what we have here is an interesting design to discuss yet there is an absolute boat load of features built in to it, with a great number of nuances to talk about.  Probably more so than any single item of apparel I have ever previously seen or featured here on the site.
Credit where credit is due, the UF-Pro website actually does an extremely good job of highlighting and explaining almost every aspect of these pants and they are just about the only brand in the tactical space that does so, certainly in such detail.  But here's the the rub – more 'features' is great on paper, you scroll and scroll down the product page and you might think 'great, so much stuff built in' but as with everything in life it is always a balancing act, so with so many features gained what is inevitably lost?  I shall endeavour to shed a little light on the balance that UF-Pro have chosen to strike here throughout this article.
---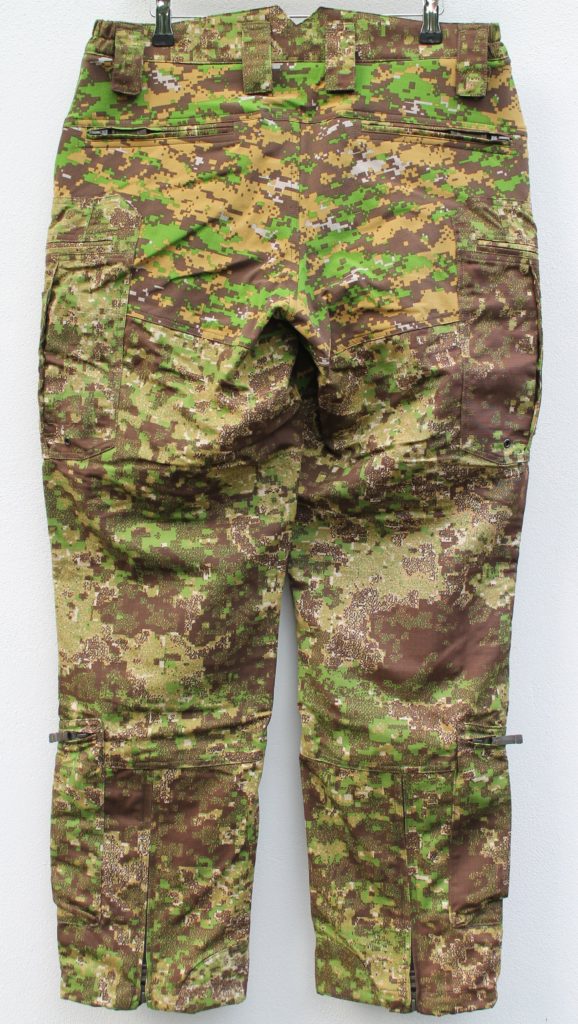 First off a simple overview of the back of the trousers with the upper rear, cargo and ankle pockets visible as well as the vertical zips that open to widen the ankle opening themselves.  You may need to refer back to both this image and the header image of the post to reference locations of each area that we look at close-up as we continue.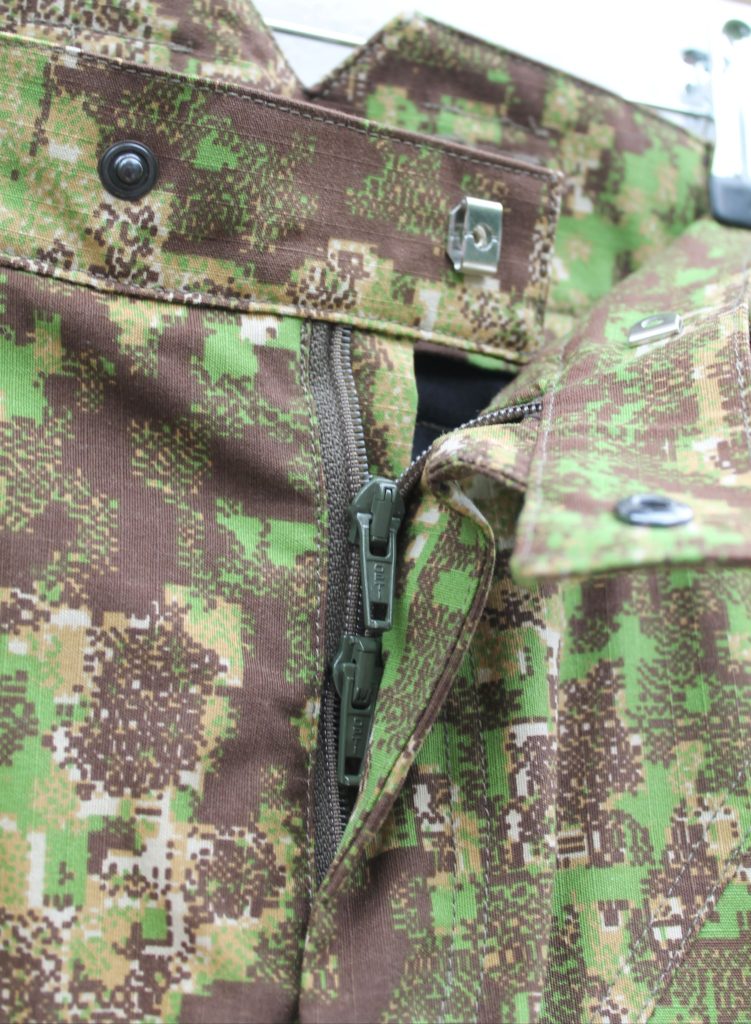 I find the choices in the fly area a little odd.  The actual zip is extremely short and not the most practical for males, especially if you wear your trousers with the waist fairly high.  The double slider is rather overkill and shortens the usable length of the zip that little bit more, compounding the previous issue even further.  The metal tuck tab is something you usually see on the trousers that form part of a suit or some other formal attire, not tactical gear.  While the press stud isn't too outlandish for this sort of application it is a fairly widely held opinion that when it comes to an item of clothing for duty usage, the less plastic and metal you can build in the better.
It all works and stays together of course and will probably last longer than velcro above the fly zip, but you would have to put on and take off your trousers a hell of a lot of times before you wear out a velcro waistband closure.  Even then, stitching on some new hook and loop is simple and can even be done by hand in a pinch in any location or siutation with a needle being the only necessary tool.  Not to mention the required materials (velcro and thread) for said repair are very light and compact.  This is the first of many areas where I think UF-Pro have opted to add quite a bit of weight without gaining significant extra functionality and only a certain extra degree of durability.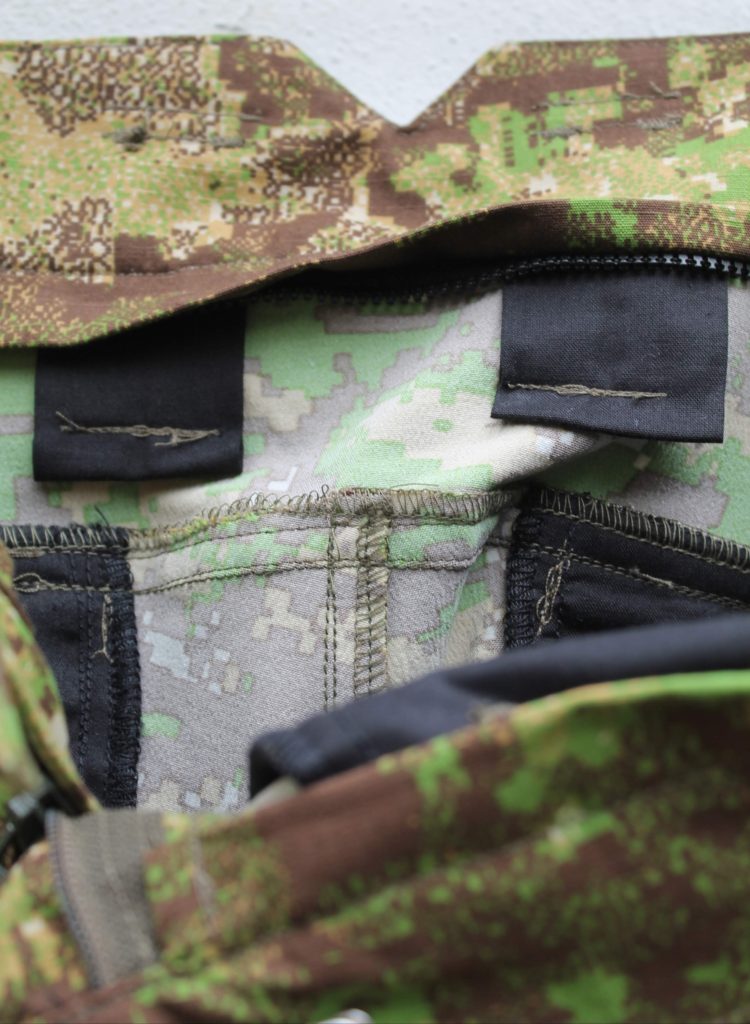 All around the inside of the waistband, with a small band of fabric to cover it, sits the zip that facilitates the addition of the Windstopper lining.  I don't have enough time wearing the Strikers to be able to tell if the zip rubs over time with pressure on top of it.  The potential seems present to my mind, but the designers say no.  The pairing of the two products is certainly an interesting one and I can imagine it making good sense in a cold, dry environment, but a cold and wet climate like Europe, Northern Asia or most of North America?  Definitely better off with softshell trousers and and under layer from the PCU line, because each pair of Striker pants is made of so much fabric that they have a huge potential for holding significant amounts of water and they just aren't going to dry lightning fast.
One other aspect I will mention at this point is the fabric chosen to actually constitute the insides of the pockets; the ones that mount internally at least.  I can't be sure what exactly it is as there is no information provided anywhere, but to me it has the feel of plain cotton and is certainly a twill rather than a rip-stop.  On the one hand these areas won't tend to suffer much abrasion unless the user tends to carry roughly knurled items in their pockets, but this is an area where using rip-stop Poly/Cotton or Nylon/Cotton as they do for the rest of the trouser adds almost no weight and ensures greatly increased longevity, in line with the rest of the garment.  This is nit-picking to an extent but almost every other manufacturer of similar products uses the same material for internally mounted pockets as they do for the rest of their garment production and this aspect of the Strikers stood out to me as somewhat strange.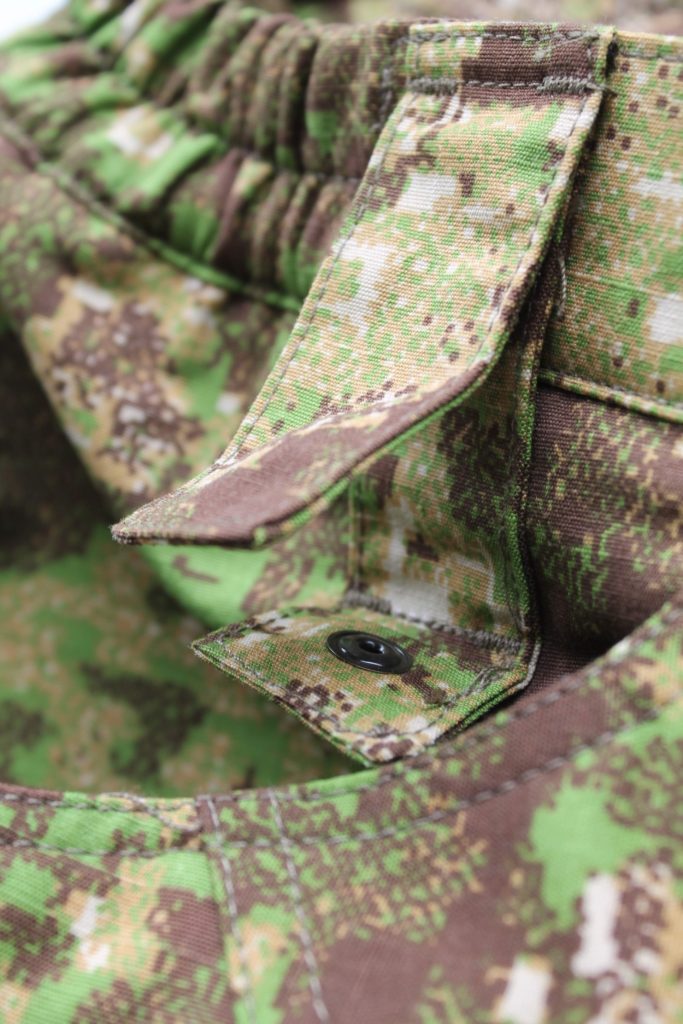 Here the accordion style stretch section of the waist is visible, which is a feature I am a big fan of and think more designs could benefit from.  As you sit down, eat, hydrate and digest your waist size changes as it does when you stand and dehydrate etc.  The velcro waist adjustment tabs on the G3 design require the user to adjust them any time they want to make a change, whereas the elastic in the Stikers is always adjusting to the wearer's status.
Also here we find the double belt loops.  The regular loops for the belt that will actually aid in holding up your trousers are fully stitched in as usual at the top and bottom.  They are tall, wide and bar-tacked extensively, so basically just what you would expect from a quality tactical pant in the upper echelons of the price range.
What is interesting about the extra set is that they are a sort of stand in for the popular velcro interface 2-piece belt system, technically removing the need to velcro a 2″ outer duty belt on to an inner belt in order to keep your 1st line gear in place.  I say technically because there are a couple of issues here.  Firstly this won't ever be quite as secure as a velcro interface and the outer belt will have slightly more potential to move around on you as you move around yourself.  Secondly you lose a few PALS columns that will be covered by the outer belt loops on the pants, which is not an issue you will run in to when using the hook and loop inner/outer 2-piece system and I believe there's a reason those belts have dominated the market versus every tactical pant design incorporating a double loop system like this.
With the above said, the other side of the coin is that if you own some old belts that don't feature velcro then it saves a potentially pricey purchase.  Or if you are issued a belt that you are mandated to use that doesn't have velcro you could benefit from this setup.   The hook-covered belt in a 2 part system will also eventually cause some wear to the fabric and stitching of your belt loops and that issue is eliminated here, though I don't think the juice is worth the squeeze in that regard.  However these pants are about durability at the expense of some weight and comfort rather than optimum comfort and light weight at the expense of durability.  There is very much a theme here.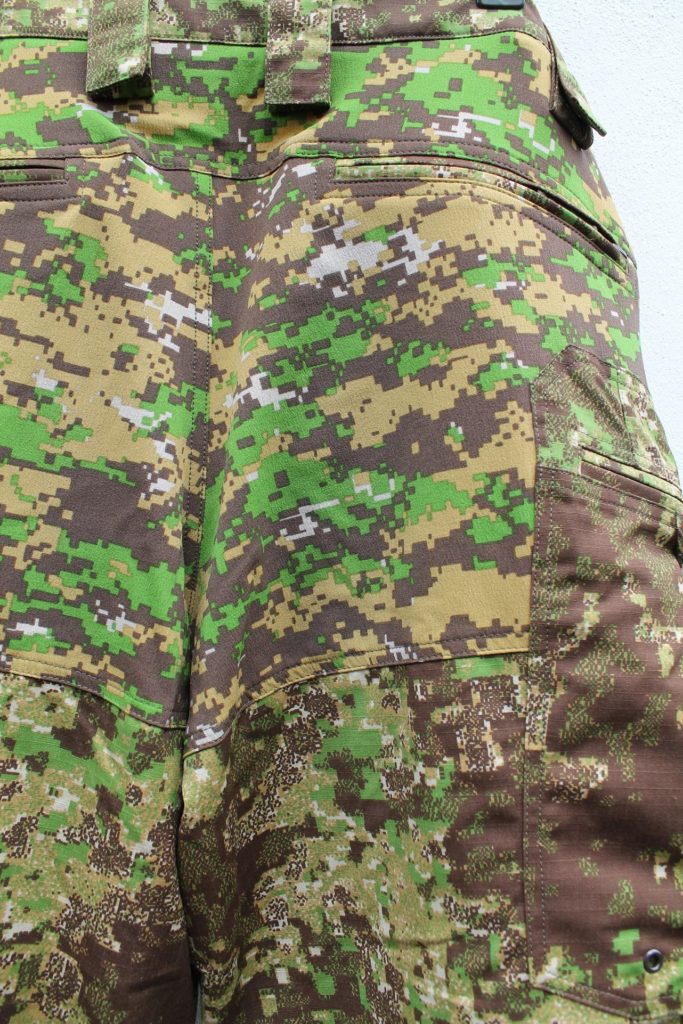 You will find a total of 6 stretch areas on the Strikers and just like on G3s they are around the knees, in the groin gusset and just below the waistline at the back, however with the UF-Pro design almost the entirety of the butt area is made of the stretch.  When it comes to the knees there are small stretch panels both above and below the knee pad pockets, rather than above and beside those pockets as seen in most other designs.  The stretch fabric employed is from Schoeller and is woven from 92% Polyamide with 8% elastane, however Polyamide is just another word for Nylon that tends to be used by manufacturers in mainland Europe in place of actually saying Nylon.
Crye's stretch is from Tweave and comes in at 93% Nylon/7% Elastane so on paper they sound close to identical however the actual weave of the fabric is visibly different upon close inspection.  The two certainly are similar without a doubt, but not exactly the same.  Which one is actually more resistant to tears and abrasion I do not know as I have not seen any feedback from anybody who owns both and has put both through extensive very heavy usage, though my guess is that in practical terms the outcome over time will be very similar.
Again in the above picture, in the lower right corner you will notice a metal drainage grommet at the lower rear of the right leg main cargo pocket.  There are a fair few metal grommets built in to these pants and obviously that is somewhat beneficial for draining water quickly, but then again if you fill a pocket of a tactical pant with water (or more realistically, the wearer climbs out of a body of water) there's not much difference in the time it takes for the water to simply leak through the fabric compared to draining through a specific hole.  More importantly, just about every other brand uses a button hole stitching machine to create a 'grommet' out of thread for this sort of thing.  Using more metal is a little bit excessive to my mind and is another one of the straws that might want to break the camel's back.
Lastly for this section is the rear/butt pockets, which are of course, closed with zips.  Other than the zips there is nothing specifically to note about them, they are of a standard size that you'd expect and hang internally.  Good for safely stashing some small items in easy reach.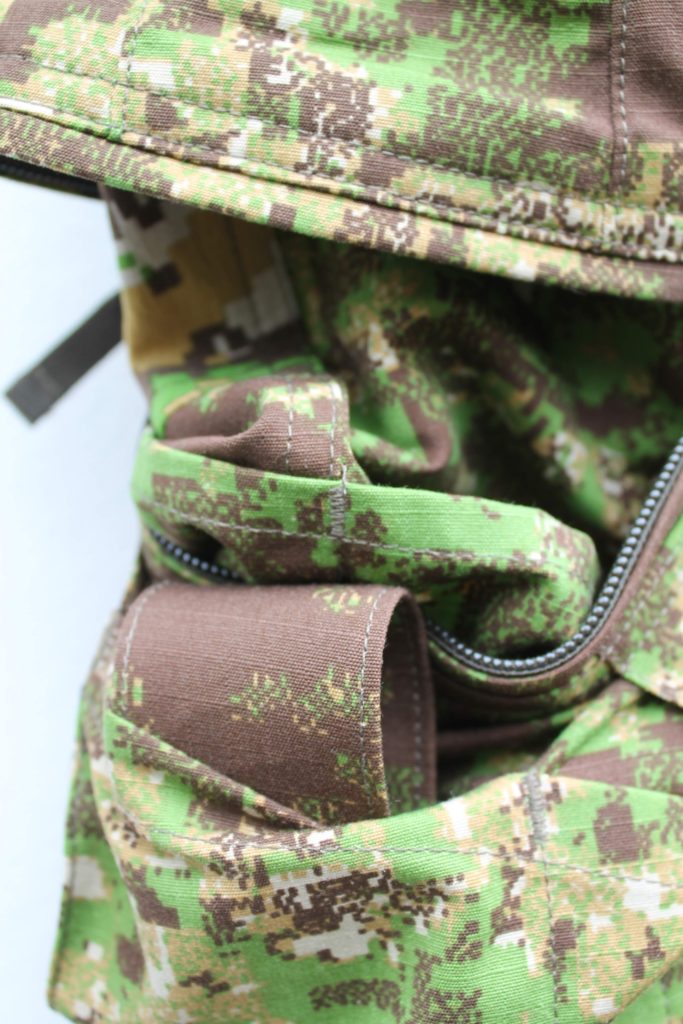 This is a close up on the main upper access zip for one of the large thigh cargo pockets, secured with the same type of zip as is used extensively throughout the Striker XT design.  None of the zips are camo patterned of course but props to the manufacturers for going the extra mile to cover them up with additional material protruding from both sides in order to fully cover the zip teeth.  Cheaper apparel and gear doesn't tend to do this and the various hard lines of solid colour can interfere with a camo pattern somewhat, plus the zips can be prone to clogging with fine dirt and sand (especially sand) and becoming jammed up.
Next up is the 'Multi Purpose Gear Pocket' that is mounted on to the exterior of each main cargo pocket and has an optional stiffened flap to go over the top of any equipment stowed inside.  The flap is basically some flexible plastic covered in the same fabric that the bulk of the pant is made from and has velcro on one end that allows just that one end to be secured inside the pocket.  The free end is only secured with friction and I would have liked to see just a small piece of velcro on the other end I have to say.  Retention would be greatly increased and with that small bit of velcro you can still easily overcome the shear strength of the hook mating with the loop.  Not as quiet that way though of course.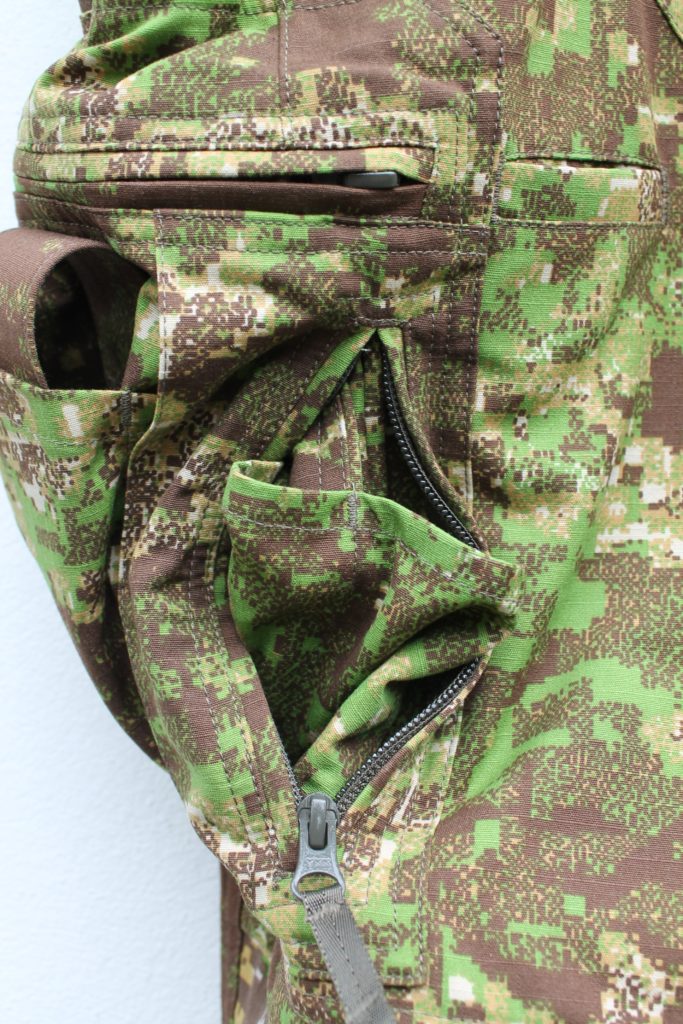 Above is the front access zip on the main cargo pocket opened with the internal organiser pockets shown as well as could be managed.  These comprise two small sections of the primary fabric which offer further organisation and might help lessen excess movement of small items within large pockets like these.  The bar-tack visible at the top between the two segments is a good example of the high standard of stitch work found throughout these pants.  I think a lighter fabric could have been used here perhaps given these are not exposed to abrasion and elastic might even have been better for more security, but that would depend on what exactly you need to stow.
Also shown here in the upper right is the 'Knife pocket' which obviously will store knives, multi-tools and small lights that have pocket clips in a neat and quickly accessible fashion.  Though given this pocket does not have a lid it would most likely be wise to move any such items inside of the main cargo pocket if you are expecting to conduct any (even slightly) vigorous physical activity.  Obviously G3s also have a very similar feature in roughly the same area and honestly apart from small administrative uses it's fairly pointless and I rarely see it used, but as we are realising the Striker XT design is not about minimalism, it has more of a kitchen-sink type of philosophy behind it.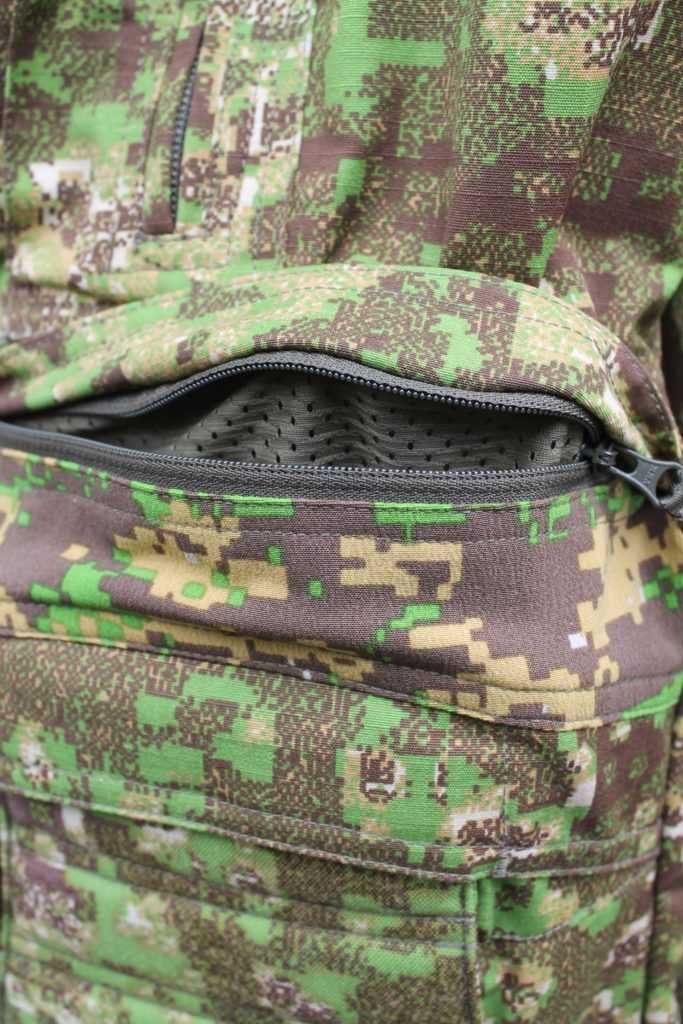 The outer areas of each knee pad (the ones with train tracks of horizontal stitching) are covered in 500D cordura which I really like and is one area where the very slight weight increase will really pay off in the durability department without any real additional noticeable bulk or discomfort.
Directly above each knee pad there is a section of stretch that's easily discernible by the sudden lowering of the resolution in the camo from 4k to 480p.  I've not mentioned that before now, but as you have probably noticed already the stretch fabric is nothing much like the PenCott camo, however in fairness GreenZone is a really intricate and complex pattern that would be insanely expensive to mirror on a synthetic stretch fabric, if not impossible.  Definitely not practicable.
Above the stretch is the zip (yep, another one) that is used to access the internal mesh pocket which can house the optional '3D Tactical Knee Pads'.  I do not yet own a set of those myself as the pocket is a pretty generic shape and I just put in some simple foam sheet pads I have that work in a variety of pants.  Reviews on the 3D pads are positive though and they do look to be a good option.  I remember some older marketing also mentioning this zip as being part of a ventilation system in the pants, though it would seem that that has been relegated just to the HT versions now.  Realistically I cannot imagine them working in such a manner, as the fabric flap that covers the zip is stitched in such a way that it always wants to point down and cover up the opening created.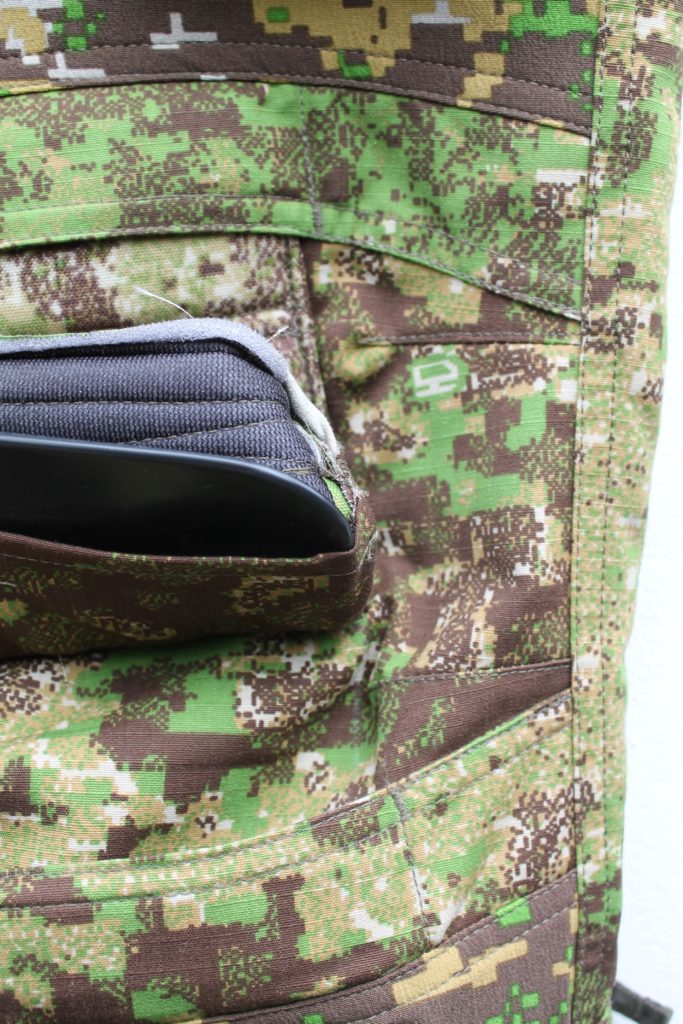 As well as the internal mesh pockets for foam pads mentioned above, there is also a slot behind the external cordura section for addition of the 'Solid-Pads' (shown here fully inserted), which are segments of soft plastic about 3mm thick designed to provide protection from sharp objects on the ground.  That is worth doing considering how complex the knee joint is, but the Solid-Pads do almost nothing in the way of cushioning so don't expect them to.   This might be a handy feature for some people however to be able to separate the 'real' foam padding at the knee from the plastic protector element and to be able to pick and choose.  This obviously is not something you get with the Crye combat knee pads since the foam and plastic are stitched together and must remain so for proper function and mounting of said pads.
Unlike the G3s and most competitors there is just a little bit of foam padding permanently stitched in to the Strikers behind the cordura outer face of the knee pad area.  Since there are so many lines of stitching running through this foam however a lot of it is compressed right down and it since wasn't very thick in the first place do not go thinking you can get away without some proper foam pads on the insides.  Certainly not if you are accustomed to more thickly constructed standalone knee pads.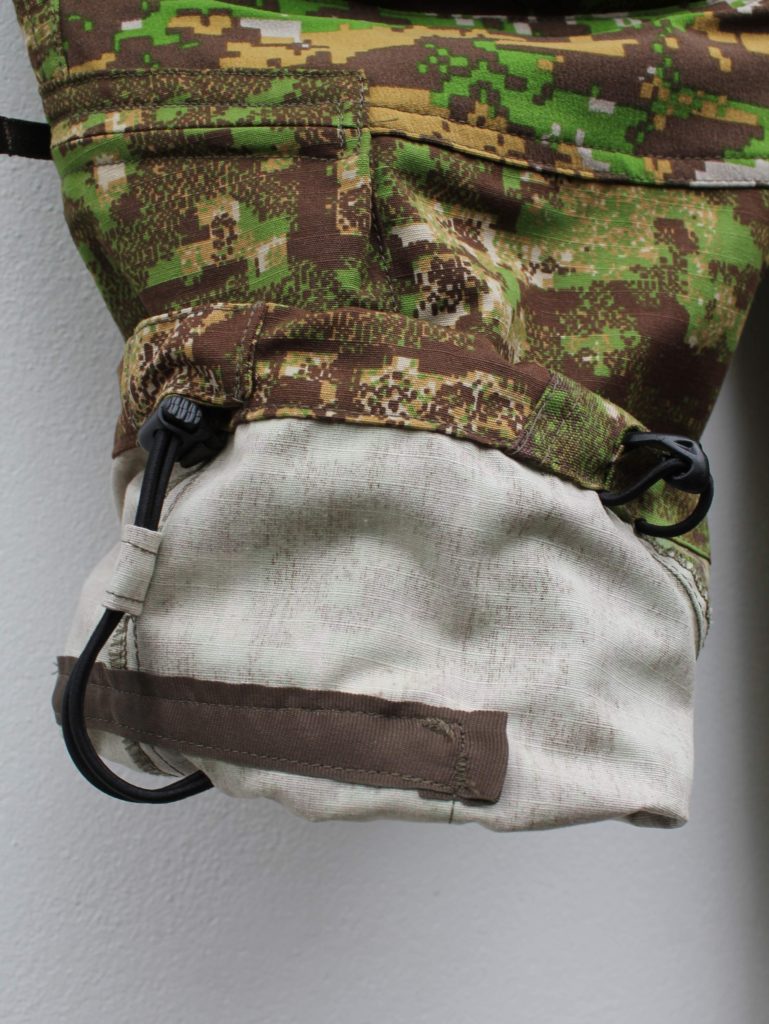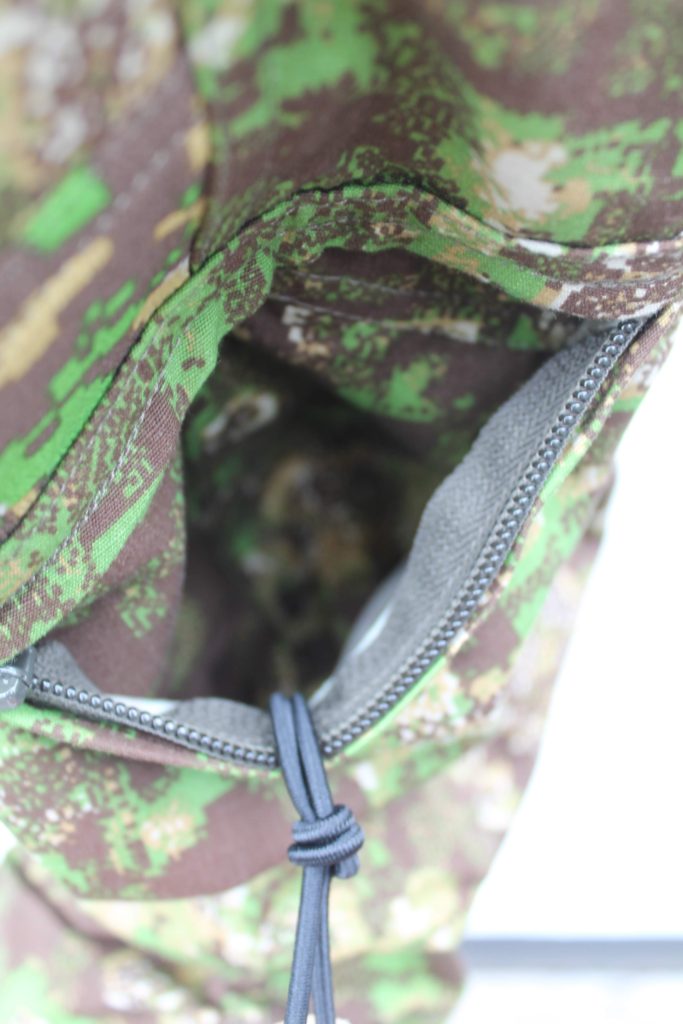 On the insides of the ankles we find the first method of adjusting the ankle cuffs along with the plastic boot hooks.  The ankles adjust with an elastic draw cord much like you tend to find in the lower hem of a jacket and the excess cord stows away pretty nearly within the two ankle pockets.  I shall let you guess what the closure method is for said ankle pockets.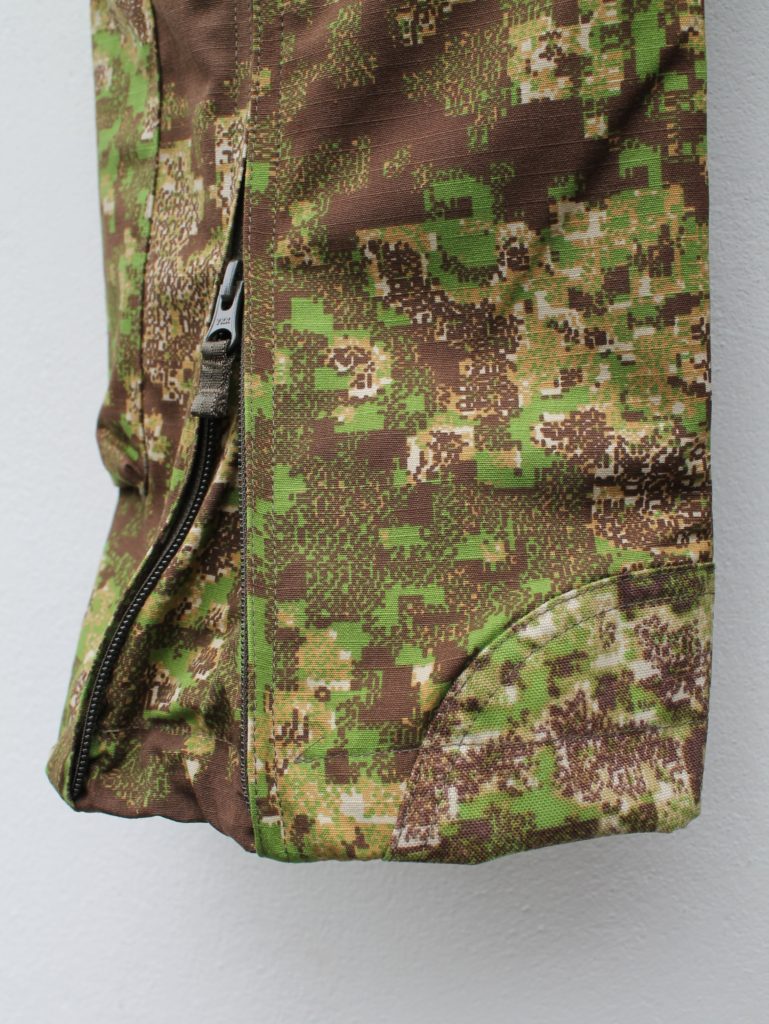 Lastly, on the exterior of the ankle areas there is yet another pair of vertical zips which seem highly superfluous and a prime example of added weight right at the end of the pivoted lever (i.e. the leg), along with some cordura reinforcement to the cotton blend fabric on the instep where the ankle cuffs are most likely to be worn and abraded.  The zips do of course serve as another method for widening then tightening the ankle cuffs, but the elastic cord is already there and to me this is just another pair of (contextually) heavy zips that didn't need to be included.  In my mind there is a reason nobody else is building a feature like this in to their combat pants.  Cordura in this area though makes more sense.
In terms of the ankle cuffs, the argument that will probably come up is throwing the trousers on when already wearing boots and that is well established for many other Gore-Tex and insulated outer layer pants designed for extremes of weather, but in this context it adds more bulk, weight and fiddly bits to the Strikers for a use case that just won't be relevant the vast majority of the time.  As with anything though, if it happens to fit your personal use case then it fits your use case and all these things must be weighed up in a holistic manner.
---
Mass
So what does all that stuff above add up to?  Well my pair in size 34/32 weighs a significant 1.1Kg(2.4lbs), whereas a pair of 32R Crye G3 combats weighs only 640g(1.4lbs) and that isn't strictly all that far off of half the weight.  Carrying around an extra pound/half kilo won't matter to every end user, but to some I know that is an awful lot of extra mass contained within just a single item and in a primary item of clothing that will probably be worn almost all the time.  When the Strikers and G3s have the same number of pockets, basically the same stretch points/panels and for the most part provide a very similar level of functionality overall, this is a little bit of a bitter pill to swallow in some respects.
You will notice the weight of the Strikers as soon as you pick them up, because it's just not what you expect a pair of trousers to weigh.  Like anything I've no doubt you can get used to them, but again I find the weight and bulk quite noticeable when wearing these even stood still, let alone when you start moving and you notice all the pockets and zips you are dragging around with every stride.  I would certainly be interested to compare these to the Striker HTs (that have even more zips) and the newer Striker X models that are purported as being specifically aimed at military customers and as such are purported to be even more tough and durable (for those curious, the XTs appear to have gained a fair sized customer base with police rather than military in their early years).
I've mentioned zips many times in this piece and since there are so many it would feel remiss of me to not link to this blog post on the UF-Pro site itself that breaks down their decision making process as it applies to closure systems:
https://ufpro.com/blog/article/big-break-down-of-closure-systems
---
Durability?
I spent about a month (on and off) working on writing this piece which is unusually long for even me, but that is a combination of the amount of features and taking in as much info as possible direct from UF-Pro's own marketing.  More significantly though it was largely due to alterations in my own feelings about the design and construction choices.  Alterations that occurred in my own head the more I actually thought about the Striker XTs and how they are built.
The issue I have is this; the company behind these pants will tell you that the design is all about 'wear comfort' and they talk even more about extreme levels of ruggedness, resilience and durable construction.  As far as the stitching goes it is all at a high per-inch count and a large portion of the seams are double stitched with lots of bar-tacks throughout; and there are multiple cordura reinforcements, so all that is very good from a toughness stand point with more boxes ticked than the Crye designs.  If you were to ignore the fabric selections you would have a much easier time justifying the heavy weight given all the aforementioned, because on paper it makes these pants super durable.  The slight problem is that so many of the colourways are made from a less-expensive Polyester/Cotton blend fabric that it must be said is usually reserved for more budget priced apparel.
Now don't get me wrong, not all rip-stop Py/Co is the same and this article is just a feature overview, I don't personally have hundreds of miles and hours clocked in the Striker XTs to comment on whether the Py/Co UF-Pro have chosen is particularly resilient or not.  It is a widely accepted truth however that rip-stop Ny/Co is more resistant to tears and abrasion as well as holding its' colour for much longer, holding out against UV, rain and wash cycles.  So while the physical assembly of the Strikers is very good all around, a lot of the fabric inbetween all that stitching does not appear to be quite as high quality as the competition.
This brings me to the reason I personally own the Striker XTs in PenCott GreenZone.  The first part is that I just wanted some GreenZone for my own collection and the best option on the market at the time I purchased these was the Strikers, so that was a no brainer.  At the time of writing however the PenCott pattern is the only variant of these pants that is made from a Ny/Co blend fabric, making it the best option of the lot by a reasonable margin.  The extra €30 when compared to the solid colour options is an upgrade that is worth the expense.   The other camo options are, currently, Flecktarn and Slocam but again those are both blends of polyester and cotton in varying quantities and actually cost 2 euros more than the GreenZone offering, which goes even further to solidify the validity of the choice.  Getting a higher quality fabric for less money is undoubtedly a clear win.
This guest blog on the UF-Pro website is a very interesting look at a pretty old and weathered pair of Striker XTs that have seen extensive wear outdoors and many wash cycles.  The TL;DR is that they have held up well and given that the trousers in question are in the GreenZone pattern this article reinforces my previous statements, though in a way I wish they had featured a pair in on of the Py/Co fabrics to glean more info on those.  My gut feeling says that they potentially chose the colourway carefully however.
https://ufpro.com/blog/article/guest-blog-my-striker-xt-pants-after-two-years
---
Overall I think if you want a good level of durability with a ton of features built in and for a much lower price than Crye, but at the expense of bulk and weight (and you really love zips) then UF-Pro is clearly aiming to cater to you.  At the time of writing a pair of G3 combat trousers will retail at £300-350 in the UK and over €400 in Europe (sometimes well over), whereas the Striker XTs in a solid colour poly/cotton blend are €170, rising to around €205 in a camouflage pattern.  Even the most expensive combat pant from UF-Pro – the Striker X in Multicam Ny/Co – tops out at €250 directly from the manufacturer and ~€200 less than the G3s per pair is no small pocket change.
I have not had hands on with the X models, but for the comparatively small hike in price they seem a more compelling option and doubly so if you are looking for the best possible all-around durability and fade resistance over time; which I would imagine many people are considering the prices of these pants make them a real investment piece.  That said, getting a fully featured combat pant with excellent stitching, robust design, modularity, loads of storage and tons of other features and all for under €200 is still undeniably appealing.