Part of my previously discussed search for good accessories that are compatible with the Spiritus Micro Fight involved checking out a few Whiskey Two-Four
products and they did send me over this set of SaDDle Bags to check out, so full disclosure there. These are part of the 'Practical Integrated Modular Platform, Scalable' offered by WTF. If you're looking to add a good bit of GP storage space to the sides of just about any micro chest rig, or indeed any placard with hook velcro on the back, then these are a great option.
A pair will cost $48 at the time of writing and there is a wide array of colour options available, in fact WTF matches Spiritus in the colourway selection department. Each pouch is 6″ wide by 9″ tall and around 2″ deep which makes for a pretty significant internal volume, but because they're much taller than they are wide they won't end up right under your arm pits and cause a lot of awkward reaching for stowed equipment. The velcro slabs that interface with the rig of your choice are slightly taller than the standard offerings from the likes of Spiritus because the Whiskey ecosystem is very slightly different, this doesn't mean stuff won't stick together but consider spending a few pennies on a bit of spare loop velcro to cover up any hook that ends up being left exposed if you aren't using a Whiskey rig.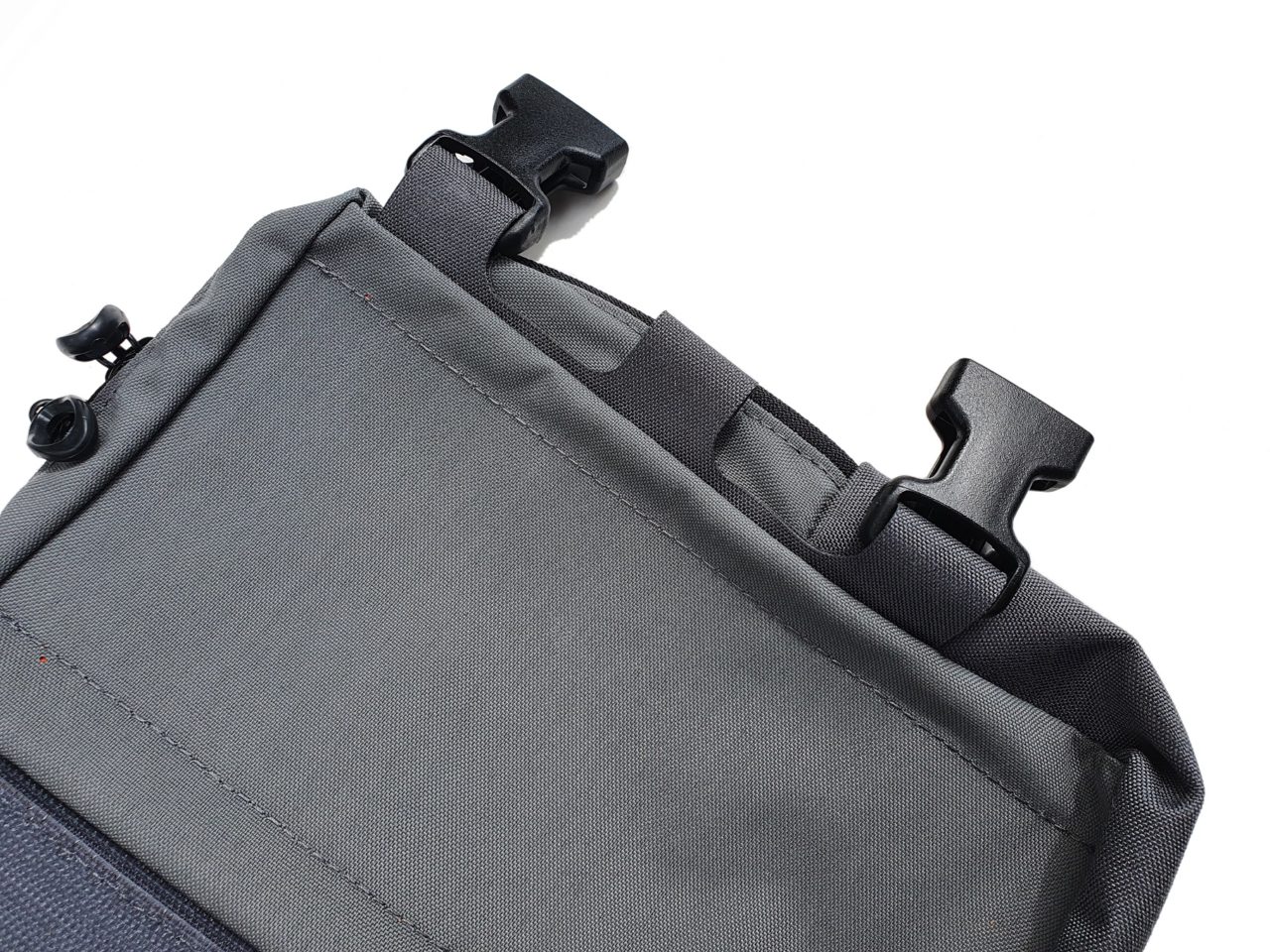 If you are using something like a Spiritus Mk4 in a chest rig configuration then you simply remove the four 1″ female buckles from their loops on the sides of the SS Chassis, re-attach them on the 1″ loops that are built in to the outer edges of the bags then tighten your harness and back strap before clipping everything back in to place. If, worst case, you happen to lose one of the female field-repair type buckles or your particular rig doesn't come with them then it's no issue since WTF provide the 4 that are necessary in the package with the SaDDle bags.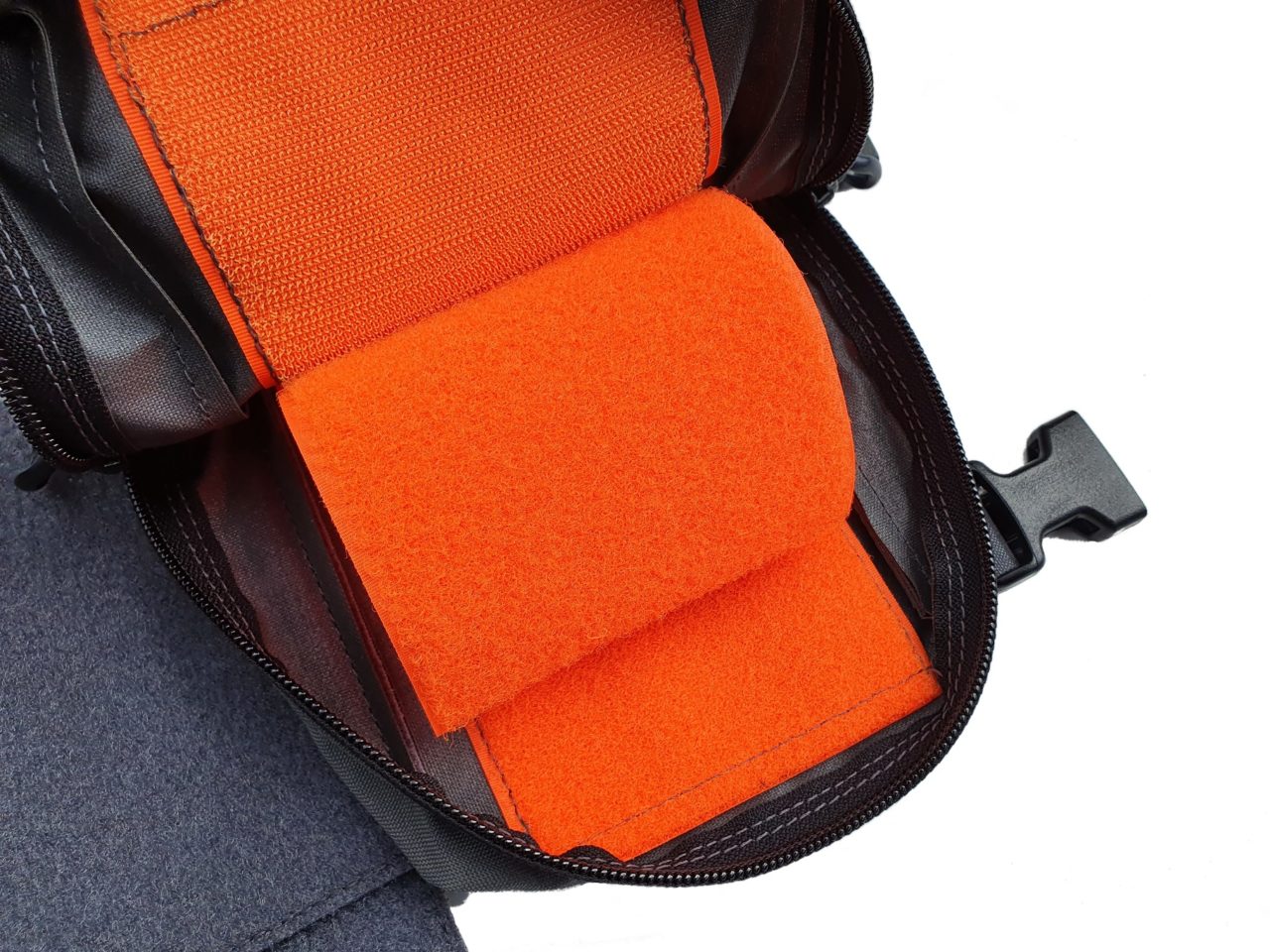 The water resistent reversed zips open up to reveal the contrasting interiors, which make spotting small items far easier than would be the norm against a dark coloured or camo background. It seems minor, but if you've never owned any sort of bag with neon or fluorescent interior linings believe me it is a huge quality of life improvement and doubly so in low light. The product listing states that both front and back inner surfaces are lined with loop, which means you can attach all sorts of organisational accessories from a myriad of companies to specifically tailor the storage space to your personal preferences and needs, though my earlier examples here have hook on one side and loop on the other with corresponding blanking plates in matching colours included. I genuinely find myself thinking that some of the household names amongst top tier military cordura brands are lagging behind Whiskey in certain areas whenever I get my hands on a piece of WTF kit, it's just impressive stuff. The only minor ding that jumps out to me is that the rubberised type zip pulls provided don't like to really lock in to place completely; it's an aesthetic thing and they won't just fall off plus various other quality brands use the same ones, but they aren't my ideal preference personally.
Construction quality wise, WTF specifically don't rate their gear for any police or military usage and don't go after contracts for such, however given the materials they use I certainly would think twice before relegating it to just their target market of paintball. The primary fabric is two layers of 500D cordura laminated together, a great material for laser cut production and everything component is cut by computer controlled laser which means each piece is perfectly shaped every time. Everything else like the zips, velcro and thread is mil spec at least and all the sew work I've seen on Whiskey gear has been to a very high standard indeed, absolutely up there with the best.
You can check out the range here, see what might fit in with your current loadout:
https://www.wtfidea.com/gear/