Generally this type of very unusual item is not one I'd add to my own collection for a few reasons, but since Gen 1 uniforms in anything other than MC are so unusual and the price on this shirt was not bad at all, I did make a purchase of something that I'm realistically never going to make use of.  No use outside of  taking these pictures and writing this post anyway.
I am unfortunately not aware of whether G1 uniforms were actually sold in colourways other than MC.  I have only ever seen G1 fields in Multicam and Tan, with G1 combats seeming to mostly exist purely in MC with a few sets of black floating around, no tan.  There are no green examples of either cut, again, that is as far as I know at the time of writing.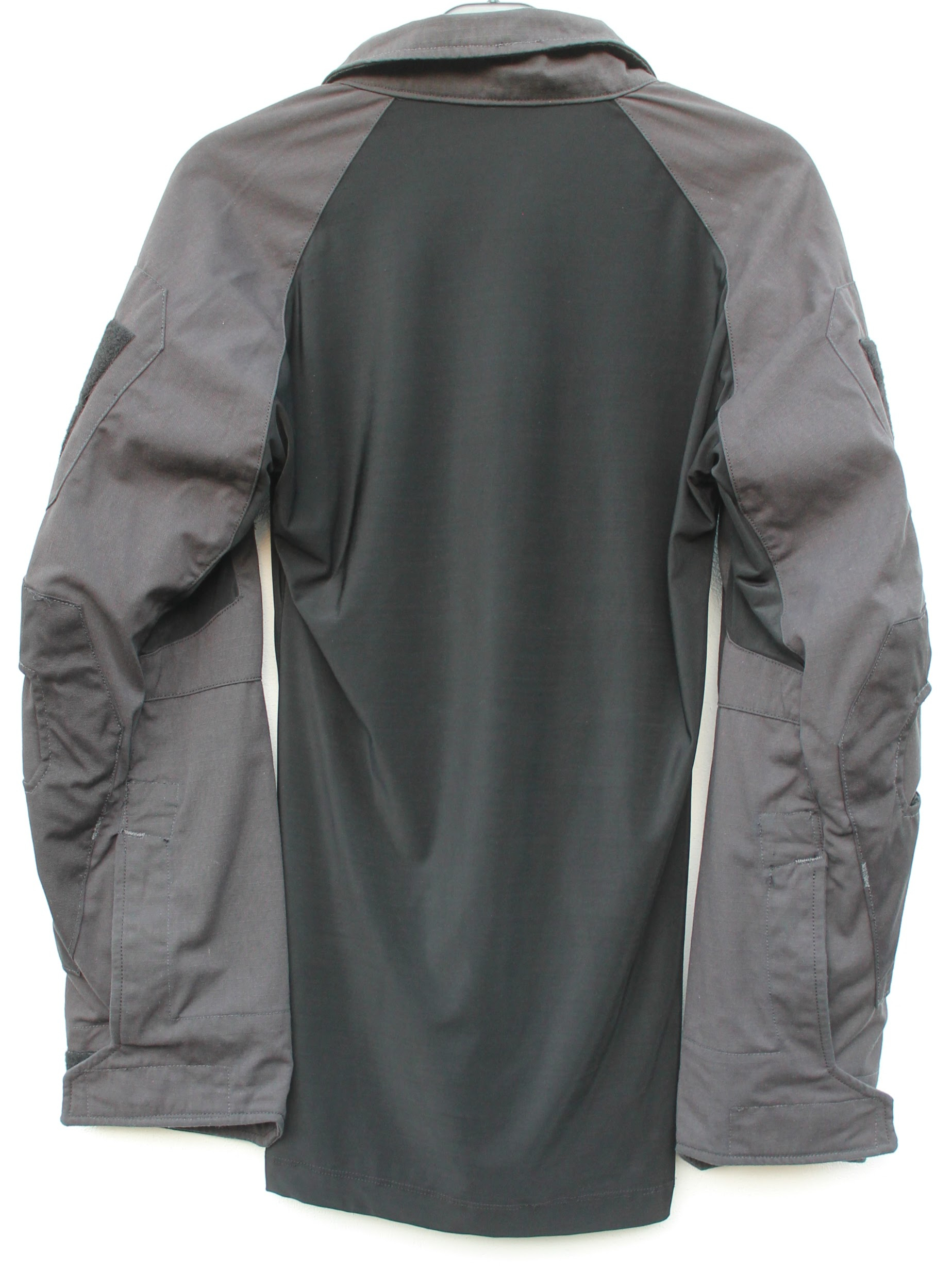 The basic constriction is the same as the Multicam Gen 1 combat shirts, an example of which I have previously covered in this article, so please feel free to refer through for more information on materials and features.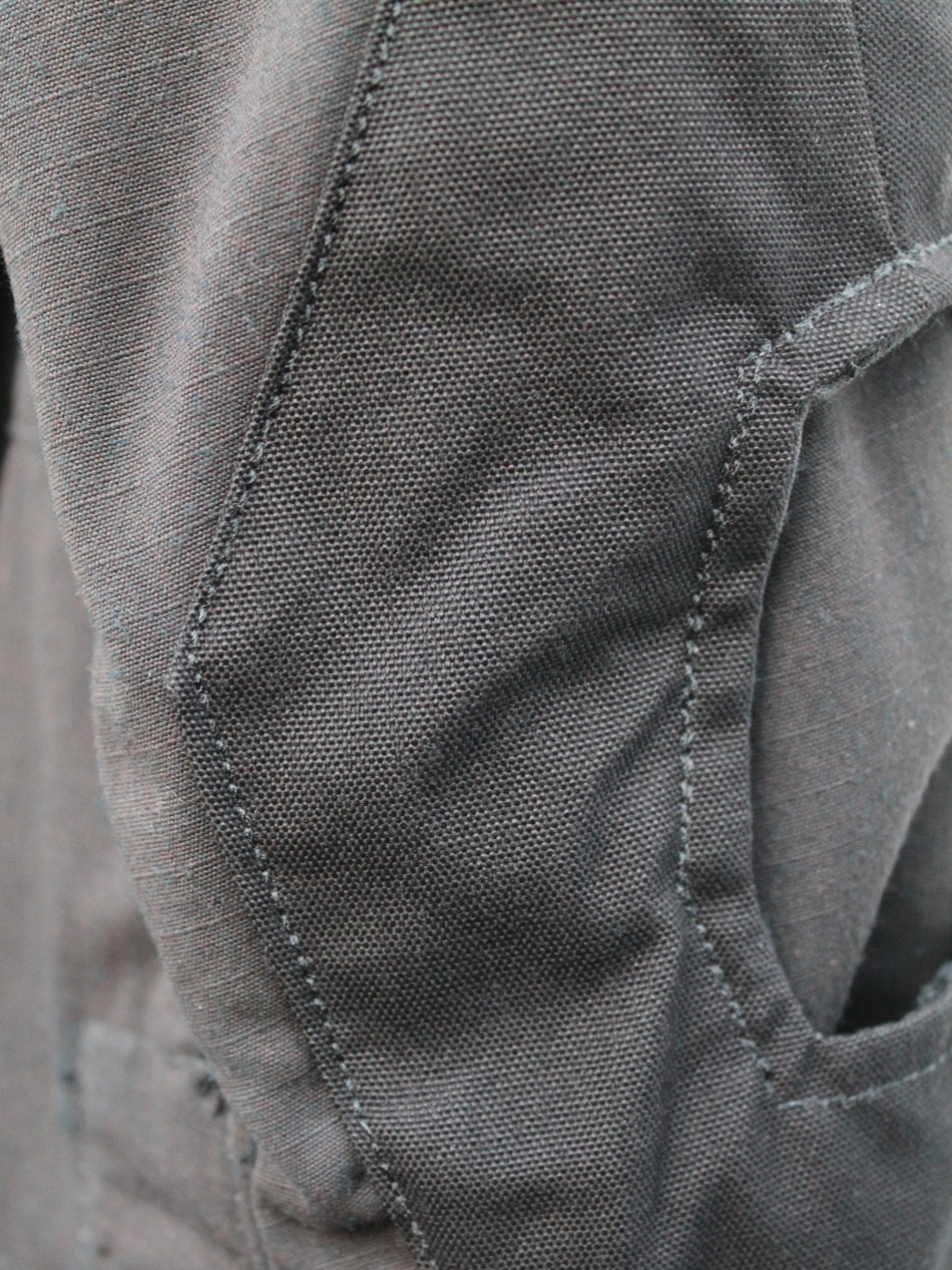 As with the MC Gen 1s, I would again assume that the cordura reinforcements are made from 1000D and they do feel that way.  The NYCO material however is ripstop this time rather than twill as seen with the early Multicam used in G1s.  Presumably the difference is due to the fact that Ripstop NYCO was already available in black come the early 2000s, whereas I would imagine that initial MC NYCO was ordered in twill to keep costs down.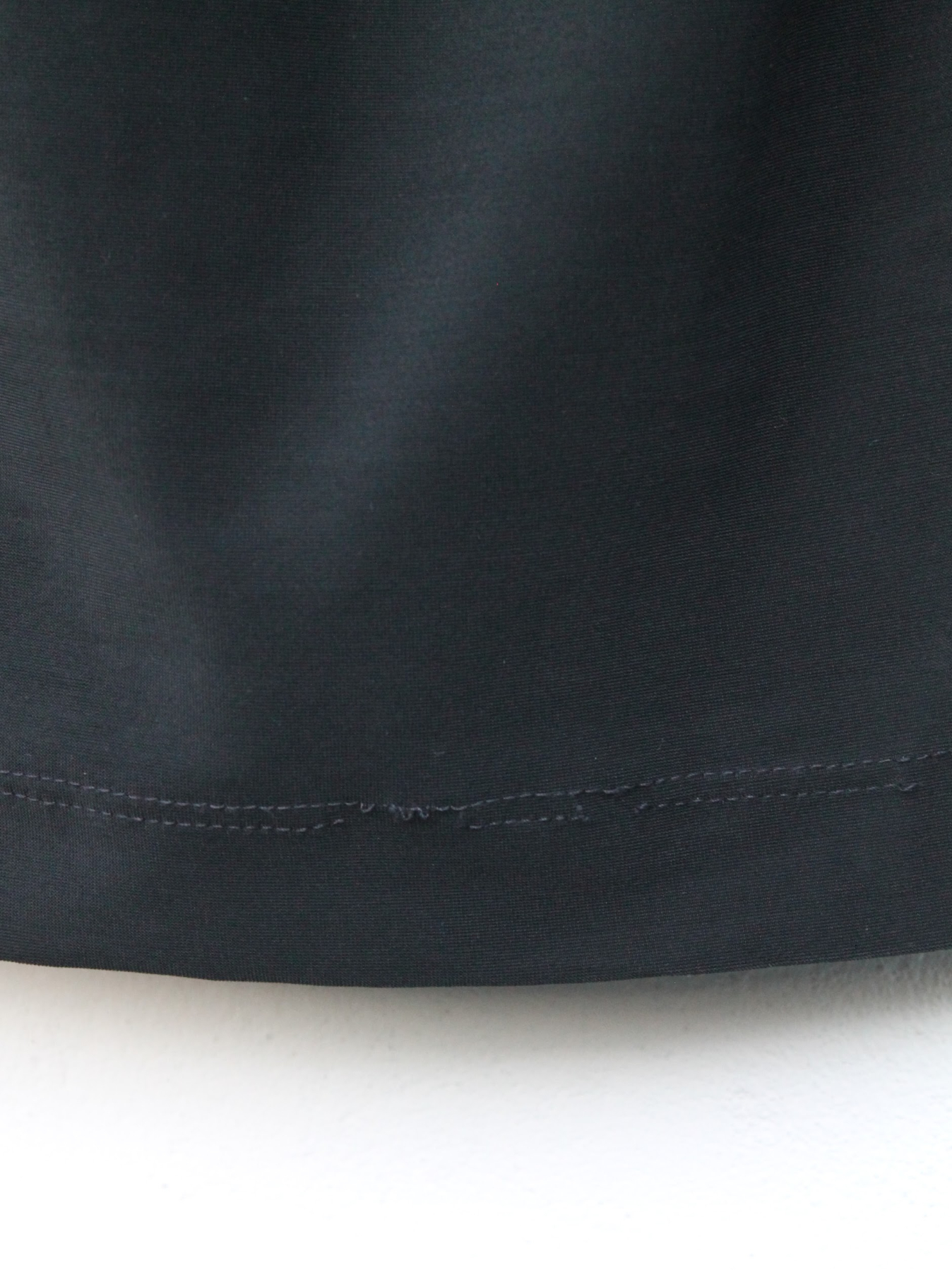 This particular shirt came to me having seen a bit of use and the stitching at the base hem was beginning to come loose.  After this picture was taken I had a little bit of extra black thread hand sewn over the fraying ends, just enough to ensure the shirt doesn't completely unravel on me and fall apart.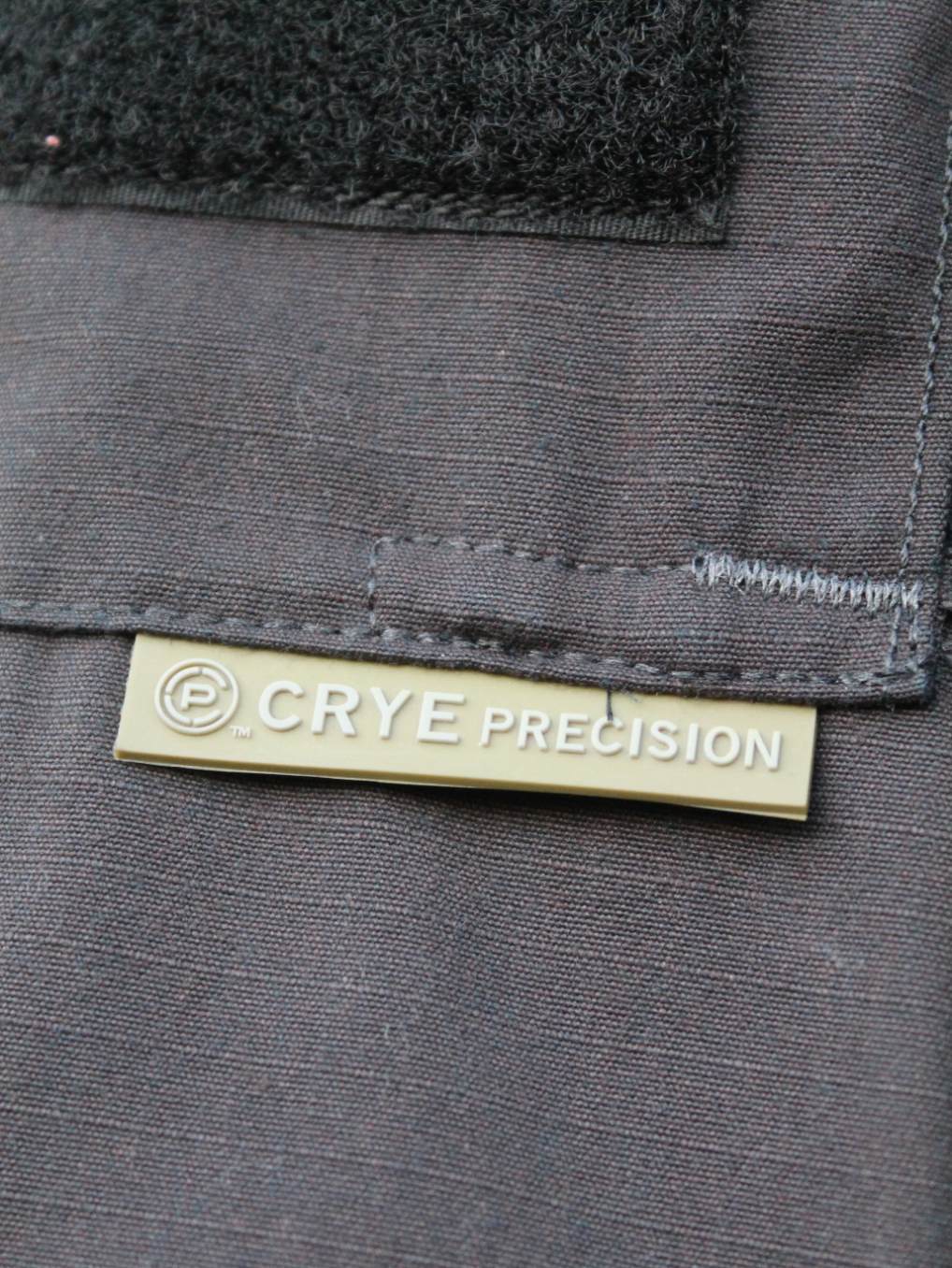 One part of the Crye uniforms that doesn't seem to have changed from the prototype Gen 1s all the way to the end of Gen 2 production (a good number of years later) was the green PVC tag.  This one is pretty standard.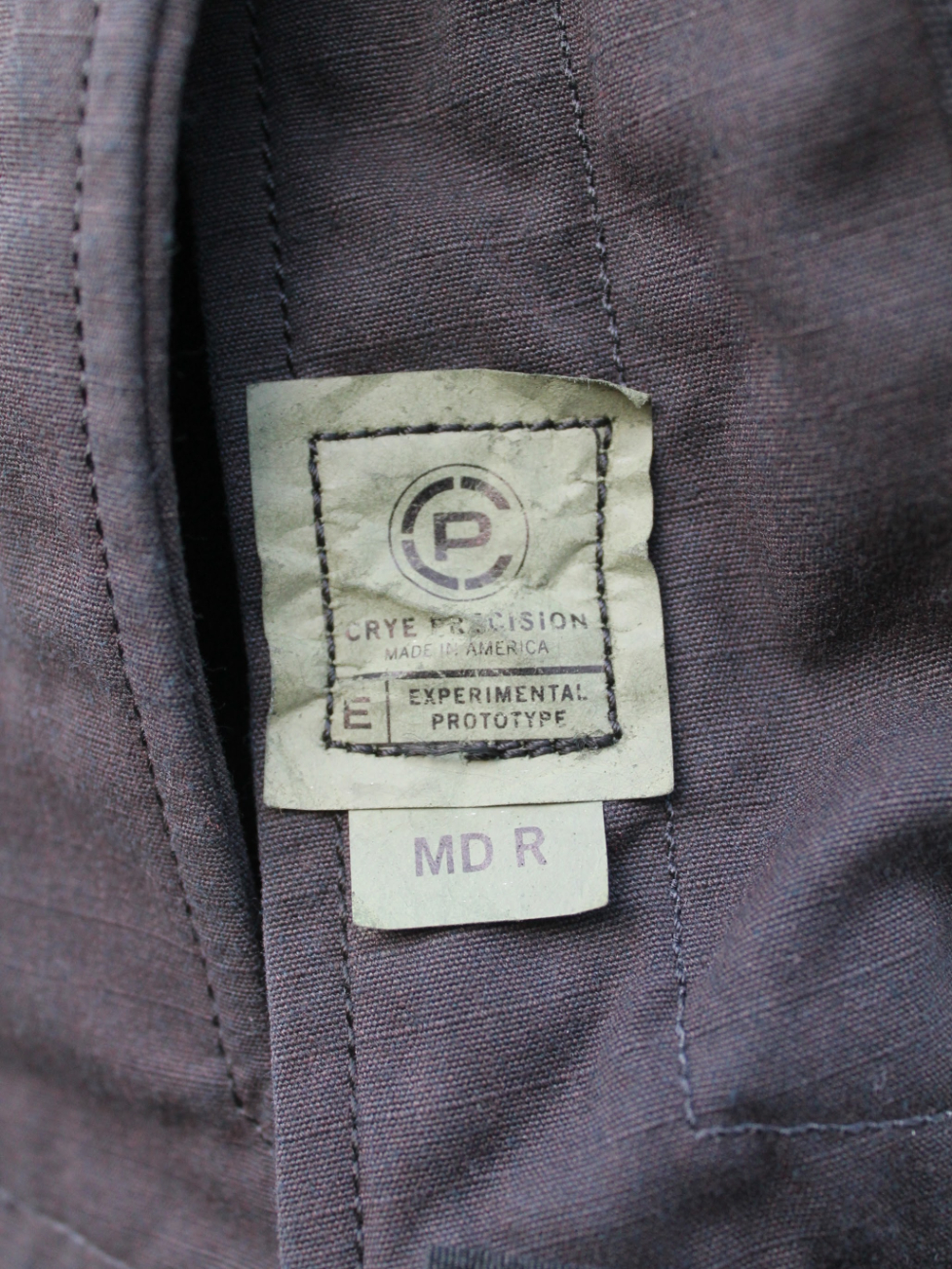 For the most part these small and more square shaped prototype tags are only seen on articles from the Generation 1 era of Crye's uniforms, though the attached (but seperate) size label remained consistent from here all the way through Gen 2 production, just like the PVC tags.
Size wise, being a Gen 1 combat shirt I would asses it as running a good 2 sizes smaller than G3 combat shirts and maybe 3-4 sizes smaller than G3 field shirts.  That puts this particular example in to the region of an Extra Small by G3/4 combat shirt sizing, so personally it is basically unwearable for me, sadly.  However G1s in any colour other than Multicam are so rare to come up for sale that my usual sizing requirement (i.e. I can actually wear it) had to be set aside when making this purchase.
At the time of writing I do have the appropriate elbow pads for this shirt I do not own a matching set of trousers.  But maybe one day.