A while back I decided that I liked the Flexfit type caps most, quite a few tactical-type brands manufacture them and for good reason. I mentioned the MilSpecMonkey CG Hat a while ago which is a great Flexfit option and the softshell multicam version is superb in sub par weather conditions, but I still wanted an all-multicam cap that would be optimal in hot weather and not expose a big area of my forehead when worn backwards with goggles.
Grey Ghost *used* to make a really great multicam cap in NYCO that had an elastic band around the inside which functioned like a Flexfit and retained the useful, resilient properties of 50/50 nylon-cotton vs a thinner stretch fabric. Luckily I still have mine and it's great for anything other than the height of summer, however NYCO does not wick very fast because of its' cotton content and given that the head/forehead is one of the areas we sweat the most under exertion, fabric selection when it comes to headwear is worth paying attention to.
This is my 2nd RE Factor Tactical 'Blasting cap' and to my mind these caps give you everything you'd want from such a product. Loop fields front and back with heavily embroidered edging to prevent any frays and the conventional top button replaced with loop to allow more patch mounting and avoid unpleasant interference with ear pro. The primary stretch fabric used to cover the bill and for the main body is certainly on the thin side, if you want a cap that'll last forever this isn't it. But if you want super light, permeable to some breeze coming in and heat/sweat going out, it's a great choice. I wore this one for a bit while I was deployed, just as some protection from the sun for my scalp and eyes (it's pretty bright when you're high in the mountainous desert) and for general work around base it was great to have. Stows pretty easily and tightly down in to a cargo pocket and performed as I'd have expected in the warmer weather.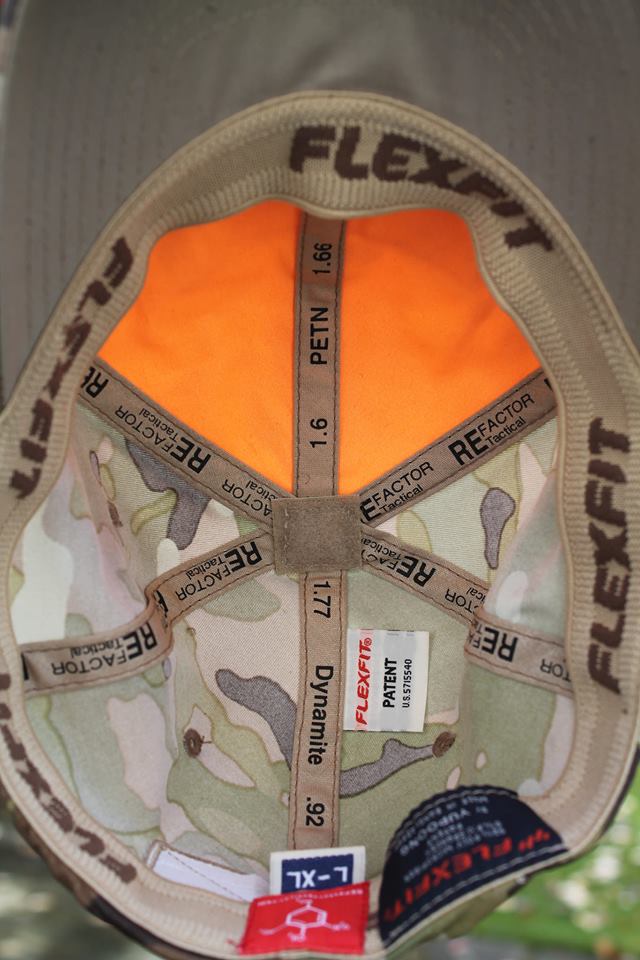 In a military context there's only ever really 1 type of explosive I've ever used or might potentially use, so having 'Relative Effectiveness factor' for different compounds inside doesn't really matter either way to me. However these caps are a product of some ex US mil guys who did EOD stuff within their jobs and encountered lots of different type of explosives, so these numbers are printed inside their caps as a partly practical reference for serving blokes, part homage to their time in. I'm not EOD trained myself so I'm presuming the idea is that if you lose your note book with this crucial information written down, you can still gain access to it.
How useful the blaze signal panel might be (you can just about wear the cap inside out if things go far south) I'm not sure, it's a very small surface area, but it would of course stand out against the desert sand and scrub better than multicam does. Best used in conjunction with some sort of signal panel or reversible backpack cover that's got hi-vis colouring.
Picked this one up at SKD Tactical where they carry a really good range of these things with some of the best customer service you could ever ask for.