The business, not the rainforest.  Or the tribe.
To be crystal clear from the outset, I am not 'a knife guy', I don't know a great deal about knives and I only own a handful of proper examples.  They only get used for cutting short webbing straps, cord and are for opening packages 95% of the time.
The full disclosure – Justin of Justin Lyman Knives did send me this knife in exchange for zero money, but not in exchange for this review, just as a gift.
As a highly condensed back story to why he sent me such a nice knife; I have known Justin for some years now though sadly only in a digital capacity.  He was recommended to me and joined the moderation team of the Facebook group I created known as The Spiritus Symptoms a few years back and has been part of a group chat that us mods and admins have all been part of throughout that period.  A couple of years back he offered to make each of us a knife in whichever style we chose and having seen his quality of work I was certainly not going to turn that down – even though I still feel a little tinge of guilt about accepting something so well made for free.
The particular set of 5-6 small-medium blades he created for our group does naturally feature his least expensive option as far as the primary steel, but bear in mind he typically uses all sorts of exotic and expensive damascus type raw stock for his regular discerning customer base.  Fortunately I actually far prefer my example from an aesthetic standpoint when compared to the more expensive and aesthetically embellished steels he often showcases.
---
Justin Lyman is a former serviceman in the United States Air Force who currently resides in New York state and runs a business making extremely handsome and 100% fully custom knives.  You can check out his work at the links below and contact him with regards making an order and you should definitely view some of his previous pieces if you are at all interested in quality and/or custom cutlery.
IG – https://www.instagram.com/j.lymanknives/?hl=en
FB Group – https://www.facebook.com/groups/1132608070282103/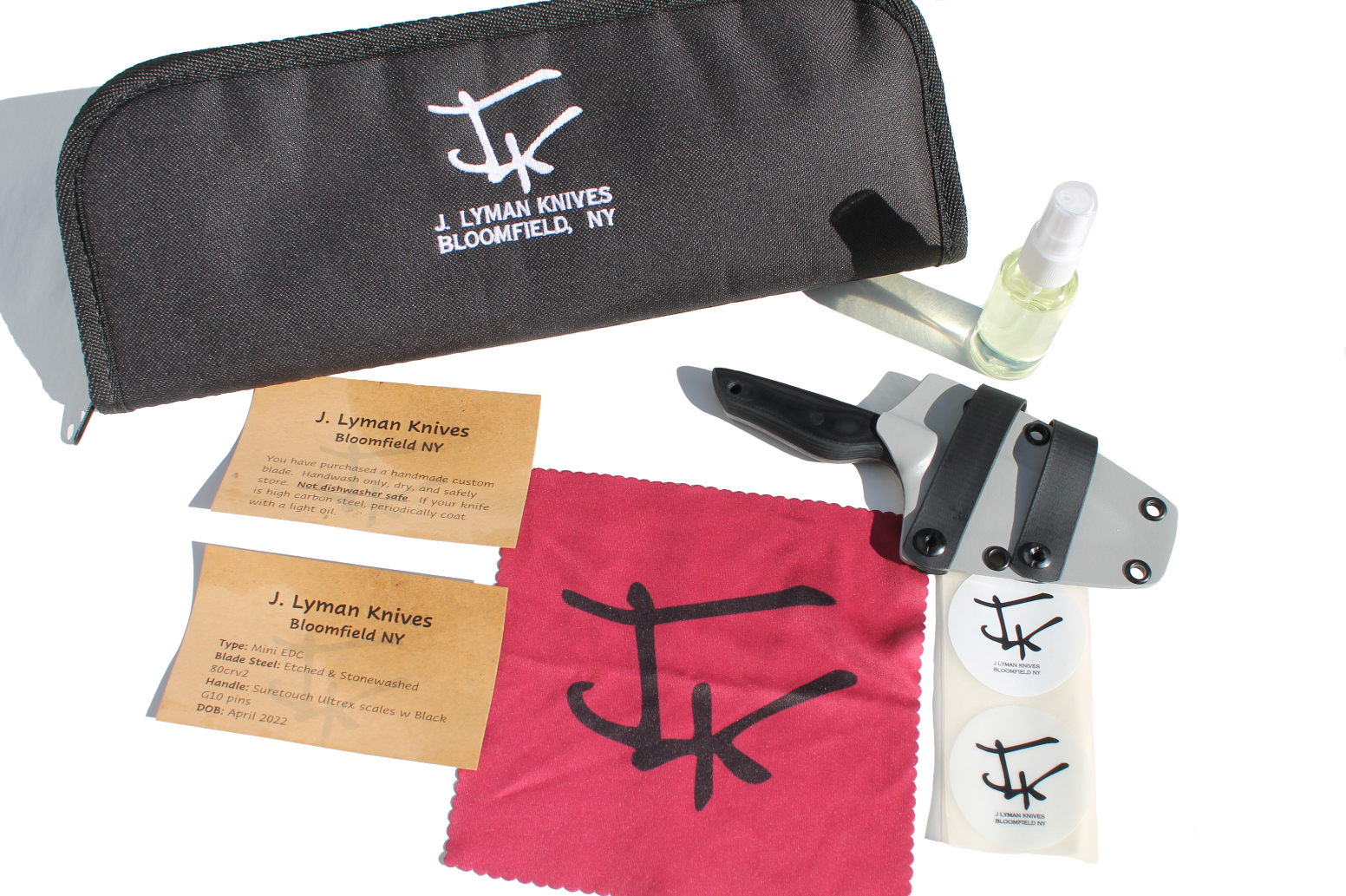 Included in the package with a JLK is:
An embroidered soft storage/carry case
Small bottle of maintenance oil
Info card with some key maintenance information
Card listing the main materials used in construction and date the knife was made
Synthetic cleaning cloth
2 JLK stickers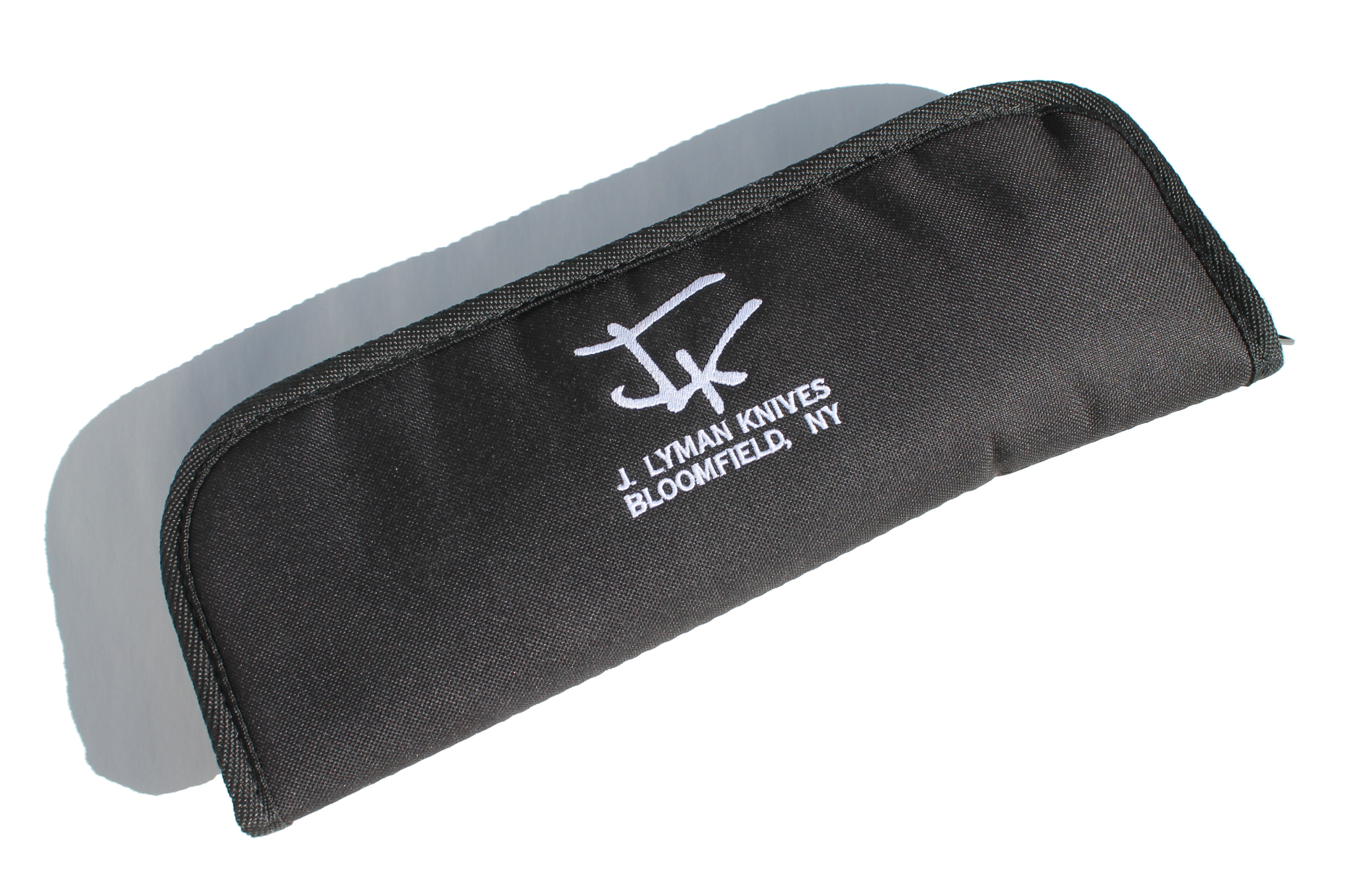 I have to mention at least briefly that, along with the knife itself, the ancillaries are also very high quality indeed.  Whatever has been used for the lining of the storage pouch is quite possibly the softest material I have ever touched.  In my day job I have encountered more types of oils and greases for usage on aircraft systems and small arms than I care to remember a this point, and the blade oil that's included here is clearly an excellent one when it comes to keeping your custom cutter in top condition.  It feels strange to describe an oil as giving an impression of extremely high quality, but I will make that assertion none-the-less.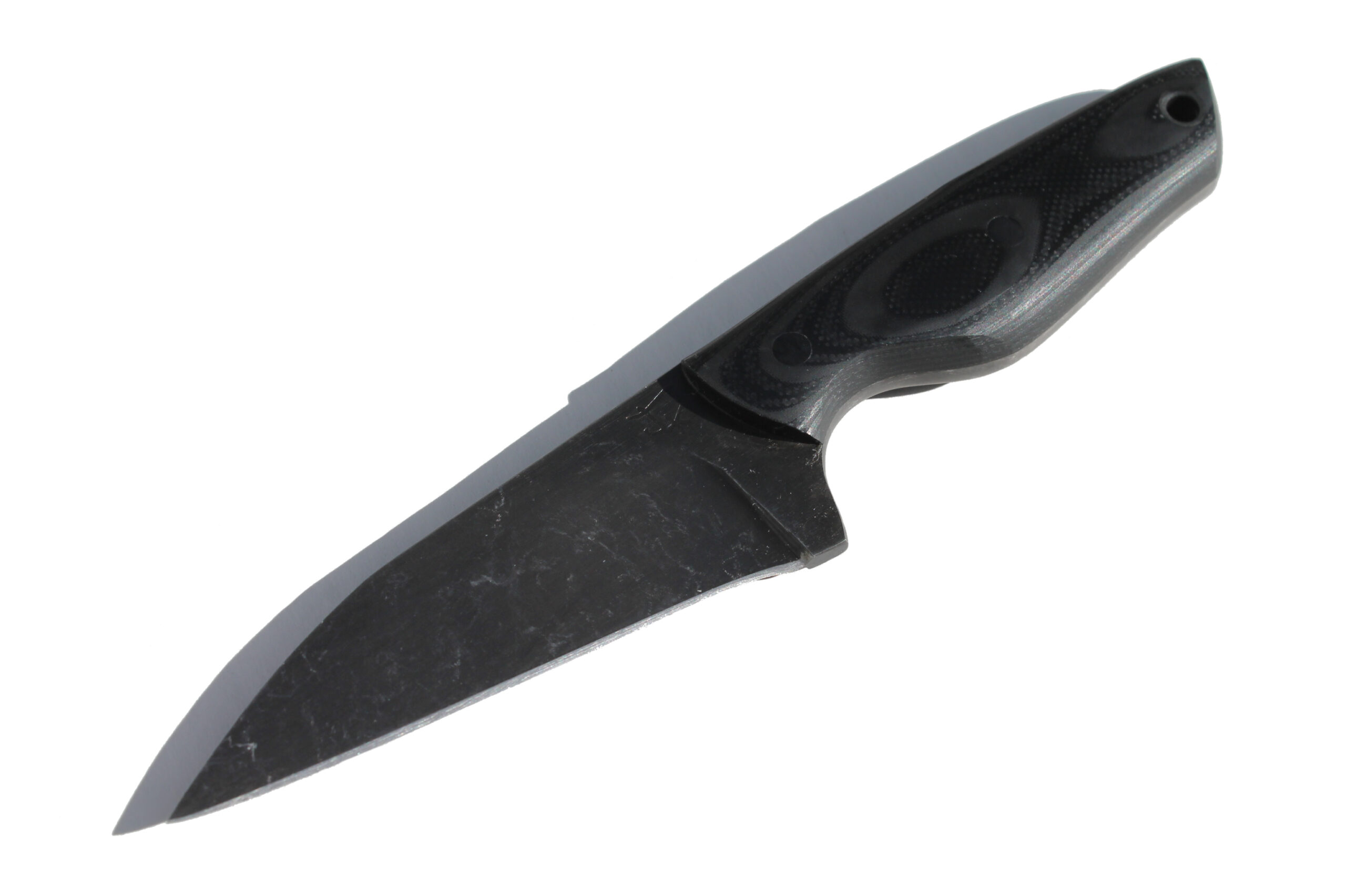 In terms of the steel… I know nothing of knife steels, but the 80crv2 used here appears to be absolutely tip-top material based on what I can find online.  It is a high carbon steel that means it's not going to be kiddos-first-knife and requires you maintain it at intervals commensurate with the frequency with which you use it – like the intelligent and mature adult you are.  Such is of course generally the case with all the best equipment in any field.  This slight downside is far outweighed by the benefits of the steel however, that much is fairly certain for the vast majority of users and use cases.  You can read more from someone who actually knows the topic here, should you so wish:
https://www.knifeart.com/80crv2-steel.html
Is this a knife you could absolutely thrash in the woods for 2-5 days of cutting and chopping?  That, I am not educated enough to comment on categorically.  This knife is a full tang construction with a lanyard hole and I don't doubt the tenacity of the grip panel attachment via the 2 permanent G10 pins.  The steel is around 3mm thick and tapers fairly quickly in both directions, whereas the only other decent knife I have is an A&M which is around 4mm thick (i.e. 33% more), with a slightly lower spine and a bit more full-thickness before any tapering either downwards towards the edge or alone towards the tip.  End of the day though I specified a box opener for the lightest home use and this knife is robust enough to last many life times in that context.  When it comes to things like the quality of the heat treat and exact steel origins etc, that is not a rabbit hole I'll be going down.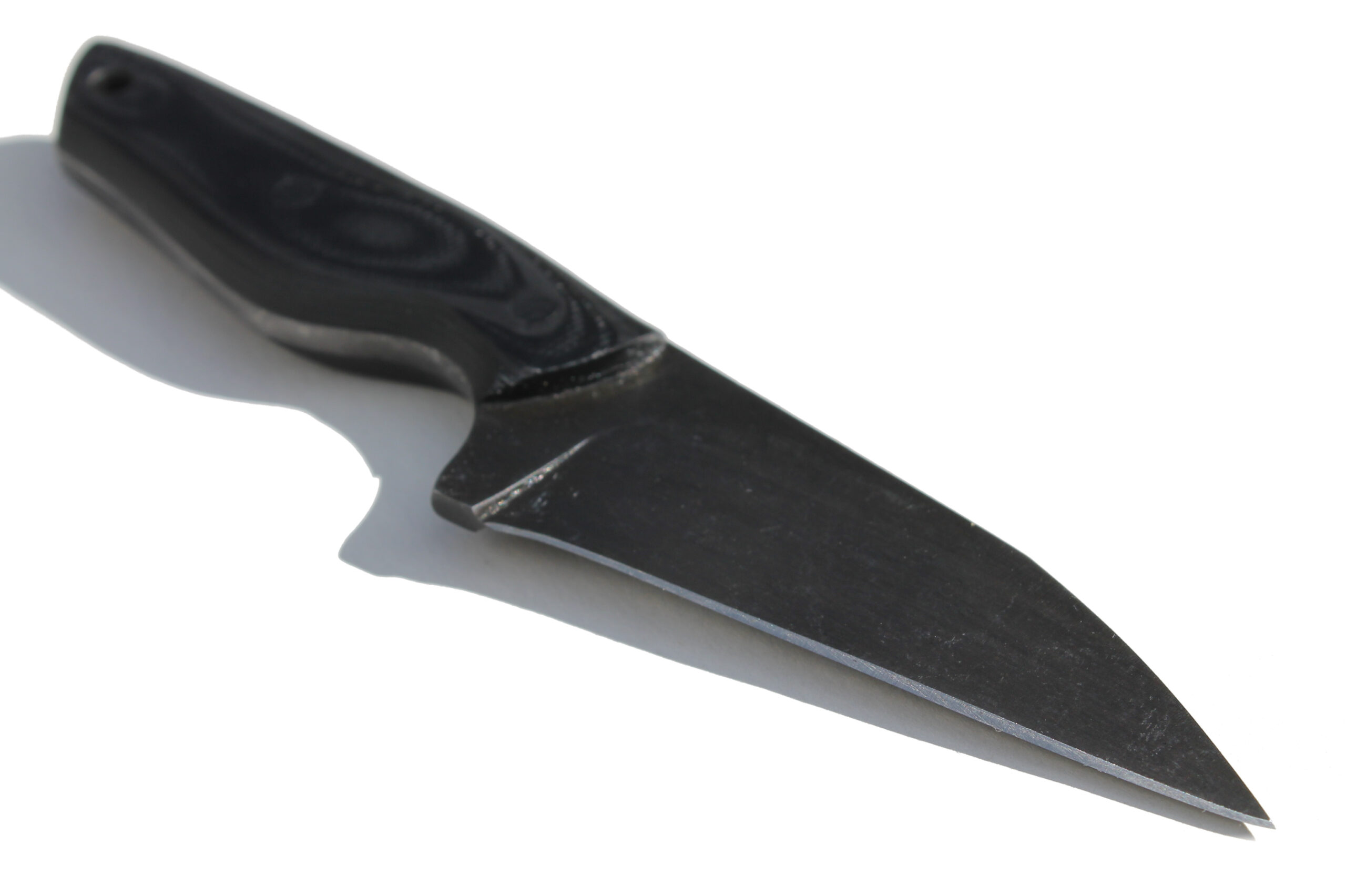 As you can see the shape of this knife is somewhat unusual, it's known as a wharncliffe which I personally had never ever heard of before doing some google searching in order to write this post.  This makes for a nice straight edge that for me feels that bit easier to be aware and in control of since there is no cutting surface facing forwards.  The tip is very much present of course compared to the sheep's foot or cleaver shapes that are common amongst kitchen knives, so care must be taken there when handling the wharncliffe.  But then again of course with this shape you gain the poking utility when it comes time to get in to anything which requires a piercing motion, whereas those aforementioned flatter fronted knives are safer but more restricted in terms of piercing with a point.
For a surface finish we have an acid etch then stonewash on my particular example, though as with all the features discussed here, the sky is (within reason) the limit when ordering a custom piece through JLK.  Personally, I absolutely love this blackened stonewash surface and would have picked the exact same thing if I had paid for a custom myself.  This is a plain, non-damascus steel anyway so no pattern is being hidden and it has the appearance of a paint, anodise or bluing yet so far seems massively more durable than any of those, while somehow also seeming infinitely thinner.  It has a slight texture to it rather than being commercial and overly perfect looking as with most typical firearm finishes.  Such finishes of course end up looking far worse over time once they get inevitably scratched and dinged.  Being able to have the steel in black (or close to it), rather than typical natural silver colour, while not having to worry about commonly occurring dings or wear from the sheath slowly exposing that silver, is a huge win all around.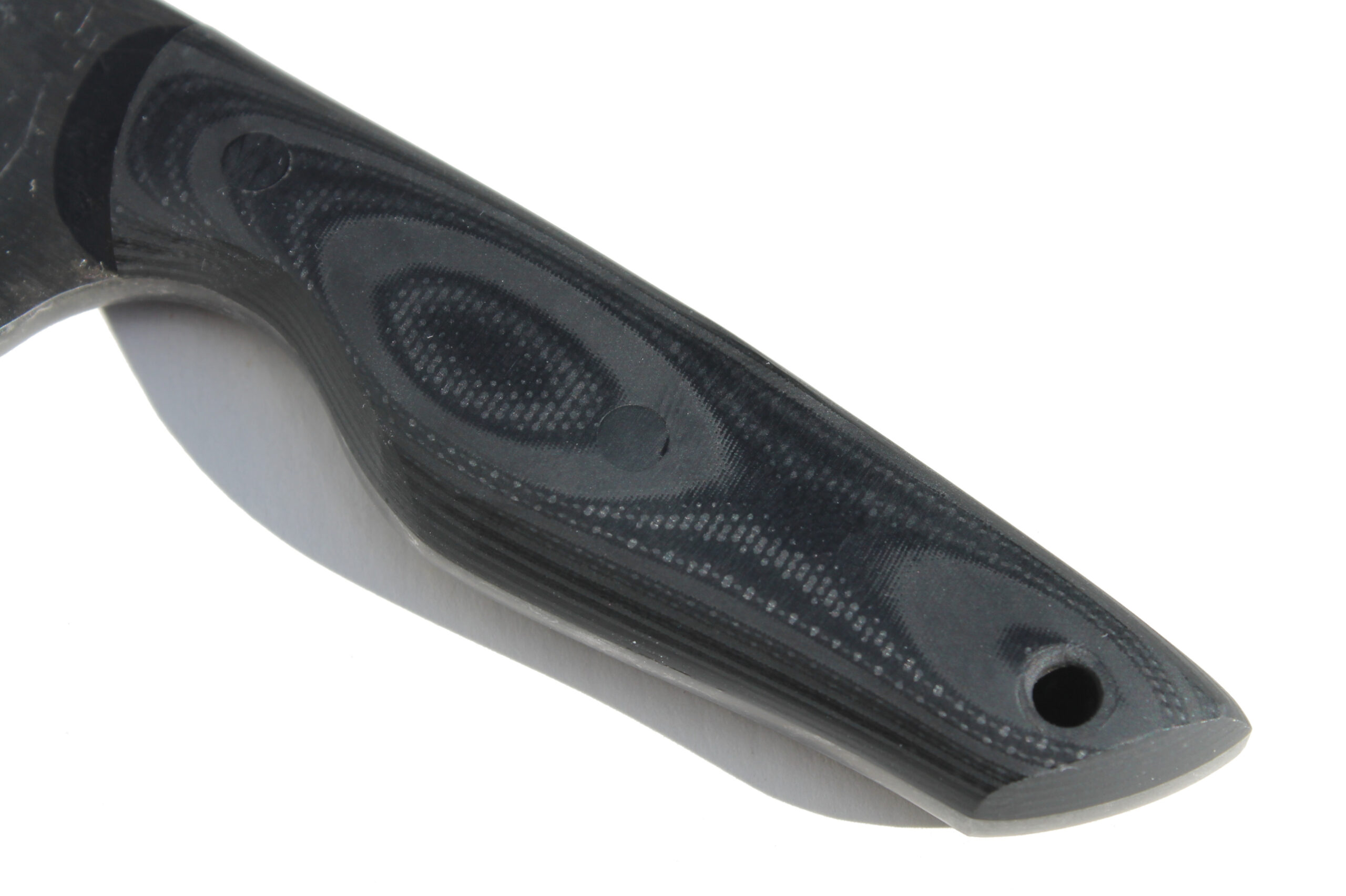 Grip scales on the handle are a pretty amazing material called Suretouch Ultrex, which sounds like it's some type of sexual protective product but is in fact an extremely clever fusion of G10 and rubber.  Each of those mentioned material is alternated in the layers of this laminate, meaning that once the scales are ground to shape there is a really fantastic mixture of each one protruding from the surface.  When it comes to the gripping areas of firearms and knives, G10 and rubber are probably the top 2 materials that I can think of when it comes to traction and sure purchase.  While plastic is perhaps the most commonly used substance in this regard, high end 1911s and revolvers (for example) will very often feature either G10 or rubber grips/grip panels.
If you use your JL knife so much that the handle area does suffer wear, the only thing that will be exposed is more layers of G10 and rubber, meaning the traction does not suffer.  Where most plastics that may start off somewhat matte and coarse will often wear and become extremely smooth and shiny, that is definitely not the case with the Ultrex and it is the standard grip material on JLK products.  What else he offers in terms of grip materials I do not know at this time, but if you commission a blade I'm quite sure he will fill you in on various other possibilities.  I would imagine the range of options is probably pretty staggering.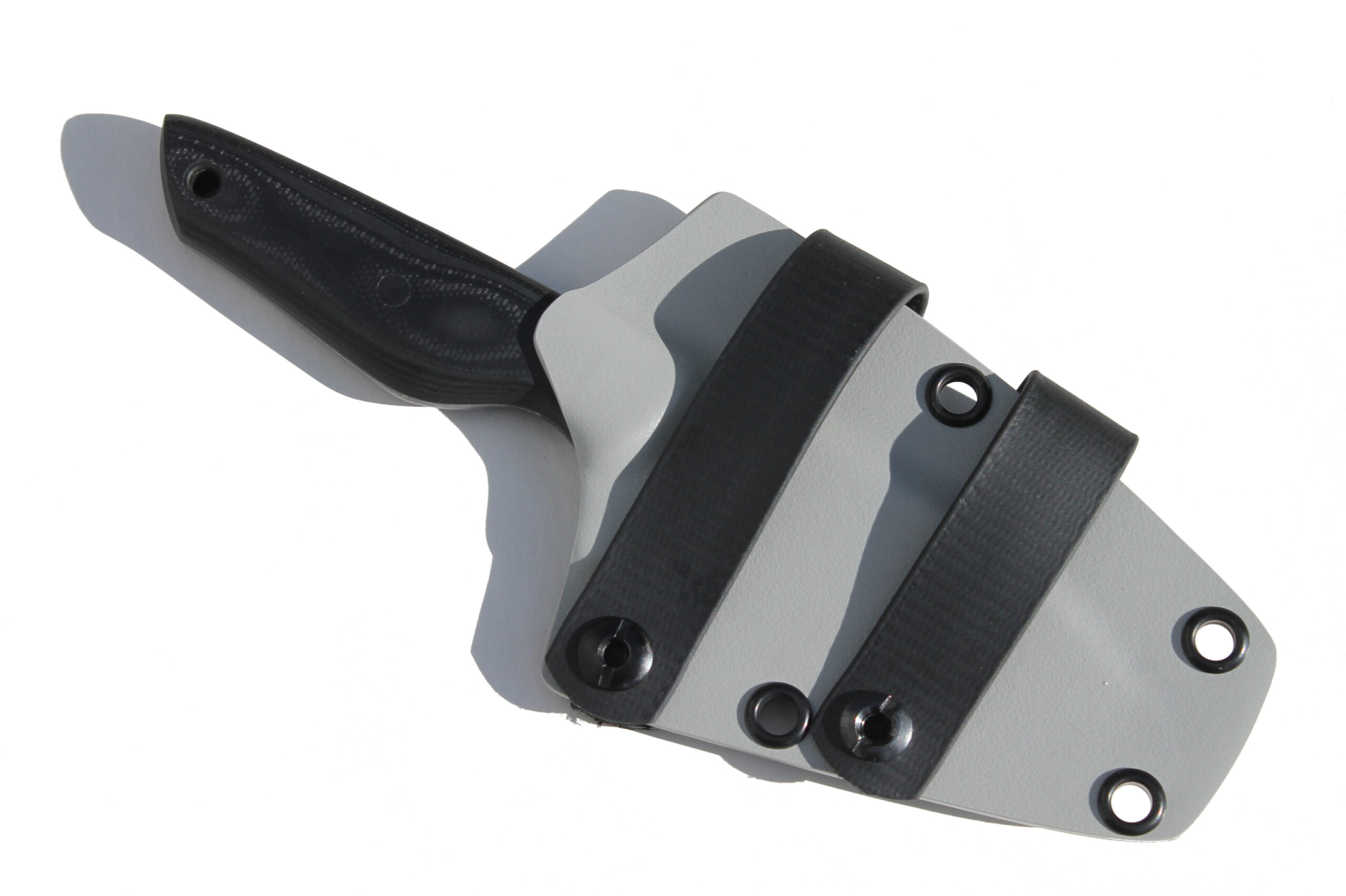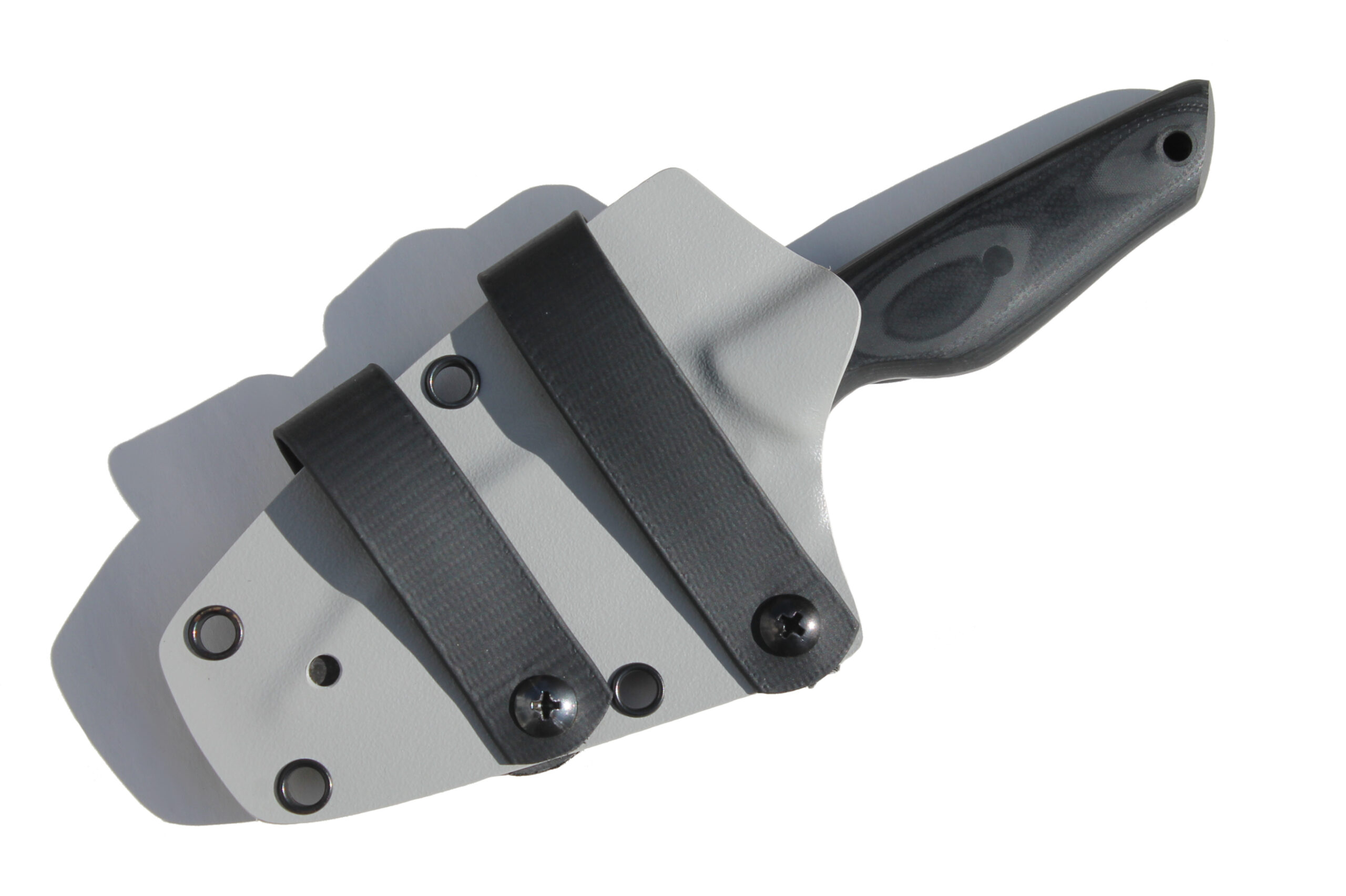 Sheath wise, Justin does not manufacture caddies for the blades he creates, focusing purely on the knives themselves.  What he will do however is refer you to one of a small number of equally talented sheath creators who can fashion either a leather or kydex sheath for your very nice new knife.
In my case I opted for the more modern and practical kydex which cannot ever absorb moisture unlike leather and enables me to just oil the knife a few times a year and otherwise never worry about it.  I'd bet that oiling with even less frequency than that would not in fact cause any issues if stored in a cool and dry place (i.e. standard drawer in a house), but for the sake of spending 30 seconds every couple of months or so I'm happy to ensure this knife will far outlast me.
---
Again, if you'd like to order a JLK custom piece get hold of him via this link: https://www.facebook.com/groups/1132608070282103/