When Kryptek as a company was first unveiled to the world in 2012 they immediately released 4 camo patterns aimed at blending in with woodland, desert, multi-terrain and snowy environments.  It wasn't too long after going public before they then showcased Typhon and then Raid and a few more variants followed sporadically through the mid 2010s. After that there was a fair hiatus on any significant new patterns until the latest Obskura line was show off in 2020.
In terms of initial product offerings, it was primarily the green-dominant Mandrake and intermediate Highlander that were actually available to purchase, followed fairly quickly by Typhon proliferation – though that pattern enjoyed a very brief popularity.  With me being me however, I wanted what I couldn't get and scoured every one of Kryptek's partner companies for anything in the grey Raid pattern, because I happened to be on a grey kick at the time it was announced.  After many years of primarily only selling hunting focused clothing and no cotton-blend uniforms being available in Raid, Krpytek finally announced a new tactical line at SHOT show 2019 including various combat shirts and new trouser offerings, some variants of which would be made and sold in the Raid pattern.
Later that year I picked up a uniform set in Raid, to include these 'Tactical 2' model pants alongside a combat cut shirt.  To get the conclusion of this overview out of the way early, these designs are ok, but not the best and the prices asked do not represent great value.  However when you want a specific camo and you can't source raw fabric to send to a custom uniform sew operation, you have to take what you can get.  Between the Tactical 2s and the Combat Operator Pant V4s (the two options in available in Raid), the choice wasn't too difficult.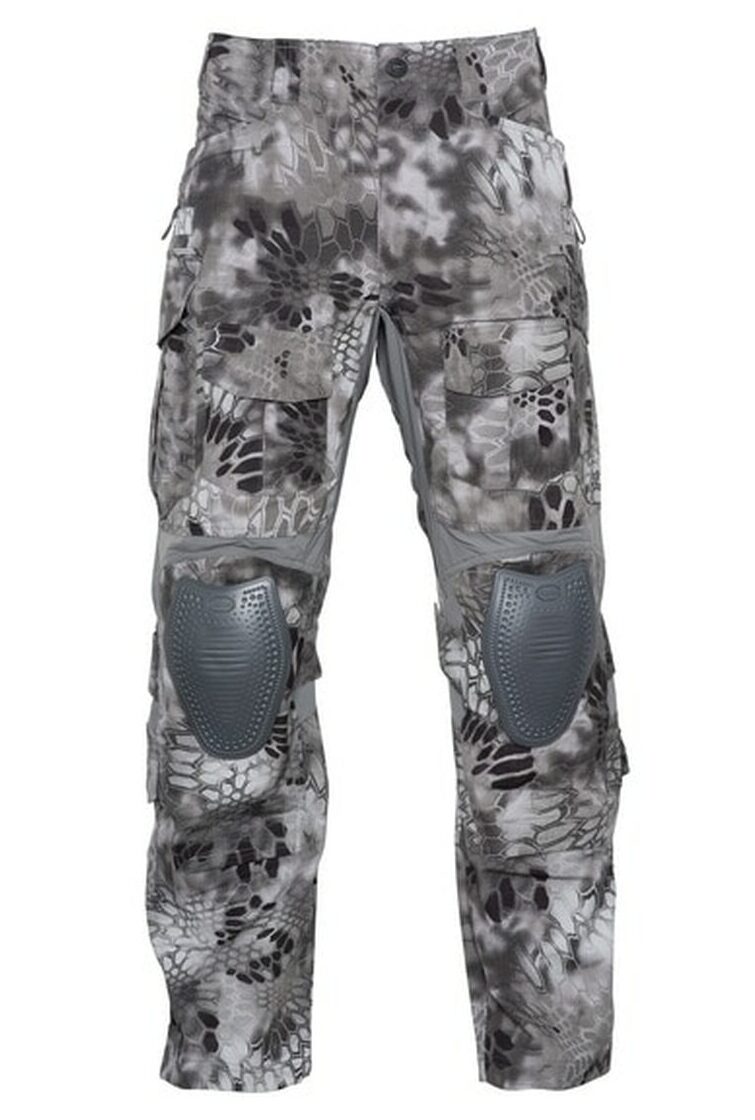 First off the COP V4s cost around $290; yes, amazingly, more than Crye G3 or G4 standard type combat pants, this in spite of the fact the COPs are made where labour is much cheaper and the design is a blatant G3 rip off, hence will have incurred a minimal R&D budget to put it mildly.  Secondly, the absolutely foul looking knee pads are permanently sewn in, so popping them out in the standard combat pant fashion and replacing them with something less aesthetically displeasing isn't even a possibility.  Whether they actually even offer good padding I do not know, but I would not be surprised if they are significantly worse in functionality than Crye's Airflex Impact (G4) knee pads.  With all that said, I enjoy a combat cut trouser that isn't Crye and made in a camo that Crye don't offer, so I reserve the right to purchase these in future should the desire for weirdness take  over me.
---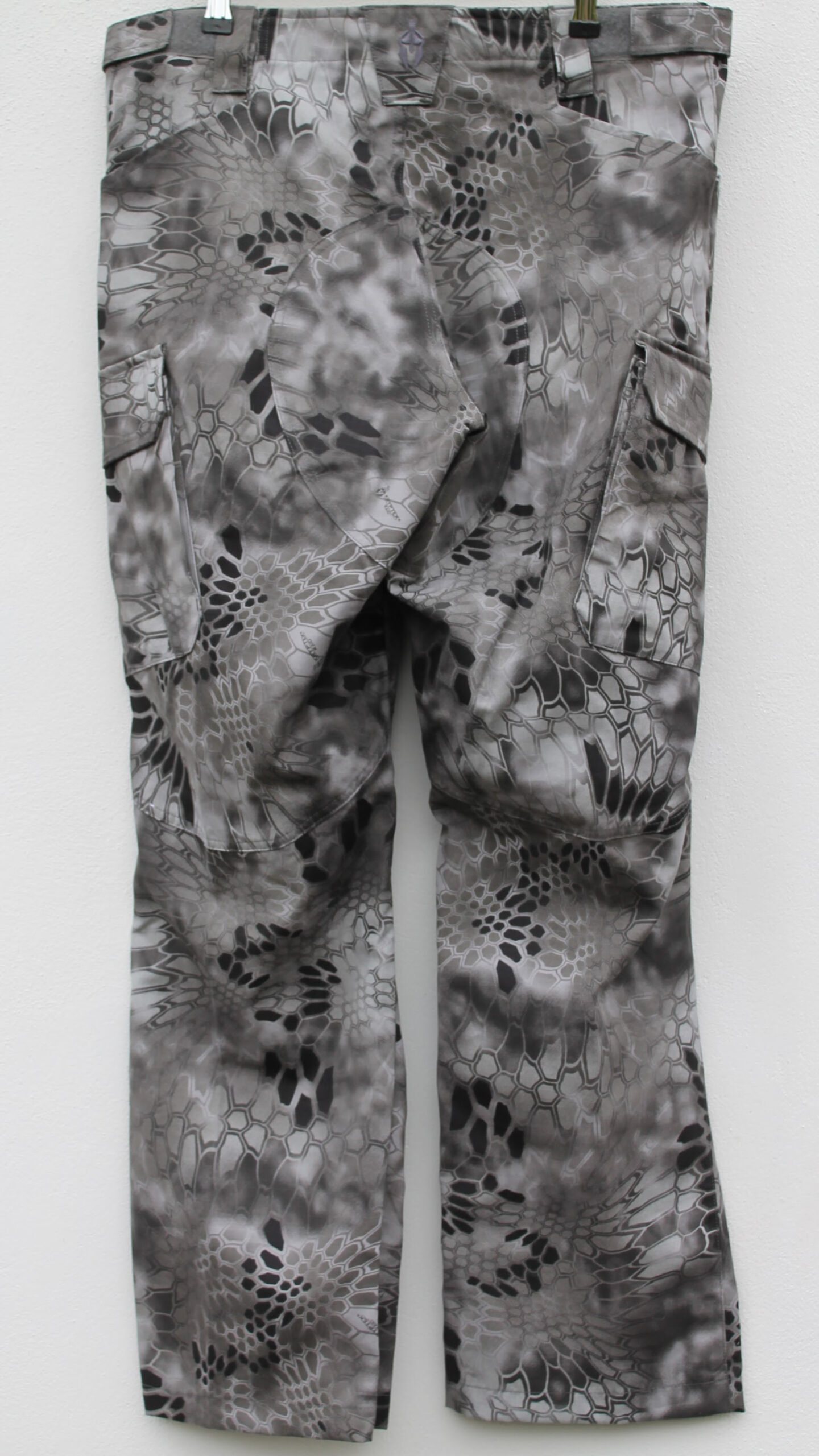 Of the two aforementioned options, the Tactical 2s are more of what would be a called a field cut in modern parlance.  While they have their issues, they are at least relatively light and roomy with a good, wide, center rear belt loop and reinforced seat/groin area.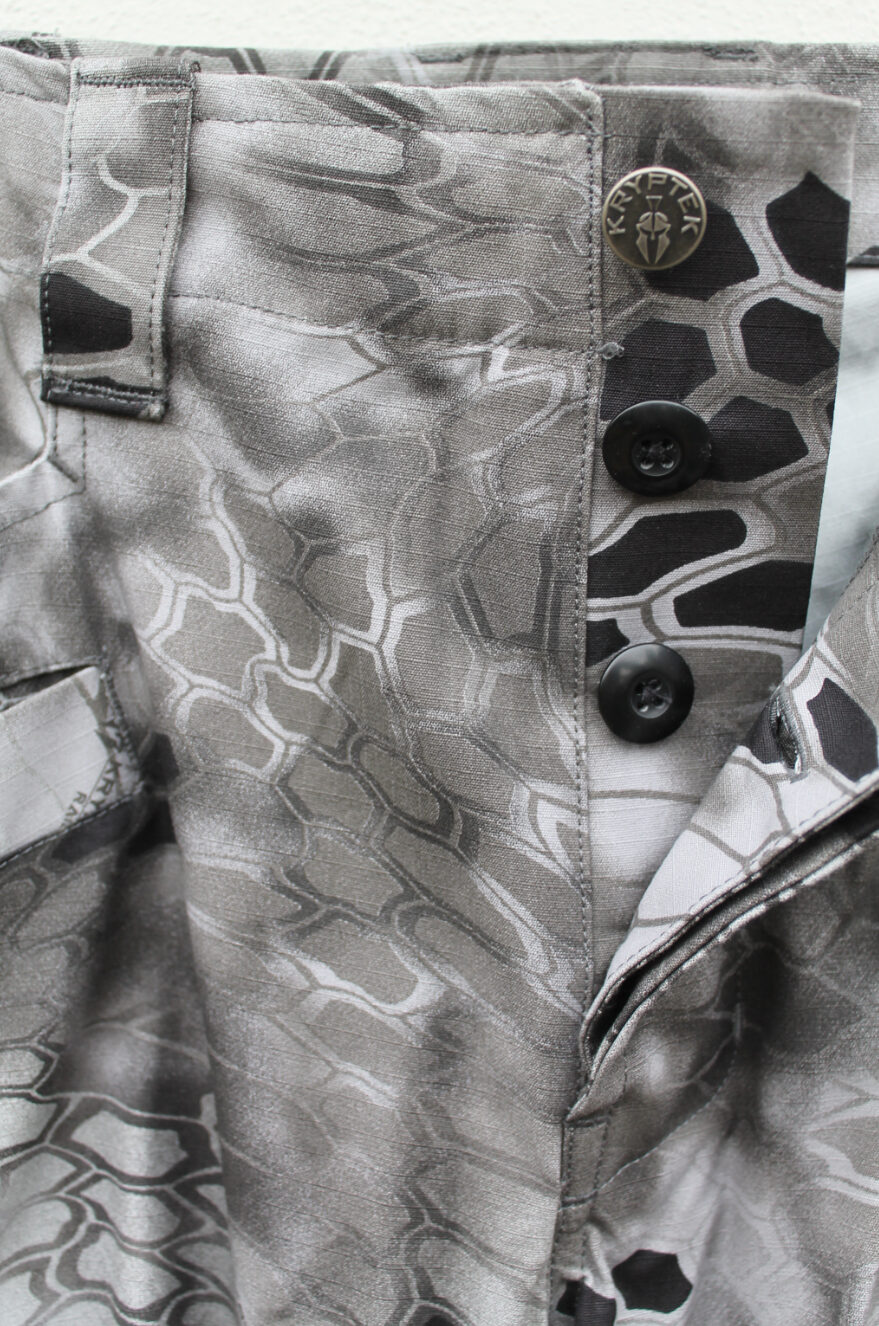 The fly is a button closure in typical BDU style, with a characteristically (for Kryptek) cringeworthy top button featuring the nonsensical company logo and made in metal for no good reason.  While the other 4-hole buttons are standard for US issue uniforms, the fact is they are not particularly resilient, though they are at least easy to repair and cheap.
Stitches per inch are generally pretty high throughout which is a nice surprise and the belt loops are well reinforced as shown, though the fact the lower bar tack doesn't cover up the standard horizonal stitch line demonstrates the fact this really isn't the premium product that it's marketing would imply.  This is the sort of thing that doesn't stop the pant being functional, but it wouldn't pass muster with a top end US-based manufacturer.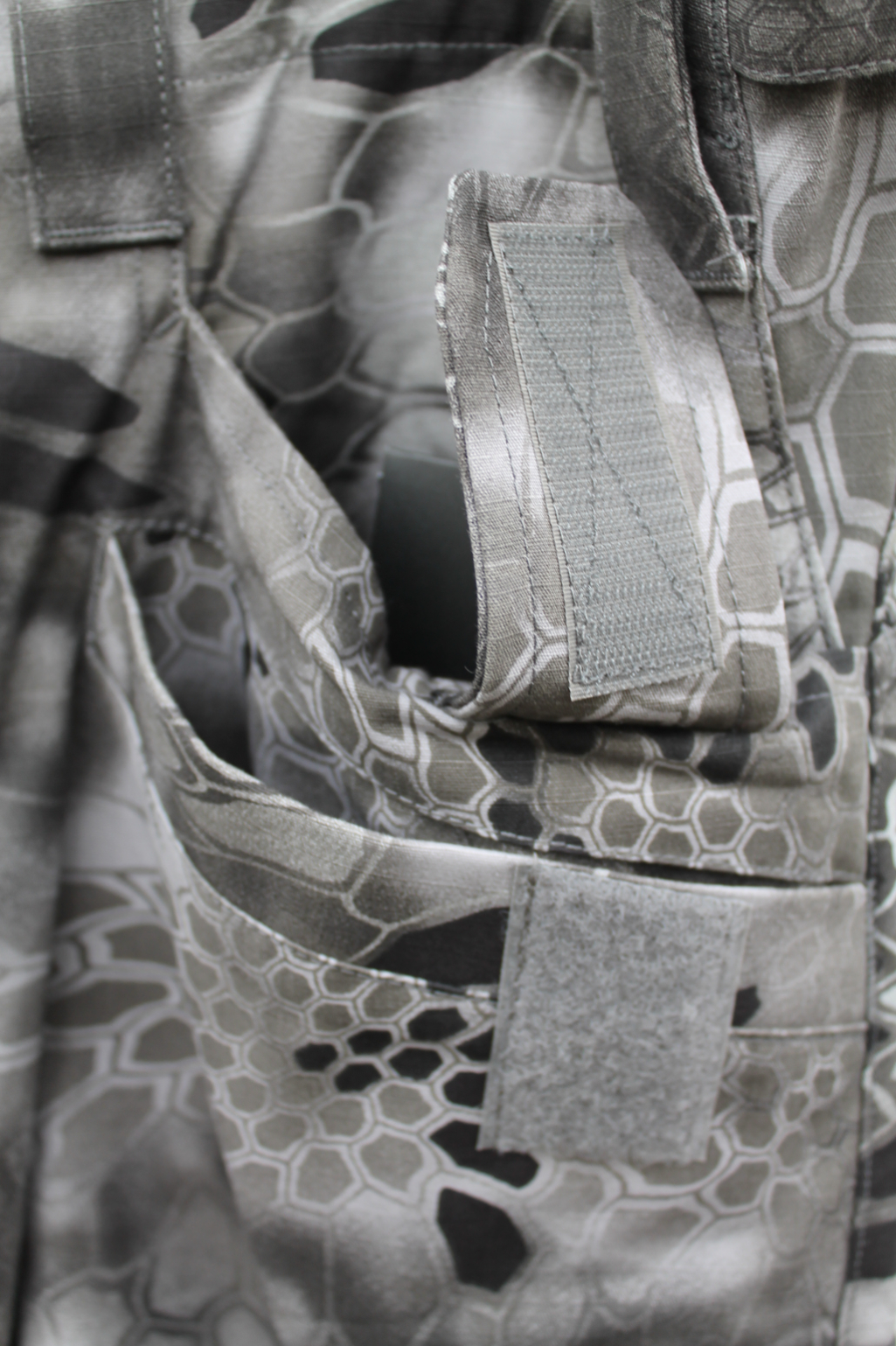 There are 2 standard trouser front slit pockets as you would expect, though they are disappointingly shallow.  Then there are another pair of pockets in front of each of those; which you probably would not expect.  Within each of these pairs is an additional standard style open top pocket and one slim/narrow area with a velcro flap to fully secure pocket-clipped items like lights and small knives.  This is one area I do like and I think makes good sense for an outdoor trouser.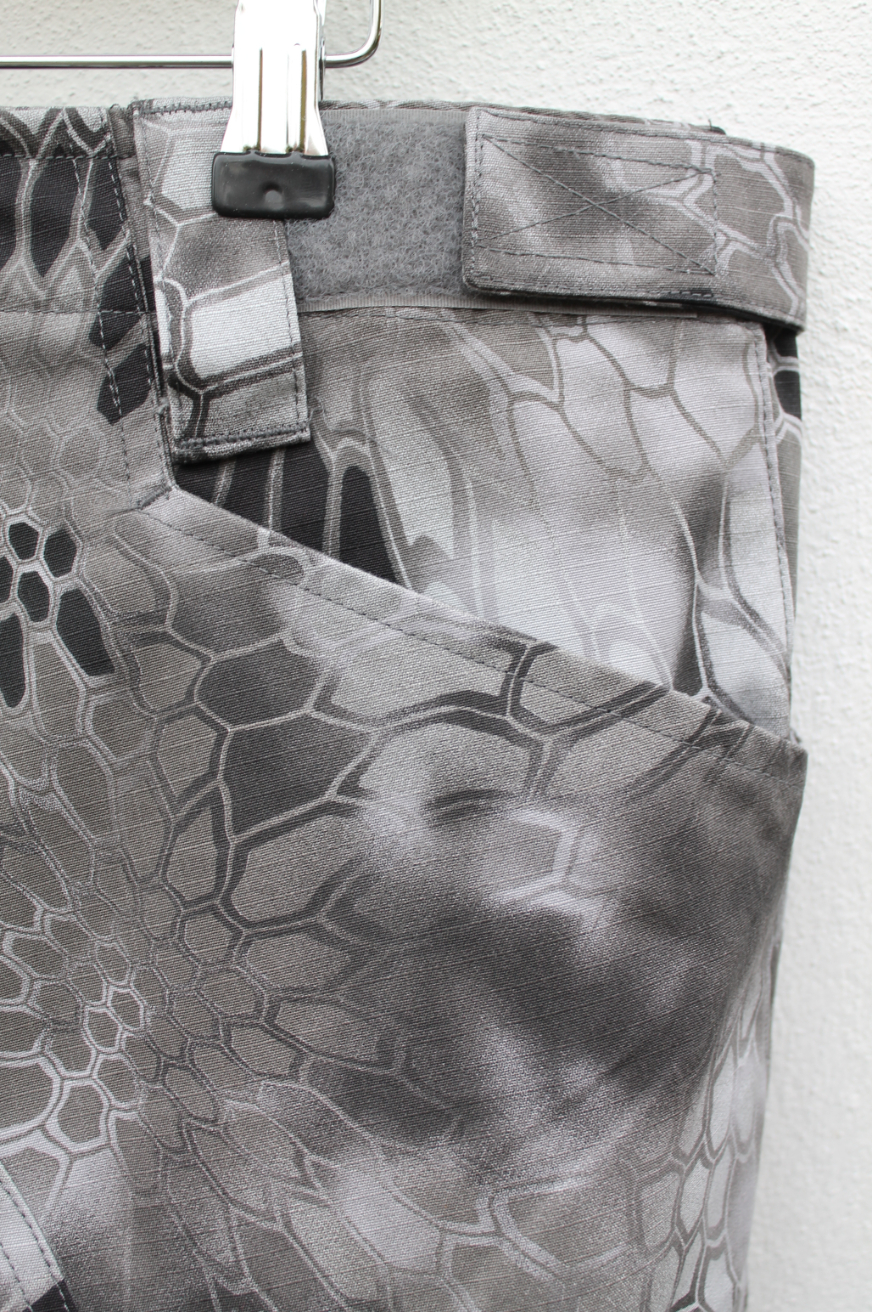 Waist size adjustment with velcro is always good to allow to permit forgoing a belt, so that's nice to see.  The rear pockets however do not impress me, they're simply wide open at the top and personally I wouldn't use them for anything at all unless I was stationary and only stowing an item in there very briefly.  If any given object falls out of an open topped front pocket you will at least have a good chance of seeing it fall or feeling it hit your leg or foot.  An open back pocket?  Much higher chance of losing items, though they are at least a bit deeper than the 2 standard front pockets.
While laid out very slightly differently, the main side cargo pockets are basically straight copies of the Crye design which themselves hark back to BDU side cargo pockets.  To mess around much with this design on any trouser is generally a foolish idea and luckily Kryptek were sensible here.  There's a good amount of velcro to close and secure the top flap too.
You do get some nicely baked in articulation and shaping baked in to the knees of the Tactical 2 field trousers, but they are not double layered and hence are both vulnerable to abrasion and totally unable to stow an internal knee pad.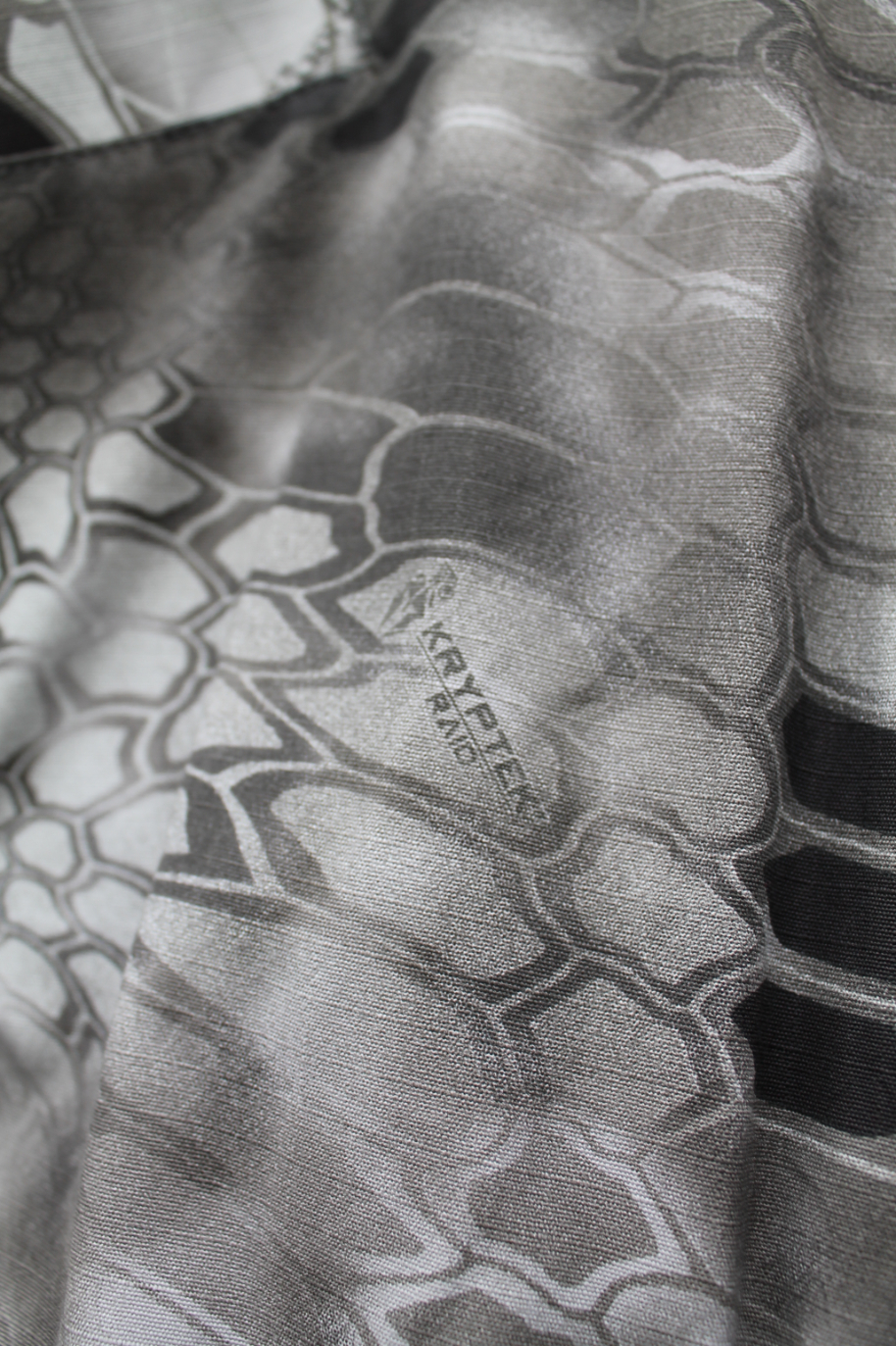 Nothing says brand confidence quite like plastering the company and pattern name with an excessive logo throughout the pattern…
Now granted you can find the Crye Associates logo in the Multicam pattern occasionally and the other variants of MC do all contain the word Multicam, but that lettering is also smaller, single line, condensed, without a logo and the letters vary in colour within the word in order to compliment the camo pattern.  A far, far better integration than shown here.
The image above really sums up some of the biggest problems with the Tactical 2 trousers from Kryptek that aren't visible when just casually viewing the outside of the garment.  First off, this is a NYCO fabric, but instead of the gold standard 50/50 blend that every quality manufacturer uses we have a much higher proportional percentage of cotton.  These trousers might potentially be better for the wearer in a flash flame event and generally should be ok in warm, dry environments, but they will hold more water, dry slower, insulate less and abrade faster due to that increased amount of cotton.
Secondly, the ~$142/£118 (at the time of writing) price being asked for these pants is just not enticing given that they are a generally inferior fabric, made in Indonesia and gratuitously steal design elements from both Crye and OPS/UR-Tac uniforms.  I tend to default to comparisons to Tru-Spec when it comes to mid-priced commercial uniform items aimed at the US market and they only charge $74 for their flagship T.R.U. pants in a much better 50/50 NYCO fabric, available in Navy, Black, OD and US Woodland Camo.  so basically half the cost for at least the same amount of features if not more and a better material to boot.  Then it's $80 for the TRU in All Terrain Tiger and $120 for any variant of Multicam using real and proper Multicam materials – a far better deal in every way.
Basically, only buy the Kryptek tactical line products if you truly must have Kryptek camo for some reason and there really is not much in the way of any good real world reason for it.  As a collector, blogger and occasional airsoft player I will pick up items like this occasionally myself for the fun of something different, but outside of those hobbies I do not recommend this product overall.