I have held off on this review for quite some time for a few reasons.  Partly because these Altama Urbans are something an average bloke like myself can actually wear every single day which is not the case with purely overt tactical gear, but also because I have seen just how incredibly popular the Altama 'Assault' line has been and I want to convey the best information I can on this newer version after having spent extensive time wearing them.
Right off the bat full disclosure as always, Altama did send me these shoes, but that is the extent of what they gave me there was no exchange of funds or anything else.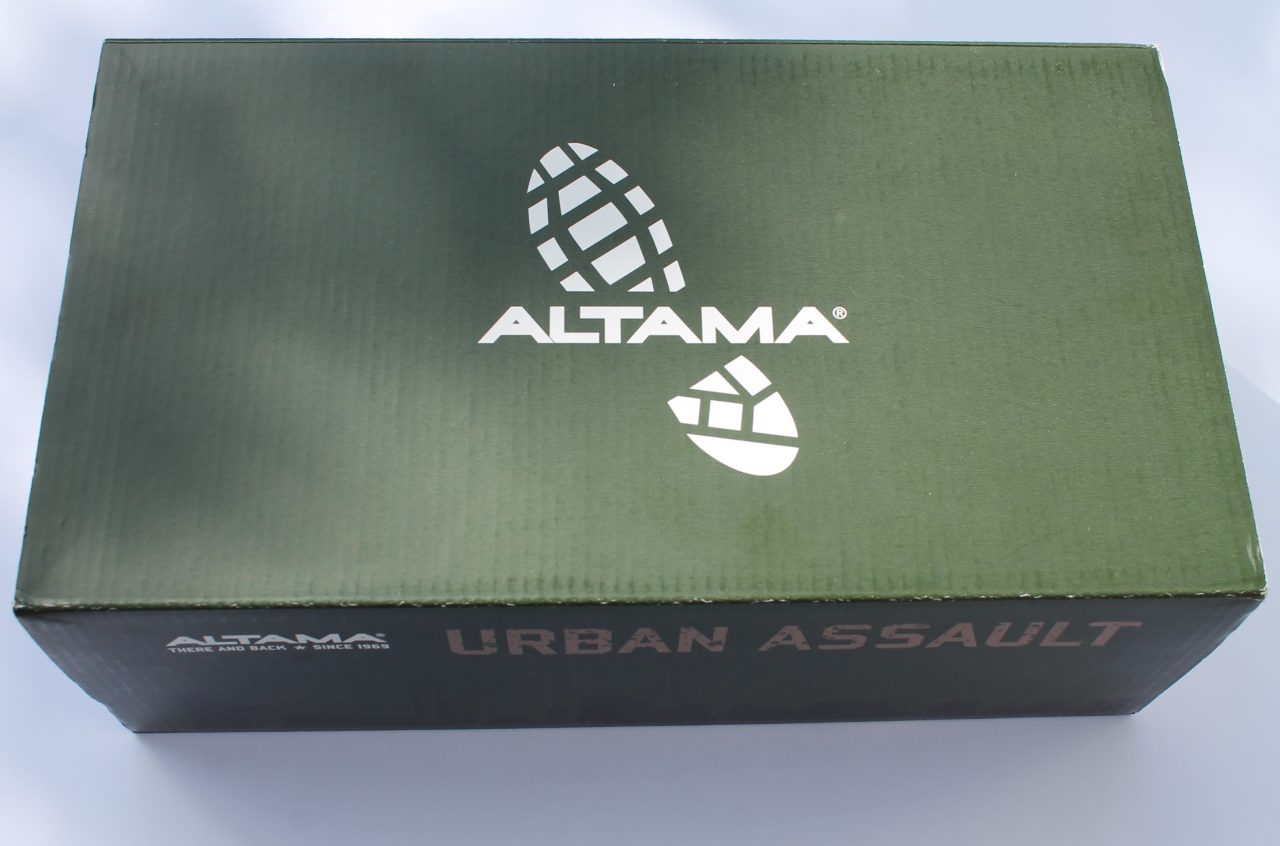 While there are definitely very significant differences between the previous Maritime model and the Urbans, the basic, foundational architecture and design of the shoe is largely the same and my previous post looking at the Maritimes is 100% essential reading before going further in to this post, so if you haven't yet please do read it here if you want to understand the comparisons I will be making further on:
Again, the Urbans are a variant on the Maritimes and to avoid rehashing the same points again I won't be repeating a lot of what is covered in the article above, rather highlighting what is new and different and how the use case differs between the two models.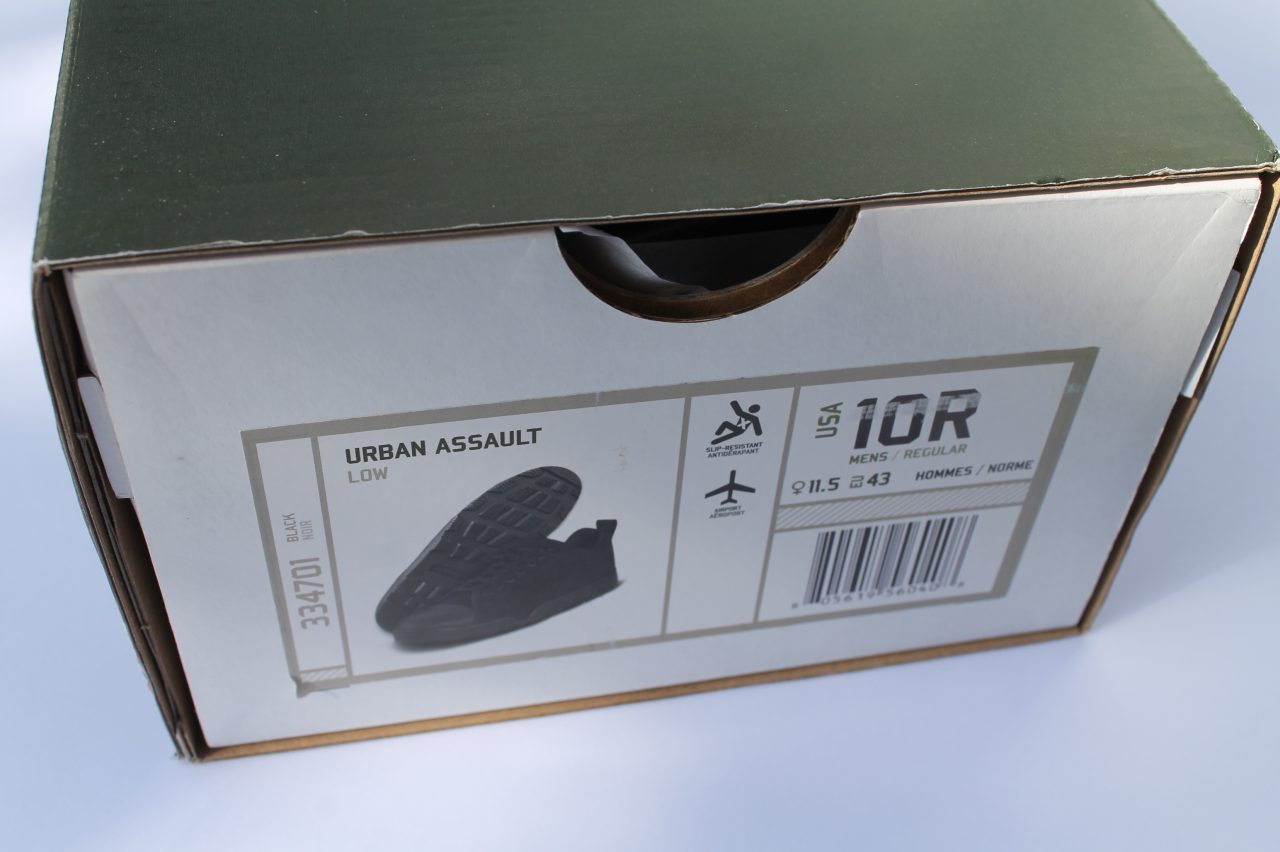 Packaging is not something I personally really go in for, but it looks fine and keeps the shoes clean and safe in transport.  Hopefully the imagery included here does the job for those out there who are interested in such things.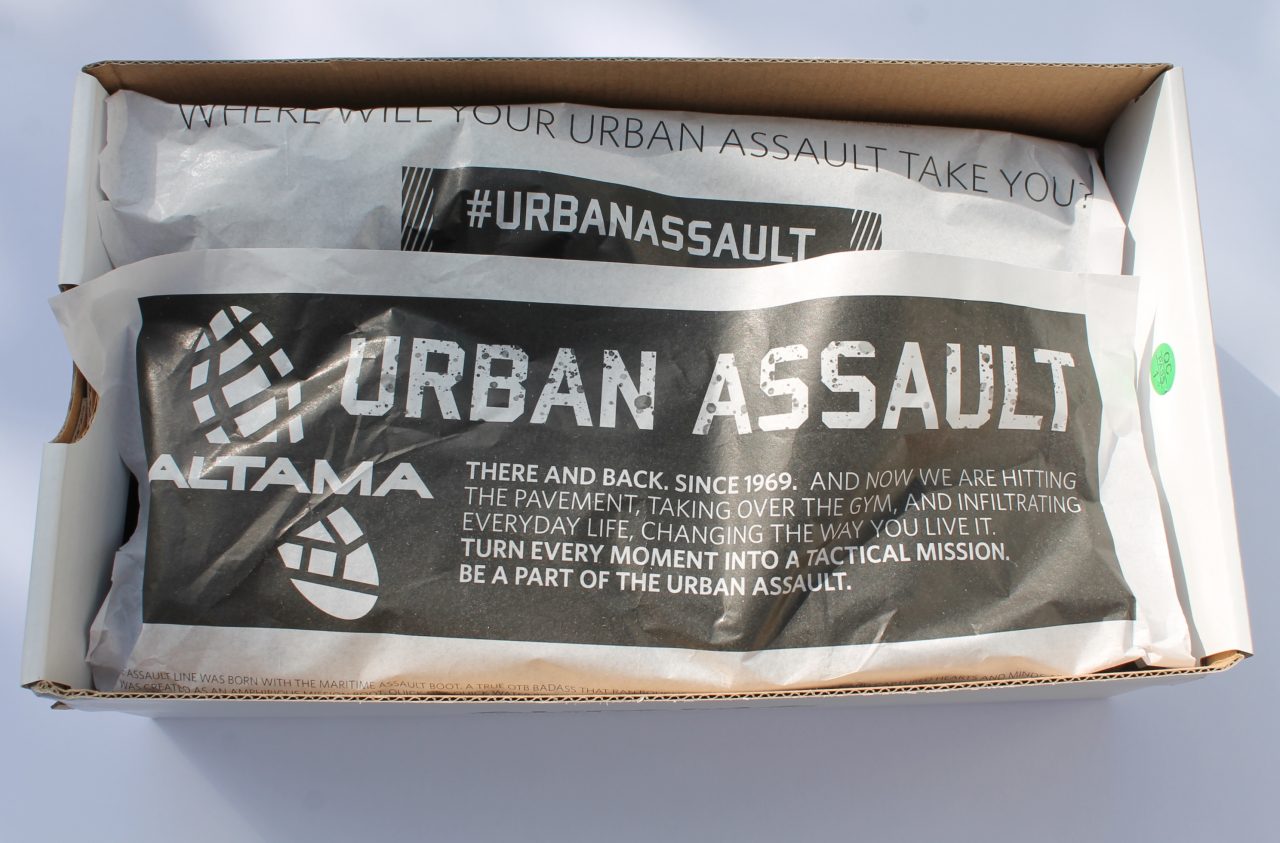 Since the Urbans aren't made from super common camo cordura used by just about every gear maker under the sun and rather use a proprietary woven upper material (Altama call it Flex Knit), they are not currently available in the wide array of colour options that you get with the Maritimes.   We're not quite talking Ford Model T, but you can have the plain black, then there's Multicam Black and Multicam Alpine and nothing else right now.  Though with the camo being woven specifically for these shoes from a more breathable material the 2 camouflage patterns aren't quite a perfect rendition of the MCB and Alpine you would see on mag pouch and uniform shirt fabrics.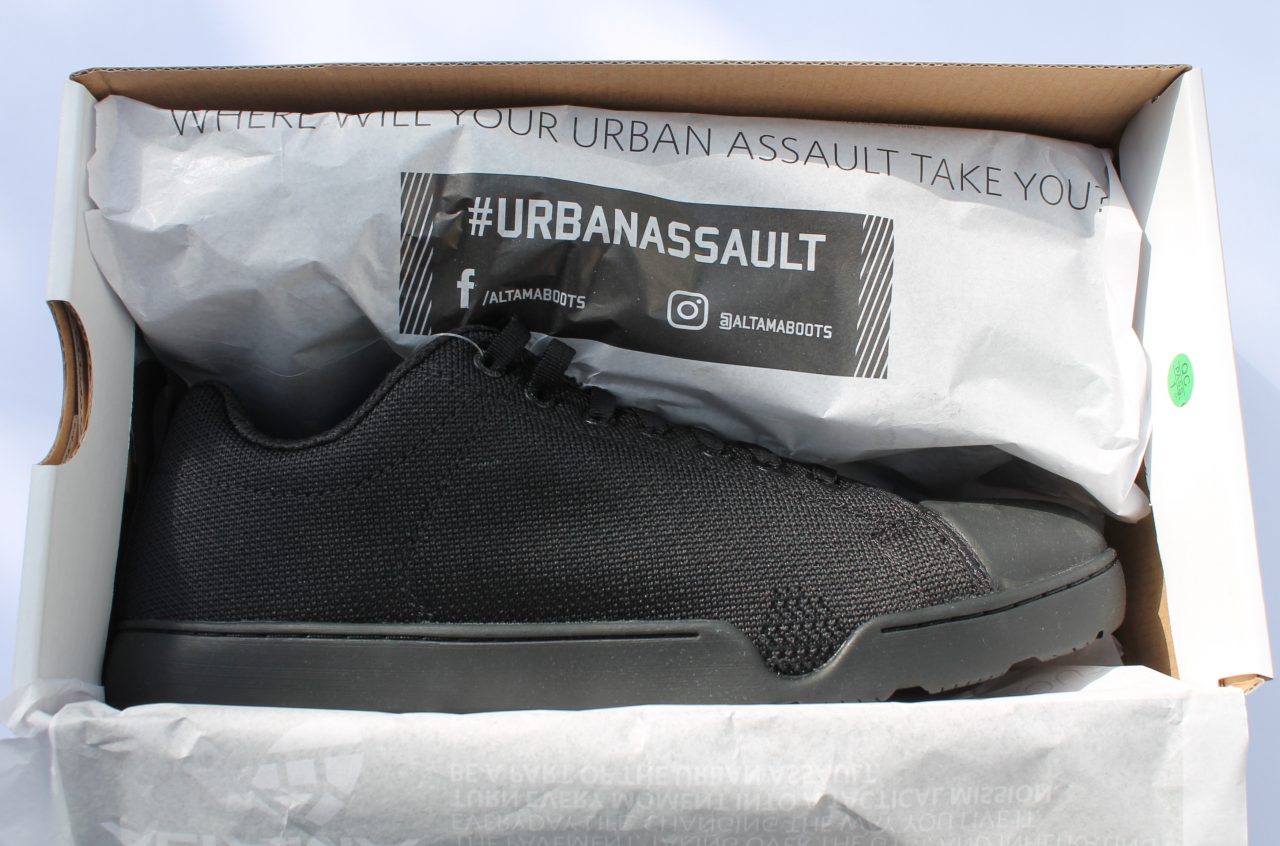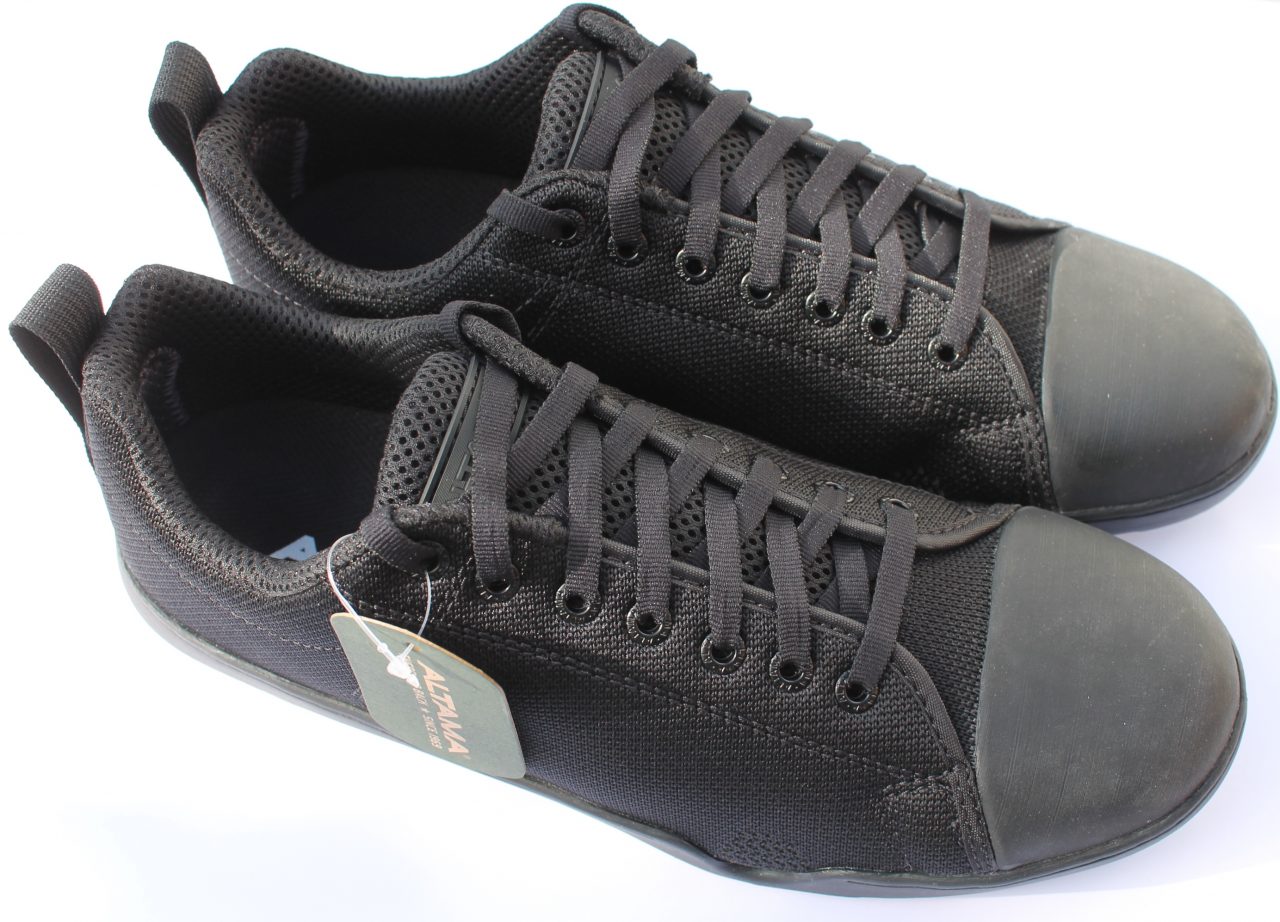 I opted to look at a pair in plain black for this review because camo trainers just aren't something I personally want to wear day to day.  As is always my stance, if your area/community makes that sort of thing permissible and you won't stand out for doing it then hey rock all the camo you want and I will back you to the hilt, but for my own wardrobe the plain option was the best one by far and of course in the plain black these can pair with a huge variety of other clothing.
From a purely aesthetic standpoint they actually fit a fairly wide range of styles, from straight hiking through the woods in outdoors clothing up all the way up to very-slightly smart.   These are not for a fancy high end restaurant, but with the right shirt and trousers they could work even in some places where you actually sit and have waiters as opposed to going up to a counter to order.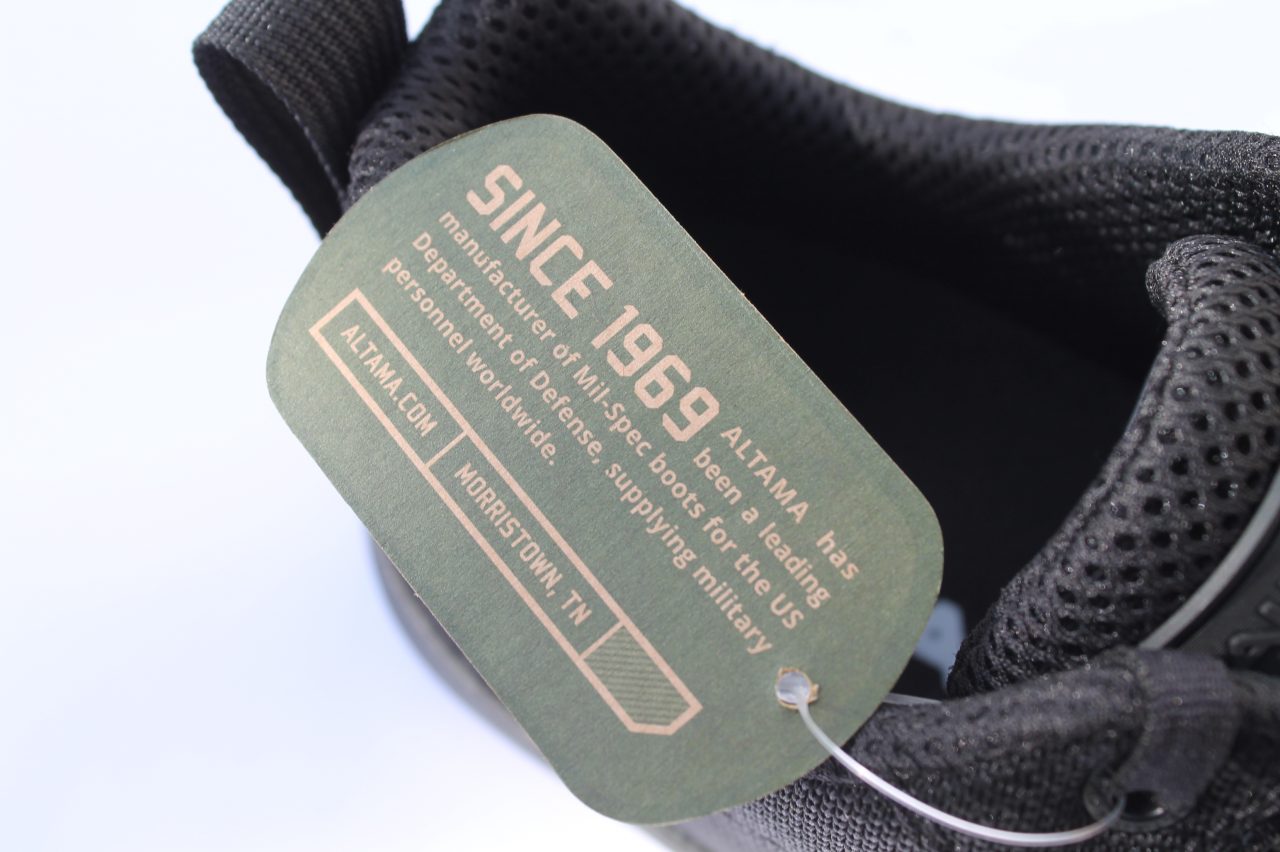 As you can see, Altama have been around for a little while in the footwear business, 42 years at the time of writing as it happens.  While time in business doesn't necessarily equate to amazing products and I doubt they have an employees who have been around since day 1, it does probably mean the company has built up a significant manufacturing base (assuming they've done well for all those decades) so actual availability will still be there even when times are tougher.  A pertinent point through 2020.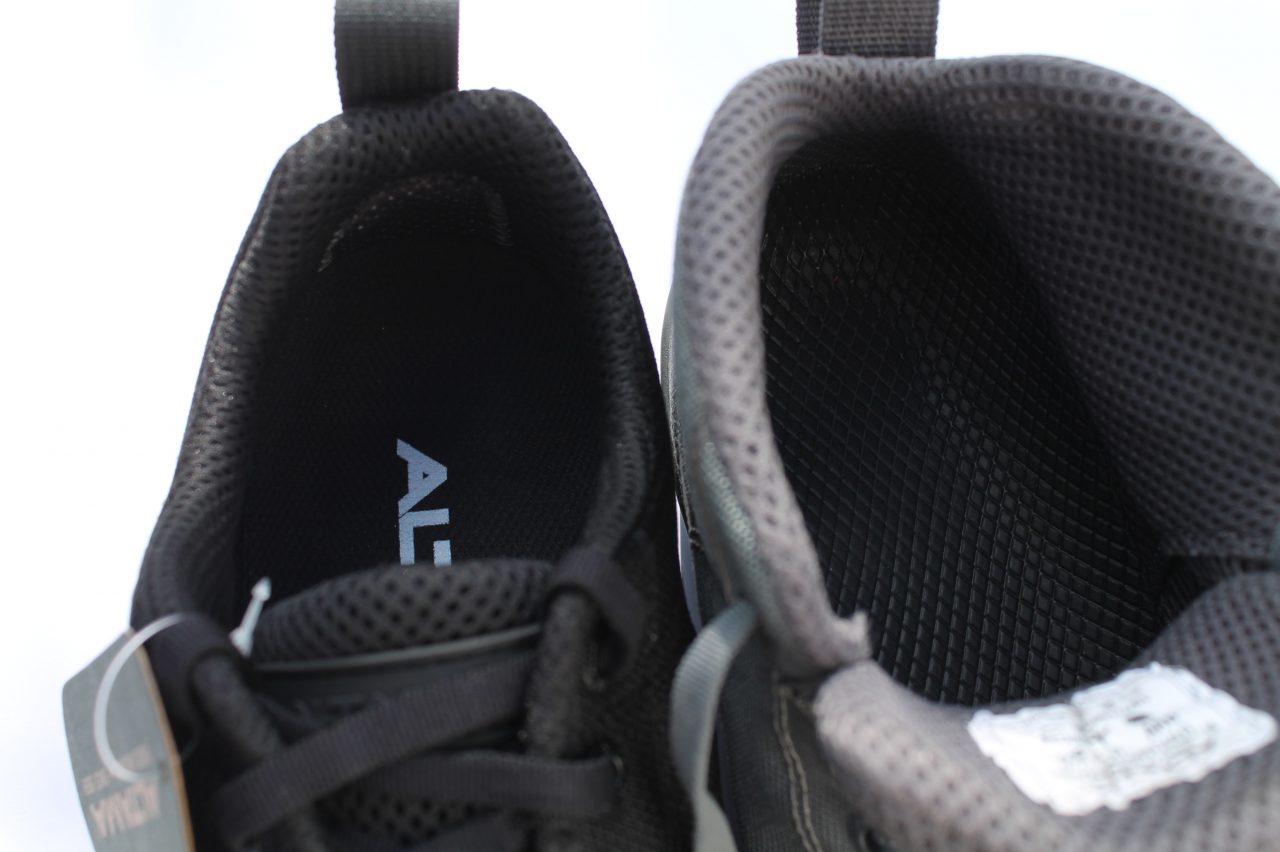 Spacer mesh lining inside is exactly the same fabric as used in the Maritime model, but because the outer knit fabric of the Urbans allows a good amount of air permeation and water evaporation the inner mesh in this case is actually allowed to do it's job and hence sweat dissipation is greatly improved.  While the Urbans are not necessarily the most breathable sneaker out there in comparison to common offerings from sporting brands that are much lighter and less durable, the difference between this Urban model and the earlier Maritime is very significant indeed.  For a shoe built as tough as the Altamas, the Urbans are fairly light and breathable, relatively speaking.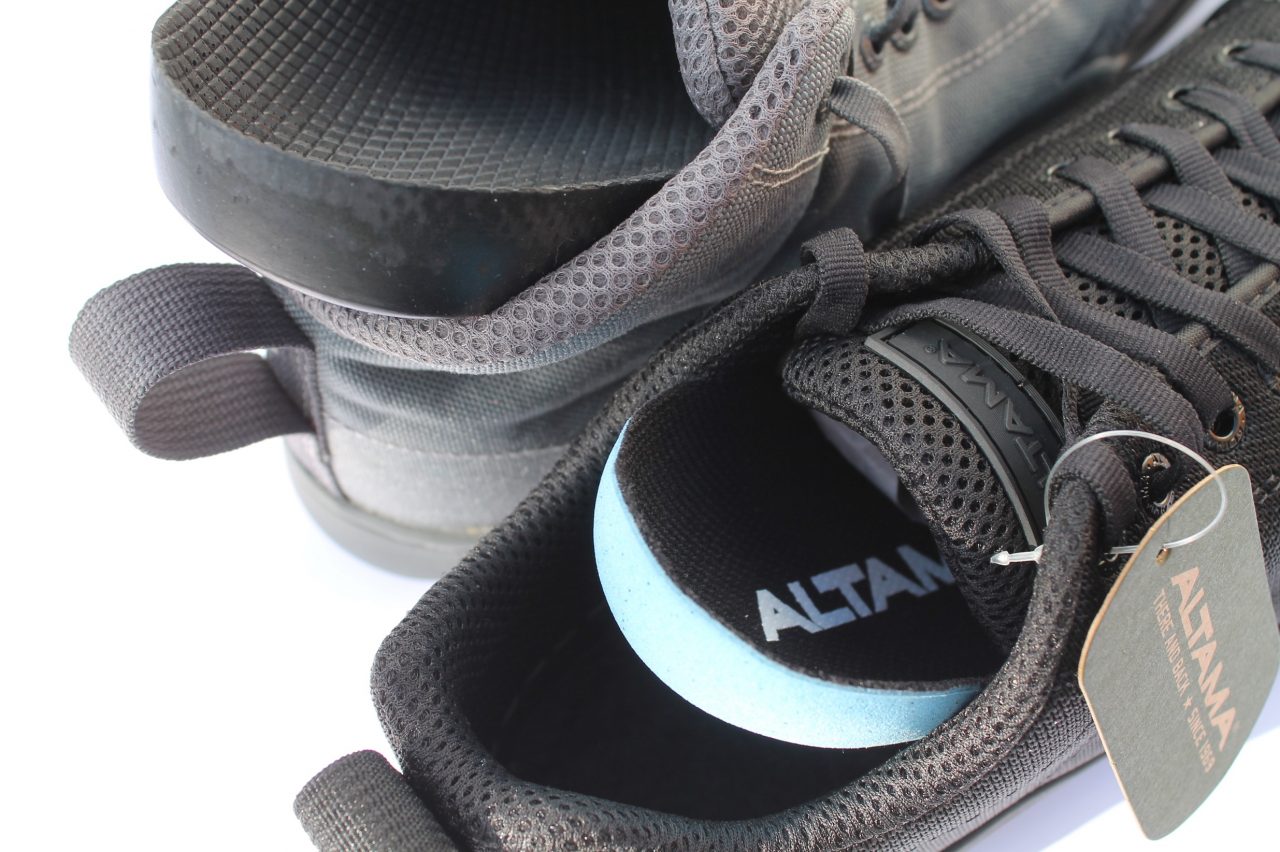 My other real issue with the Maritime models was the provided insole, but as I mentioned previously that Maritime material is an essential part of wearing them in water and you can replace the insoles in about 5 seconds for not much money , making use of either an Altama product or any other aftermarket insole you might like.
That said, the Urban model's insole improves on the overall comfort for daily wear by a large margin compared to the Maritime.  It has far more flex and give to it for force absorption when walking and because it doesn't need to repel water for maritime ops it means your foot is now entirely surrounded by materials that allow at least some movement of moisture away from the skin – where before in the Maritimes all the sweat was locked in quite well indeed.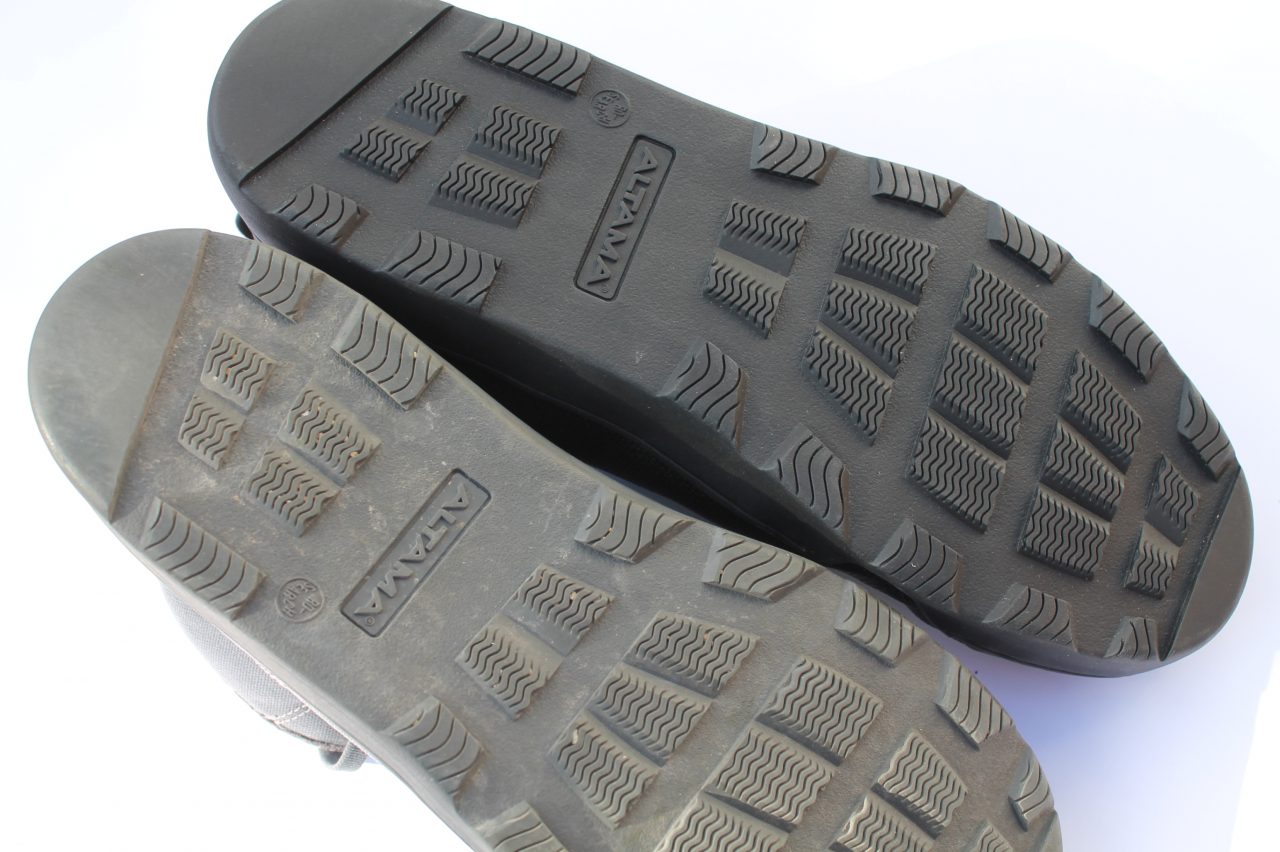 Tread pattern, style and depth remains the same on this model, as does sole material.  Admittedly I would have perhaps liked to see the tread made a little deeper for the Urbans since the requirement for fitting inside dive fins is gone, but equally to create a new mould would be extremely expensive and that would have translated to an increased price to the end user.  Considering the Maritime sole pattern works just fine already, I can fully understand the reasoning for this design choice.
A relatively solid plastic (ABS) shank that runs right through the middle of the Urban Assault soles is intended to provide all the strength needed to prevent the shoes bending the wrong way around the narrow rung of a wire ladder, which is not something I can test myself but the rigidity of the soles certainly leads me to believe that would be the case.
Whatever exact blend of material is used for the Altama Assault line soles is incredibly hard wearing and even after a year of fairly regular wear my Urbans show no noticeable wearing down underneath.  The stiffness in this material does also mean that walking long distances on hard surfaces is not as comfortable underfoot as a more common sports brand training shoe, but if you want stability and extreme longevity the Urbans will do you very well.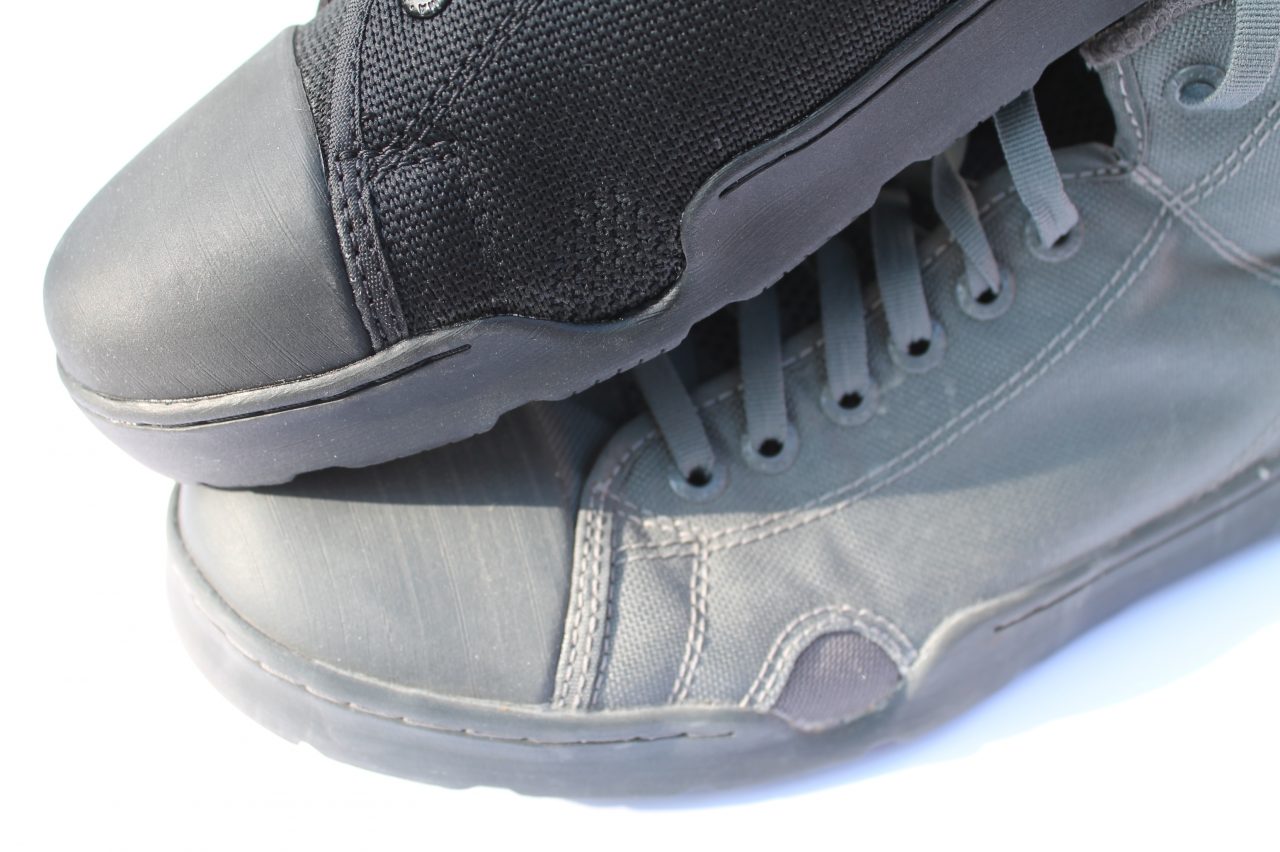 The plastic bend-point mesh vent of the Maritimes has changed to a knit vent that is integrated in to the entire body fabric of the Urban models.  If you know anything about weaving and fabric construction you'll understand this is a non-insignificant feat of manufacture.  A whole stitch line as been removed and though neither vent in my Urbans or Maritimes show any signs of failing I would anticipate the Urbans to last even longer in this area.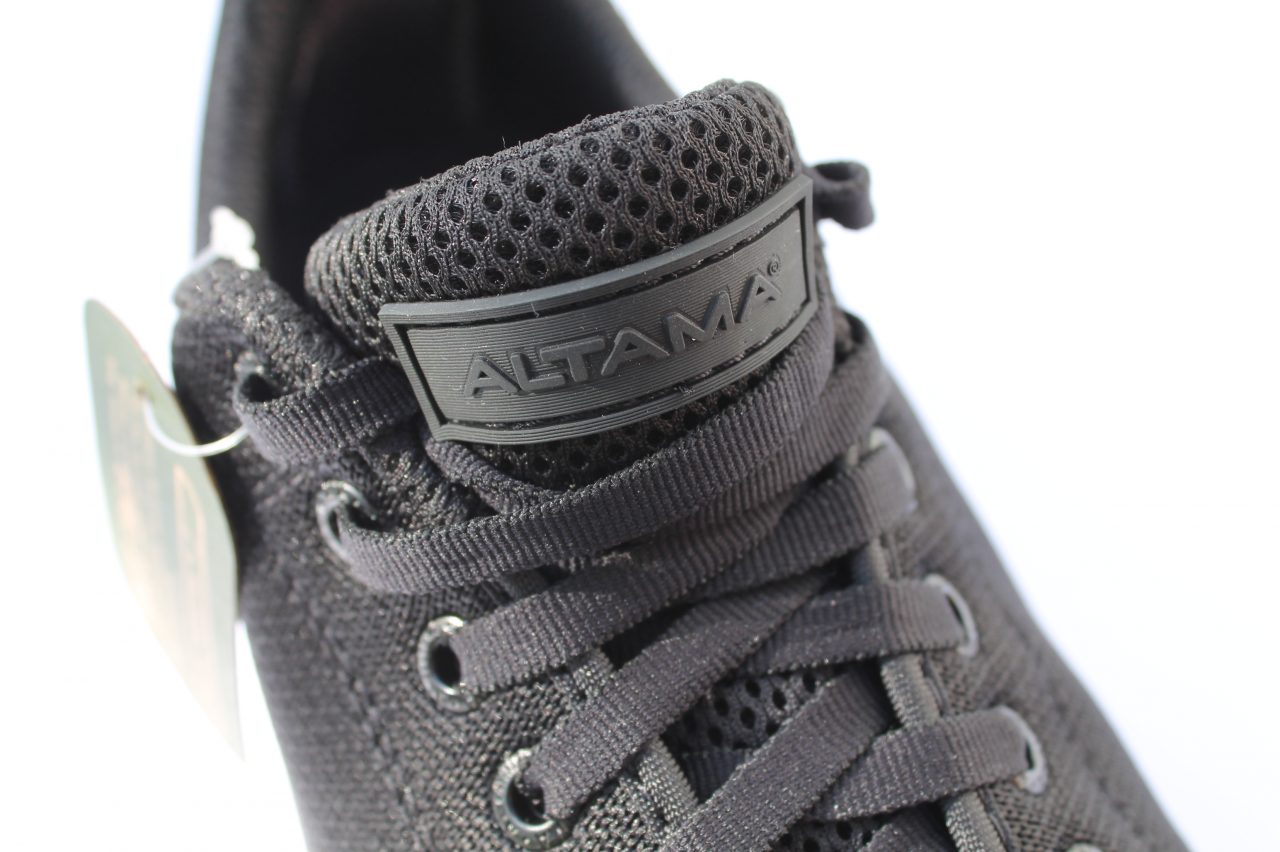 Labelling on the tongue of your Altama may vary slightly depending on when it was made and any sort of special edition option, but this PVC tag (essentially a PVC patch sewn in place) certainly won't have any issues with fading or fraying.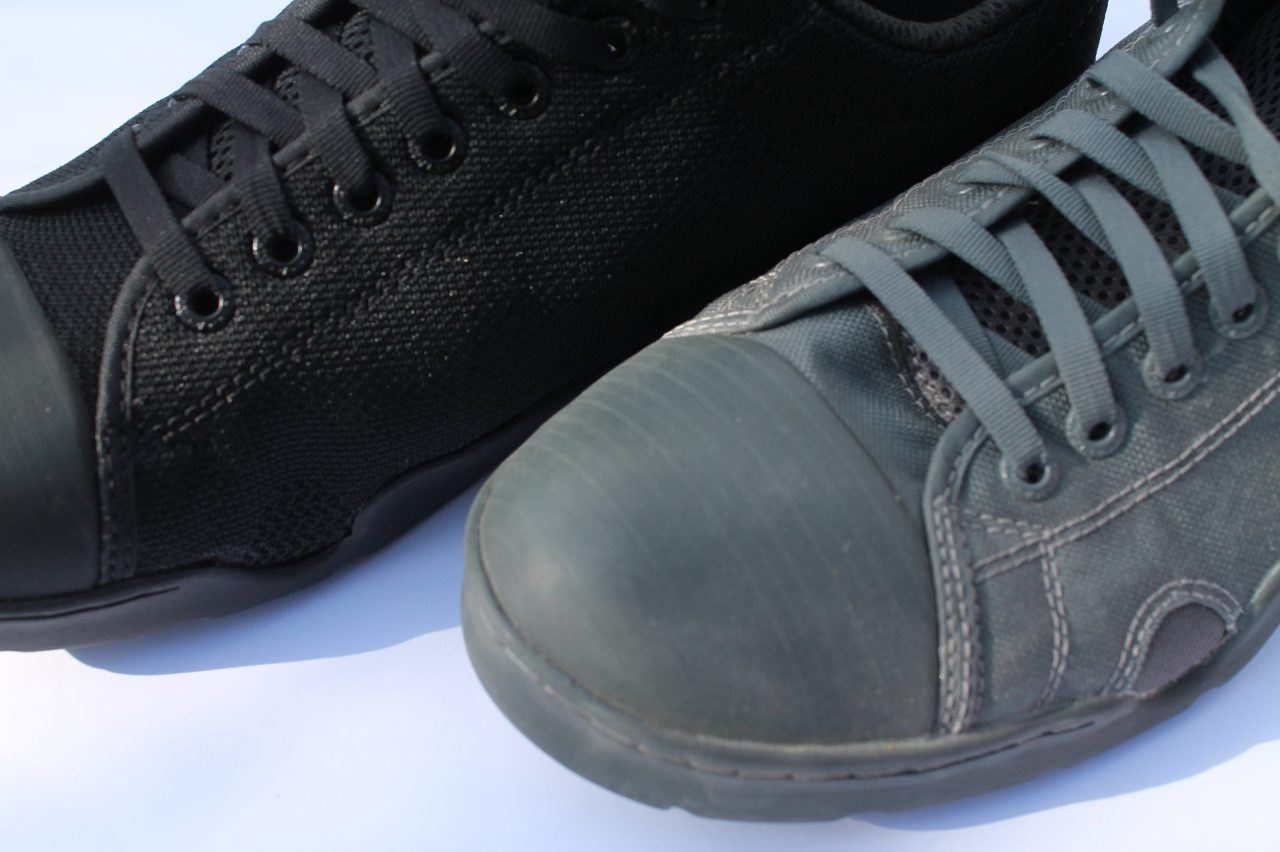 Laces, lace eyelets and the toe cap material are exactly the same on the Urbans are they are on the Maritimes.  Not much else I can say in this area to be honest, I have really liked the fact the eyelets are plastic so they don't scratch and up with bare metal showing through over time.  My laces are showing just a little bobbling after a year but only in the upper area where they are constantly being threaded in and out.  With very regular wear you might want to replace your laces after a good few years, but that is a tiny cost and the rest of the shoe is likely to still be in top form based on what I have seen so far.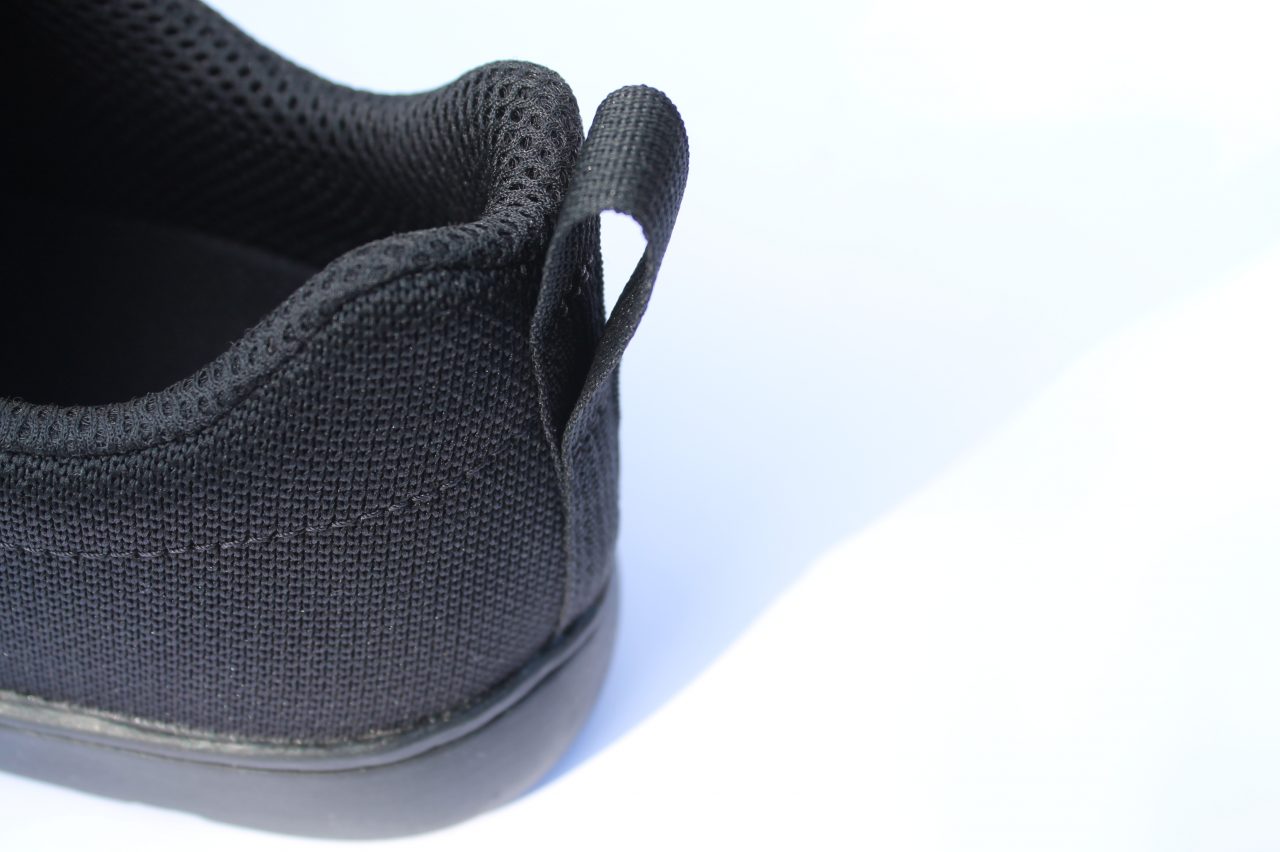 Lastly on the rear we have the same loop of webbing that can aid in putting your shoes on.  I found I needed to make use of this a fair bit with my Maritime Mids but barely need it at all with the Urban Lows, though unfortunately I can't quite be certain how much of that change is due to the different model vs the different height.
Altama's site claims that the internal shaping around the heel area is done in such a way as to eliminate all discomfort when breaking in the shoes and I would have to agree there.  I noticed almost zero change in overall wear comfort between first getting the shoes and now, around a year later having worn them quite extensively.  They were comfortable to walk in from the very first time I put them on.
---
Is the Altama Urban Assault actually going to be good for assaulting a building?  I would say the standards of the construction do mean it is up serious usage and I would presume (not that I've tried it myself) that the climbing-shoe-like flat soles would provide good grip on walls and other rough artificial surfaces if you are some kind of ninja  that's climbing or rappelling in to your objective area.  Taking all possible surface types in to account however I would expect more traction to come from a more common sole style with more intricate grip pattern and greater depth.  The relative rigidity of the sole also means it is quite loud upon each foot fall when walking on hard surfaces, so a softer soled set of footwear will be far stealthier.
Are these worth the extra £14 next to the Maritimes?  Depends entirely on what you need to do.  For me just walking around base, going to the shops and doing other boring daily stuff yes this is absolutely the version to go for as the comfort is much improved by comparison to the Maritimes.  Some people out there don't report any issues of excessive sweat retention or general discomfort around the foot while wearing their Maritimes and if you are already one of those people who owns a pair and finds them good then don't rush out to get the Urbans, but if you don't yet own any of the Assault line from Altama then most likely the Urbans will be the ones you will want.
Weight is basically identical between variants for the same height/size so there's nothing in it there, though the Urbans won't do as well at keeping out rain and will absorb more water if soaked therefore taking longer to dry and being briefly slightly heavier.  But this was never the shoe for hiking through the woods and over the hills anyway you want proper boots for that and these are much more akin to trainers than they are to any military or hiking boot you might typically think of.
For compound lifts in the gym I think these will be absolutely ideal, the soles don't compress so you won't ruin your running trainers by squatting in them, but the bit of absorption from the insoles mean you don't feel like you're walking on bricks either.  I am very strongly considering picking up another pair myself for purely lifting workouts as I know they will last an incredibly long time and do the job extremely well.
For around $105/£70 I strongly rate these shoes given how long I can tell they are going to last.  Altama has always been a strong presence in the realm of boots and other tactical footwear for a very long time already but the release of the Assault line has propelled them in to the realm limelight and not without good reason.  As long as you understand where the Urbans Assaults shine specifically I am confident they will serve you well.
---
This site is hosted without  any pay walls, sponsorships or advertisers thanks to a few kind donations on subscribestar.com/thefull9.  Tiers start below $1/month so if you would like to help out and are able to please consider checking the link, thanks.