"Our Altama Maritime Assault Boot is made for all tactical water operations. With a fin friendly fit, this boot will fit just about any dive fin used by Militaries worldwide."
That is the very first piece of text on the store front at Altama where you can buy the Maritime Assaults and it is the most pertinent information you need to absorb if you are considering purchasing a set of this particular footwear.  Having owned my pair for just over 2 years now and having put a few miles on them I'm going to talk first about the features and attributes, then about my personal findings while actually wearing the shoes.
I should say I'm skipping my own usual queue to write this as I received some of the new Altama Urbans a few months ago direct from Altama to review, but those are very much based on the Maritimes and I can't discuss them without inevitably discussing these and drawing an awful lot of comparisons.  That said this post isn't about the (much more recent) Urban model it's about the Maritimes which have been around for a good few years now and are very much established in popularity amongst all sorts of folks in tactical jobs and shooting/outdoor hobbies and pursuits.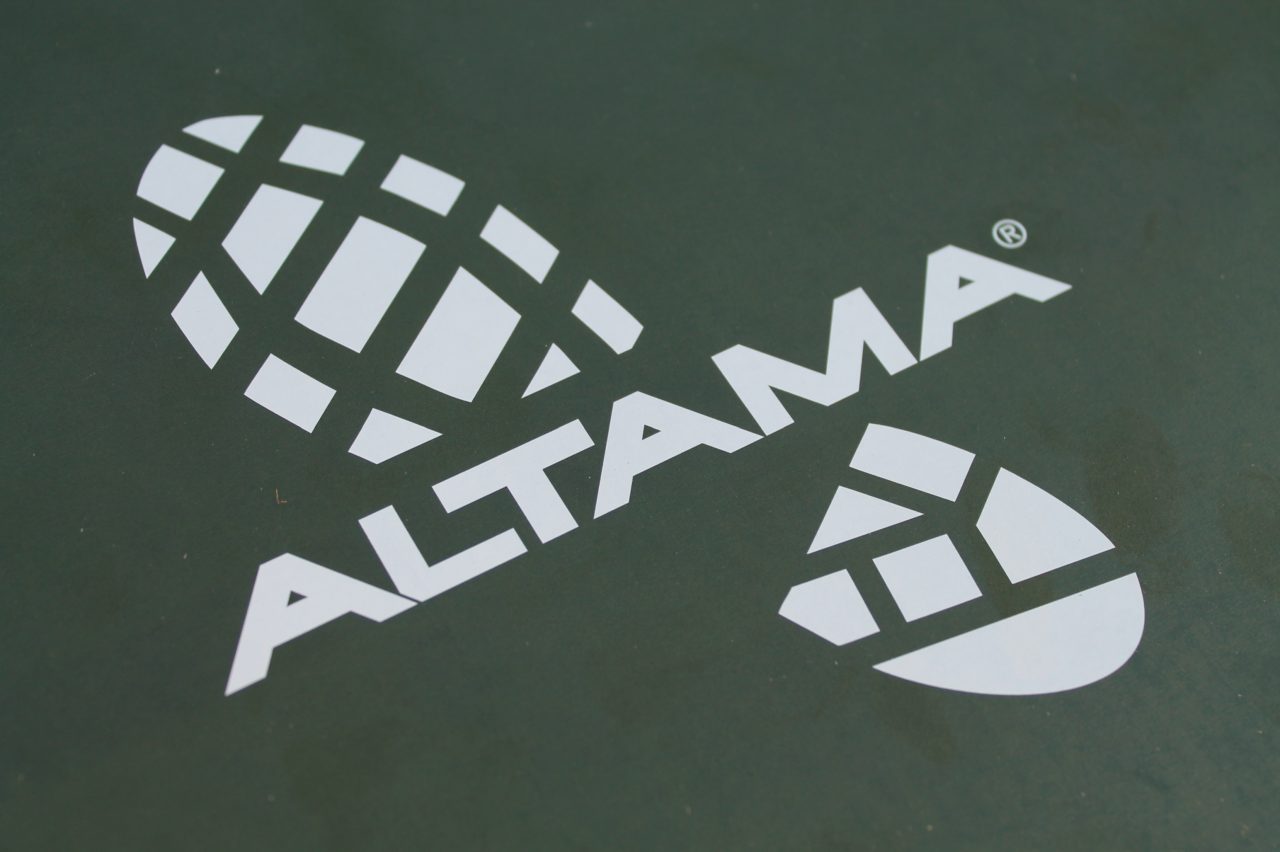 While the pair I have is in a plain grey there's little doubt that a part of the meteoric rise in popularity of the Maritime Assaults is due to the fact their outer layer is constructed of the same cordura fabric used in all kinds of military and tactical gear, meaning accurate OD and CB can be built in but more importantly, camo patterns like Multicam, Multicam Black and US Woodland are available.  You simply have to look at the Supreme style hype and eBay re-selling of the limited edition Vans in different camos and tactical type colours to see how much of a demand there is for trainers like this.
Why make a tacticool looking sneaker type of thing in the first place?  Altama have said that their Maritime model is intended to be a modern replacement for the classic American sneakers that have famously been seen on the feet of guys like SEALs on a few occasions in the past.  From what little I've read on the subject, that particular choice in footwear was a result of said sneakers retaining less water than typical military boots and also fitting in to dive fins on account of their slimmer soles and generally low profile, but of course Converse aren't built with military applications in mind and we now have much better materials for those applications.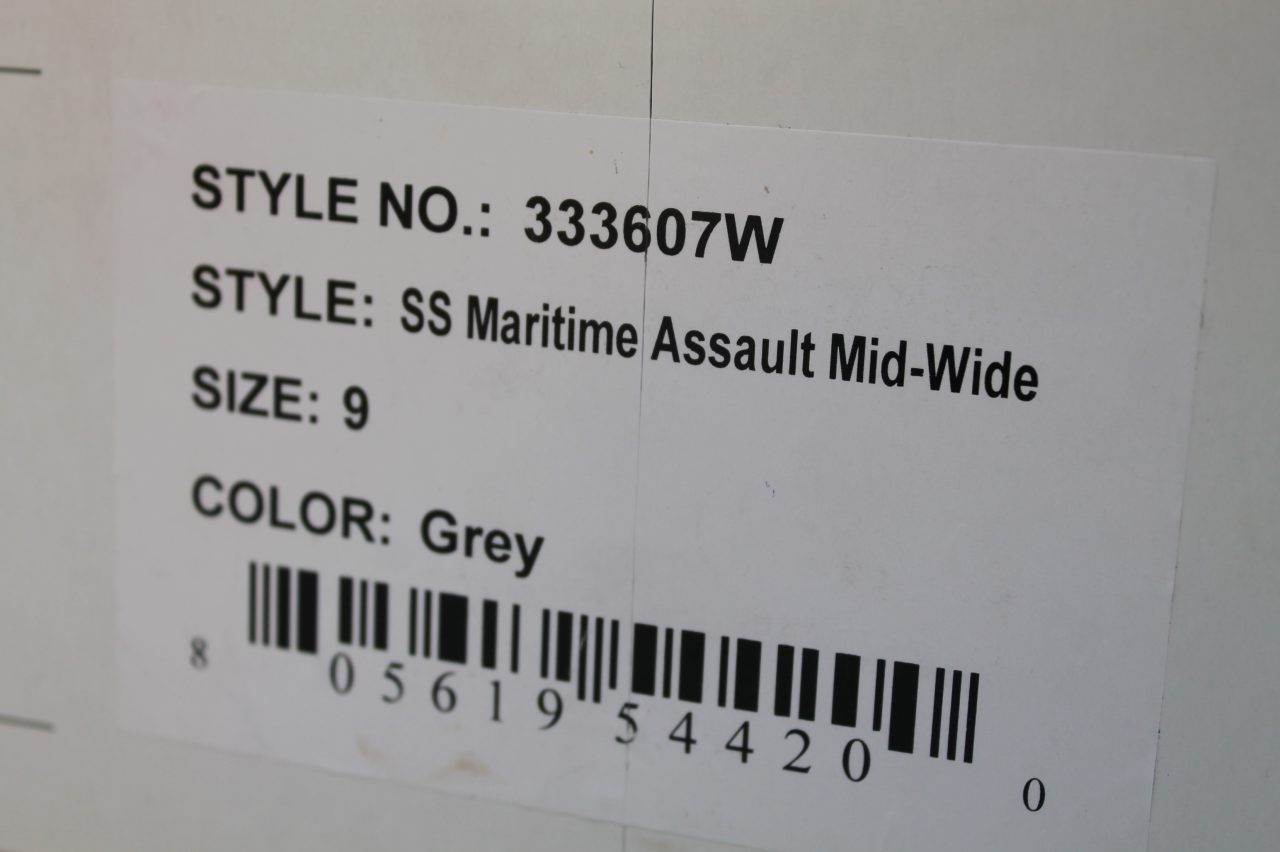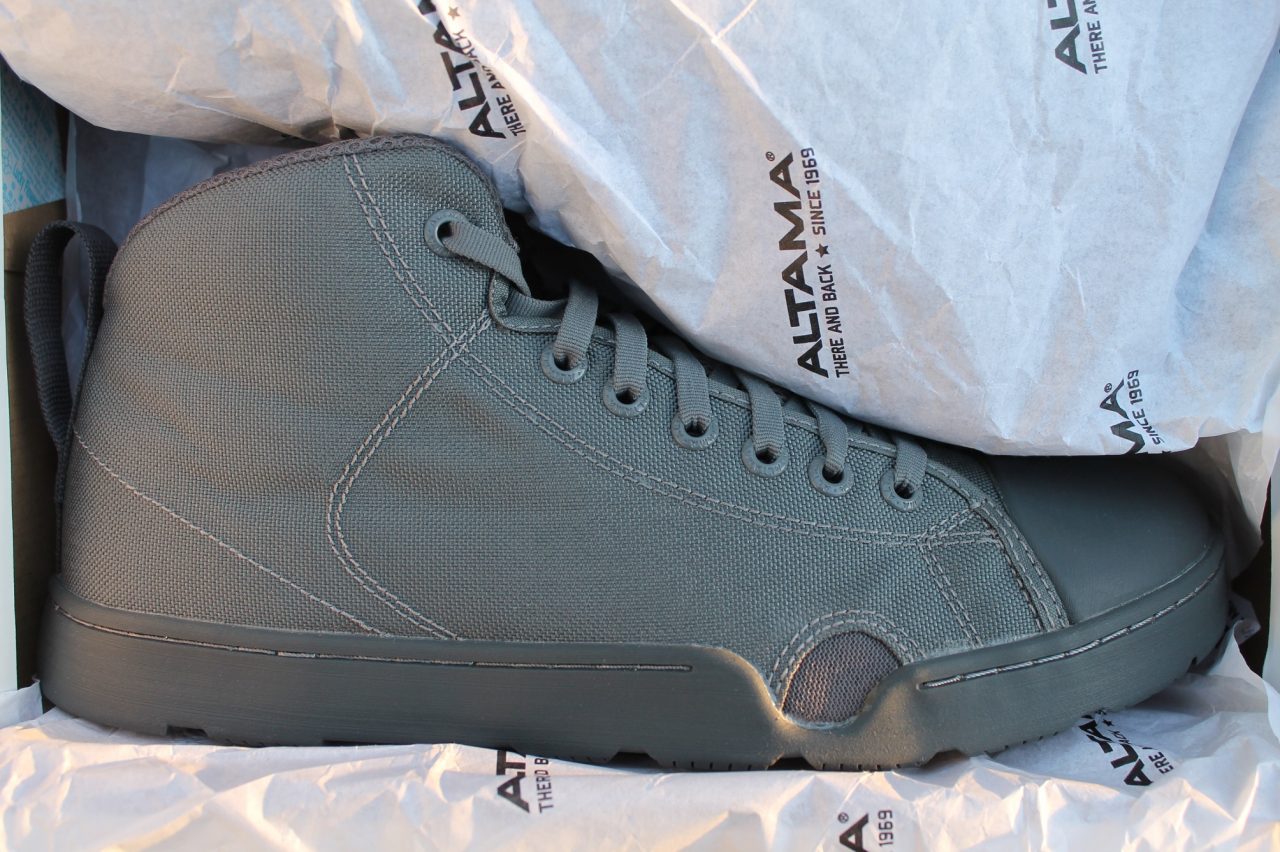 Packaging is something that I believe people who are really in to sneakers will be interested in, but I am not.  Standard stuff – cardboard box, paper wrapping, paper stuffed in each shoe to retain shape, but most importantly with a desiccant strip in each box so you know there's stagnant moisture sitting in your shoes if you order a pair in an unusual size or less popular colour that may have been sat in a warehouse for quite a few months.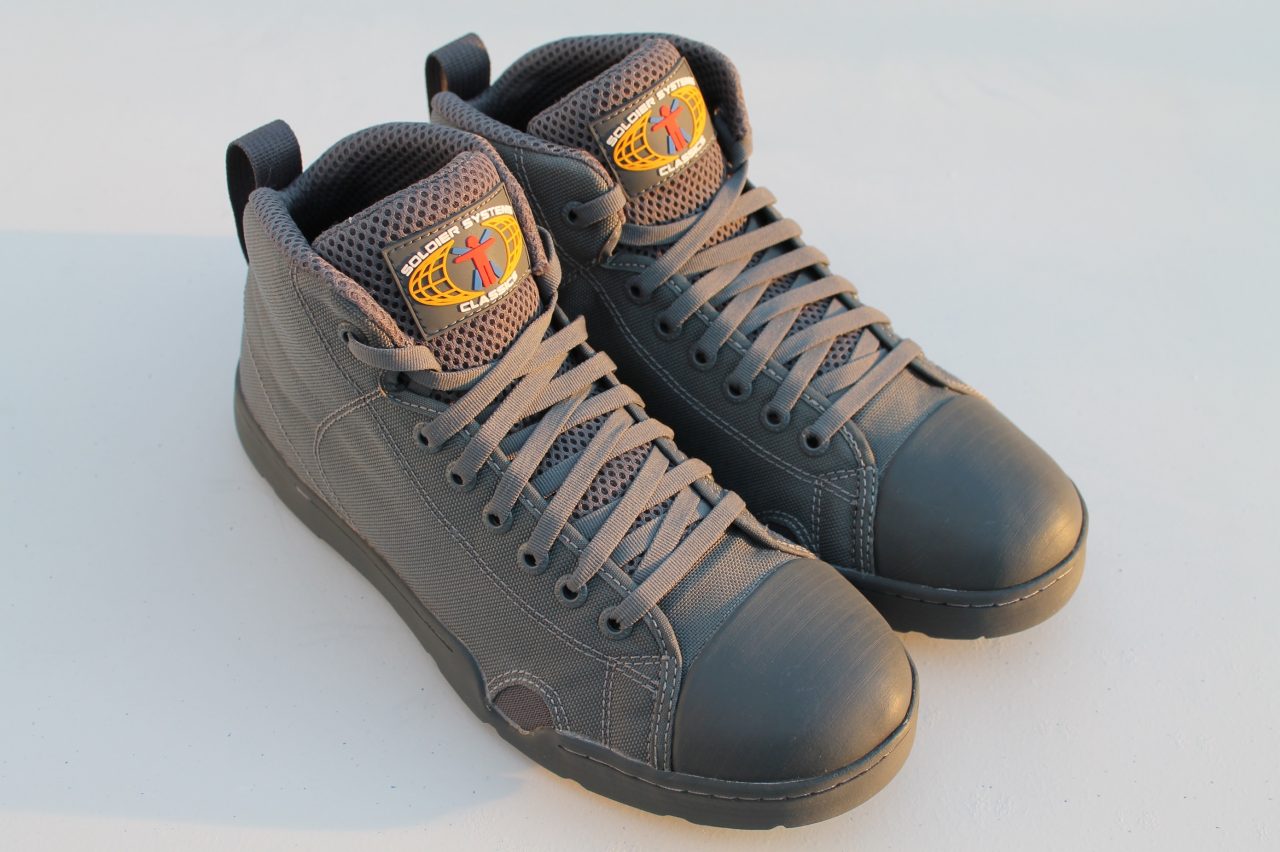 Primary outer construction is from cordura, 1000D in this case rather than the 500D that has become the industry standard for vests and pouches.  This makes a lot more sense given the amount of abrasion that your shoes or boots will go through in any given situation.  They're going to hold up through a lot of use.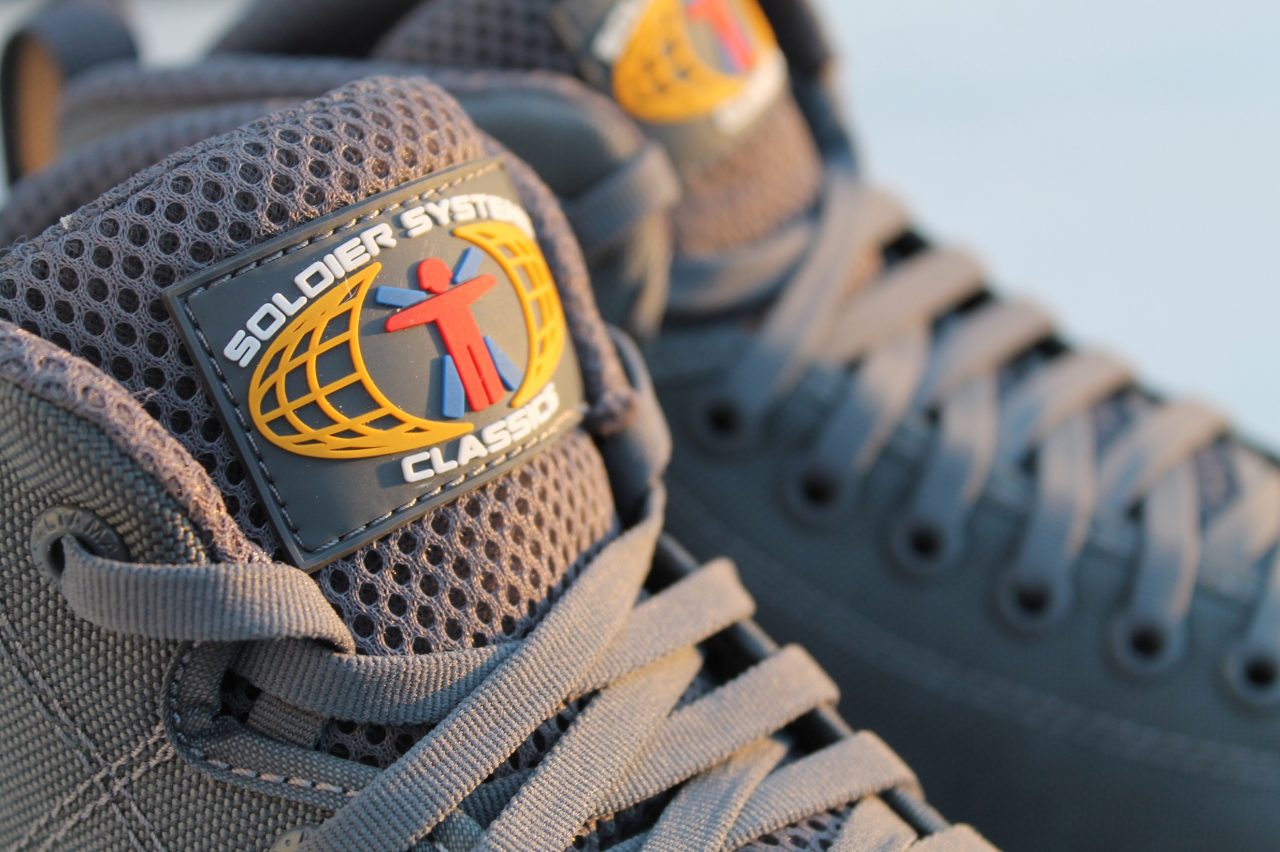 My pair here is the Soldier Systems Classics limited edition sold through Tactical Distributors, though the only difference between these and the standard commercial Mids in grey is the above depicted PVC tag, sewn to the tongue of the shoe.
Personally I do prefer standard round laces to the flat type fitted by Altama, both from an aesthetic standpoint (as the flat types inevitably end up twisted) and also the fact the flats fray more quickly, at least they have in every brand of shoe I've ever owned that featured them.  That said my assumption would be that the flat types spread pressure more evenly and might bite together more securely within the knot when fastened.  In a waterborne application that added security is paramount as, as we've discussed here before with regards to velcro, being submerged for any period is a great way for things that are meant to be fastened together to just simply fall away from each other.  Round laces would also be a far worse idea when stuffed inside a dive fin with regards the aforementioned pressure issue.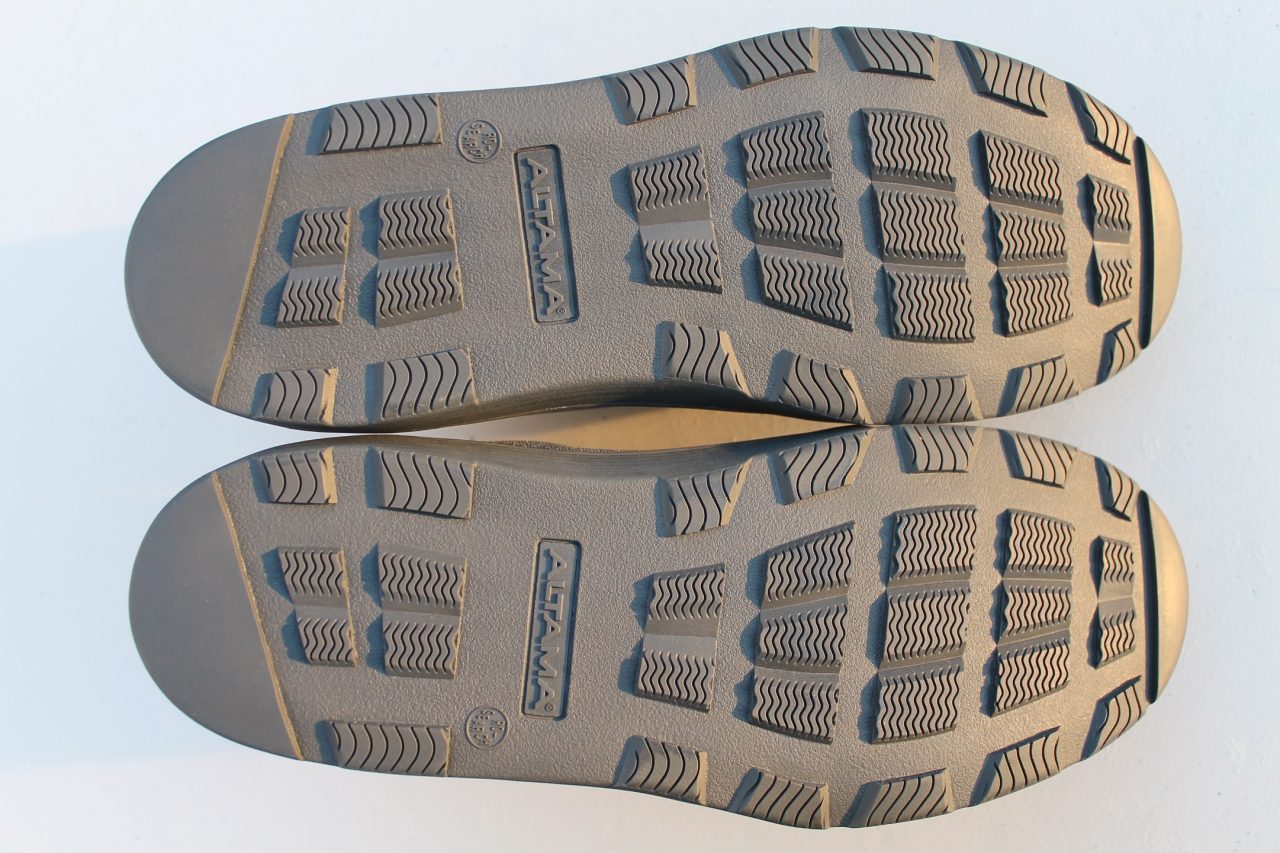 I wasn't able to find out exactly what the material for the soles is, but it is relatively stiff and non-compressible by comparison to a standard everyday training shoe.  This does start to become noticeable after walking a certain distance, depending on the person and the surface you're walking on of course.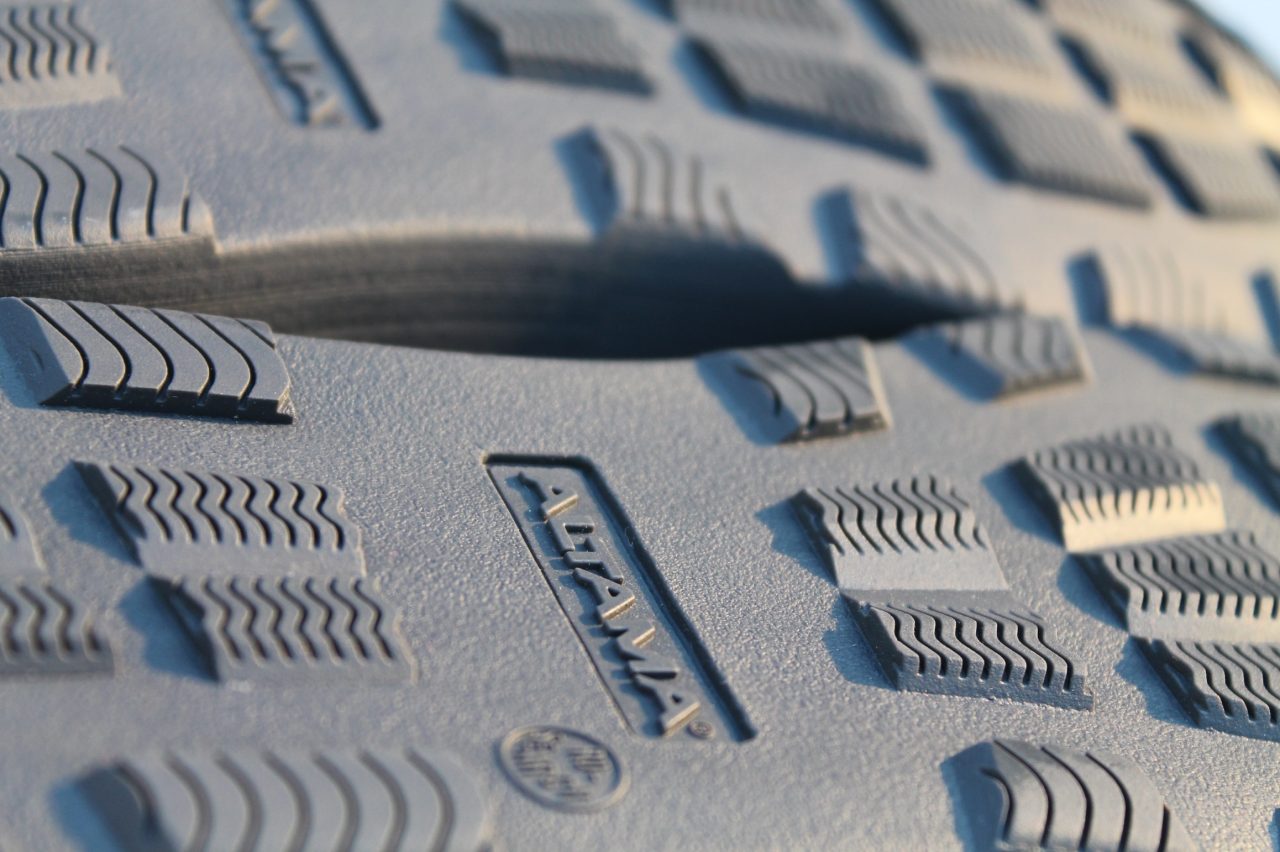 Tread patterning on the soles is relatively shallow with a fairly smooth surface compared to the deep cuts in the tread found on most boots and shoes that are intended to provide grip in soil and mud.  Within the constraints of what might fit in to the foot part of a dive fin though I would imagine this a crucial space saving measure.
Overall layout of the pattern actually has quite a bit in common with the venerable panama sole made infamous by the old black/green US military standard issue boots, boots that are almost more iconic than M16s and OD Green BDUs that came from the same Vietnam war era.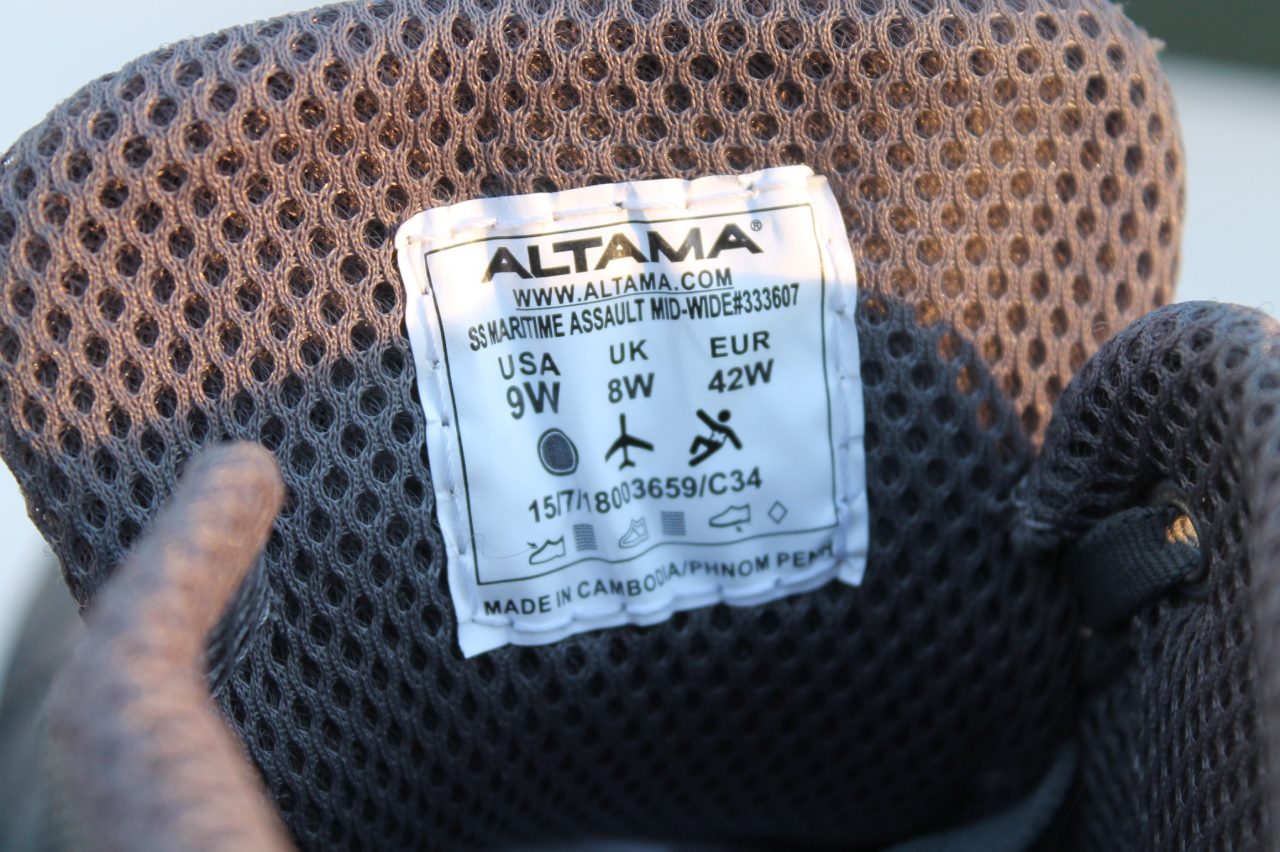 Theoretically the 3D spacer mesh inside the Maritimes should make them quite breathable and offer good performance in terms of wicking the sweat from your feet, but when Altama mention that in their product description I think they are more doing so in reference to comparison with a Gore-Tex lined boot or a canvas training shoes.  Personally when walking around casually in town I found the Maritimes far more damp and sweaty than most generic sports trainers and the retained moisture is quite visible on the socks every time I take these off – the longer the Maritimes are worn, the more pronounced the effect.  In everyday life I only wear them when I want a slick, quality-looking shoe styled somewhere between smart and casual that I know I won't be wearing for very long.  Obviously this is for the grey option, if you buy them in camo your wardrobe choices would presumably differ.
The key thing to remember here however is that these are not everyday trainers, they are designed with the knowledge that the target audience is most definitely going to spend time fully submerged in water.  Reference the opening section of this review; if you're submerged anyway, some slight sweating is irrelevant.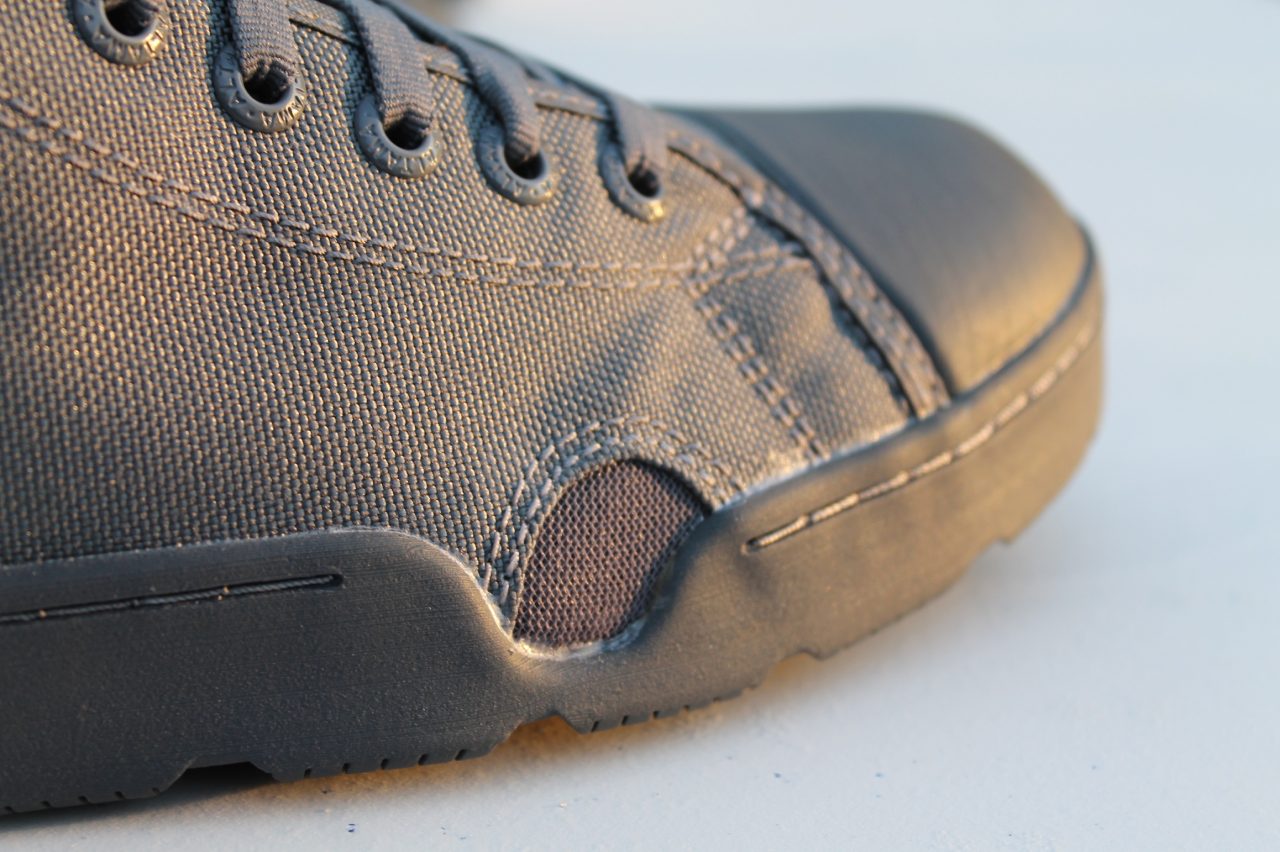 Right at the bend point where the toes on the foot are jointed we find the drainage vent that is crucial to the design, at least as far as the proposed use case is concerned.  The sole is shallower here which means more flexibility/less rigidity along that crucial line where the toes meet the ball of the foot.  Material for the vent itself is an impressively sturdy yet flexible plastic mesh so it won't rust or break and water is forced out by the wringing action caused by every step the wearer takes.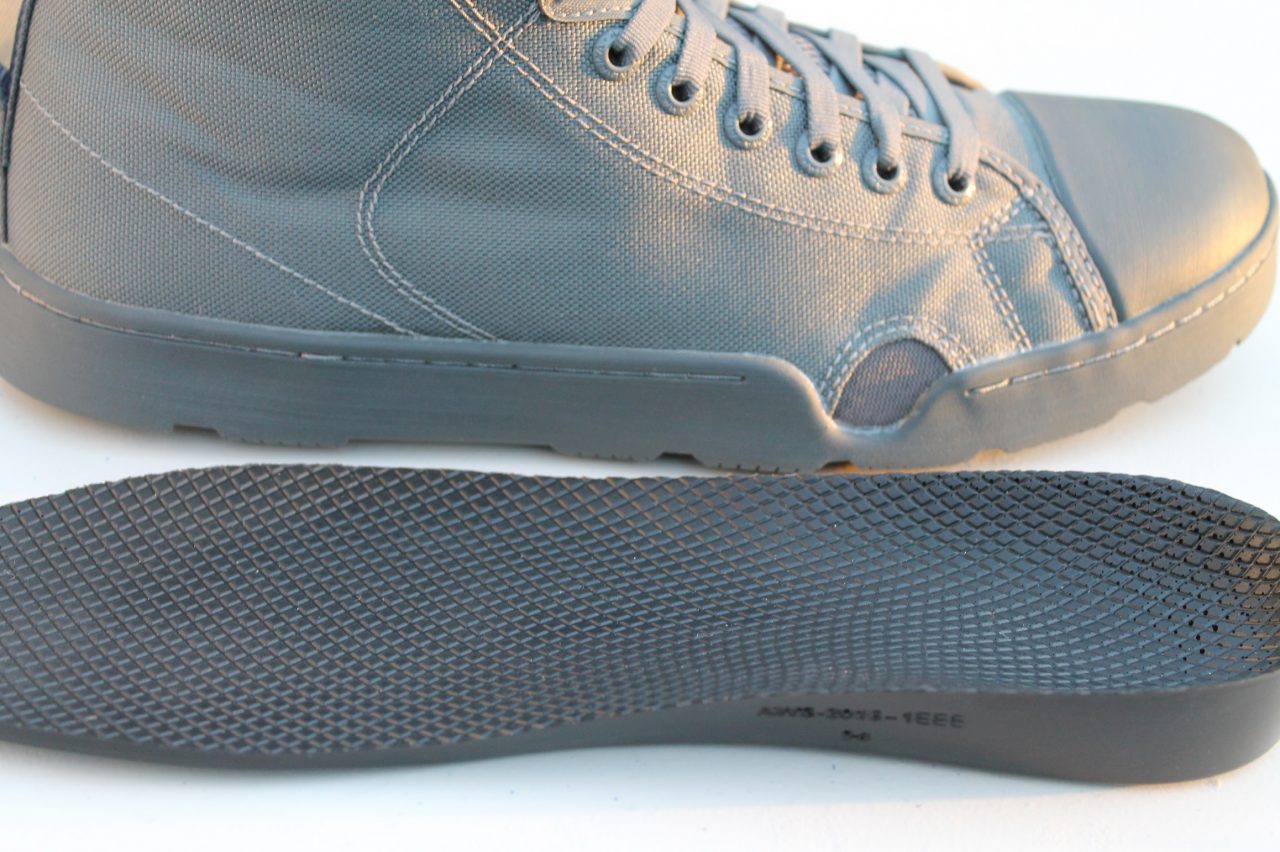 Insoles are Ultron brand made from a solid piece of polyurethane, which is somewhat of a departure of the sort of insoles you will probably be used to in most types of common footwear.  There is a decent contour to them around the heel and instep, but being being solid rather than a foam there isn't much of a cushioning aspect to them and they do not compress much during movement.  They are somewhat like rubber and will compress to a small extent when pressure is exerted while moving, but the main job they have within the original design intent is to simply not hold on to any water, a job they absolutely fulfill but at the expense of some comfort and a lot of breathability by comparison the standard, common style of foam insole.
---
My own experience walking a few miles in my Maritimes unfortunately was not as comfortable as they would have been in conventional training shoes, all things considered.  The combination of stiff insole, non-breathable main outer fabric and slight abrasion of the skin I personally experienced on the back of my ankle made these boots uncomfortable to travel any significant distance or wear for more than a couple of hours.  Do bear in mind however that in writing this piece I read many other people's reviews and saw that plenty of them didn't experience any of these issues, many of them indeed singing high praises of the all around comfort offered by the Maritimes.
As if to sum up my feelings vs the experiences of others in the most succinct manner possible, I found these reviews actually on the Altama web store page for the shoes.  Just follow the hyperlink and scroll down if you would like to check for yourself.

Was I personally wearing these boots in their intended situation?  Absolutely not, as I outlined back at the start of this piece, the name of these boots is paramount when discussing their performance and attributes.  They look really good and they're going to last a very long time given the very high quality materials and matching high standards of assembly.  Plus of course you can get a very well made and stylish trainer in some of your favourite camo patterns for around $100.
My US size 9.5-wide mids weigh in at 796g/28oz (just a few grams more than the lows) and are offered in all the same colourways and sizes.  That is a fair bit heavier than your typical popular modern Under Armor/Skechers training shoe, but then again trainers for everyday streetwear have gotten in to the realm of being truly featherweight in the past few years and that's fine for taking a stroll down to the shops, but not so fine for the type of usage that the Altama Maritimes are designed for.   Both variants are available in US sizes 5 to 15 with a lot of half sizes in the middle popular size ranges, as well as a regular width and a wide, so most folks should be accommodated there.
Check out sizing and colouration options along with pricing and get details straight from the manufacturer at the Altama website here:
https://gb-originalfootwear.glopalstore.com/collections/altama/products/altama-maritime-assault-mid
Keep an eye out for my following review of the Altama Urbans if you like the looks of these shoes but want something better suited to the regular everyday.  You won't be disappointed, rest assured.