Part 1 of my coverage on the Spiritus Micro Fight chassis already ran well over a thousand words so I decided to cover some of the accessories and add-ons that I've tried in the Chassis in this separate piece.
Native Support
Of course there is already a wide range of inserts available from Spiritus themselves to secure the vast majority of items that one would probably wish to carry inside of a Micro Fight chest rig. 556, 762 NATO and just about every type of pistol calibre magazine is well accommodated along with the full and half flaps to secure larger items of miscellaneous equipment.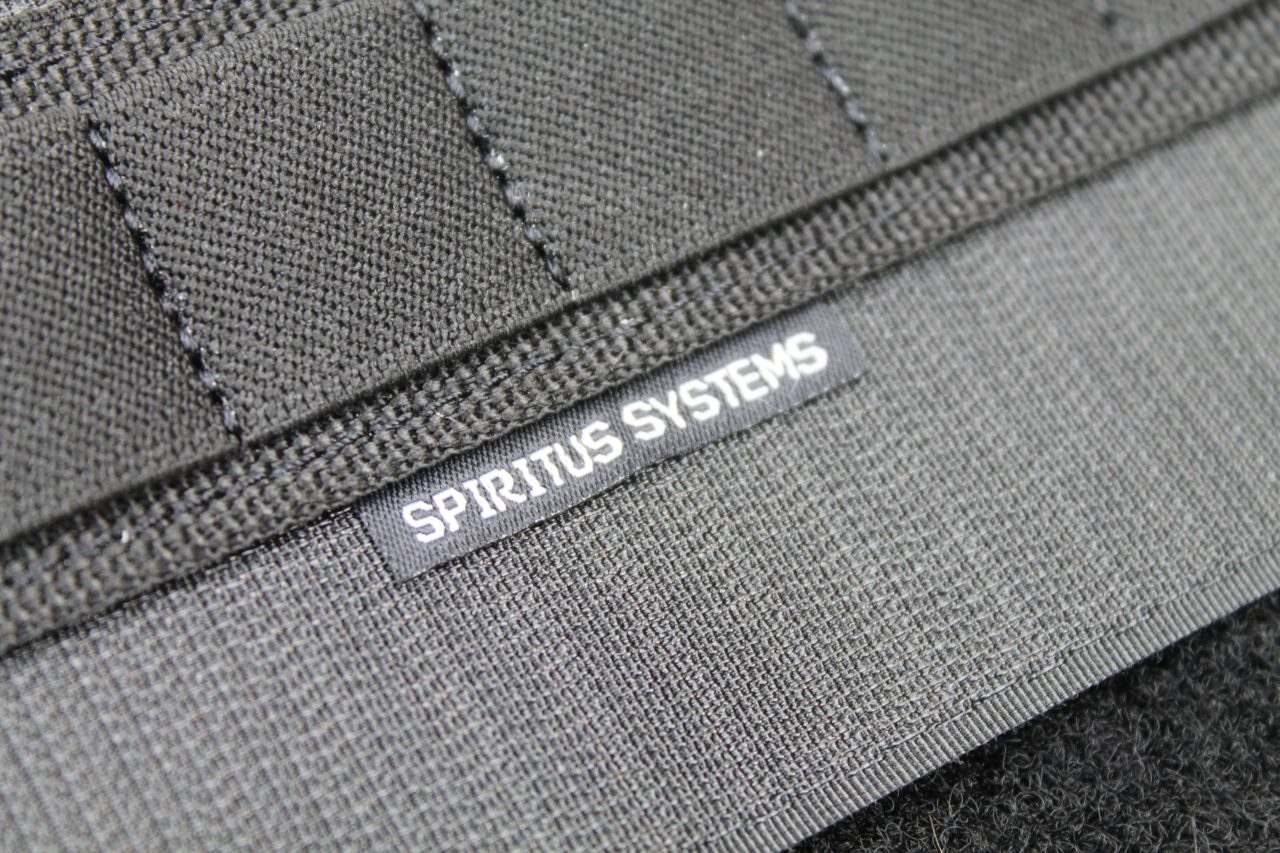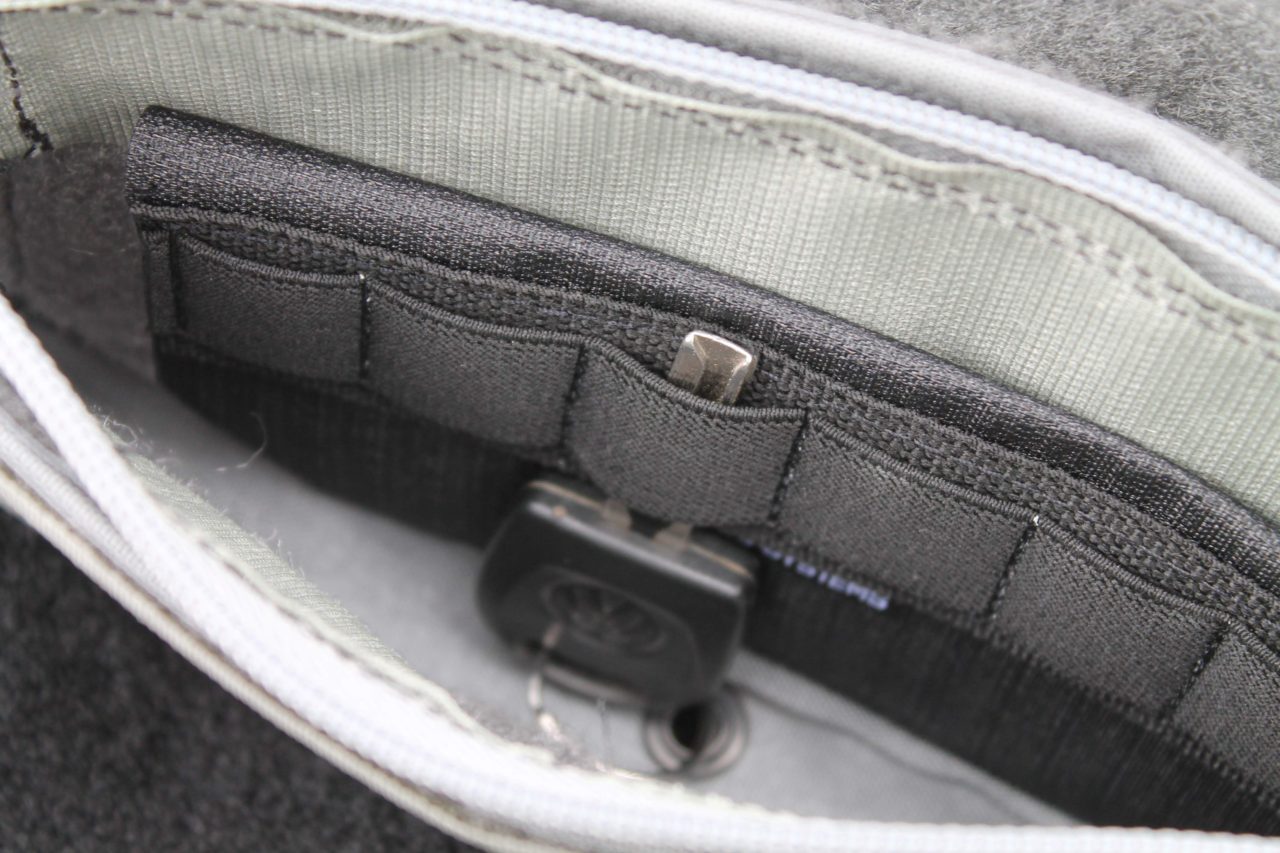 For non-munitions items inside the Chassis there's a wide variety of internal inserts with elastic loops of many sizes available straight from Spiritus.  As an example I wouldn't trust something as small and invaluable as my car key to a full flap, but with the Chemlight/AA battery pouch insert fitted it's not going anywhere.
Home Brew Mods
There is no shortage of alterations you can make to any mark of Spiritus Chassis using raw materials for military gear bought cheaply from eBay and Amazon.
Below is an example of this that I came up with for my own use, one that is intended to collapse the outer cell of the chassis and compress it down such that the whole placard is only roughly the depth of a standard single cell placard/triple mag pouch.  All it requires is some 1″ webbing, a couple of 1″ loops or ladder-locs and 1 or 2 tri-glides; depending on whether you want to do some stitching or want a no-sew option.  It mostly works and can do what's intended but if you tighten the straps very much at all with 3 magazines fitted the webbing loses its' bridge shape and flattens out once a mag is removed from either of the side cells, making reinsertion of that magazine very tricky indeed.  Since this design interfaces with the 4 loops on the sides of the Chassis I'm also doubtful you could use these straps in conjunction with normal harnesses or back straps, though they would work in conjunction with a Ferro Chesty Rig Mini or similar mount that adds extra attachment loops for the harness and back strap.
If you happened to only want to use the part of the chassis nearest the body and used a dump pouch then these compression straps might come in handy, but I bring them up mainly as an example of what you can achieve with a few £$ and just a little bit of time.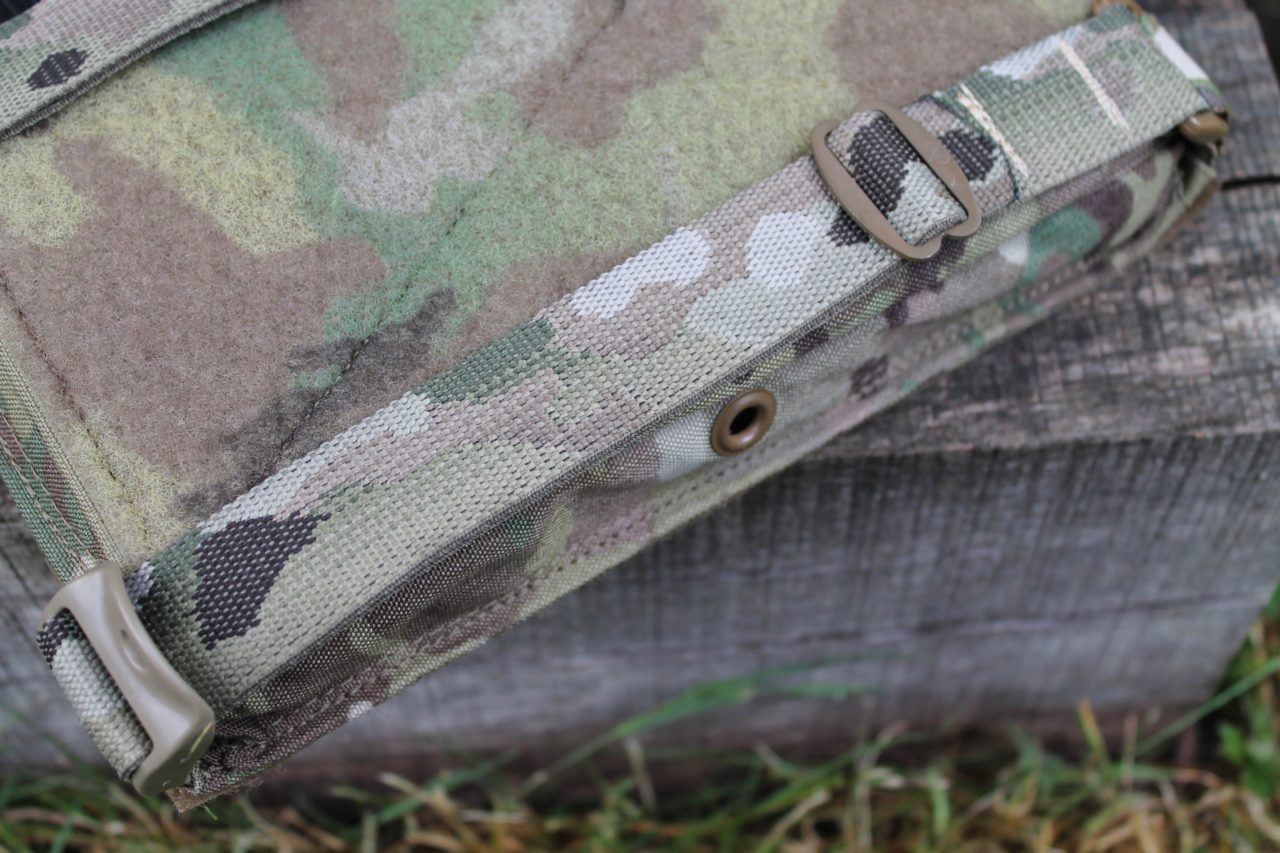 4″ wide velcro is a common standard among many tactical products and the Spiritus product line features a lot of dimensions that are based on multiples of 4.  As an example the loop fields that entirely cover the fronts of all MFCR Chassis are 4″ tall by 8″ wide and if you want to cover up that loop (or at least part of it) so that it doesn't end up clogged with sand, mud, seeds and bits of foliage then raw 4″ wide hook velcro can be obtained very cheaply online and cut to whichever length you require.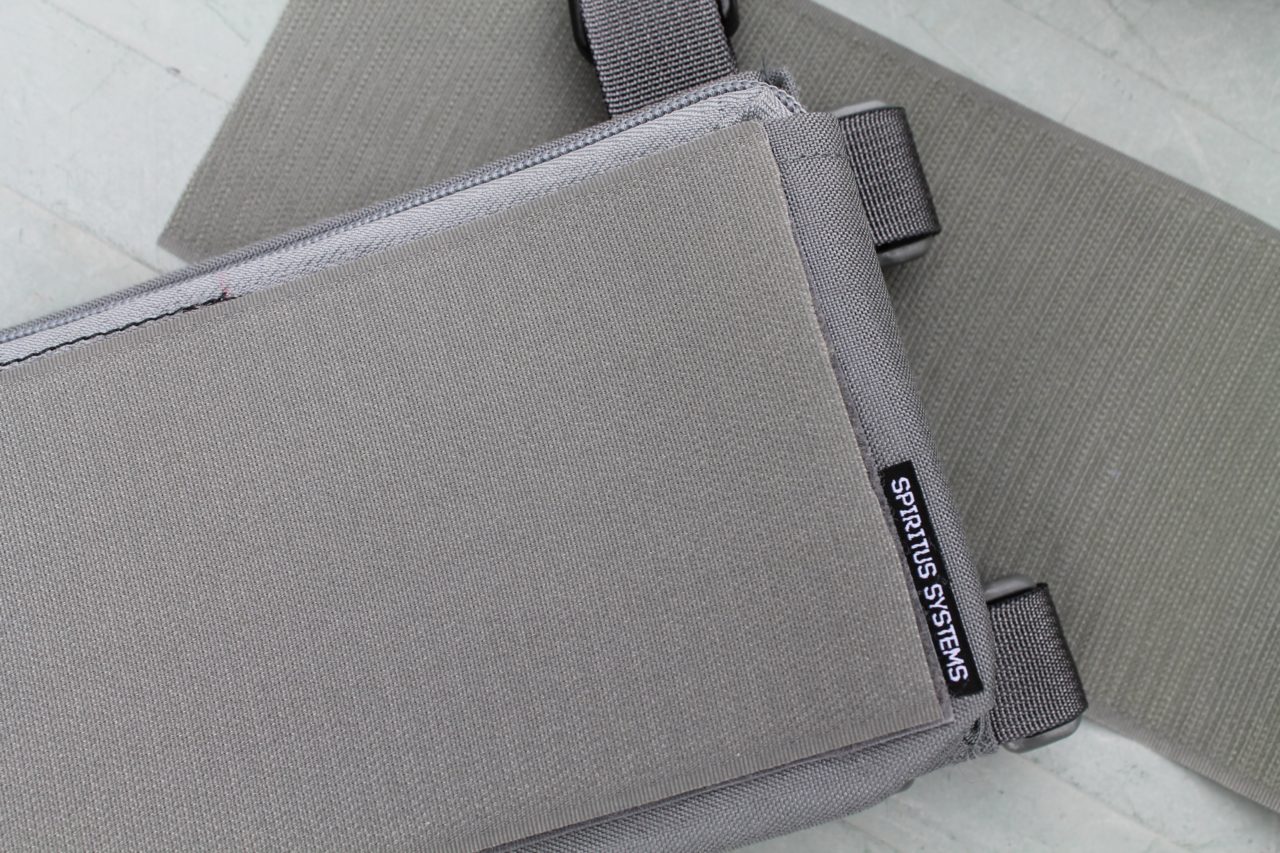 I have not personally seen any manufacturer of tactical soft goods actually use green or grey 1″ plastic hardware on their relevant product colourways and it seems to me that there are good reasons for that when it comes to function and durability of the specific plastic compositions, however if you do want the minor aesthetic upgrade and you own any tool that can cut relatively thin plastic then the components are out there.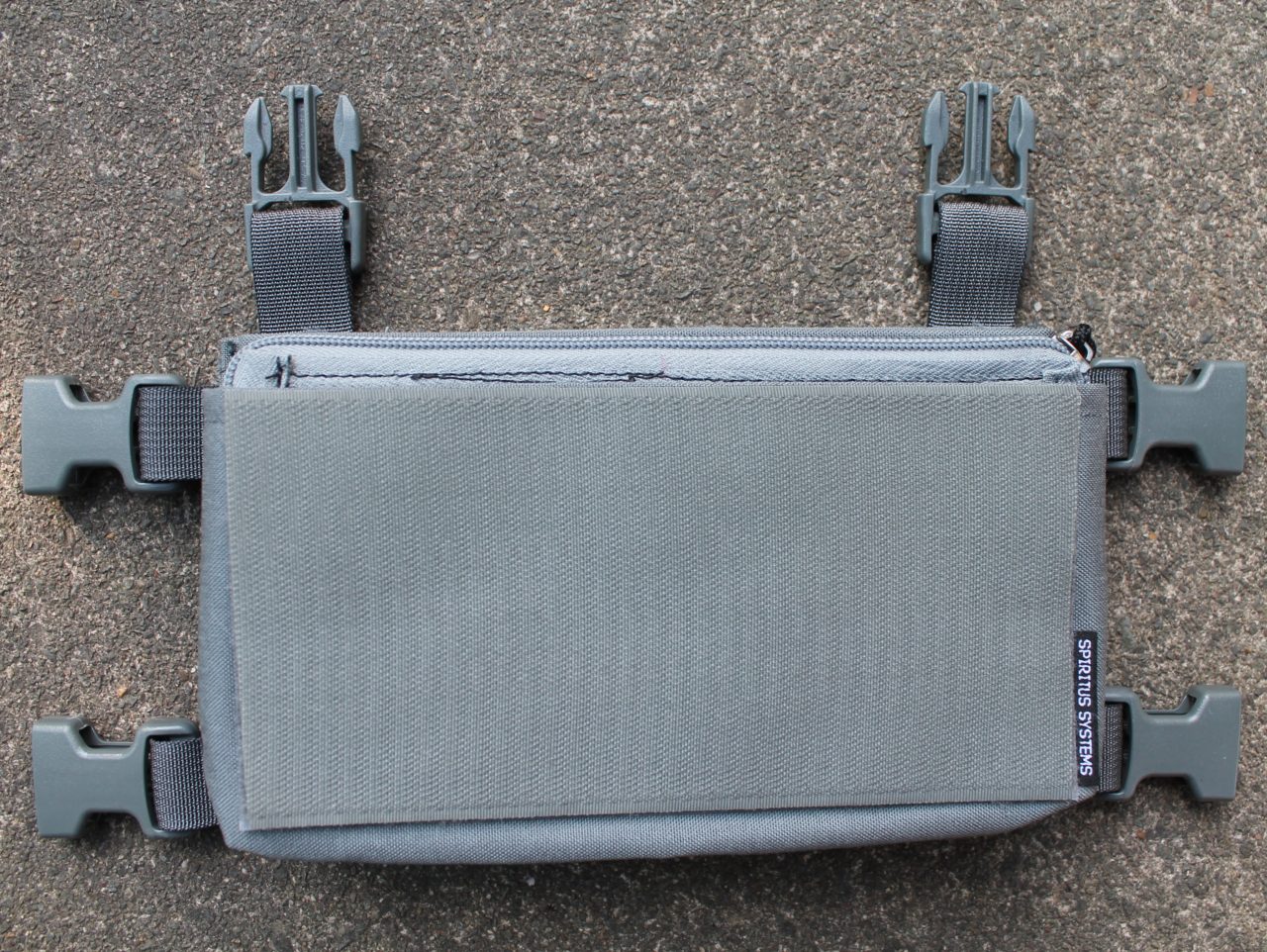 Just to re-iterate, from my experience just handling these non-standard coloured pieces of hardware there is a noticeable difference in the plastic quality when flexing the male buckles to clip and unclip them.  When I say noticeable I don't mean that they're awful China-clone-gear stuff because they are not, but the standard black and tan hardware is so common because it takes a huge amount of chemistry R&D to maintain the quality in a good plastic component when you change its' colour.  This might seem surprising to some, but rest assured that is the case and it is also the reason that Magpul for example do not offer a fully transparent or even translucent magazine, because they've tried it but durability suffered enough that they never put such an option in to production even for the civilian market.
Harnesses and Straps
There is truly no shortage of X and H harnesses and back straps on the market that will be compatible with the Micro Fight Chassis.  The Spiritus fat and skinny straps are great but absolutely any chest rig harness or strap with 1″ buckles will fit and that is at least 90% of all such items that exist today.
Since I have a few of the Ferro Concepts Chestys I've used used their H-Harnesses which absolutely work but again are more setup for G-Hooks so the Spiritus options interface just a tad more neatly and cleanly.  However you can also use HSP Flatpacks or chest rig straps, most MSM/Tac Tailor backpacks, various products from UR-Tac, the straps and harnesses from any Mayflower/Vel Sys chest rig or the Crye Airlite chest rig and the list goes on.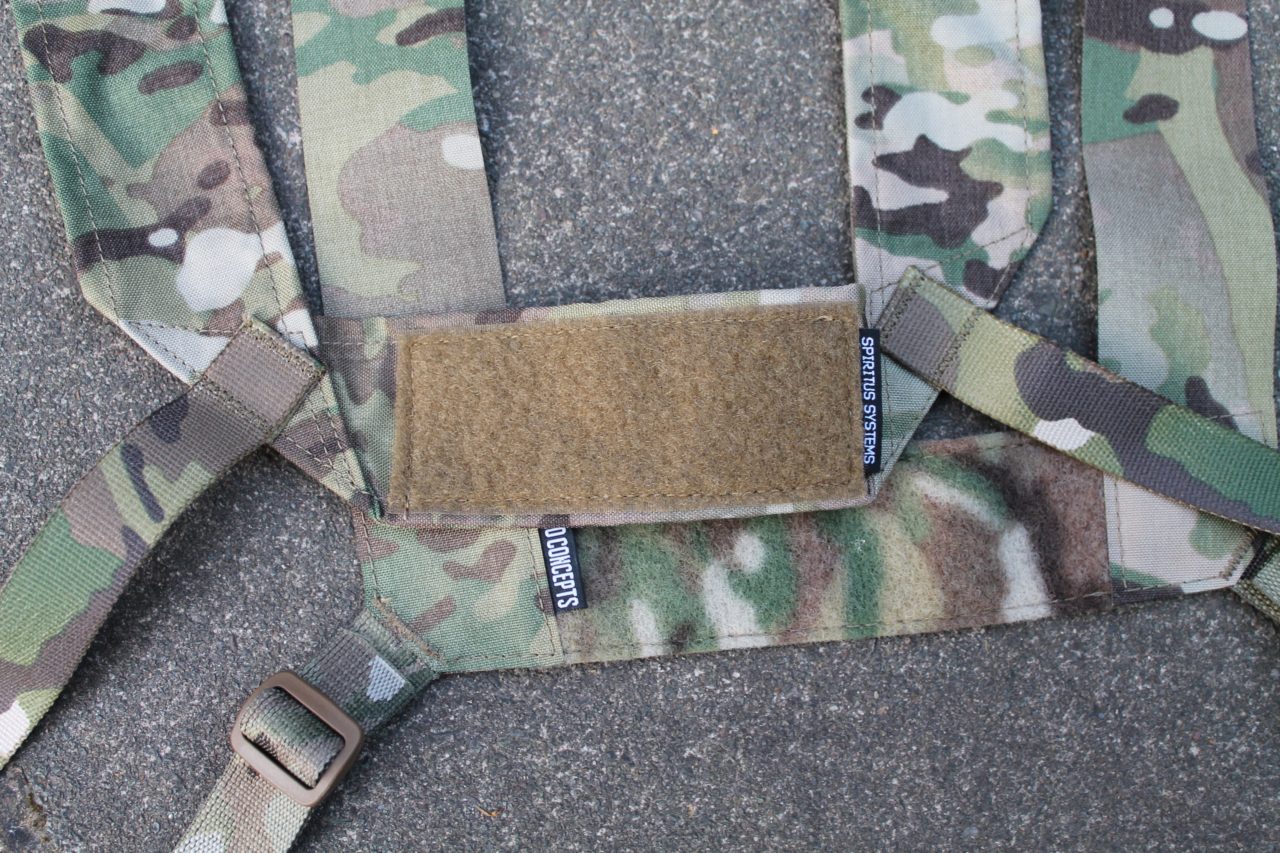 Not every brand sells their harnesses separately from a chest rig like Spiritus does of course, but there are other á la carte offerings from SKD Tac, Whiskey Two Four, British Tactical and probably others that I'm just not aware of.
Capacity Expansion/Mounting
A native option from Spiritus is of course available to expand the chassis in the form of the Expander Wings, which are largely aimed at carrying radios and are a good option but understandably don't provide as many options as adding some PALS columns to the sides of your micro rig.  I'm not mentioning Sacks and dangler type pouches here as along as one of those has the right velcro there's really nothing to discuss in terms of lower pouch compatibility.
When it comes to expansion at the sides (and after speaking to Rich at Reptile House) I went for the Ferro Chesty Rig wide which is a light and simple way to tie everything together, though I did consider a (now discontinued) alternative from Velocity Systems.  Even though the Ferro products are primarily designed around G-Hooks rather than 1″ side-release buckles there's always a way to mount either a QASM/Surface or field repair type female buckle.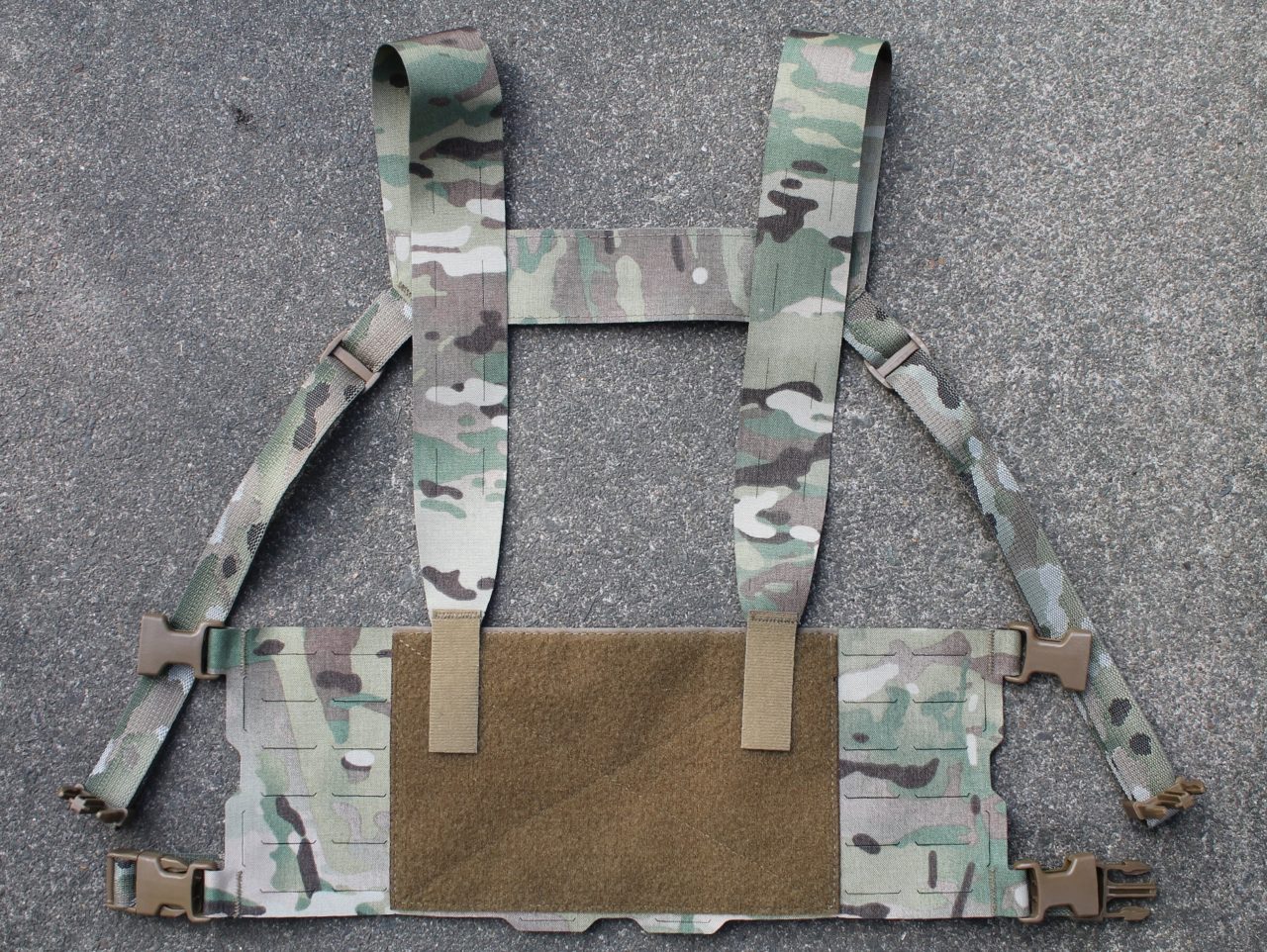 Another option is a pair of the Whiskey Two Four Modular Expanders that I have covered here previously, or their Side Saddles if you prefer GP pouch space to PALS fields.  Plus of course there are a few other alternatives floating around these days from other manufacturers which add 2 or 3 PALS columns to either side of just about any placard or small chest rig of conventional design; google will bring up results.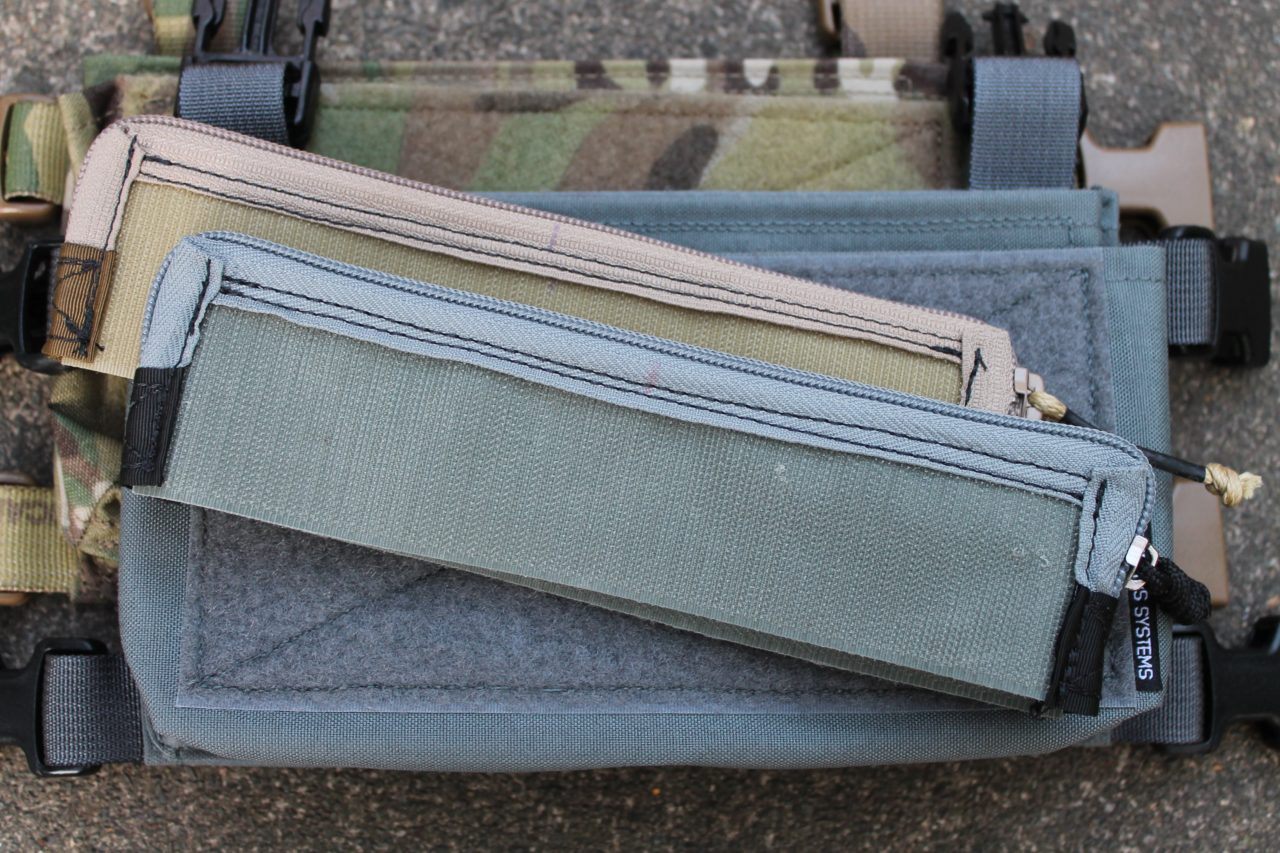 An extremely popular way to convert one of the Chassis cells in to admin space is with the Zip-sert originally designed by Bergspitze custom.  When it comes to securing smaller items than the Spiritus flaps can secure reliably the zips do a great job and are considerably quieter with the option to be opened only just as far as is necessary.  My current zip-serts are very early versions, not quite prototypes but not nearly as refined as those currently stocked by Spiritus.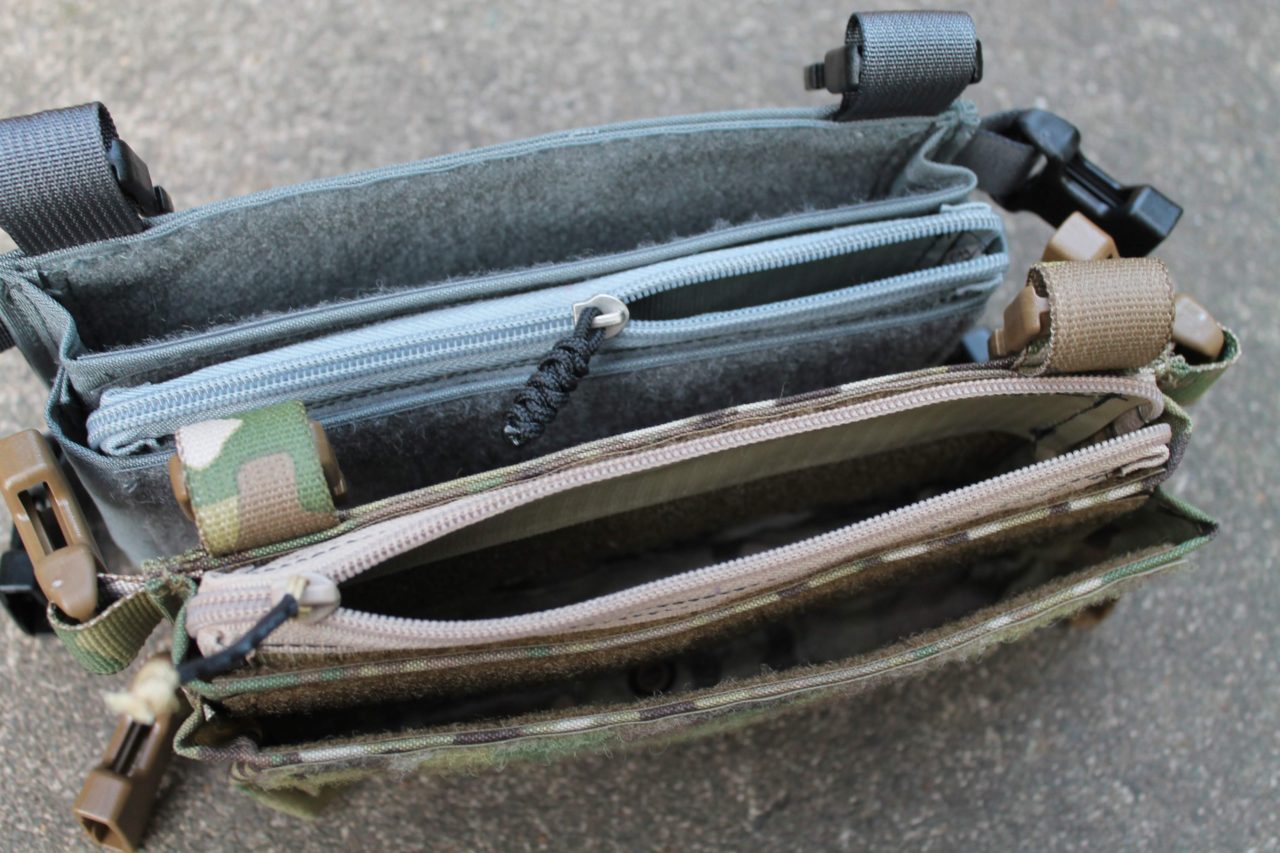 One of the biggest and best names that needs to be mentioned in this article is AXL Advanced who mostly started with offering quality of life improvements for Crye products but have somewhat naturally expanded in to producing accessories for Spiritus chest rigs and the LV-119.  Only to be expected really given the highly modular nature of those platforms and how readily they can be outfitted for specific purposes and to suit personal preferences.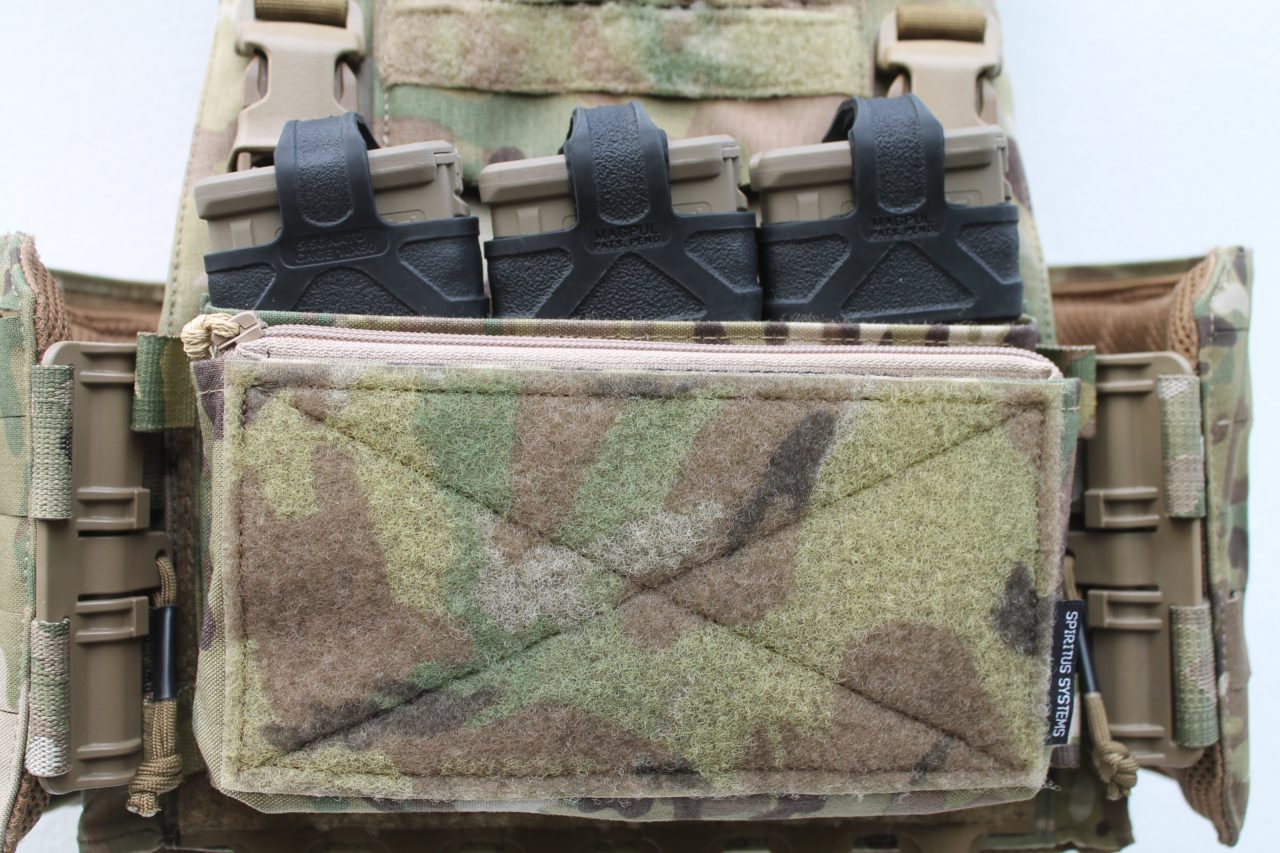 Above is my FirstSpear MBAV cut Strandhogg and Mk3 Chassis with an AXL Adaptive Vest Placard (AVP) allowing the two to blend seamlessly.  AXL products cover every size and style of vest from FirstSpear as well as the full range of Armour carriers from Crye in order to allow mounting of industry standard placards and micro chest rigs.
Magazine Retention
Allow me to introduce the elephant in the room.
The Spiritus 556 insert is great, it's super slim and weighs nothing, provides tons of retention and re-indexing mags is easy.  It isn't quite as easy as with a plastic mag retainer but Spiritus stand by their notion that you don't need an uncompromised ability to rapidly store away magazines at any given moment and that stance is argued but some but undeniably holds water.  SOP arguments aside however many people still want the convenience of a KYWI or MP2 and I have tried a few potential solutions myself.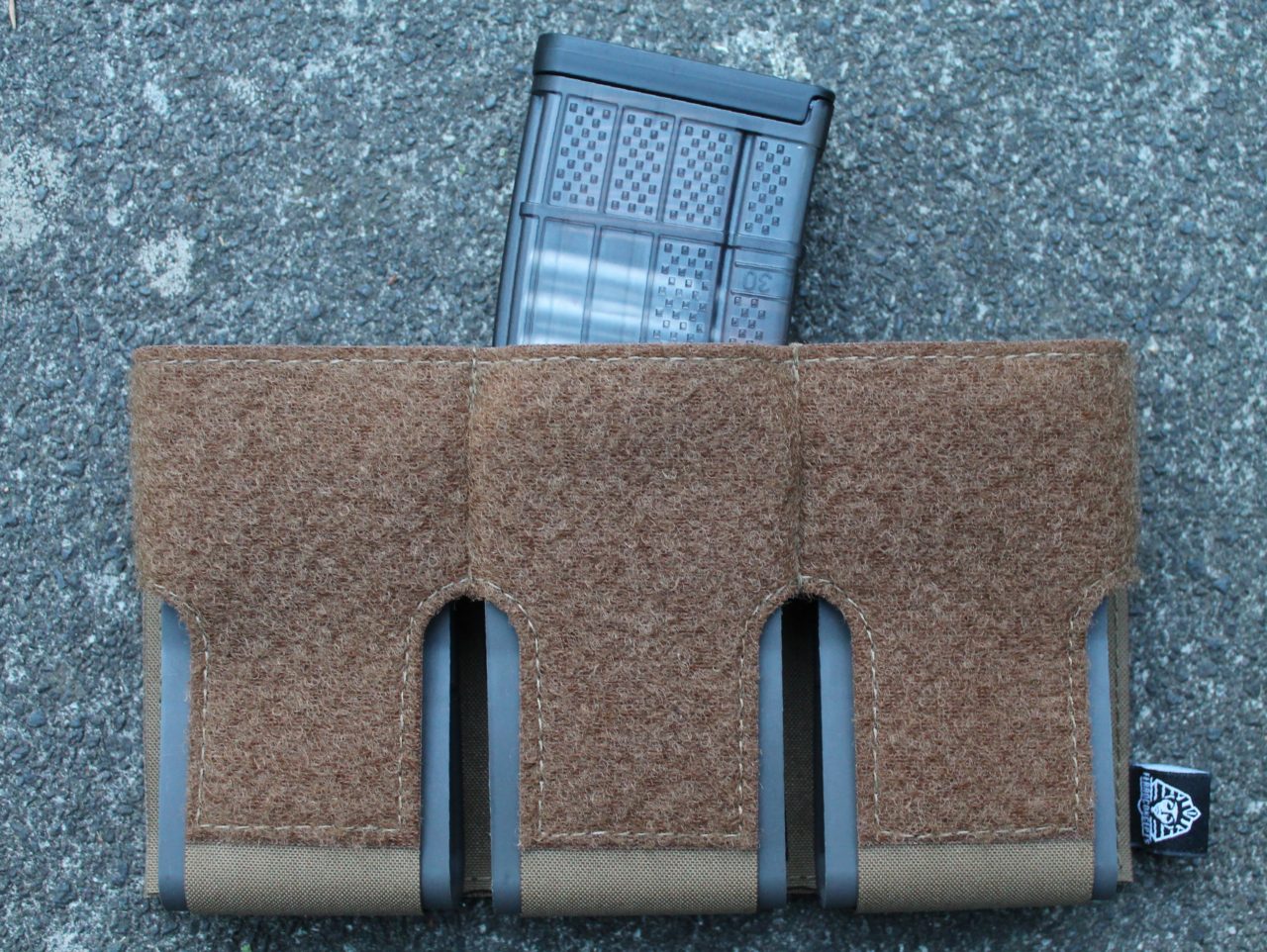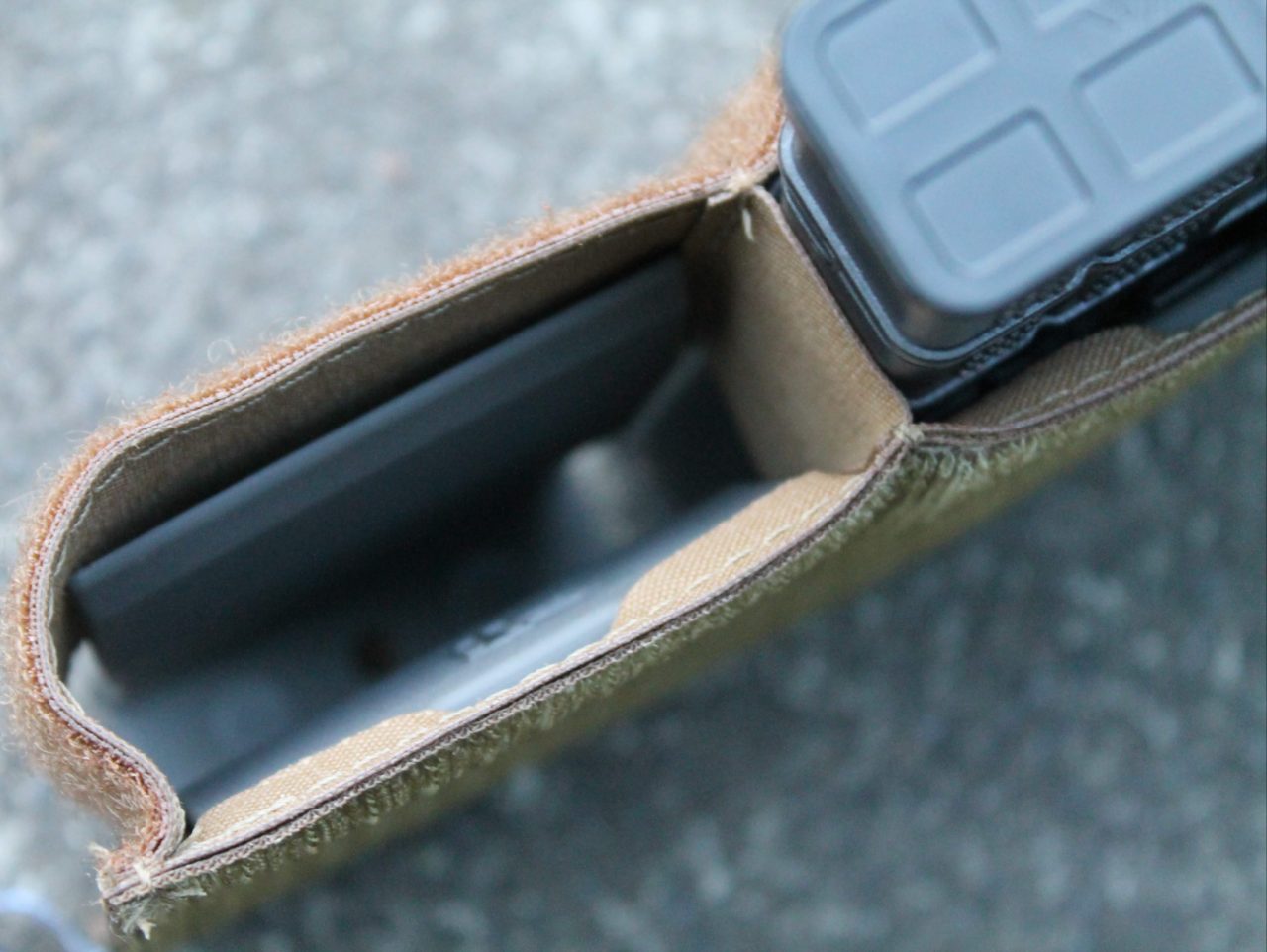 The Ferro Kwik Triple Shingle is a nice drop-in option for MP2 mounting but has the wrong velcro configuration, however that part is easily solved by stitching or gluing some hook to the back of some more hook.  As far as the MFCR Chassis is concerned however all that is irrelevant as the Chassis is slightly narrower than all the Ferro placards and the KTS will most definitely not fit.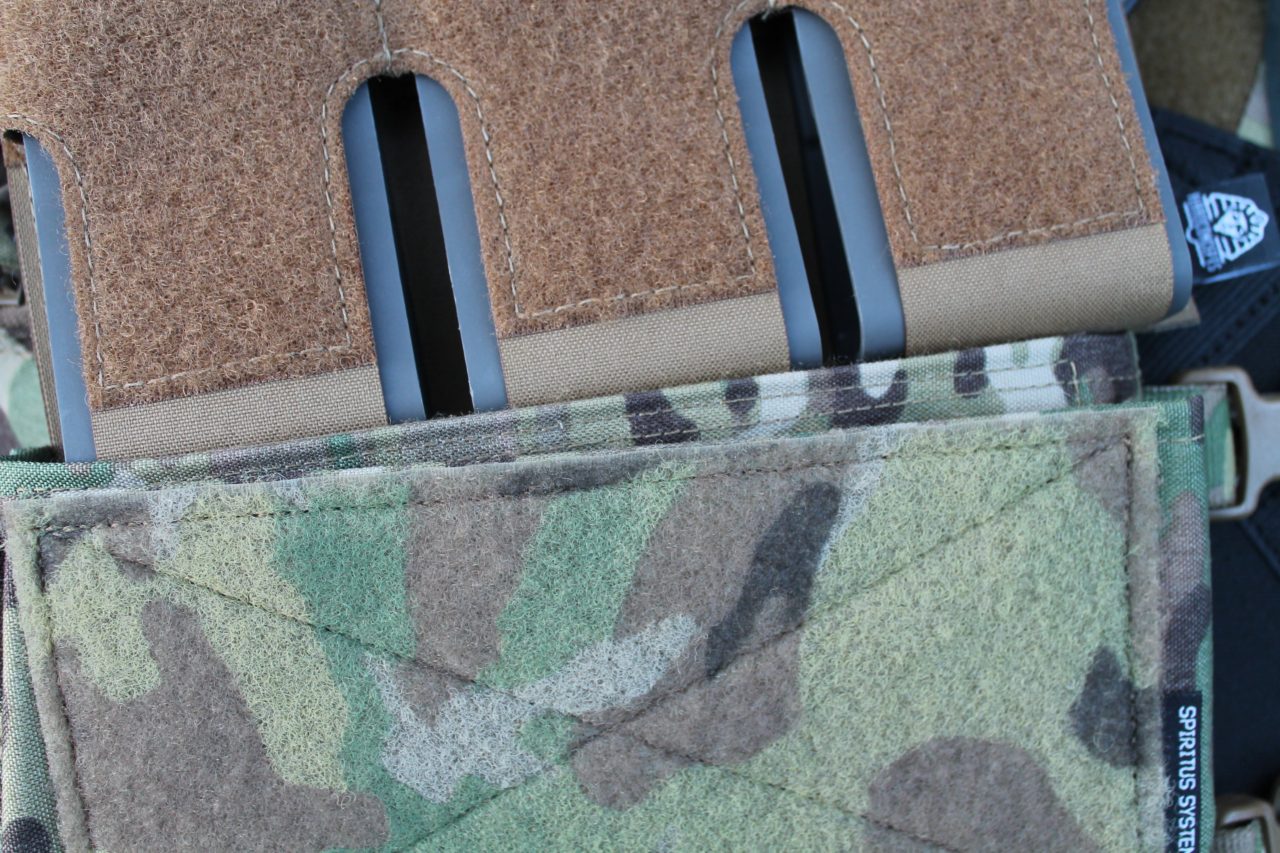 A popular question is with regards fitting the actual Haley Strategic triple 556 insert in to the Spiritus Chassis, which is a natural thought since both the Chassis and D3CR-M are fully lined with loop and similarly sized.  The short answer here is no, the long answer is very occasionally yes but not as a rule.  The pictures below would seem mis-leading and admittedly I just about managed to wedge my HSP insert in to place with a fair bit of effort but the fit is not ideal.  Most people who report attempting this same thing find that the 3 MP2s are simply too wide for the Spiritus, which makes sense since the D3CR-M is roughly an inch wider at the back of its' rear cell.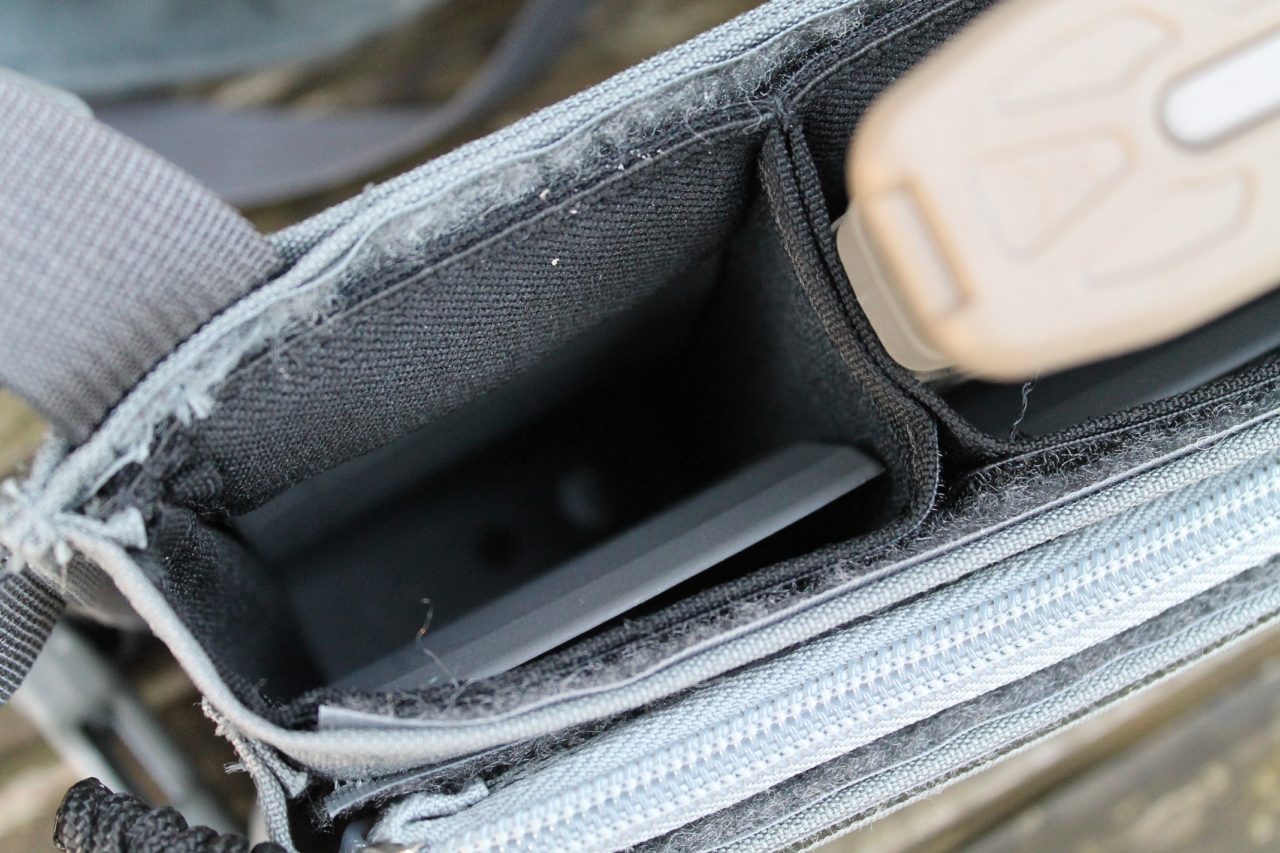 Personally I think the Spiritus design does much better at being both a standalone chest rig or placard.  The Haley does fine in its' stock configuration but has quite a bit wider of a footprint and then you've got the extra width of the pistol mag pouches on each side, both of which tend to get crowded and be of limited utility when their are other pouches or bits of gear mounted either side of the D3CR-M.  Though to get in to a full comparison between the two is for another day.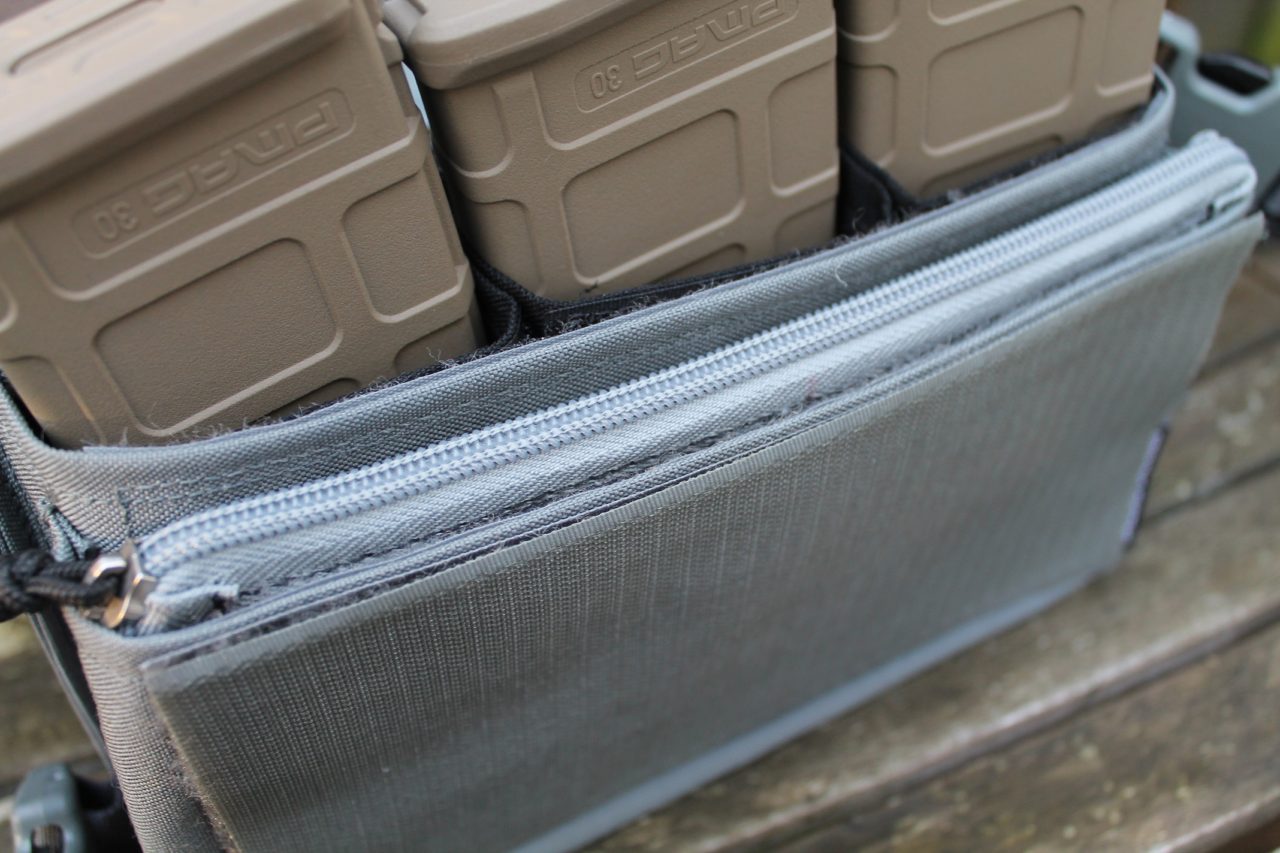 While the legendary ESSTAC KYWI does have hook on both sides and hence secures nicely inside the Chassis, the cordura of the Chassis alone isn't designed to be rigid up top which allows the centre piece of kydex to splay open far too wide to actually grip a magazine, as shown below.  You will need some velcro one-wrap to fit inside and around the tops of the inserts to remedy this, which fortunately is a quick, easy and fairly cheap fix with a small roll of said Velcro product from eBay/Amazon.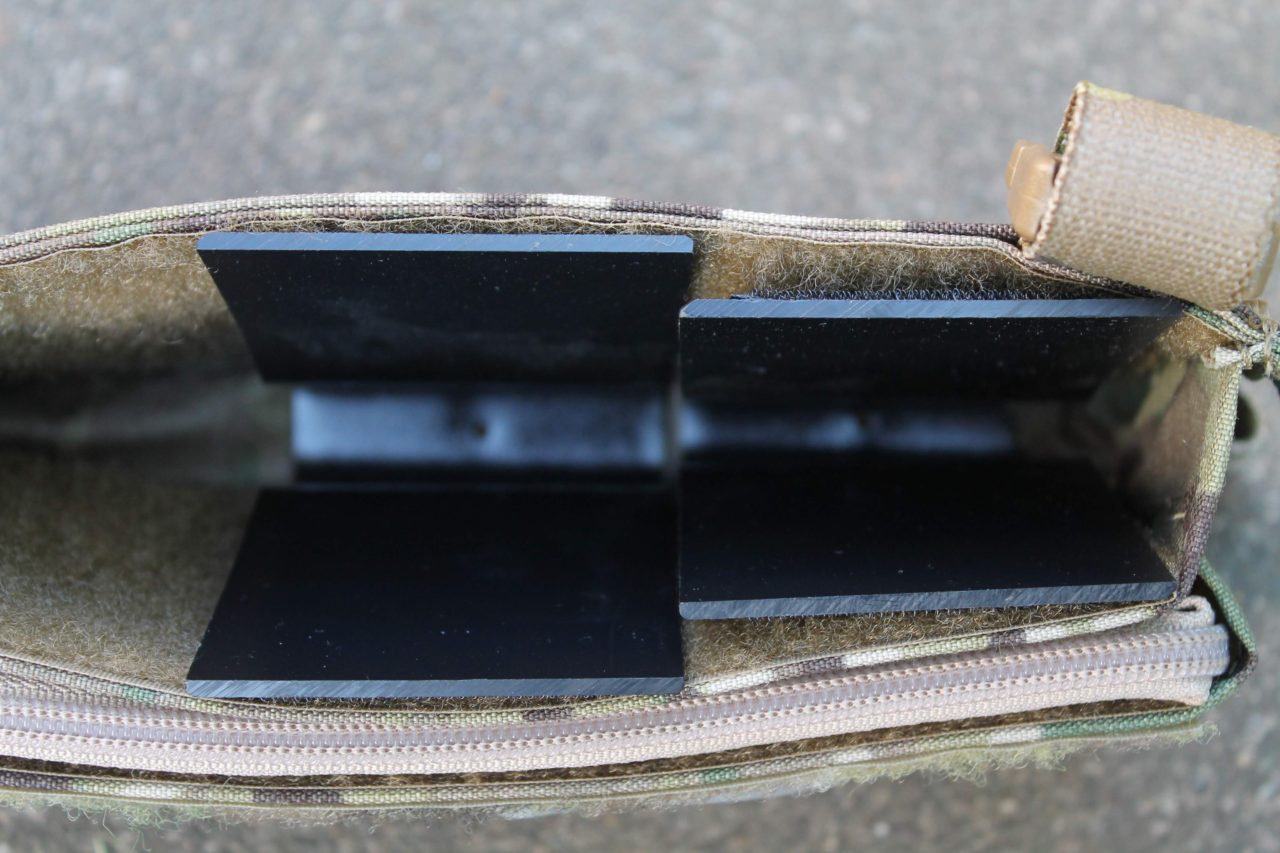 Given that kydex retention for the Micro Fight is something that a lot of people frequently search for I wanted to also mention a couple of other options that I've not personally tried out but are very popular.
The first is the Triple Roo from Coyote Tactical which from what I'm seeing is probably one of the best options on the market at the time of writing.  The basic version at $25 is essentially the same as the Spiritus 556 triple insert with native capacity for shingle style bungee retention and depth limiters, but adding the ESSTAC KYWIs (bringing the price to $45) will provide the kydex functionality a lot of folks are after.
Running the Spiritus group for the past few years has meant that I've seen a lot of these options discussed on many occasions and it has given the me the chance to accumulate a lot of user experiences, so the 2nd option I'll also mention is the Midwest Tactical Kangaroo Insert which again I have not personally tried and the Coyote Tac would probably be my personal choice, but the Midwest is well regarded by quite a number of people so might well be worth considering.
---
Keep in mind that what you see here is just a small slice of the Spiritus aftermarket and the personal modifications that are possible to concoct with regards the Micro Fight Chassis.  My aim here wasn't to create a list of all the manufacturers that make something which can be attached to a Chassis, but hopefully some of the key points have been covered here in terms of helping you to figure out what you might purchase to outfit your MFCR and more importantly perhaps, what not to purchase.