If you missed part 1 of this 2-part little showcase be sure to take a look over the earlier entry via the link below, as it details the base gun that was used to build the one I'll outline here as well as the 'sister' to this build:
The 11.5″ barrel is without a doubt the more practical option when put up against the 14.5.  In an electric airsoft gun there's no significant difference in range, accuracy or muzzle energy with a slightly shortened barrel, however the weight is decreased and ability to manoeuvre in tight spaces goes up significantly.  If I am going out to engage in fake wars I far prefer indoor and close-up sites and I've found myself in areas barely wider than my shoulders before now, places where a 14.5″ M4 style setup was actually far from ideal.  The smaller rifle is just handier and more manageable in essentially every conceivable situation.
This specific RIF has been through 2 iterations with me, the second being a smaller change in terms of numbers of parts, but still significant in terms of adjustments in handling.  Originally I wanted to replicate a real BCM upper and thought that the wide ranging versatility of a quad rail would be a good call if I ever purchased an IR laser, so I picked up a Centurion Arms C4 10″.  This was before the release of the MCMR line of handguards of course and even though the C4 is nice and light for a quad I realised it was a bad choice as soon as I got it in my hands.  I've written a piece that is both a review of the C4 and my thoughts on the obsolescence of quad rails that I'd strongly encourage you to check out if you've missed it previously as some learning most certainly took place on my part.  Doubly recommended if you're contemplating which type of handguard to buy for your next AR build (firearm, airsoft or otherwise):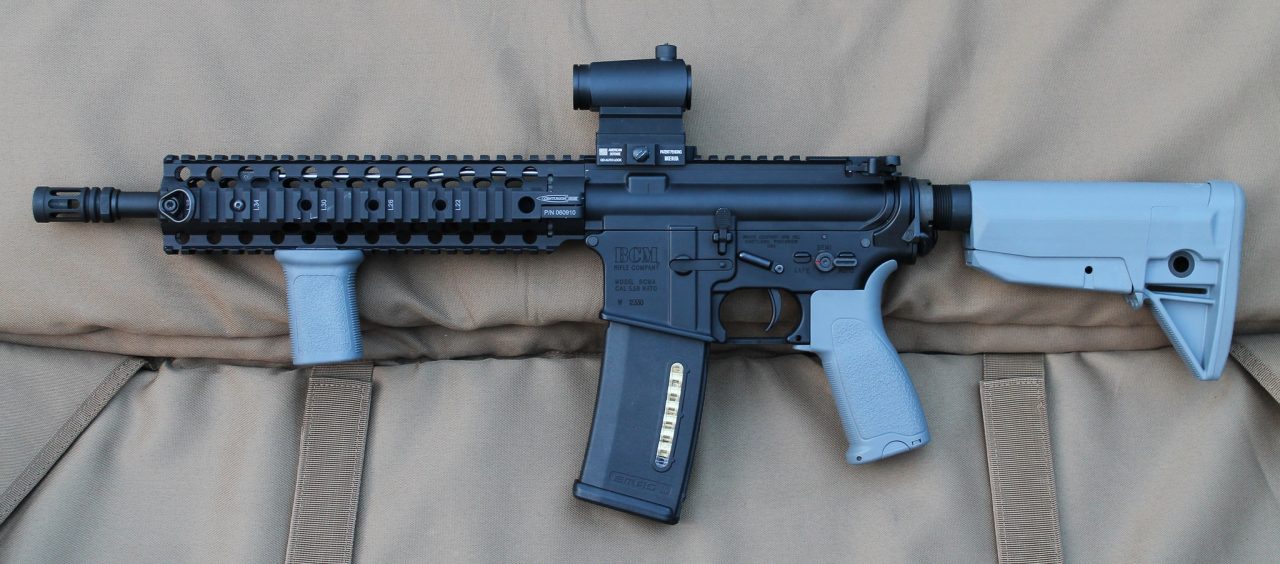 From factory configuration, the stock and pistol grip were changed over from basic, black PTS MOE gear to a BCM Gunfighter (non-SOPMOD) and Dytac replica of the BCM Mod 3 respectively, the Dytac motor housing fortunately being a pretty close facsimile for the proper BCM grey colouring.  The SureFire brake replica was substituted for a King Arms replica of a BCM Compensator in the process; replica on account of the proprietary threading on AEG barrels and illegality of fitting some real muzzle devices to airsoft guns in the UK.
I also had a Gunfighter Mod 3 vert grip fitted to the C4 alongside a Magpul QD Paraclip adapter, which of course pairs up with the PTS ASAP sling plate that VFC/Avalon mounted to the lower receiver at the factory.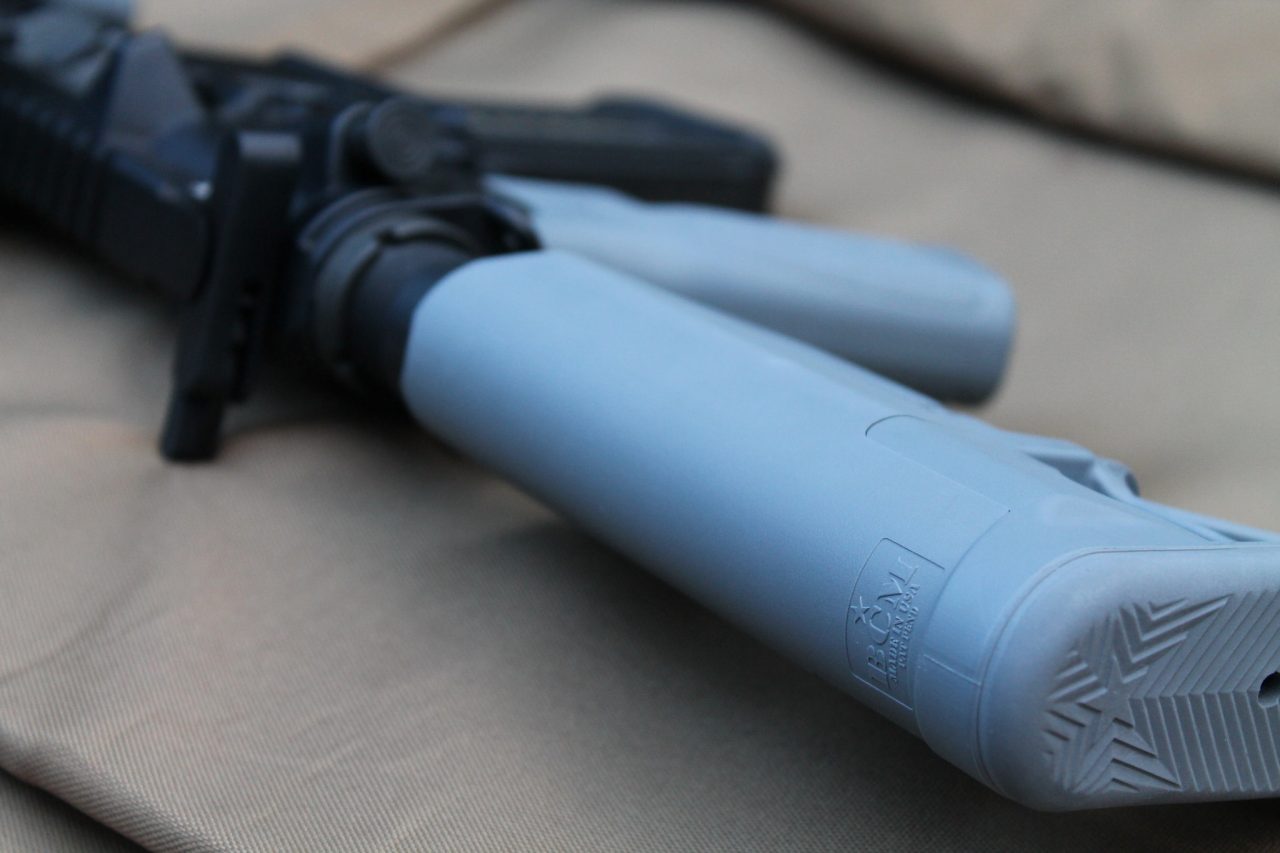 As mentioned above and outlined in the review of the C4 however, the quad rail simply isn't in line with what I want these days and when I saw the Geissele MK14 first at DSEi 2016 it became clear my first Geissele rail purchase was on the horizon.  I'd handled one of their earlier products prior to M-LOK which no doubt many folks will remember, and they were popular forends (especially on the 416), but they weren't particularly light and they were egregiously bulky, so even given the extremely strong reputation for quality I never took the plunge.  The Marks 14, 15, 16 and 17 from Geissele are still a little heavier and wider on average than you would tend to see on a civilian AR but then again they're all very much leaning towards the military and LE side of the market.  The barrel nuts are longer then industry norms to better counter leverage forces and there's just more aluminium than usual in every area.  Particularly around the mounting screws as you probably will have noticed upon first looking at the pictures.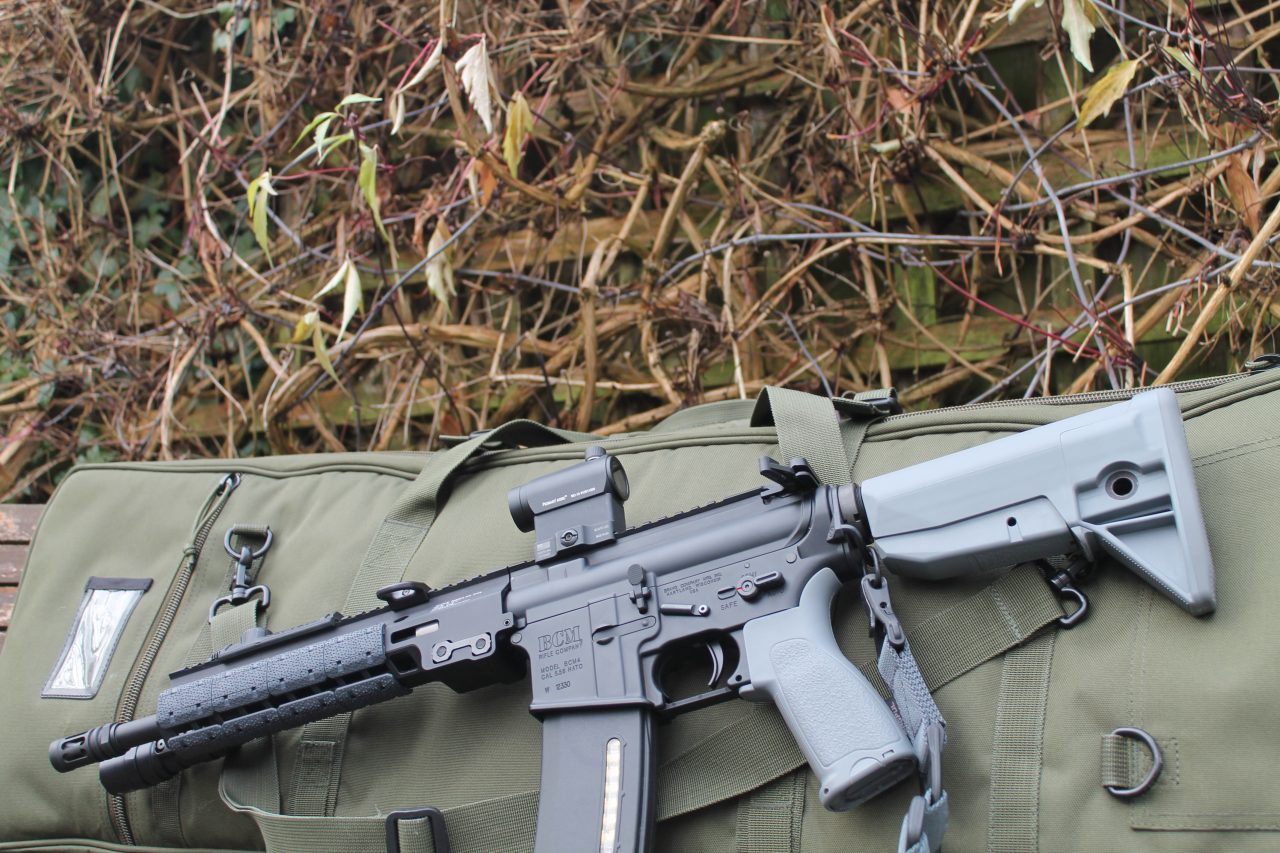 The anti-rotational nature of the QD sockets on the MK14 prevents the Magpul adapter being mounted at the desired angle so I went for the ever reliable RSA instead.  At the moment there's an Arisaka Scout body sandwiched between SureFire head and tail all attached to an Arisaka inline M-LOK mount that will soon be swapped over to their Offset mount in order to bring everything closer together.  The SureFire SR07 is, to my mind, peerless as far as remote switches go.  Instant access to momentary light from either shoulder when mounted at the 12 o/clock, with the constant-on switch requiring only a small movement of the thumb to manipulate.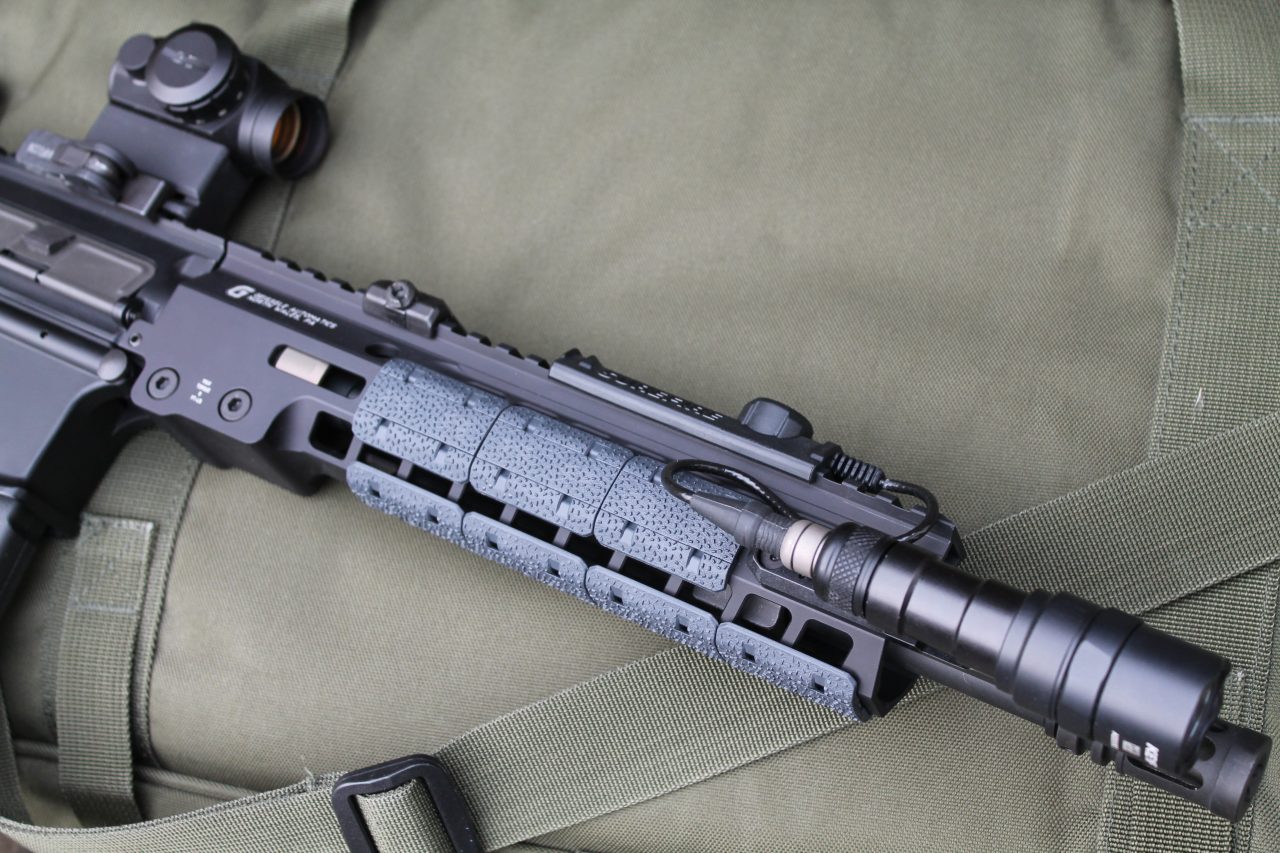 The Type 2 M-LOK covers from Magpul are ironically in place to protect against cold rather than heat.  An airsoft gun generates no heat when fired of course, but a bare or thinly-gloved hand will be sapped of warmth very quickly during the winter when in tight contact with an aluminium handguard.  It also never hurts to protect your M-LOK slots on a rail that costs hundreds by adding some plastic covers that cost about $12.
Actually fitting the MK14 to an AEG is something I'll leave for the review of the forend itself, but sufficed to say it required a mill and some very careful work along with diligent hunting of some replacement screws in the correct spec.  All that said, aside from the internals of the gun (which I find deathly boring in electric RIFs) or optics/lasers, there's nothing left that I'll be changing at this point.  I consider the primary ergonomic/interfacing parts of any rifle to be the handguard and pistol grip and both of those are as good as I can get them.  The controls are all basic AR fare but that's all pretty good out of the box on even the most basic military type M16.
Overall a pretty lightweight configuration that's nice and short with more than enough pic rail and M-LOK space for a full suite of NV-compatible modern accessories (if desired).  Nothing outside the box here really, no carbon fibre or ambi-everything or short stroke gas system – but then the Mk18 also has none of that stuff and people go loopy for those things for some reason or another.
In SBR or Braced pistol format I think the real firearm equivalent (if also built on a BCM) would make a superb carbine for any defensive purpose or in police usage.  Maybe not the absolute ideal for hunting or competition, but absolutely capable of being used in both to a moderate level at least.