Caveat: Any discussion on this page relating to parts that are intended to be installed on a firearm (usually the AR-15) is essentially hypothetical, given the laws in the UK I can only discuss these things in terms of basics of static handling and appearance. That said I have been an armourer for quite a few years now and in my personal travels I've gotten a pretty good handle on the quality that is to be expected from a variety of gun/accessory manufacturers, but at the end of the day my opinion is only worth whatever you think it's worth. As always you must be smart, sensible and appropriately cautious and diligent when modifying any object that discharges a projectile.
For those who'd like to skip my thoughts on the rail alone and just want to see it installed, you can check out an earlier post on the website here to see the airsoft AR it ended up attached to:
On a basic level, most of the Geissele rails are aimed squarely at the military and police end user with some products that have hunters and long range competitive shooters in mind. Geissele don't use any of the super light lithium alloys or ultra skeletonised design patterns and while they have been machining M-LOK pretty much ever since it was made open source by Magpul, it was only a couple of years ago that they actually released these narrower styles of typically modern AR handguards. Previous offerings had quite large outer diameters by today's standards but with the introduction of the MK13 and 14 models the line was brought much more in to line with current thinking.
Probably the best known Geissele products are their triggers and MK16 handguards are part of the 'URG-I' M4 upper sometimes referred to as a SOPMOD Block 3, which has relatively recently been adopted and seen some usage by US SOCOM. Also popular were the older generations of Geissele handguards with screw-on picatinny segments that were one of the high-end alternatives to quad rails before KeyMod or M-LOK rolled around.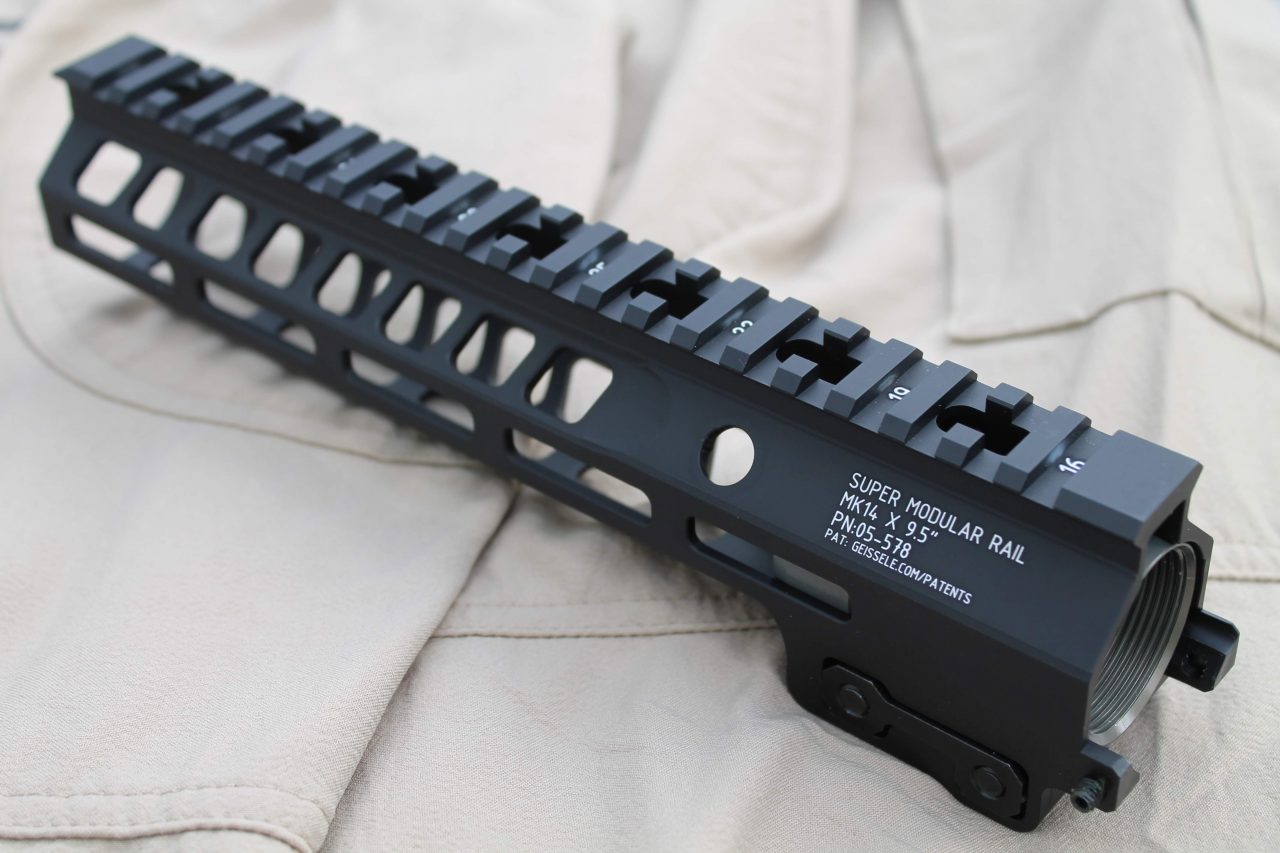 The MK16 looks similar to the 14 at first glance, but the two are definitely different animals. The 16 is significantly heavier for any given length when compared to the 14 but it does offer four more surfaces for M-LOK attachments, those surfaces being at each 45 degree angle whereas the MK14 is extensively cut at the 45s with M-LOK at the 3, 6 and 9. The 16 was of course adopted for SF use and therefore carries extra weight in order to be quite a bit more durable than most aluminium M-LOK handguards, but for most people the 14 is going to be the way to go and in that weight category the 14 is again much more in line with the majority of similar products on the market. That said of course it occupies a space towards the upper end of that market, given the price tag.
As with the ALG rails I have mentioned here previously the Geissele SMR series all feature barrel nuts that are much longer than most competitors, meaning a more rigid mount is achieved, zero'd lasers will be more likely to stay on target through rigorous use and torque placed laterally on the forward end of the rail is handled much better. Half of the rearmost M-LOK slots at the 3 and 9 are blocked by the extended barrel nut, but you can still use the open half to stagger an accessory between slots and the positioning is fine for the accessories anyone might actually mount back there. The 2 main locking screws are noticeably staggered and that is done to get as close to a perfect alignment and equality of torque as possible when the handguard is mounted.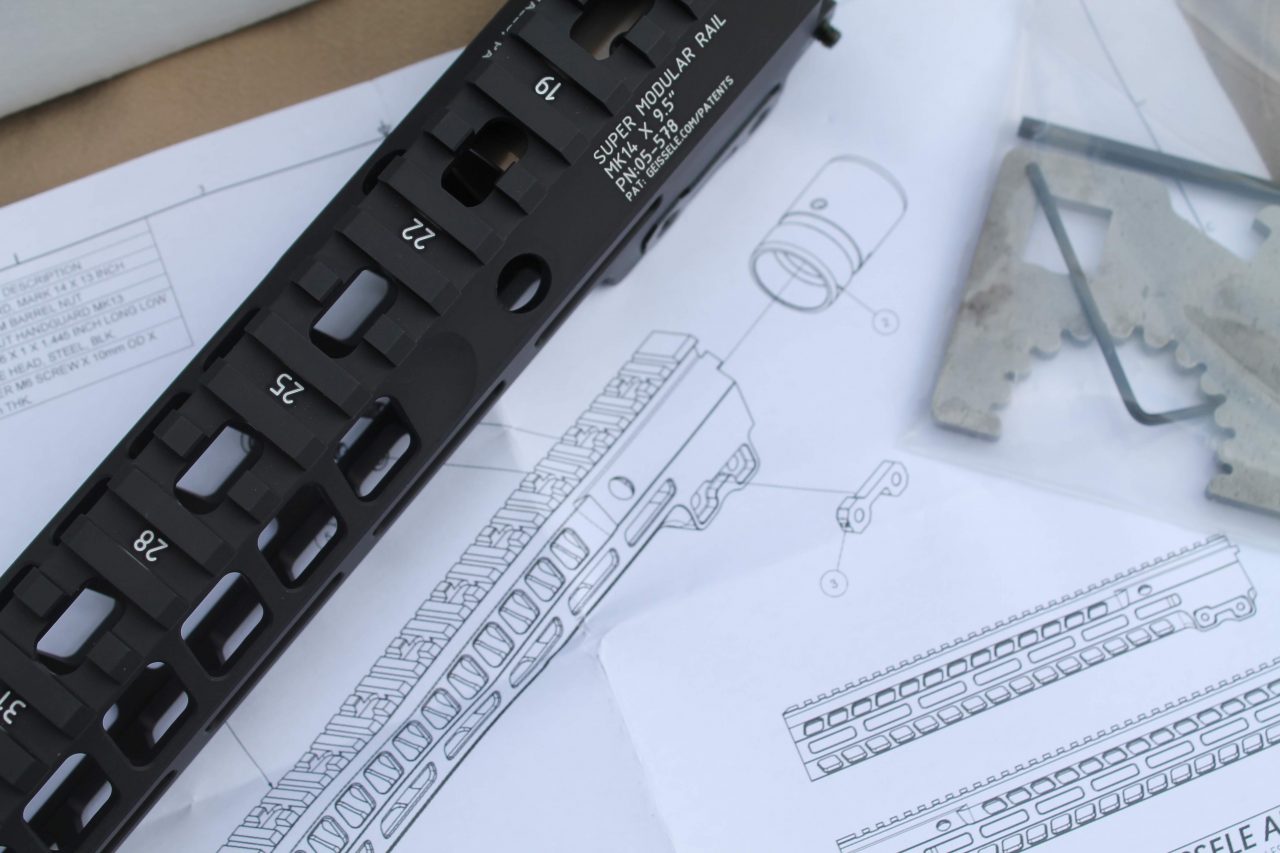 The upper picatinny surface is extremely nicely machined and dehorned (as is the rest of the product) with significant cuts in sensible places to shave weight and laser etchings to mark out slot numbers. There are 2 anti-rotation QD sling stud sockets just ahead of the barrel nut and flanking the pic rail, again nicely cut and in the right place; however if you use a sling with steel QDs and expect to clip in and out of these sockets often you may want to look at another product with steel QD cup reinforcements as I have seen videos of these being worn out and no longer retaining a sling after extensive use.
Other than that the M-LOK slots all do what you would expect them to and the nice slender outer diameter of the Mk14 feels familiar if you are accustomed to other modern handguards that use any type of negative-space accessory mounting method. Primary material is 6061-T6 aluminium and the surface finish is Type 3 Hard coat anodized, both of which are absolutely in line with where the bar is set for quality military spec products of the type.
---
I mentioned in the earlier post showing the full RIF build that I'd discuss installing one of these forends on a typical airsoft gun (AEG in this case) and this is something I've learnt a fair bit about over the past few years. The first step as always is to re-thread the upper receiver using a die, which is a simple enough process requiring only basic tools and all the specific information can be found within 5 minutes of internet searching. The extra step required with the MK14 is to cut the inner surfaces of the stabilising tabs on the lower rear end of the handguard that mount 2 small black grub screws. An AEG's upper is a few mm wider at its' base than a real AR upper which necessitates this alteration. You would probably break right through the upper if you removed enough material from it to allow fitment of the rail, so modifying the tabs on the rail itself becomes necessary.
Once the distance between the tabs is opened up the grub screws will also be too long to sit anywhere near flush when tightened, but finding replacement allen head screws isn't too difficult as the diameter of the holes and the thread specs are nothing strange or proprietary. You will need small, imperial spec screws and unfortunately I don't recall the details on the thread at this point but once you know the diameter there are only a couple of relevant options commonly available out there to try. It should cost a nominal amount to purchase replacements online and figure it out via a process of elimination, or even better if you know someone with machining skill they should be able to steer you in to the right sort of area.
An unlikely proposition, but, if anyone else out there does this mod then please do get in touch and let me know how you got on.