Great product, bad purchasing decision – not necessarily mutually exclusive.
---
I opted for this 10″ Centurion Arms C4 rail for a few reasons. First off because I had this older VFC/Avalon AEG with BCM markings and the C4 is a type of forend that Bravo Company do actually sell on their AR-15 uppers. Secondly I wanted to have at least one quad rail in my RIF collection for both posterity and the extreme range of accessories that are already available on the market. I believe, if memory serves, that at one time Centurion were marketing the C4 as the lightest quad picatinny rail on the market, something I dug in to deeply at the time of purchase (back in winter 16). The website description now says it is the lightest quad rail to attach to a standard barrel nut, so I'd be interested to know who's out there manufacturing a lighter freefloat quad. Purely from a curiosity standpoint.
The C4 is a 2-piece design that easily clamps around a standard type of USGI AR barrel nut and it mounts on there with no question of the security or rigidity.
This is aided by the extra set of screws towards the front end that join together the 2 sections and keep everything perfectly lined up. It is machined from 6061 T6 which is essentially always the go-to when you want a quality handguard possessing of the right properties. Surface finish is again the bar setting standard in the form of Type 3 hard coat anodise which not only looks consistently good but even under simple handling and installation holds up a lot better than some other finishes I've seen on even more expensive forends.
The rails are of course 100% true to the 1913 picatinny spec. Centurion have even included the small cuts in the slots at the very end of each quadrant to enable old school KAC cover panels to mount correctly. Then there's a total of 4 QD sling socket points, both near to the receiver and way out up front, catering to either preference. Most impressively for a 10″ quad rail the weight sits at around 11oz with the barrel nut included and when you consider some old tube forends like the Troy offerings weigh double that then you really start to see the achievement in design. Even some very recent and slightly shorter M-LOK tubes with minimal pic rail along the 12 o/clock will still weigh around 9oz when using aluminium and some skinny M-LOK tubes will get to over 10oz at lengths of around 11″. Again, impressive numbers and all part of the reason I picked up the C4 in the first place.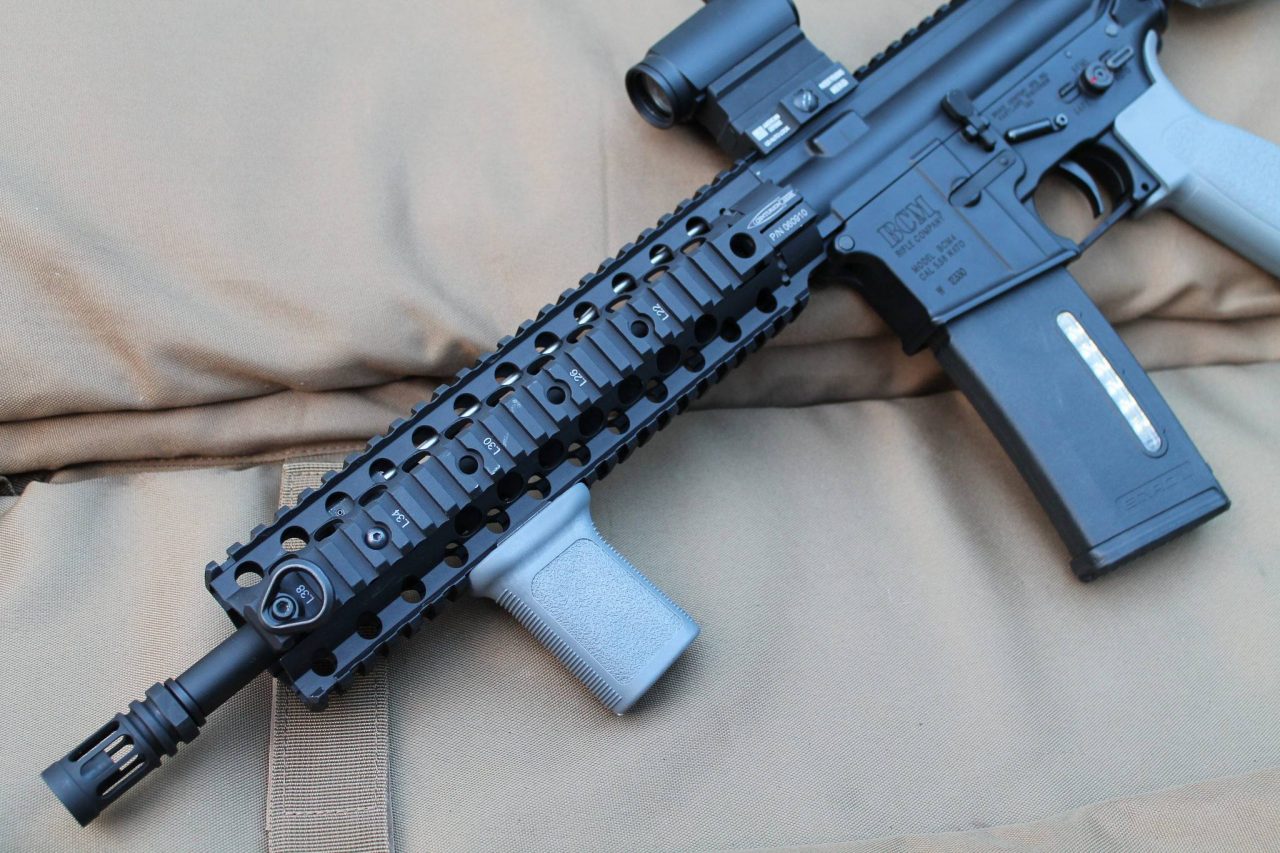 The unfortunate rub for me is the diameter of the C4, that's the only significant reason I decided not to keep it in the end. The internal diameter around the curved surfaces is only 1.37″ which is very much comparable with many modern negative space handguards featuring KeyMod/M-LOK, however the 4 pic rails make the outer diameter of the C4 far, far larger than the inner diameter. There are some hefty old quads out there which are even wider and heavier so the Centurion design still does very well in its' own league, but having gotten extensively accustomed to far narrower handguards over the past 4-5 years I personally just could not go back to the old style given the actual feel in the hand.#
Does that mean nobody should consider the quad in 2018? Not at all. There is one real downfall to negative space systems that I've experienced and very, very rarely see mentioned online; it's a problem that is particularly exacerbated with narrow diameter tubes and when using silencers that sit within the rail. Because the modern rail accessories have to go through the handguard vs purely clamping on to the outside they require space on the rear face of the accessory slot i.e. inside the handguard. Any time the gas tube, piston or gas block (or a silencer) get close to the inside of an M-LOK slot you lose the ability to attach items to that slot. I've noticed a distinct tendency for aftermarket M-LOK handguards for AKs and HK roller-locks to be quite wide in order to avoid this issue, though AR rails often try to go slim and sacrifice mounting slots for that.
On a daylight usage rifle or one with a long barrel this is usually not much of an issue and the weight savings of M-LOK over quad 1913 really make themselves known and felt when examining 12-15″ rails, but short barrels and lots of front end electronics for night time use are of course the norm these days and a short barrel necessitates a short rail. When you're potentially trying to mount a white light, front BUIS, laser unit, a remote pressure switch and a foregrip all within the area of the forend you want to hold while shooting (and your hand does actually require an area to slot in to as well) then space is very much at a premium. With some super narrow M-LOK tubes this can raise an issue as mentioned with accessory attachment and especially when the 1913 along the 12 o/clock is deleted in favour of more M-LOK. Is this insurmountable? Far from it, it is entirely surmountable in fact, but it is still an issue that can be encountered and the narrower the rail and the more stuff you try to put on it, the further exacerbated the problem can potentially be.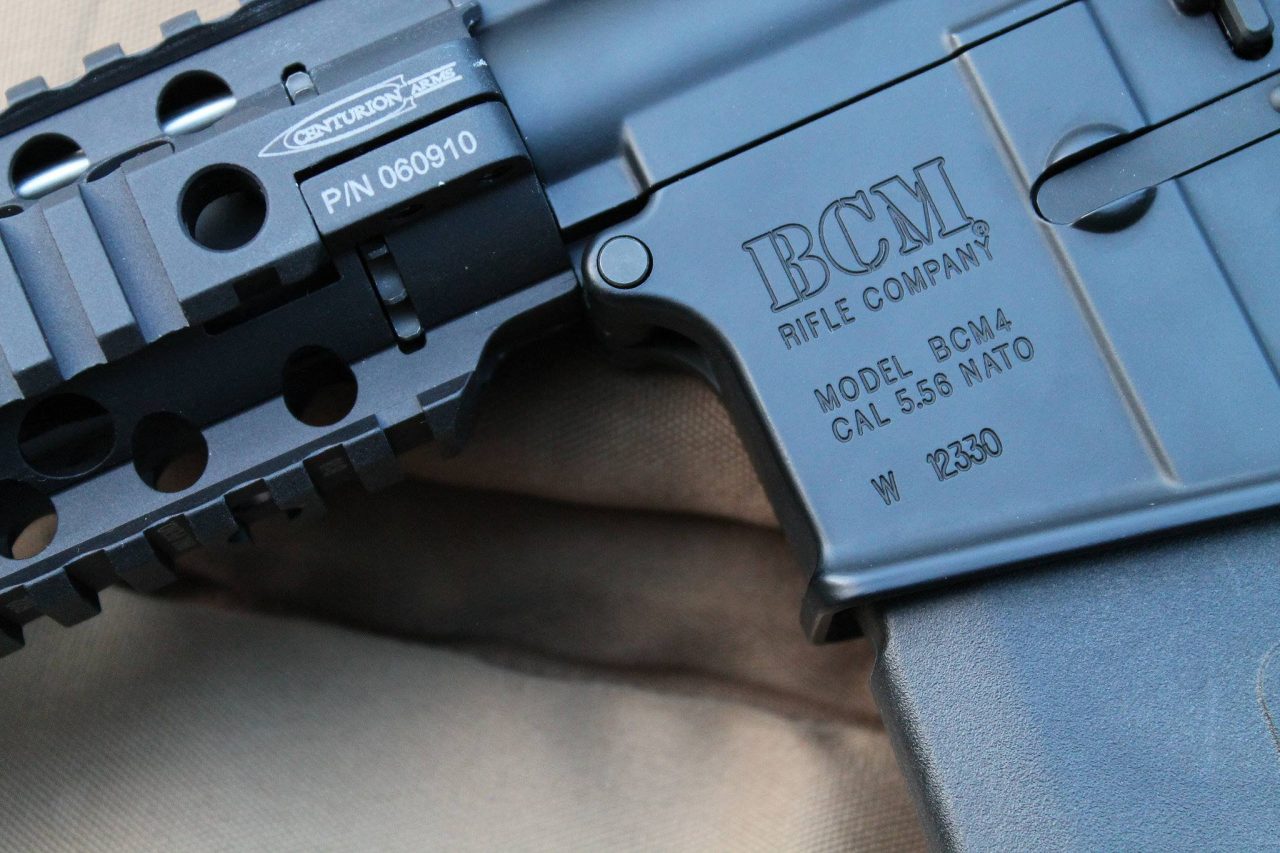 I would tend to say that all things considered the quad is somewhat comparable to the idea of the SMG at this point. It can have some niche applications but it is only getting increasingly obsolescent every year that goes by. The range of M-LOK accessories is only growing and elements of US SOF have already adopted it in the form of the Geissele Mk16 rail. I'd predict the entire US Army to follow in time with either a completely new rifle or an M4A2, after which the rest of the US military will follow and we might well see a replacement of the HKey forends on our L85A3s before moving on to a new rifle.
In the meantime however, if a quad pic rail fits your needs you'd not be poorly served by the C4 from Centurion by any stretch given the overall quality of manufacture and design. I'd tend to not recommend a quad, but if you are going that way then this one is a very solid bet.