We've not looked at a firearm accessory in a while, but I think this ALG Defense rail is a pretty bloody good one as they go.
For those in the US I preface posts on this topic with the fact that here in the UK the only variants on an AR-pattern rifle we can legally own really aren't capable of putting enough stress on something like a handguard to warrant going to the effort of even attempting to heat it up, doubly so given the super high prices of ammo here. The only attributes I can discuss on items such as these are the overall quality based on my knowledge of weapon parts, along with the baseline ergonomics.
This particular ALG product is the EMR V2 M-LOK, with EMR being short for Ergonomic Modular Rail. It is the 10″ model in black and is currently fitted to an airsoft gun with an 11.5″ barrel as shown in the image below. This model weighs in at a mere 9.5oz including the steel barrel nut with a svelt 1.75″ outer diameter, making it very easy indeed to get a thumb-over-bore grip right up near the muzzle of the weapon.
There's no shortage of M-LOK slots as you can see and the QD sockets featured on both sides are anti-rotational. The small section of M1913 rail right up front is just big enough for either a front BUIS, laser unit or a pistol light/Inforce WML and the activation switches for either will be in very easy reach even if you transition shoulders. The extra little hump at the rear isn't necessary of course, but it actually does a lot for aesthetics and if you wanted an optics mount to very slightly bridge over on to the handguard then you have that option.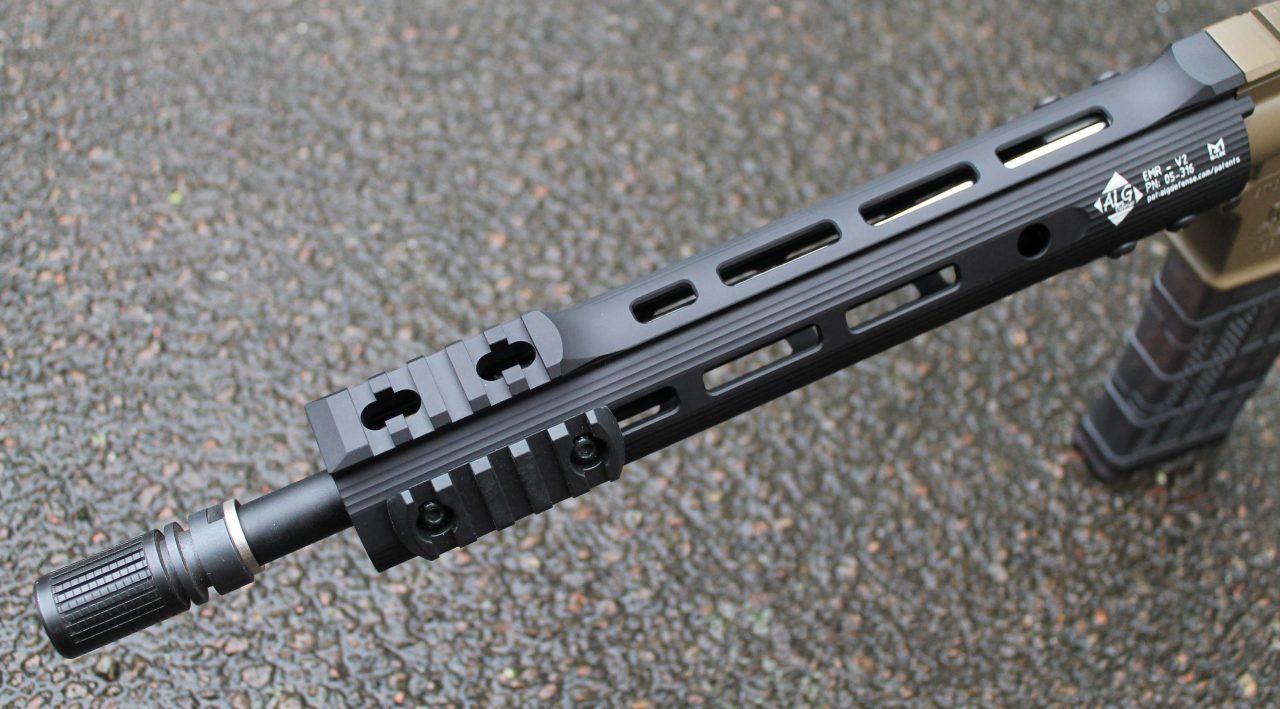 This isn't quite a circular handguard but it isn't far off and the abbreviated 12 o'clock rail on the V2 really helps in this regard. The raised surface that the upper most M-LOK slots run along is just barely protruding from the rest of the circumference, keeping the grip feel consistent. You can also mount a tape switch quite nicely up there and while it may be just a tiny tad farther back than some would ideally want it, it will again be easily accessible from either shoulder for activation of your light and/or laser.
A huge plus to ALG as a company is that it is basically just Geissele except that Bill Geissele's wife runs it rather than Bill himself. All the product is made under the exact same roof as Geissele product and there's simply no drop in quality. The Geissele branded rails are machined from 6061-T6 aircraft grade aluminium extrusions and so are the ALG. Both brands use 2″+ long 7075-T6 barrel nuts that provide a lot more rigidity and security of mounting than some other brands out there. You do have to time your barrel nut on the ALG unlike with the Geissele offerings and they are somewhat aimed more at the target/competition shooting market than the military hard-use market, but don't take that as a question as to the durability here. Every edge is beautifully rounded and de-horned but the very slight striations running the length of the rail provide that little bit of traction you want in inclement conditions.
ALG handguard prices range from sub-$100 for the shorter, more basic models in plain black up to around $180 for longer rails in different anodised colours and with more mounting slots. This means you're getting Geissele quality for prices that are only in the upper end of the budget price range, or bottom end of the middle range at most. I genuinely feel that that is the sort of bargain the likes you will almost never see when buying an item new at retail. Most definitely a brand I recommend you take a look at.