Unfortunately with discussing AR forends like this I can't ever provide any serious feedback on how they perform when mounted to a firearm that is then shot extensively, given the laws we have in the UK; not to mention ammo prices for the neutered AR type rifles that can actually be legally obtained. Just something to bear in mind. All I can give is my opinions on the design and construction as they sit before me and see how they handle being bashed around a little bit in the occasional airsoft game.
I opted for the UHPR to go on a 10.5″ KWA Performance Industries, Inc. LM4 build that I've been very gradually working on the past couple of years. I wanted a short and light M-LOK compatible rail in the mid-range price bracket so I wouldn't feel so bad about getting it cerakote'd.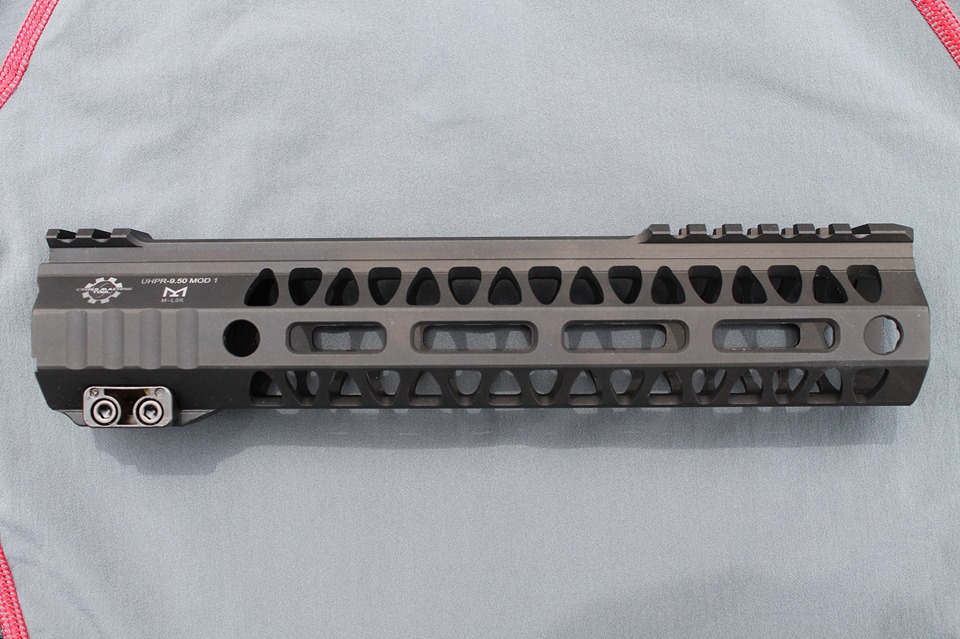 The big plus about this CMT design is the mounting and if you're looking at any AR forend I can't advise strongly enough that you highly prioritise a mounting setup that does not require timing of the barrel nut. Much like the Geissele and BCM rails I've worked on before the CMT nut requires no timing, shims or anything of the sort, you just tighten the round barrel nut and the clamp system at the base of the rail secures the forend itself. Infinitely preferable to trying to get radial screw holes lined up perfectly and doubly so on airsoft receivers that are mostly made of cheap, nasty, weak 'alloys' that will not stand up to the same treatment a real receiver will. Personally I hate the feeling of paranoia when trying to vice mount something or work on a piece in said vice. It's not something I have to concern myself with in my usual daily work using proper firearms parts and I certainly don't miss it while I am at work. I'm yet to break an airsoft upper while re-profiling the threads to AR spec or attaching a handguard, but the nagging feeling is always in the back of my mind.
CMT list the UHPR as "6000 series alloy" on their website, although the Battle Arms Development manufactured 'Rigidrails' are listed as 6061-T6 over at Rainier Arms and I'd say there is a pretty good chance both products are machined from the same extrusions; but take from that what you will. Either way, the CMT barrel nut is made from 7075 and has a good length to it to ensure proper support of the handguard, an important feature you'll see extolled by the likes of Geissele for both reasons of resisting applied leverage and consistent zero-ing of lasers. Both the rail and barrel nut are coated in Type 3 hard anodise, just as one would expect to see on a quality product.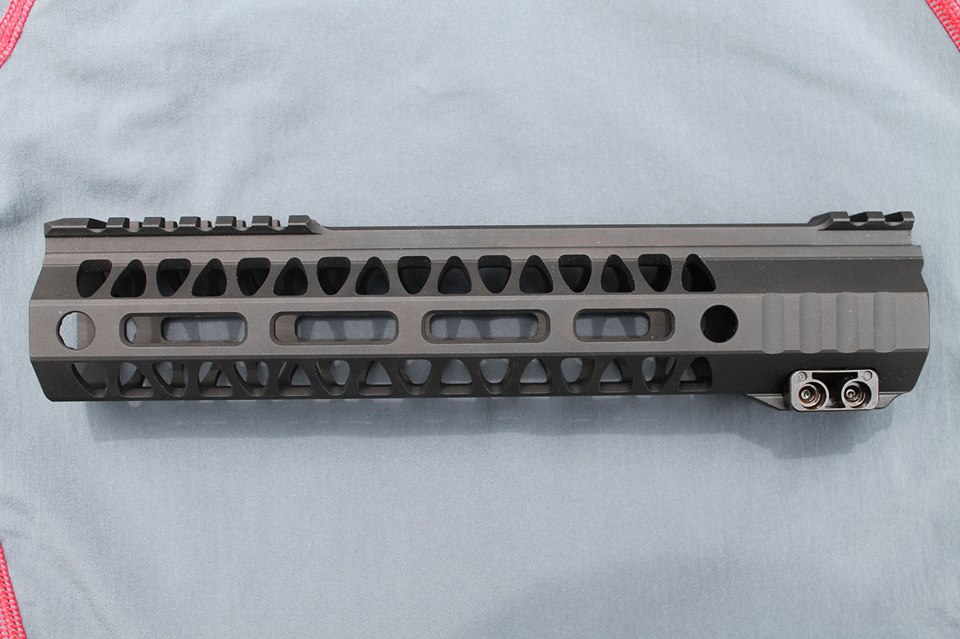 The Mod 1 variant has M-LOK at 3, 6, 9 and some slots at 12. You can also pick up the Mod 2 which features full pic rail around the 12 o/clock. I prefer to minimise the weight and outer diameter by cutting out some of that picatinny so a partial M-LOK configuration is what I'll go for when it's available, but of course it all depends which accessories you'll personally be utilising. There's rotation limited QD sockets both near to the receiver and near the muzzle on both sides of the rail, so no shortage of options there if you use a QD sling. For me though the best features are the non-timed barrel nut and the anti-rotation tabs that combine to both allow extremely easy, hassle free mounting as well as assurance of the best possible alignment along the 12 o/clock.
Total weight for this 9.5″ model comes in at a squeak over 8oz which for a sub-$200 aluminium (i.e. not magnesium or lithium alloy) rail is highly competitive within the marketplace. The one and only change I might make is to slightly shorten the forward picatinny on the 12 o/clock to move the M-LOK slots forward, since it is a bit longer than is really needed for a front BUIS, though that said it might well be handy for mounting some PEQ units. Especially if you want to try and squeeze on both an IR laser and fixed front sight.
Again I can't comment on longevity, dissipation of heat, comfort in the hand under recoil or any of the like, but in terms of design I'm definitely happy with this effort from CMT.