If you've ever forgotten your head torch and had to grip a normal one in your pie hole while trying to clean twigs and grass and carbon and other sthit out of an assault rifle, go ahead and hit that like button.
This little widget is a Princeton Tec Switch Rail I picked up from Tactical Distributors a nearly 3 years back, after a specific learning experience that highlighted the fact I really needed such a thing.
I'm a big fan of the fact it weighs almost literally nothing and with 1 simple button you've got 2 levels of handy red light and emergency white light at your disposal. One normal press immediately goes to low-power red, 2 quick presses for brighter red and a long press+hold for white. If the lower power red has been on for more than a couple of seconds then a press turns the light off again rather than going to higher power, meaning it's very easy to ensure you never go in to the brighter modes if you don't wish to do so and staying sneaky is achievable.
I've mounted the light to an SLR Rifleworks forend for illustration purposes here and you'll note how slim and small it is. Now of course the tacticool thing that all the gucci operators do is have a white/IR light and an IR laser/illuminator up front with a dual switch paired with night vision. Problem with that of course is it'll cost you a few grand minimum for a really basic setup if you're not so BA to have it issued to you and that's a lot of dosh for pretty much anybody. Even if you're not minted however you still may need to be able to navigate around places and not fall up a flight of stairs and die while carrying a weapon/replica, so that's where an economical piece of gear like this comes in.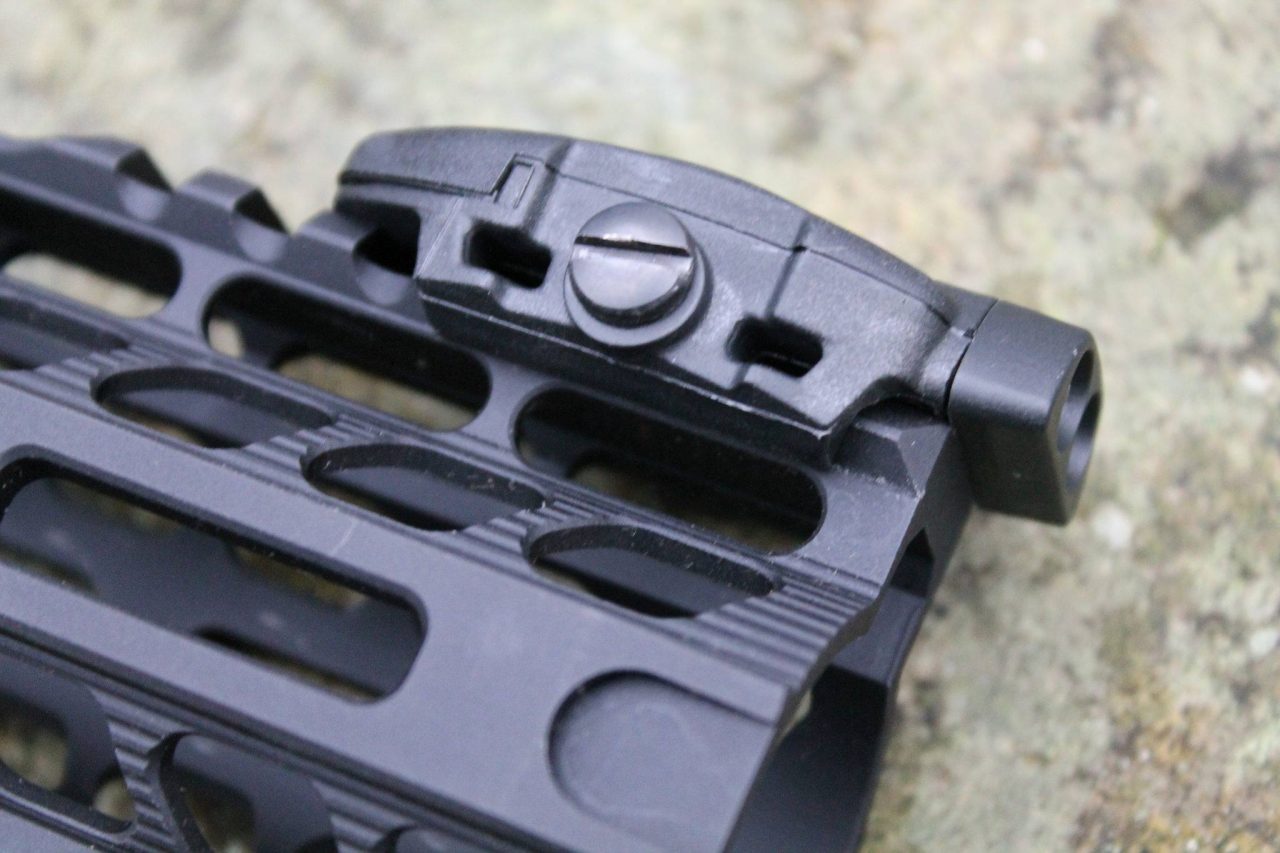 For just a bit less money than a night vision setup, you can have a powerful white light on one side of the weapon to identify, highlight and disorient targets (when necessitating compromising your natural vision and position), then on the other side have a discreet red light easily and instantly accessible to aid simply moving around and any other administrative tasks. Personally I find having such a red light weapon mounted allowing you to easily point it exactly where you want it while still maintaining a full and proper firing grip is invaluable vs forcing yourself in to some weird uncomfortable grip or slinging your weapon to go with a hand held (or even mounting a red light to a chest rig and then having the fuck about of trying to make it point where you actually want it to point).
The Princeton still isn't a 'cheap' option exactly, but relatively speaking in the realm of lights it's not bad and you'll only ever need to buy one since it's very easily transferred between weapons if required. I think of all the bullshit one can potentially mount to a handguard, this is something that gives a huge amount of function at essentially no cost in weight or ergonomics to your gun. You won't look like people on Instagram think you should look like with one of these (they want to see fake chinese PEQ boxes instead), but it's by far the better option to not fall over and break your face on a metal railing instead of a fucking pointless hollywood red laser.