Taking a less military slant, I'd like to take a brief look at one part of Magpul Industries Corp./Magpul CORE's sadly ill-fated clothing line in the form of this Hudson Fleece. I'll probably talk a little more about what actually happened with the whole line at another point in future, because it was a bold and somewhat unusual move for a company to release a whole line of products so far outside of their usual stable, they had a couple of really solid jabs at the notion then unfortunately decided to just chop the entire program. I also have a close personal friend who was deeply involved in the entire line of apparel at many levels and stages so that does add to my interest I would have to say. That said, on to this hoodie.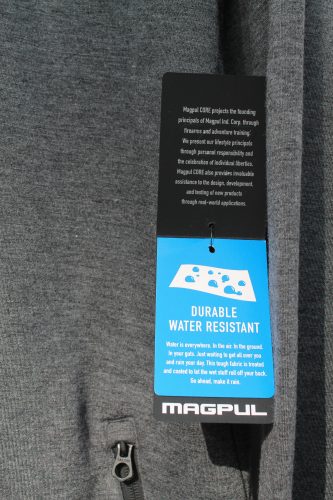 The Hudson is for me the best looking of all the garments that Magpul did release and actually by a fair margin. It's a polyester and rayon mix (65/35) with 100% polyester lining inside and I'm going to be purely subjective here for which I apologise, but this is the most comfortable of fleece fabrics I have ever worn. They somehow got it so smooth that it has the hand of a high quality cotton t-shirt, yet it insulates very well for its' weight despite being fairly thin and packable (as packable as a fleece can ever be anyway) and being along the lines of a hard faced fleece it does cut some wind fairly effectively. This thing is the only fleece jacket I've ever owned from any company in the outdoor/tactical realm which can outclass the Mil-Spec Monkey RAW Hoodie that I'm always singing the praises of. The 2 do share a few key features, but the RAW is less than half of the Hudson's theoretical MSRP; I say theoretical as the Hudson is very much out of production at this point.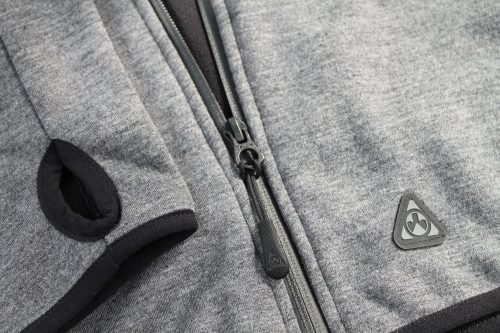 Unlike a few of the other jackets in the 2nd gen of Magpul clothing, the branding on the Hudson is extremely minimal and being a sub-1″ PVC logo that's stitched on vs a printed logo, that branding can be easily removed in 90 seconds with a seam ripper if so desired. The zips are all of the reversed type and made by Talon – golden nugget of gear info, the Talon zip company actually invented the zip as we know it today (thanks to my designer friend for that tip):
https://en.wikipedia.org/wiki/Talon_Zipper
The lower hem, cuffs and tumbholes are all slightly elasticated with lycra. There's a nicely manageable total of 3 pockets, 2 in the standard position where you'd want them on an everyday fleece like this and one nicely tucked away inside in an easy to reach location. The design element that sticks out the most to me is the fact the outer pocket zips' lower terminations are entirely hidden underneath some very neat diagonal seam lines, meaning the small metal crimps that end the zips are entirely invisible. Usually they're shiny and stick out a mile. Not something I've often seen before on other garments and I'm a massive fan of it compared to the way basically every other zip on a jacket pocket is setup.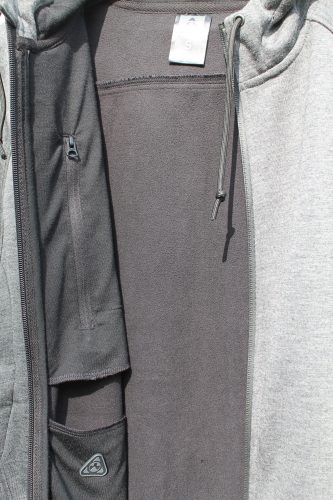 A smart, clean appearance in terms of fabrics with a fairly casual cut that I can certainly say fits my wardrobe preferences like a glove, not to mention a really good mid-layer for urban use or outer layer for any cold, dry climate. A jacket I've already worn a lot and will be wearing regularly through the winters for years to come.