Be sure to read the caption closely to understand what's actually going on in this picture.
To get a reasonable understanding of the origins and reasons behind this pattern I strongly recommend watching this video from the Uniform History channel.   If you're not already subscribed you need to be because this guy pulls out information I've never even heard mention of before on all the most interesting uniforms from real use and from cinema.  Truly an amazing resource.
---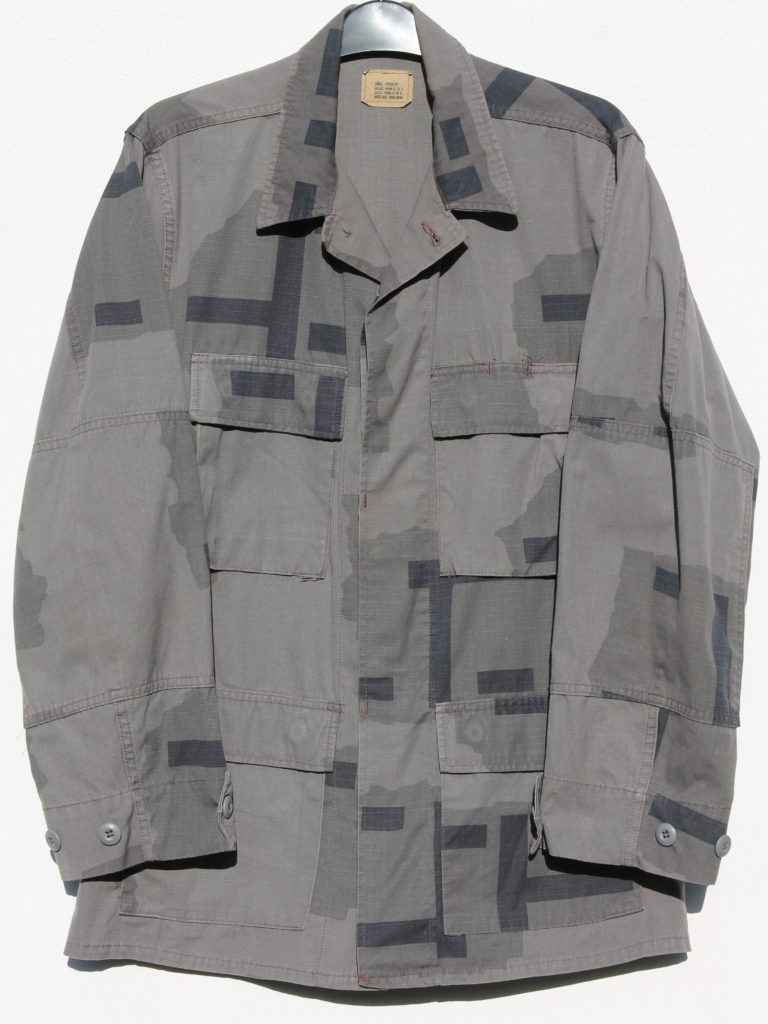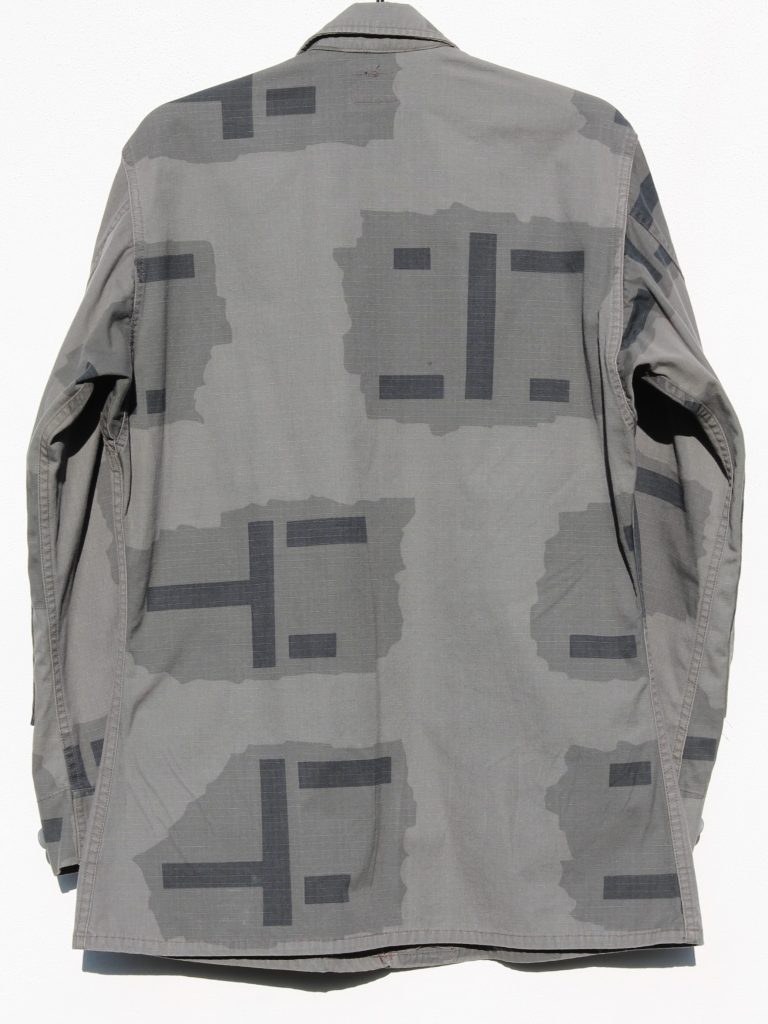 For a long time I never thought I'd find myself in possession of a uniform piece like this, but I'm pretty happy to be able to bring the legendary USMC Urban MOUT 'T Patt' set to you all here, in original BDU form. I have included a picture below that hopefully illustrates where the T in the nickname comes from.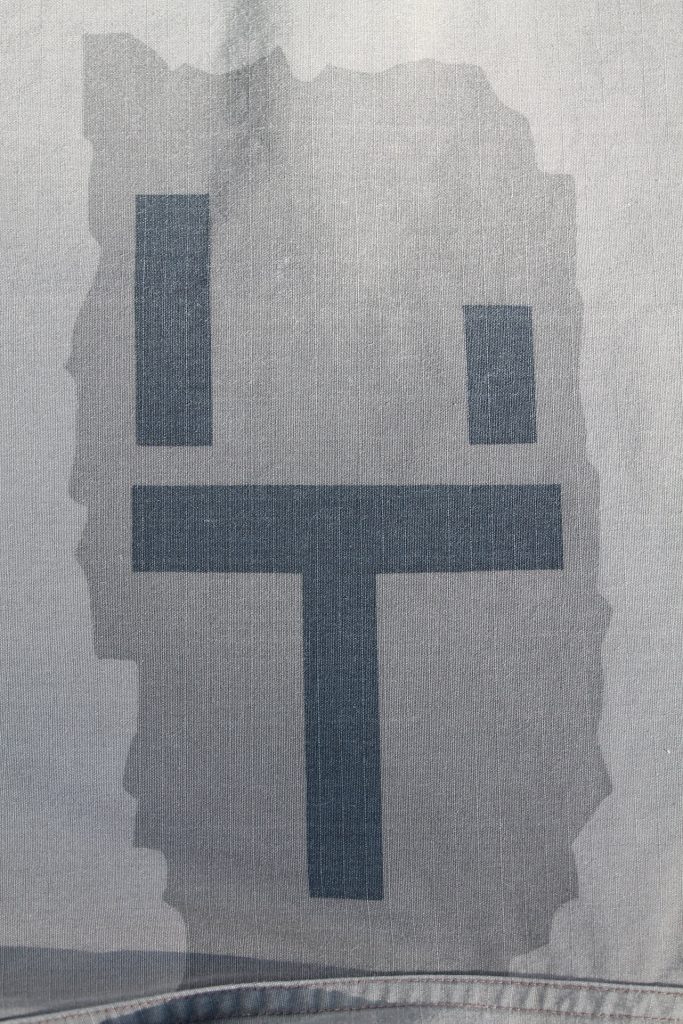 I had considered trying to pool all the info on these uniforms that was available online and add it here the blog, but realistically all you have to do is check Uniform History, Wikipedia and Google images. This was an extremely short lived camo pattern and its' limited use has been well documented already.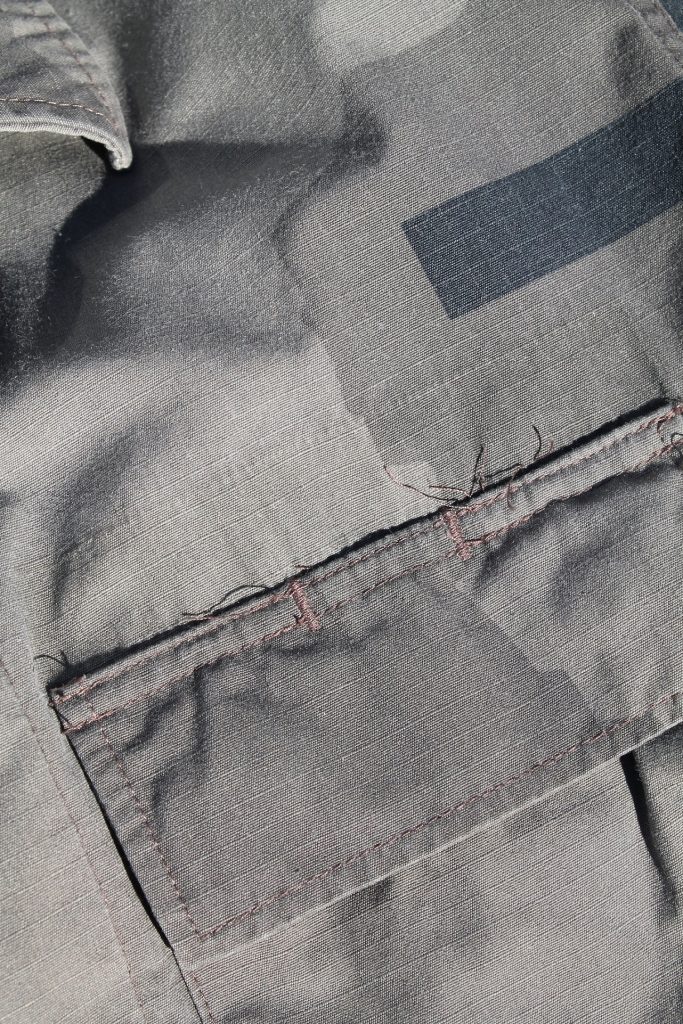 As far as cut and features go the T-Patt shirt is very standard fare apart from the actual camouflage pattern. 4 pockets up front with button closures, buttons for the main closure, 2-button cuffs, a traditional collar and extra reinforcement fabric on the elbows – just like literally 10s of millions of other BDU cut shirts that were made in US Woodland and Desert during the 80s, 90s and early 2000s. Mine here does have a pen slot on the upper left pocket which my Woodland BDU doesn't feature, though I've not checked many other standard issue BDU shirts in order to know how unusual that feature may or may not be.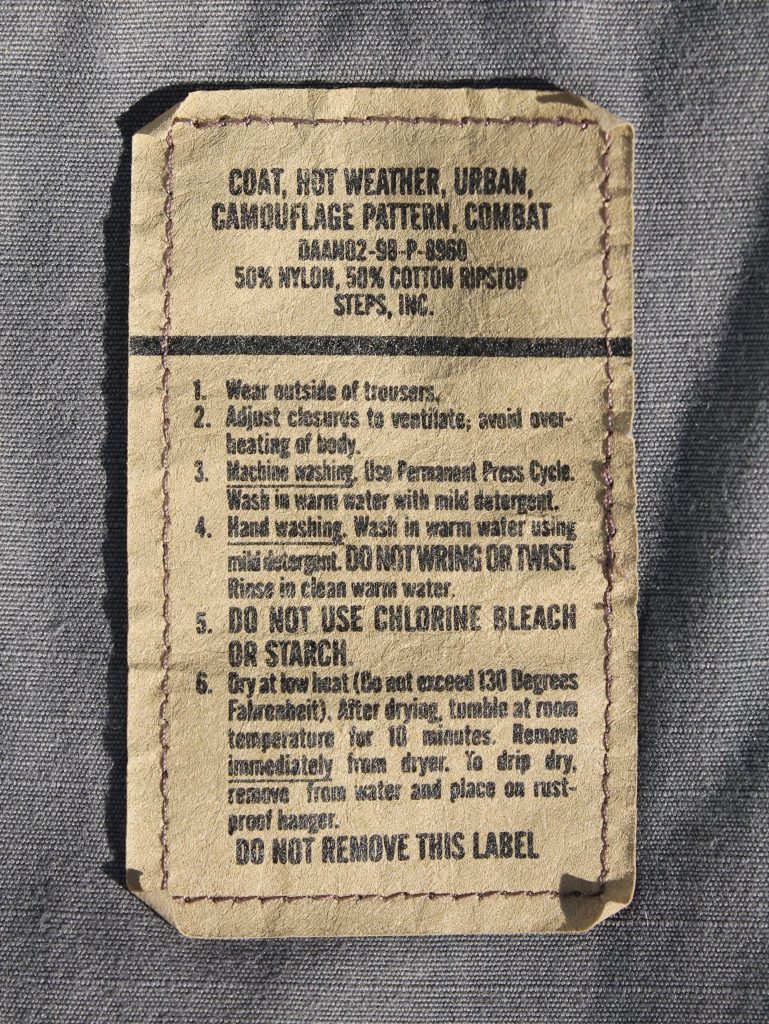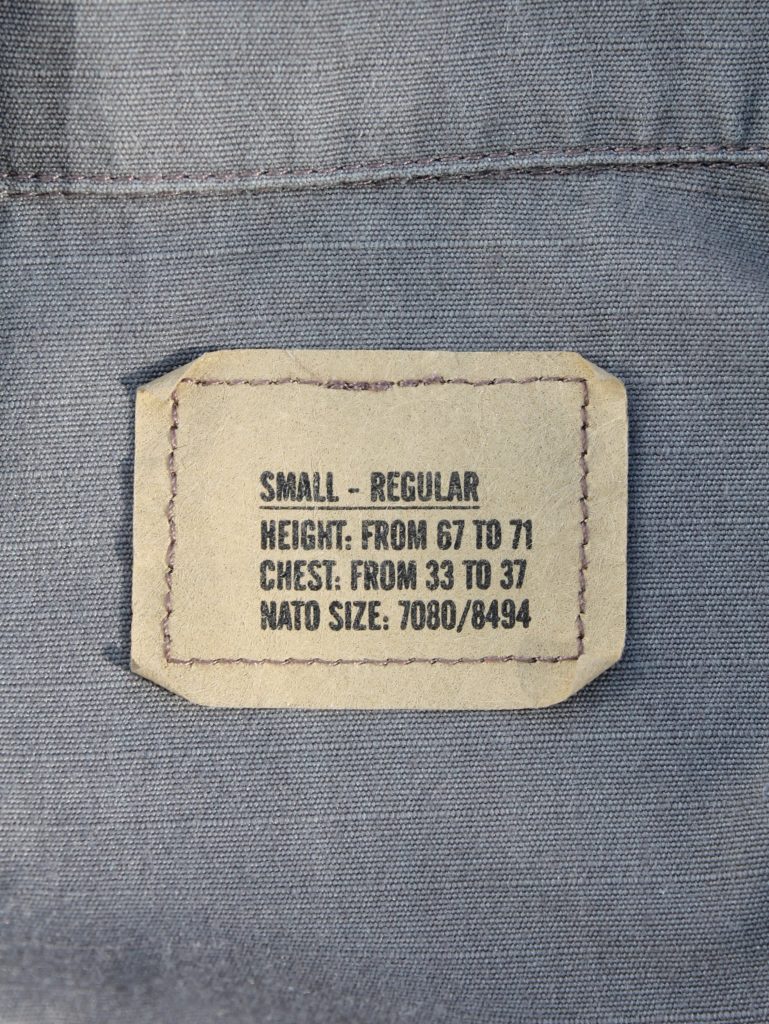 The fabric is rip-stop NYCO as usual for US issue uniforms and the manufacturer 'Steps, Inc' (who also have made ACUs in UCP) did go to some effort in terms of the secondary materials when making this uniform. Thread used to stitch the garment together is a grey with a slight purple hue to it, though that could just be caused by age. Buttons are also the standard BDU type, but all in grey plastic.
This specific set came via my buddy Ivan of Kit Badger who is former USMC himself, though didn't serve in the late 90s, he told me a buddy of his found this set in a pile of junk somewhere in a dark storage area of a base that was getting cleared out. Luckily it got saved from the landfill! Originally sent to me as a loan, I subsequently bought the shirt since it's in great condition and fits me nicely.
---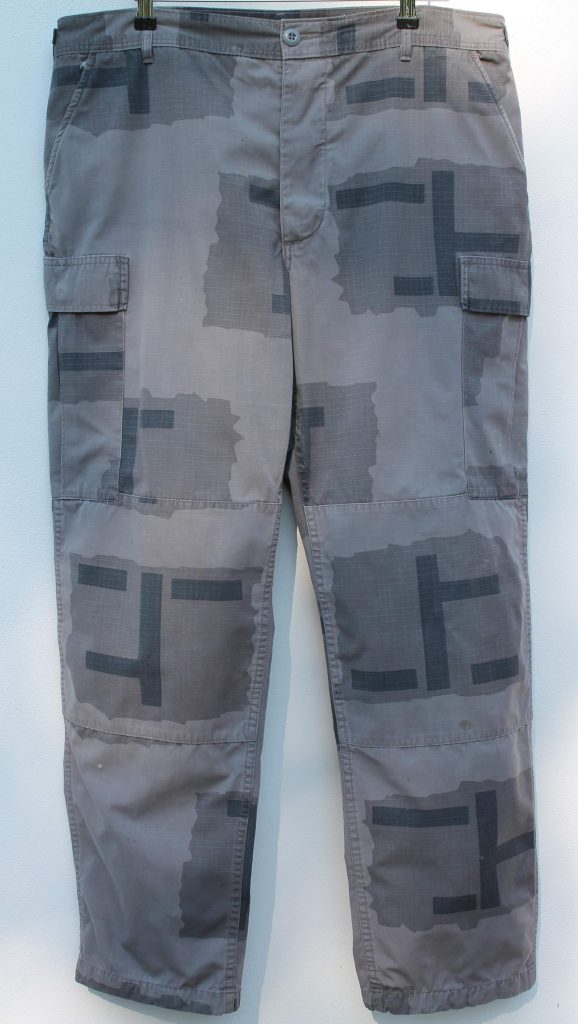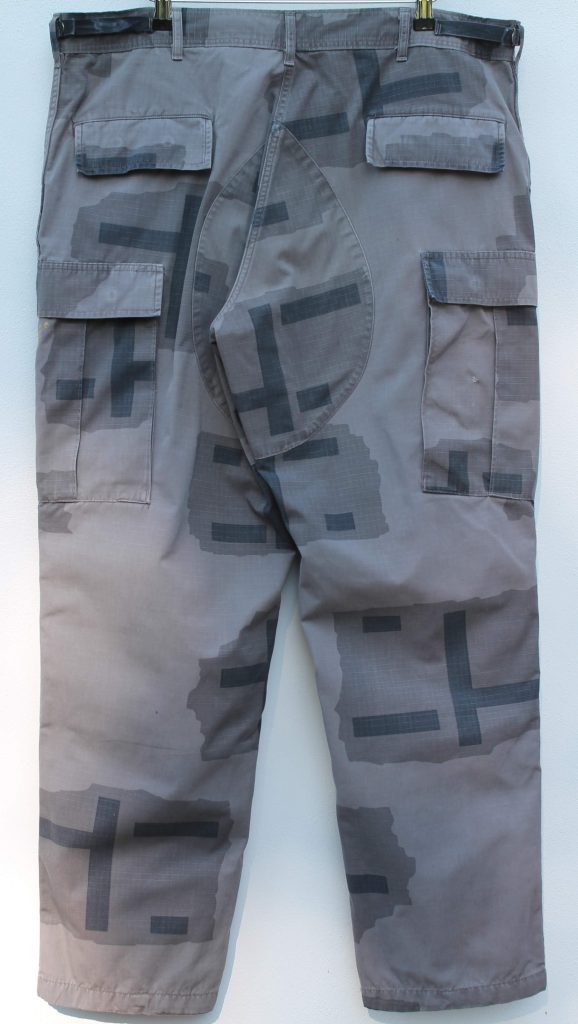 The lower half of the USMC Urban MOUT 'T Patt' camo set from 1998.   While I've kept the shirt I ended up putting these trousers up on an eBay auction and just sending Ivan the cash, after wearing them in the NRA UK Armistice Centenary memorial match at Bisley (because there's only ever one century memorial of the end of WW1), not that there's any link between this camo and WW1 in any way, I just wanted to bring out something rare and special for the day.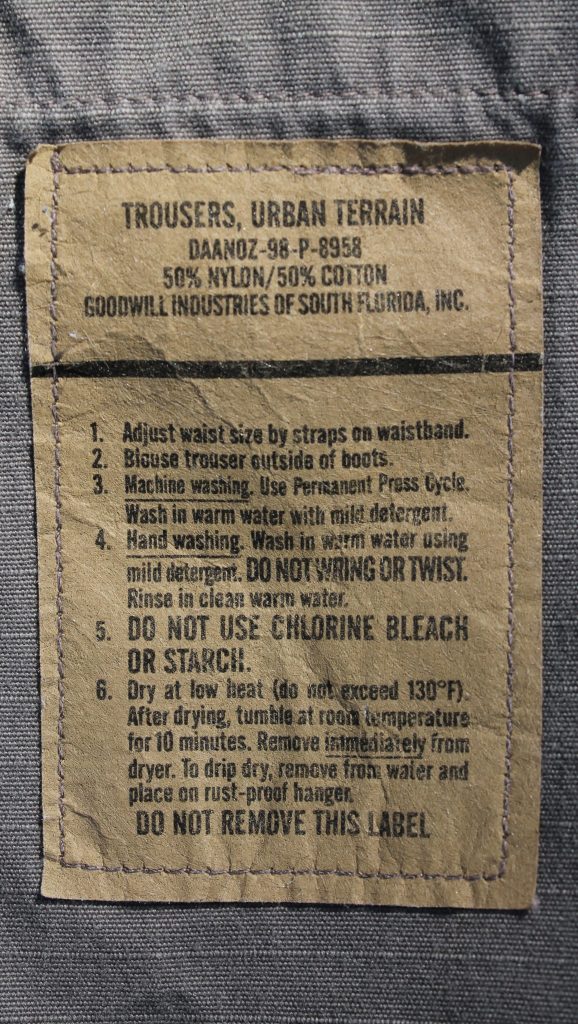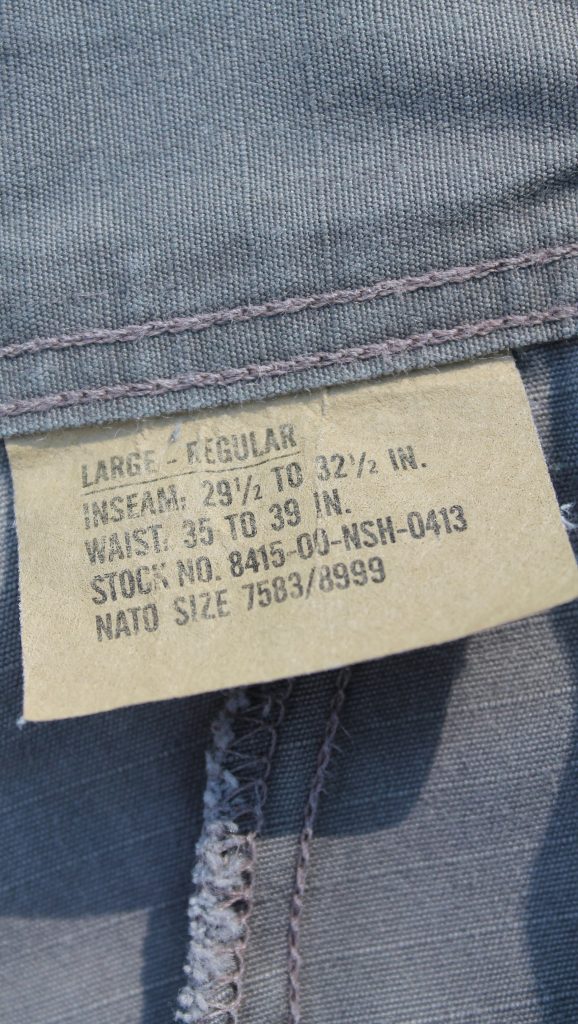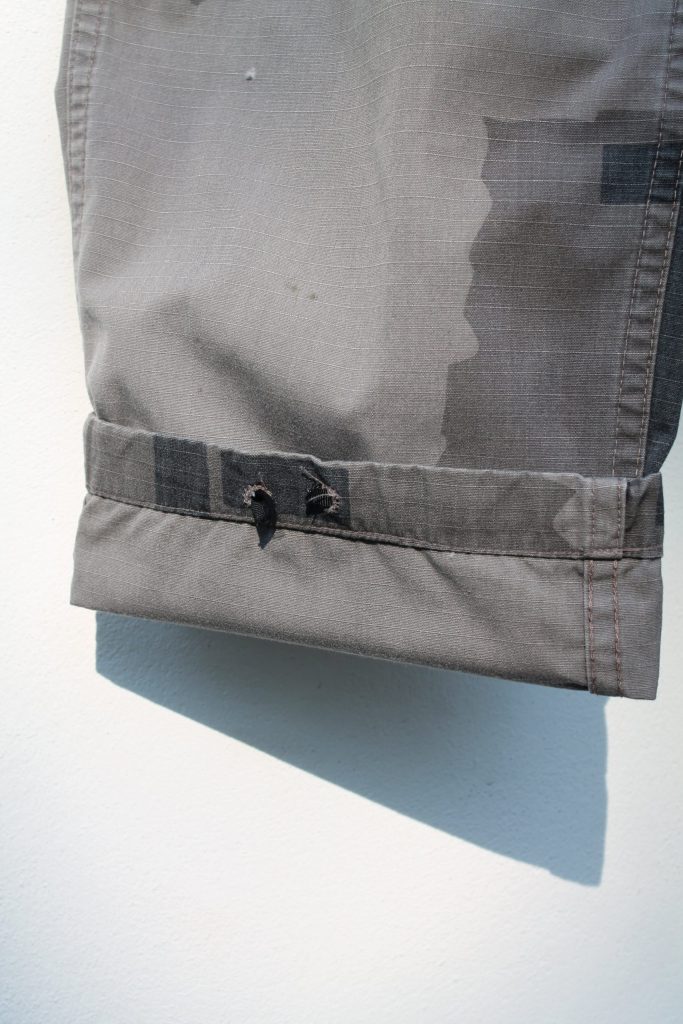 I would have kept these but they're so huge around the waist on me that once tightened they're very uncomfortable with all the excess fabric. They're also in fairly bad condition with the ankle ties cut, quite a few small holes, dark stains and a couple of fairly large areas of dried on bright yellow paint which I knew I couldn't remove without really destroying the garment. It would seem somebody was using them for dirty jobs around the home for some period in the early 2000s.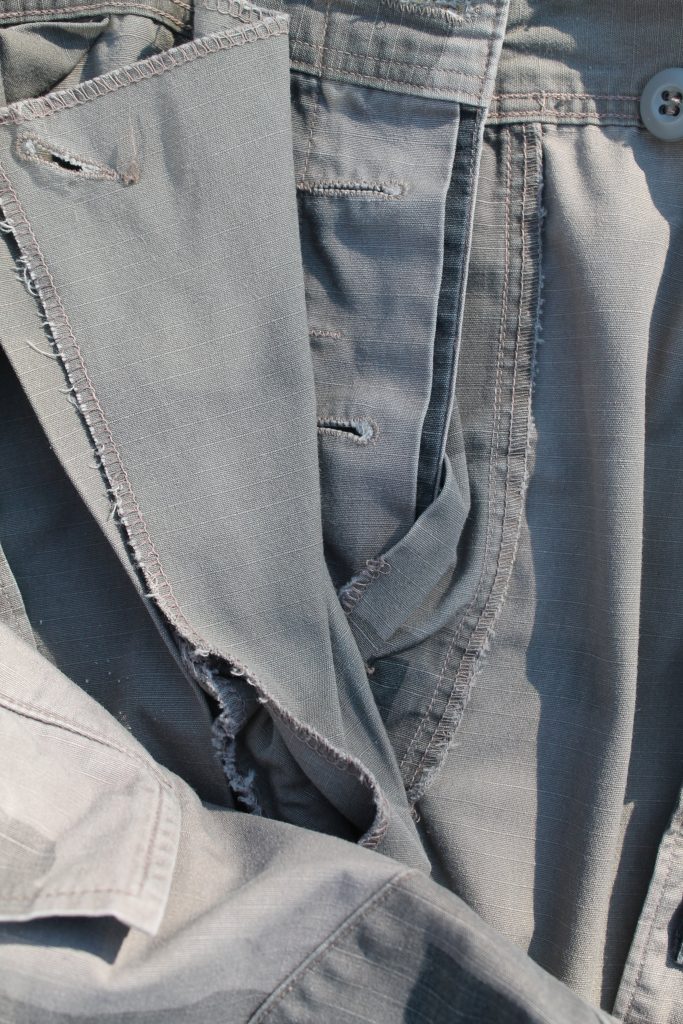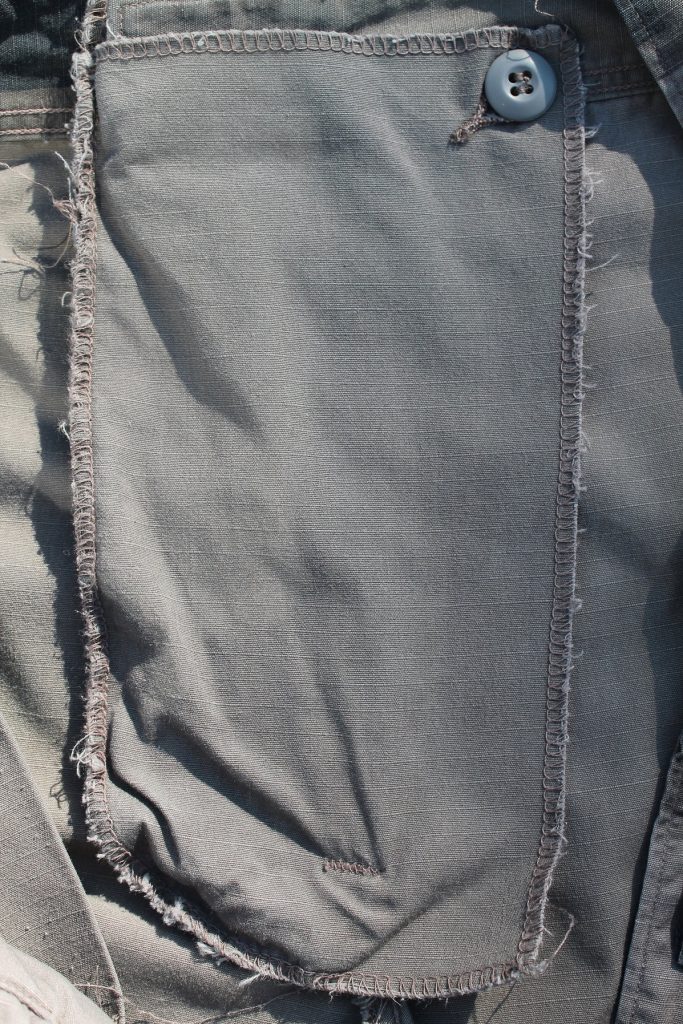 As with the shirt, these are very standard rip-stop NYCO BDUs aside from the camo pattern itself. Button fly, waist adjusters attached up top, 2 buttoned rear pockets, 2 buttoned cargo pockets with baffles, reinforced seat and knees with drawstrings at the ankles. The one exception is this very weird flap inside the fly which I really cannot explain and haven't ever seen anywhere else. Unless a common complaint with BDUs was that wind would get in through the fly I don't why this extra flap (with a button to secure it on the inside) would be here. If anything for males it would make the process of taking a piss longer and more complex, and women weren't permitted in to the roles where they might've been issued these uniforms at the time.
---
The Tan Variant
Rare as the original uniforms are, even scarcer is the tan-based variant of the pattern.  I've no numbers on production but presumably incredibly small amounts of uniforms/kit.  Below you can see the tan variant laid out flat as printed on to 500 denier cordura.  Though it may appear just a trick of the light at first, if you compare the image below to those above of the 'standard' variant you'll notice the difference in the base colour over which the 'Bricks' and T shapes are placed.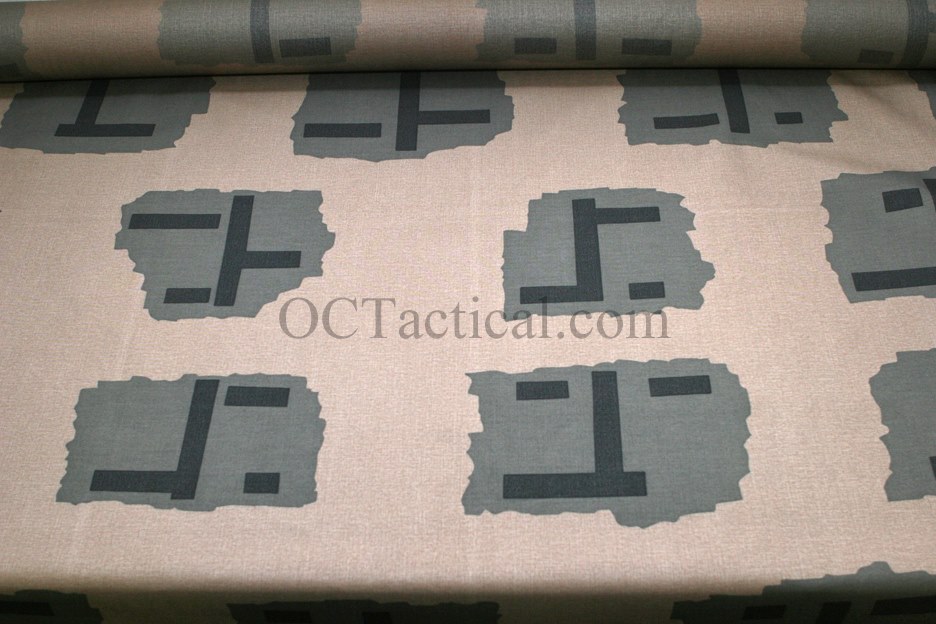 The front left mannequin pictured here (somewhere within Natick) is wearing the tan variant uniform with matching helmet cover.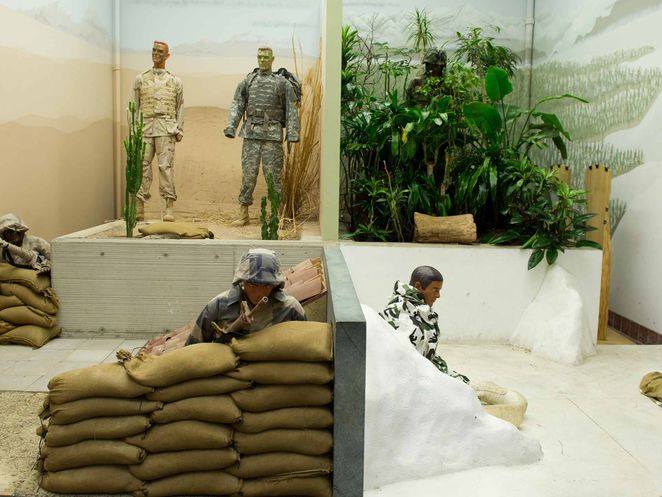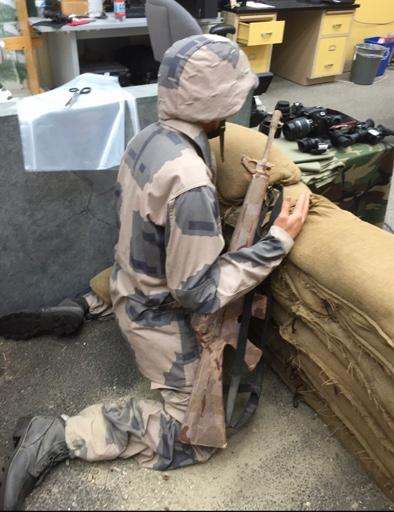 The image above probably best demonstrates how light the base colour of this variant actually is given the fairly close match to the fake M16 wrapped in US 3-Color Desert and the sandbags nearby.  Be aware however there are some other nations (mainly Africa I believe) that have actually issued this specific variant, but those uniforms, to my knowledge, came after these American originals.
Spotting The Fakes
In the past couple of years a mill in China has rolled out large quantities of reproduction MOUT fabric in Rip-stop NYCO making all sorts of uniforms in various cuts easily attainable, however the T blocks in that specific new material are black rather than the proper dark blue so spotting the recent production stuff is very easy indeed.  The fakes you need to be more wary of were made (by my guess) in the mid-late 00s, are standard BDU cut, very much try to replicate the 90s originals and every time I've seen them for sale it's been by someone who doesn't know they're fakes (or just lies) and will list the uniform pieces as original.  They do look pretty damn close to the real thing as well, so the mistake is easy to make.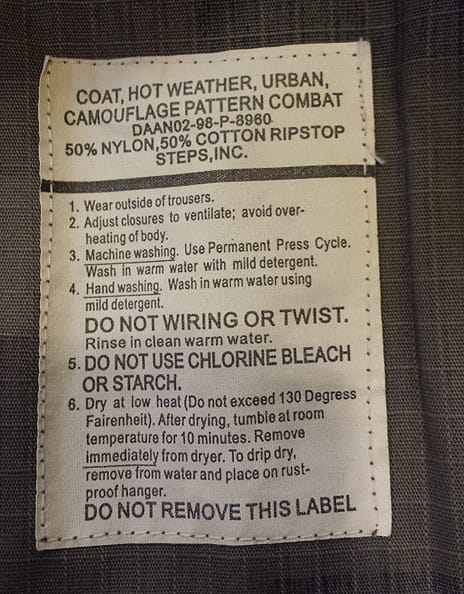 Note that the label is white rather than tan on the originals and about half way down the tag it reads 'DO NOT WIRING' rather than do not 'WRING', along with the incorrect spelling of degrees and Fahrenheit.  If you see a white tag with spelling mistakes then feel free to buy just make sure you pay replica prices rather than original prices.  Even when 'outed' these clones used to go for money close to the originals years ago when printing of unusual camo fabrics was infinitely less common than it is now, and they are better replicas than the currently available stuff, but always do due diligence.
---
References and credits:
-Ivan from Kit Badger
-Mike of OC Tactical
-Members of the Camouflage Addicts facebook group
-Members of the US Militaria forum