Good stuff coming out of PTS as always, there were products in particular that caught my eye.
First off is a magazine that's drawn a lot of attention in the form of a midcap that's a collaboration between PTS and Odin Innovations. They've been tight lipped about the exact capacity of the prototype shown during SHOT so as not to state one capacity only to then be lynched by the pitch fork mob if the end product has a smaller capacity; so I won't trample all over that trust but the quote is "200+" and I can say they're definitely not talking about 205 rounds here. I've no doubt the final product released will be quite a lot more than 200 and this is in a midcap of entirely standard dimensions.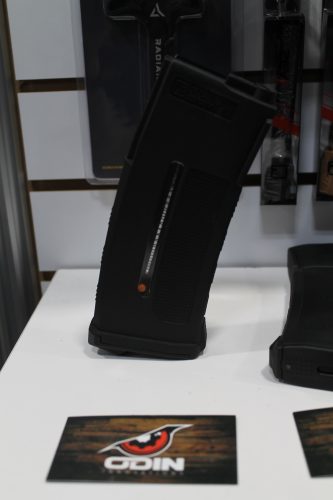 There's no trickery going on here, it is still a midcap, just good materials science and design in terms of the spring, follower and BB track. The orange follower also progresses up the clear window at a rate that's in line with the current capacity of the magazine, so if it's half way up the window you've got half your BBs left, great feature, perhaps even better of an indicator than a clear mag since the BB track is partially hidden by the guns' magazine housing with clear magazines. If the plastics used are to the usual PTS standard, which I'm sure they will be, I can see this being a very strong competitor in the AEG marketplace to say the least.
Next up is something that's been talked about for a while now and I'm particularly pleased to see coming from these guys – the officially licensed MTEK replica. MTEK themselves don't offer a plastic-shelled bump helmet at this time, just carbon fibre and ballistic models and they're both top quality but realistically far more money than is necessary to spend for some basic impact protection in airsoft. The PTS version offers up a solid shroud for NV or cameras, with M-LOK rails on the sides for both helmet specific accessories as well as all sorts of other widgets that are offered by many companies using the M-LOK already on the market.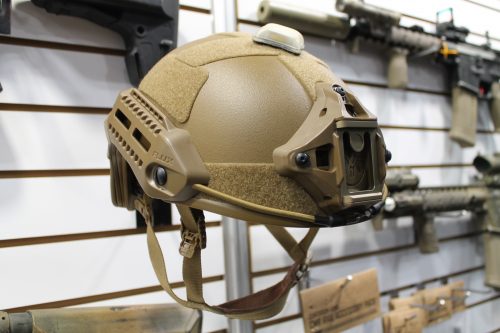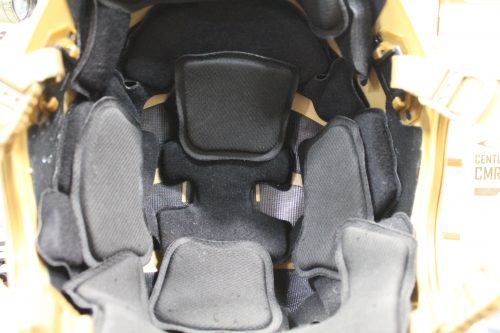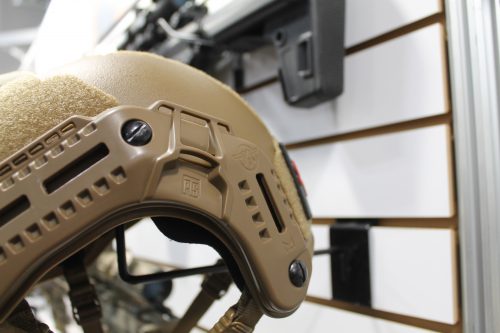 It does not have a dial system like you might see in other modern lids, but the suspension system looked very well made and the pads frankly blew me away for a replica. You cannot underestimate the importance of good padding to the general comfort of your cranium. I think this product is going to fill a niche that's needed feeling for more years than I can remember, in that it will be a good quality shell that you can depend on, costing a bit more than the dubious unlicensed copies on the market but for a lot less money than the real equivalents. Finally a good middle ground.
Lastly I have to give a mention to the fictional N-23 carbine, based on a civilian AR that was based on an abbreviated engineer's patent drawing filed by Colt. It's a G&P OEM which is neat since G&P have done an awful lot of Vietnam era styled AEGs over the years. CAR-15 stylings in terms of the receiver and stubby buffer tube/handguards/A1 grip, very cool little gat.